Best Limited Edition Nike Bootroom Cleats
Nike is one of the most trusted names in soccer, and their limited edition Nike Bootroom cleats are among the best.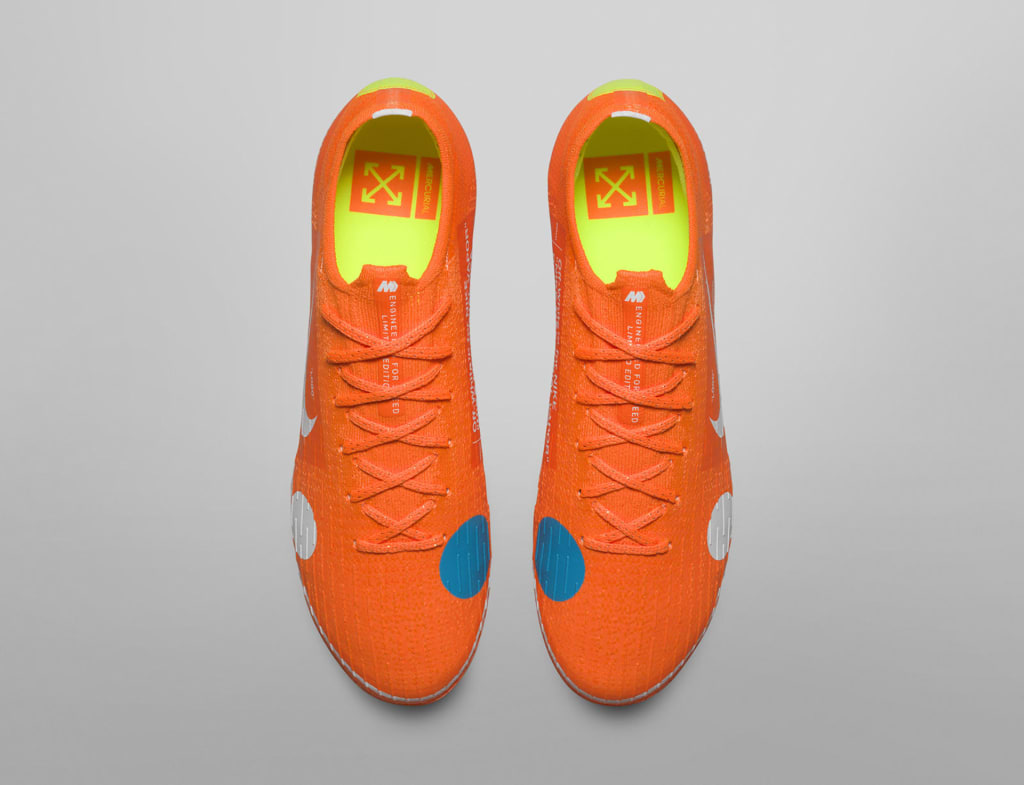 One of the biggest names in soccer products is Nike. In addition to their countless other shoes and cleats, their Soccer Bootroom is full of professional gear that will elevate your game. Nike has worked with multiple fashion designers and athletes to create special, high-quality boots that not only perform on a high level, but also allow athletes to express themselves.
These boots are created with a particular science in mind. For example, colors are used to represent the boot's specific purpose. Using colors like orange and red, Nike emphasizes these boots are made for speed and attackers. With colors like black and blue, they emphasize stability and traction. No matter the message or the player, it's easy to understand that these boots are special. Here are the best limited edition Nike Bootroom cleats.
Orange is the color of speed. And with the Mercurial Vapor x Virgil Abloh, you will intimidate the competition because it's one of the best soccer cleats for strikers. Designed with colored dots on the boot, this cleat was built to improve your foot and eye coordination. Each dot on the boot signifies premiere locations where to strike the ball, while helping you improve your ball control skills. This cleat also includes All Conditions Control, which makes it perfect for any type of weather, wet or dry. The Mercurial Vapor x Virgil Abloh is for any type of player; whether or not you're a pro like Kylian Mbappé, you'll feel like a pro with this boot.
These frosty blue cleats will help you cool off opposing attackers with its foam padding that allows you to feel the ball more easily. This padding cushions the ball, making for soft, easy contact. The bumps on the upper and the thicker Flyknit give the boot extra protection when you strike the ball in certain areas. With its circular set of studs, the Play Ice Magista Obra 2 is one of the most versatile and stable of limited edition Nike bootroom cleats. The greatest Premier League defenders of all time would probably wear these.
The Play Fire Hypervenom Phantom 3 DF is designed to attack your opponents. Made with a polyester yarn knitted together, this boot is flexible and light. This boot has a foam padded upper, which gives the Hypervenom Phantom 3 DF a large strike zone, and makes passing the ball feel easy. Constructed with a nylon heel and front made of polyester, this boot is stable, maintaining a strong grip on the pitch.
One of the more lightweight options of the limited edition Nike Bootroom cleats are the FAST AF Hypervenom Phantom 3 Elite DF FG. These cleats feature a large strike zone helping you with a powerful, accurate shot. Built with Flywire cables, these boots' collars give you flexibility, supporting your ankle, and feel like a sock. One of the main purposes of the Hypervenom Phantom 3 is stability. With its soleplate and flexible forefront, you'll be able to change directions and cut corners with ease.
The Black Mercurial Superfly 360 Elite eliminates unwanted movement, with a soft, yet firm upper that allows you to speed past defenders. This boot also features a lower collar weight than other Mercurial boots, which allows your ankle to breathe and move without restrictions. The inner chassis and sole plate underneath offer exceptional traction so you'll be able to cut turns and make quick sudden stops in any type of weather.
The Mercurial Superfly 360 Elite FG combines design features from nine different boots into one of the most versatile limited edition Nike Bootroom cleats. This all-black boot's Flyknit upper makes this boot one of the most comfortable and it feels like you're barefoot. Similar to the other Black Mercurial Superfly 360 Elite FG, this boot is built for traction, with its unique stud pattern.
Marked with a gold letter "C" over the Portuguese flag, the Mercurial Superfly 360 Elite CR7 FG is an homage to captain and star player, Cristiano Ronaldo. Designed with a jade colored upper, this boot is the same color of Portugal's away jerseys during their victory over France in the Euro 2016 Final. Made with micro-textured Flyknit construction, the Mercurial Superfly 360 Elite CR7 FG eliminates any gaps between your foot and plate of the boot, maximizing acceleration.
This boot is designed for speed and precision, so you can perfectly place the ball where you want it to go. The FAST AF Magista Obra 2 Elite DF FG is made with a circular traction under the forefront of the boot, making it easy to turn and stop quickly. With a 3D texture on key areas of the boot, you'll be able to make agile plays look easy. Included with All Conditions Control, like most limited edition Nike Bootroom cleats, the FAST AF Magista Obra 2 Elite DF FG will allow you to turn on the jets past defenders in any type of weather.
Made with a red Dynamic Fit Collar, the Nike Play Fire Magista Obra 2 syncs up your lower leg with your foot. Serving as the complimentary boot to Nike's Play Ice Magista Obra 2, this boot is designed for the most passionate of players. With a textured upper and rotational forefoot zone, the Play Fire will improve your touch on the ball, making turns and stops feel seamless.
Part of Nike's Ronaldinho City Collection, this boot was inspired by famous Brazilian player, Ronaldinho, and his time spent in Paris. One of the most popular limited edition Nike Bootroom cleats, this boot is primarily designed for indoor soccer or on a turf. Designed with a waterproof calf leather upper, the Nike TiempoX 10R Paris is comfortable, lightweight, and perfect for ball control. Both tongues of the boot have, "I play with music in my head," inscribed on them in French and Portuguese. Priced at $95, these indoor boots are a reasonable bargain for any type of player.
Along with the other Tiempo boots, the Tiempo Lunar LegendX 7 Pro is also designed for indoor soccer. Nike has designed many of its latest boots with specific color combinations, which expresses a certain message. With the color orange and nicknamed, "FAST AF," these boots are indeed made for speed. Made with a lightweight kangaroo and calf leather, each touch with the ball feels natural. The Tiempo Lunar LegendX 7 Pro is also equipped with special elastics and cables to ensure the laces stay intact and the boot overall, lasts for a long time. They're one of the top indoor soccer shoes for sure.