Best Arsenal Players of All Time
From Thierry Henry to Dennis Bergkamp, these are the 10 best Arsenal players of all time.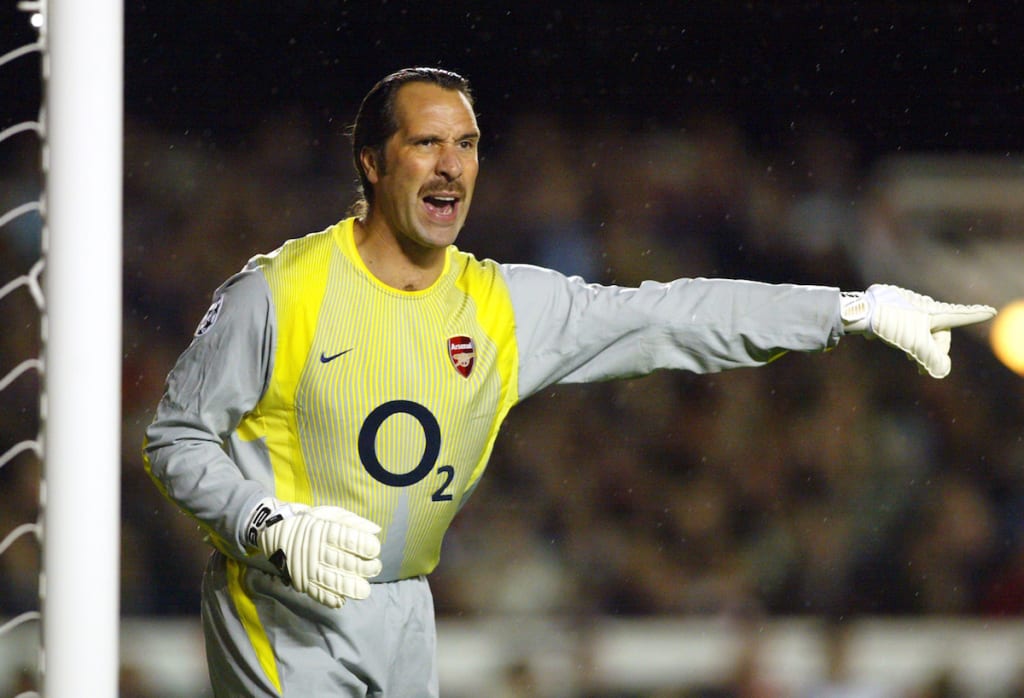 Arsenal F.C., of the English Premier League, is one of the oldest professional soccer teams still remaining in the United Kingdom, having been founded in 1886, and has a long and storied history. Arsenal has won 13 league titles, third-most all time and is one of only six clubs to win the Premier League since it's founding in 1992.
As one of the most storied franchises in all of sports, and one of the most popular soccer teams today, Arsenal has had its fair share of great players. Here are the ten best Arsenal players of all time:
Forward Thierry Henry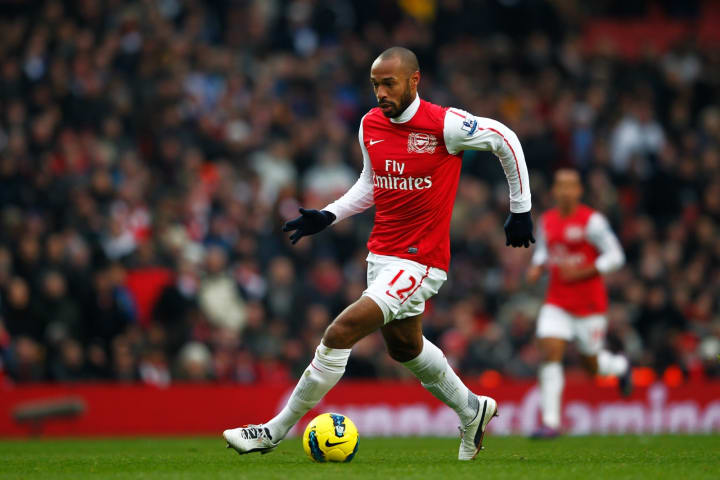 Thierry Henry, the clubs leading goalscorer, tops this list. Henry compiled a club-best 228 goals in 377 appearances for Arsenal.
Henry played for Arsenal from 1999-2007, then came back to finish his career in 2012. Henry led Arsenal to two league titles and three FA Cups. In 2003 and 2004, Henry was the runner-up for the FIFA World Player of the Year award. Henry captured the PFA Players' Player of the Year twice and the FWA Footballer of the Year three times.
For his final two seasons with the club, Henry was named club captain and led Arsenal to the UEFA Champions League Final in 2006.
When all was said and done, Henry compiled two league titles, three FA Cups, four Golden Boots, and five Player of the Year Awards. In 2008, Arsenal supporters named Henry the Gunners' greatest player of all time.
Forward Dennis Bergkamp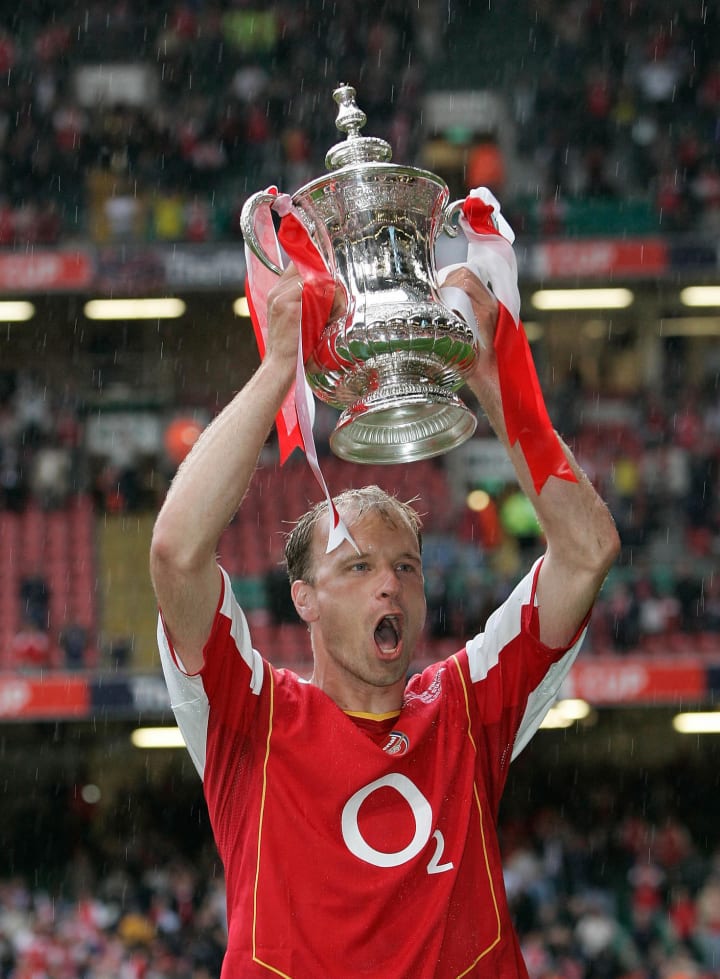 Before Henry, Dennis Bergkamp held the title of best Arsenal player of all time. In 11 years with the club, Bergkamp compiled 120 goals in 423 appearances, good for tenth best in club history.
In 1998, Arsenal took home the championship in both the league and the FA Cup, reclaiming the title of England's best team from Manchester United. In addition to winning the double championship (both the Premier League and FA Cup title), Bergkamp took home both major Player of the Year awards.
In 2007, Bergkamp became the first Dutchman to be inducted into the National Football Museum Hall of Fame.
Defender Tony Adams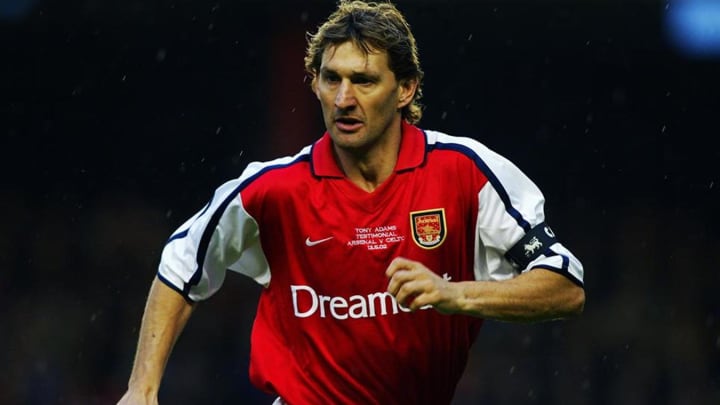 The open of his player page on the Arsenal website read: "Fourteen years as captain, 669 appearances, 10 major trophies, including league titles in three different decades. It's no surprise that 'Mr. Arsenal' himself is regarded as one of the Gunners' greatest-ever players."
Being the top defender on the list makes Adams the best defender in Arsenal history. Described by Manager Arsène Wenger as the "professor of defense," his skill, intelligence, and intensity always made him a formidable opponent.
Signed in 1980, Adams made his Gunners debut three years later, a month after turning 17. Adams led Arsenal to the Littlewoods Cup Final in 1987, and eight months later, at the age of 21, Adams was named club captain, the youngest in team history. Adams held on to the role of skipper until his retirement in 2002.
Adams had many great moments in Arsenal red, and this game-winning goal from 1993 against Tottenham in the FA Cup semi-final easily put him on this list of best Arsenal players of all time.
Forward Ian Wright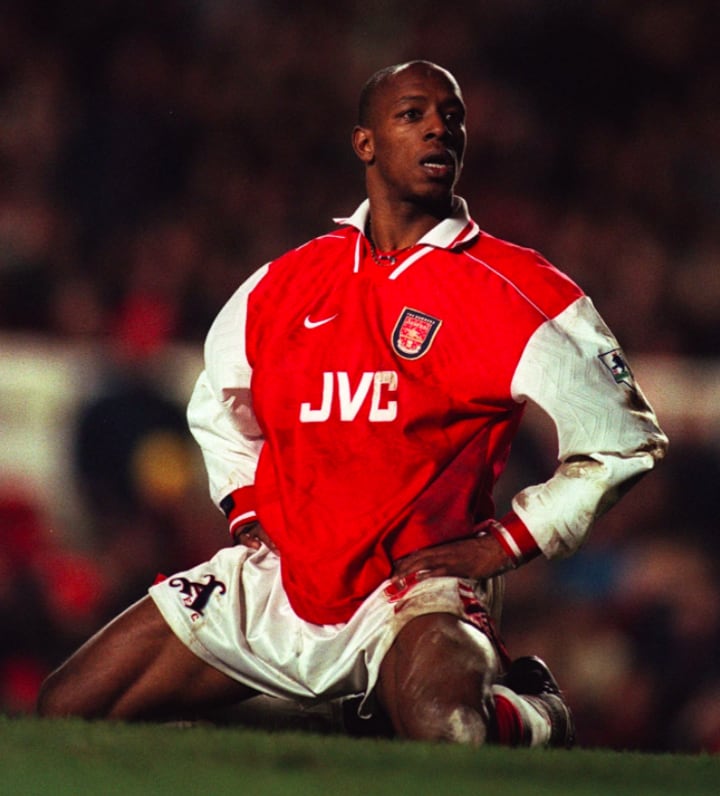 Ian Wright retired as the leading goal scorer in Arsenal history, earning him a spot on this list. Wright ended his Arsenal tenure with 185 goals in 288 games over the course of his seven years with the club.
Wright joined Arsenal in 1991, for a club record 2.5 million pounds, when the Gunners were the reigning champions and already had forward Alan Smith who had won two Golden Boots in three seasons. Wright scored a goal in his first club appearance in the League Cup, at Leicester, and then tallied a hat trick in his league debut at Southampton. In the final game of the season, against Tottenham, Wright scored another hat-trick to earn himself the Golden Boot.
Thanks to Wright's huge success, Arsenal management decided to unload the team's other star forwards and to rebuild the defense. "It was the era 'One-Nil to the Arsenal.'" More often than not, Wright accounted for that one goal.
Midfielder Patrick Vieira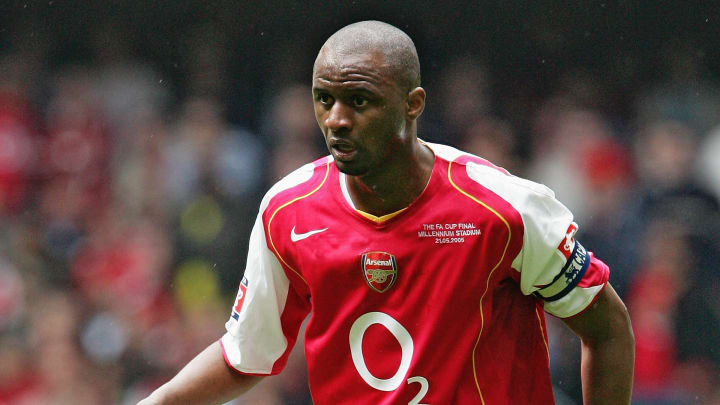 Considered to be one of the greatest midfielders to ever lace up a pair of cleats, it's no surprise Patrick Vieira made this list of best Arsenal players of all time. Vieira had a tenacity for the ball and had a dominating stature, which helped tackle anyone on the field. This along with his stellar passing ability made Vieira a top midfielder.
Vieira came to North London in 1996 and led Arsenal to a double championship in his first season. While Vieira only tallied 33 goals in his 406 career appearances for the club, it isn't all about who's scoring the goals. Vieira played with goal scorers such as Henry, Bergkamp, and Wright. While Vieira rarely scored, when he did it was always at a crucial moment, like his long-range blasts against Manchester United.
Vieira was a leader of the team and led Arsenal to a historic 49 match unbeaten streak in Premier League play. Vieira was so respected by the club that he was named team captain after Adams retired in 2002.
In his decade with the club, Vieira led Arsenal to three FA Cup championships, including his final moment with the club coming on a decisive spot-kick to defeat Manchester United.
Midfielder Robert Pires
After a storied career for the French National Team, Robert Pires came to North London, and despite claims that he wasn't tough enough to play in the Premier League, he managed to build a successful career for the Gunners.
In 2002, despite his season being cut short by injury, Pires made enough of a splash to earn the Football Writers' Footballer of the Year award while leading Arsenal to the Double victory.
In that 2002-2003 season, Pires tallied 14 goals in 26 Premier League games, including a hat-trick against Southampton in the penultimate game, and then notched the game-winner against Southampton when they met again in the FA Cup championship game.
Goalkeeper David Seaman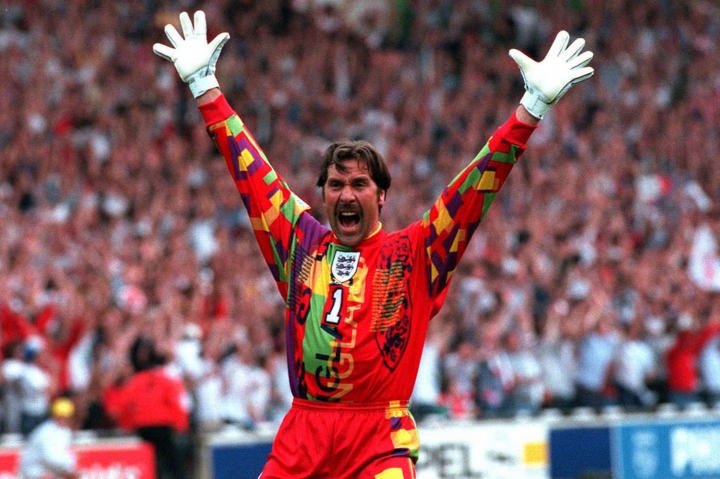 Named the second-best goalkeeper in Premier League history, by Bleacher Report, David Seaman is the best goalkeeper in Arsenal history. Seaman led the Gunners to two double Premier League and FA Cup titles in the late 90s and early 2000s.
Seaman appeared in 564 matches for Arsenal over the course of 14 seasons, signing with the team in 1990 for a then-record for a British goalkeeper, 1.3 million pounds. In his first season with the club, Seaman had 23 clean sheets and surrendered just 18 goals all season on way to the Premier League title.
Seaman went on to lead Arsenal to eight major trophies, making him the most prolific keeper in club history, and one of the best Arsenal players of all time.
Midfielder Liam Brady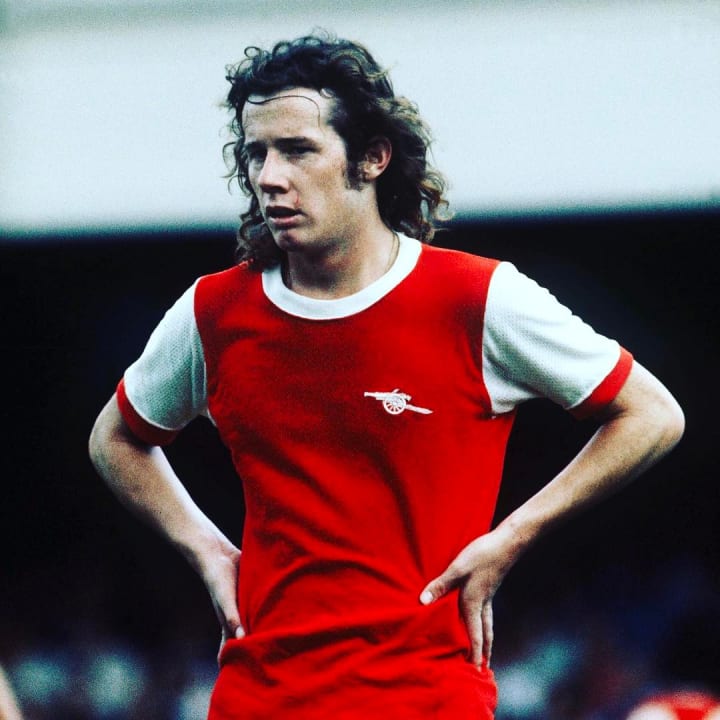 Nicknamed Chippy, Liam Brady was described as the prototypical midfielder, he had the skill, vision, balance, strength and powerful shot that made a midfielder great.
Signing with the club in 1970, on schoolboy forms, Brady turned professional in 1973 at the age of 17. In October, Brady came in to replace Jeff Blockey against Birmingham City. Early on in his Arsenal career Brady had the comfort of playing with Alan Ball. But, Ball left within a few years of Brady's debut and Chippy took over the main midfielder duties. Brady led Arsenal to three consecutive FA Cup finals between 1978-1980.
In that 1980 season, Brady was named PFA Player of the Year and Arsenal looked primed for a bright future. Then, the unthinkable happened, and Brady left North London to join Juventus.
Despite spurning the fans after a very successful run, Brady is still one of the best Arsenal players of all-time.
Forward Charlie George
Charlie George provided Arsenal supporters with one of the most memorable moments in club history, his 20-yard game winner in extra-time of the 1971 FA Cup final. George fell to the ground, arms outstretched, and this image is ingrained into the minds of Gunners fans forever.
After a disappointing first season in red, which saw George relegated to reserve duties, he came back with a vengeance in the 1970-71 season. At the ripe age of 19, George led Arsenal to the European Fairs Cup championship.
Goalkeeper Pat Jennings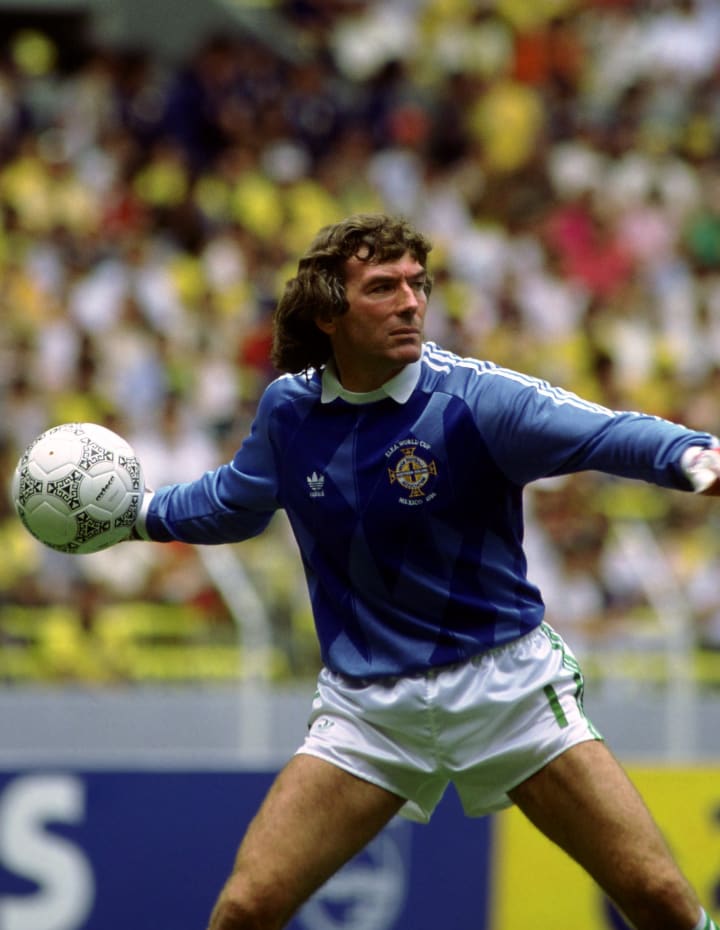 Pat Jennings was something special. Not just as a talented goalkeeper, he was able to transcend the historic Arsenal and Tottenham rivalry having played for both teams. After 13 years in Tottenham blue, Jennings came over and put on the Arsenal red for a great eight seasons.
Considered byBleacher Report to be the second best goalkeeper in Arsenal history, Jennings is considered by many to be one of the best goalkeepers to ever put on a pair of gloves. In fact, Jennings is known as one of the first keepers to think of ways to make saves without solely using his hands.
Jennings led Arsenal to three FA Cup finals, although only one of those finals resulted in a victory, and played 327 matches for the club. Jennings rarely made the spectacular plays in the net but that's because he rarely had to, he was always in the right place at the right time.
And there you have it, the ten best Arsenal players of all time.
About the Creator
Sports fanatic, movie watcher, avid reader. I write about things I know which are sports, movies and books.
Reader insights
Be the first to share your insights about this piece.
Add your insights