2018's Best Soccer Gear for Each Position
No matter where you play on the pitch, having the right equipment can make all the difference. So check out the best soccer gear for each position and be ready to 'Bend It Like Beckham.'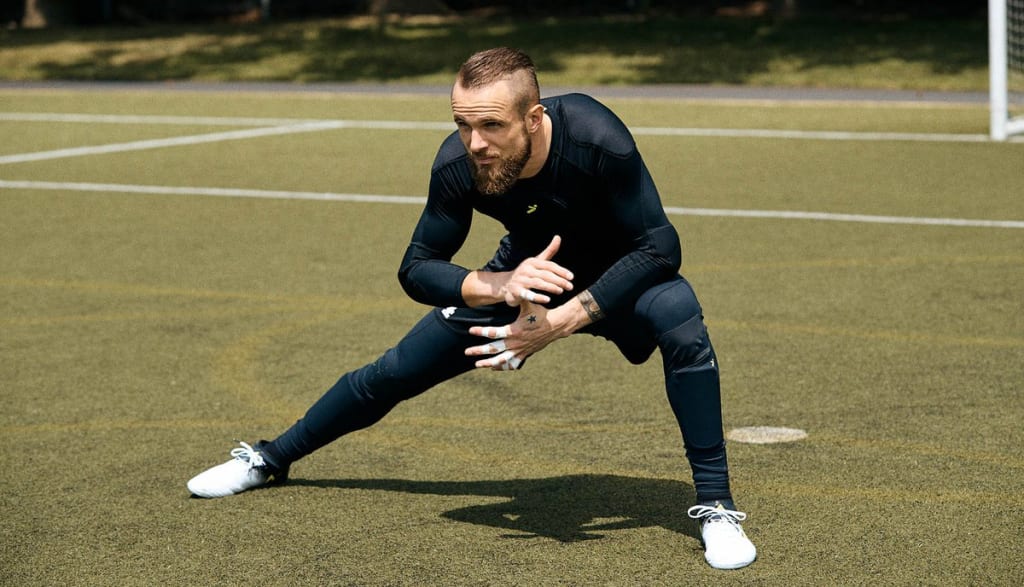 As anyone who has ever played sports can tell you, having the right gear is of the highest importance. Different equipment is designed for specific functions after all. These functions have benefits and drawbacks and suit certain positions better than others. This is evident all throughout soccer; defenders and midfielders wear different styles of cleats, strikers may need bigger shin guards to protect themselves from challenges, and goalie equipment is almost entirely different from everyone else's. Gain a competitive advantage before you even step onto the pitch and find out what the best soccer gear for each position is.
If you're a goalscorer, this is the pair of cleats for you. The Nike Mercurial series is one of the most-known and successful in the footballing world, and for good reason. Made with Microfiber, the Veloce III FG conforms to your foot like a sock. The outsole is made of full length compressed nylon chassis and direct-injected TPU studs. These provide extra explosion when you cut and change direction, perfect for pulling away from defenders and beating the goalkeeper. The lightweight feel from the Teijin high-performance fiber also gives you an extra boost by not weighing you down.
Maybe you're more of a Luka Modric, Andres Iniesta type and prefer controlling the pace of play and dishing sublime passes to your teammates. You'll need a more specific type of cleat than soccer gear for each position could apply to. There are cleats that will give you the best chance of mimicking those maestros, and it is from the same Nike Mercurial series.
The embossed horizontal ridges of the Vapor Xi FG will improve your touch and dribbling ability, allowing you to keep possession in the midfield. The stud configuration was designed specifically to ensure balance, traction, and comfort—all the attributes needed to steal the ball away or keep it from prying defenders. The leather and mesh make up of the cleat is an added bonus, as it will keep you comfortable while allowing your feet to breathe.
The Nemeziz Messi 17.3 FG from Adidas offers a change up from the Mercurial series if you don't like Nike or have burning passion to be as similar to Lionel Messi as you possibly can. Inspired by arguably the best player in football history, these boots are suitable for either strikers or midfielders, as Messi is a mixture of the two.
The soft agility mesh allows a more enhanced touch and optimum ball control out of the box while the dual lock collar provides tremendous ankle stability. The range of movement and finesse these cleats instill will give you the option of going at defenders in order to score goals or to keep possession and distribute assists. The Messi insignia that encases the cleats will let everyone know who you're trying to emulate.
The Predator series from Adidas could qualify as soccer gear for each position, but it is perfect for goalkeepers and defenders, especially the X-TRX. This model was made with power in mind, being seven percent more powerful than other models in this series (like the PowerSwerve) when you strike the ball.
So when you're clearing dangerous chances or hoofing it upfield from a goal kick, these will make the ball fly. Made with Taurus leather, the X-TRX is lightweight, comfortable, and basically weatherproof. So if you were hoping to become one of the best goalkeepers of all time, this cleat is a good starting point.
If you prefer soccer of the indoor variety, be sure to use soccer shoes instead of cleats. These shoes are rubber molded, which helps with rotational traction on various playing surfaces. The high top collar secures your foot and ankle within the shoe. Feel free to check out top indoor soccer shoes of 2018 if you're not a fan of the color schemes for these ROONASN's, as they are all quite exuberant. No one will blame you if that's the case, but being to pull them off would give you the best look in whatever league you play in.
Regardless of where you line up, you'll encounter tackles of some kind during the match. The first priority of soccer gear for each position is safety. Coming in an astonishing 25 color combinations, the Performance Ghost Pro's are your best bet for staying healthy.
They consist of three different shields fitted together for flexibility and protection. The compression sleeve makes sure the guards do not slip in and out of position. Great shin guards are not something you want to be without.
Finally, the defenders get a shoutout. Defending isn't easy and it usually involves chasing around attackers all day. That's a sweaty style of play if done right, but this compression sleeve can absorb all that and keep you feeling less grimy. The soft and stretchable fabric weighs almost nothing, does nothing to restrict your movements, and should be cleaned in a washing machine after every use. It also has a UPF 30 rating, so it will protect your skin from the sun's harmful rays if you're playing during the day.
Made by Defender, but available for all, these compression shorts fall under the category of quality soccer gear for each position. Every player could benefit from these as the compression fit bolsters muscle support and increases circulation while you play.
The quick and dry transport system absorbs the sweat from your body and keeps your body dry and cool for the duration of your game or workout. Perhaps the most crucial feature, the chafe-free flatlock seam construction gives you an ample range of motion while stopping you from, you guessed it, chafing.
It's time to pay tribute to the unsung hero for most teams, the goalkeeper! Goalies don't usually garner too much praise unless they're Tim Howard becoming the Secretary of Defense or Manuel Neuer. However, oftentimes it is the goalie that makes the key save or saves that wins the game. In order to stay healthy and not black and blue after every shot, they need the best protection.
The BodyShield shirt from Storelli Sports can help with that. It is made of a polyurethane foam that provides extreme protection from impact and abrasion on your upper body. In addition, their chest pad is created to trap hard shots and reduce rebounds. The compression fabric assures that your body will breathe, stay cool under pressure, and not overheat.
A goalie's best friend is the post, but gloves are a close number two. Gloves are the difference between brilliant saves and golazos, as well as, perhaps more importantly, healthy and broken fingers. That's why it is always important to get a glove a little larger than your hand. They will have increased padding to protect your hands and a more surface area which improves shot-stopping ability.
After researching the best soccer gear for each position, these gloves by Adidas are what I decided to go with. They offer premium padding and a positive cut which translates to a more comfortable fit. The vented cuff with slit wrist gives you more range of motion when you are catching incoming shots or hurling balls upfield. You're also safe when aggressive weather invades the pitch as the smooth latex palms offer good grip and durability for all occasions.