11 Soccer Mom Necessities You Can't Live Without
Make sure you have all the soccer mom necessities to be the hero your kid's team needs.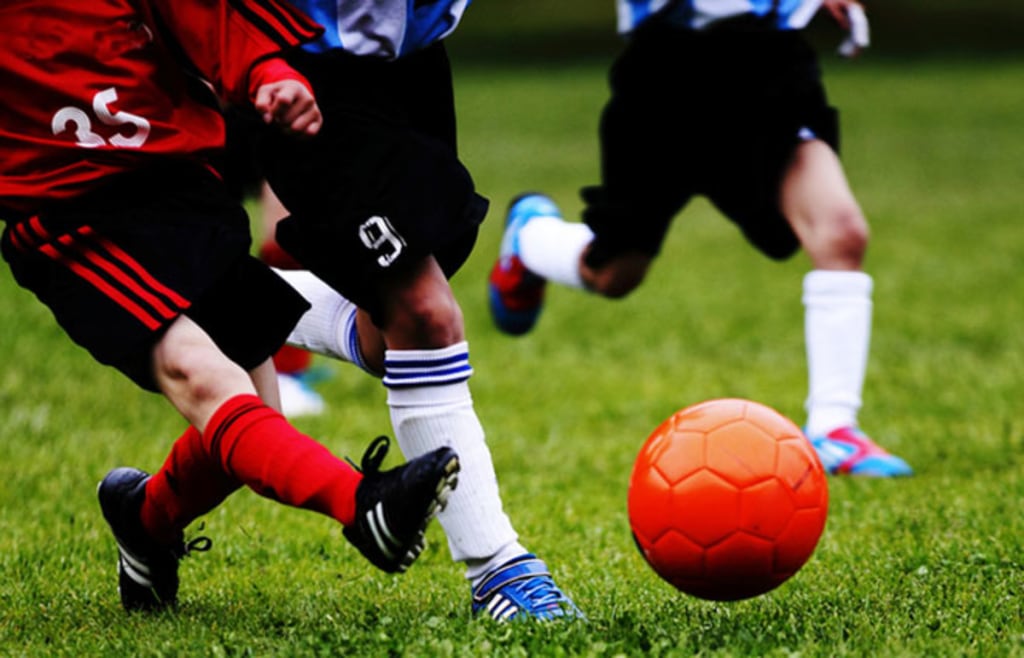 You want to see your kids play their hearts out and have a good time, but you also want to be fully prepared for every contingency to make sure that they can get the best experience possible. Soccer moms don't just drive a minivan full of kids to practice and games—they have to have all the bases covered, from drinks and snacks to a change of clothes to a comfy chair for sitting back and enjoying the game. Some of the most important soccer mom necessities will help you give your kid, their team, and yourself the best experience possible.
Soccer games can go on in all kinds of weather. Hydration is perhaps the most important part of healthy sports performance and enjoyment because of that, but drinking warm water from a plastic Poland Springs bottle isn't exactly the most refreshing way to recuperate from hours of physical activity. A good water bottle keeps the water cold and refreshing, and has the added benefit of saving the planet in a big way—those 24 packs of plastic water bottles might be cheap at the store, but they're not environmentally sustainable. In the long run, you save a lot of money by investing in a good quality, long lasting, and reusable bottle. If your kid has their own preferences of hydration techniques, well, soccer moms need to stay hydrated, too! It can be a lot on a hot day at the sides of soccer fields, and the best soccer moms are always prepared.
Water is crucial for any sport, hot and cold weather alike, but water just replenishes, well, water. Another hydration-related soccer mom necessity is Gatorade, or other similar sports drinks. For strenuous sports, kids are quickly losing important electrolytes and sugars that keep them feeling full of energy, and also help retain the water they drink in order to stay properly hydrated in any climate. Come prepared with a set of tasty Gatorades that will help them fight dehydration, boost energy, and keep your kids' spirits up. Getting a steady stream of electrolytes is especially important in practice and games when the weather is hot, as the body will rapidly lose sodium and potassium that it needs to keep you going, and help prevent painful situations like muscle cramps.
The phrase "standing on the sidelines" has negative connotations for all sorts of reasons, but when it comes to kids soccer games, the worst of it might just be the "standing" part. That's why camping chairs are absolutely soccer mom necessities. When the kids start playing, it might not seem so bad to stand and cheer; but after a while, standing there in the hot sun, you'll be wishing for a comfortable chair to sit in, relax, and enjoy watching your kids have a blast. To be ultra-prepared, keep a few extra chairs in your car, just in case some poor parent or family member made just that mistake. Great for you, great for the team, and great for making friends.
There's nothing worse than seeing your kid get hurt, which makes having a variety of band-aids and first aid supplies absolute soccer mom necessities. After all, what's childhood without a few scrapes and bumps from doing something you love? We all hope we never need to use a first aid kit or anything in it, but parents of all kinds, and especially those with active children, are probably pretty used to patching up a scraped knee with the perfectly sized band-aid. Soccer shouldn't be an excessively dangerous sport, but wherever kids run and play, accidents will happen, so it's always best to come to practice and games prepared to take care of those kinds of minor injuries, getting your kid (or whoever else's) back on the soccer field.
It may seem obvious, but extra soccer balls are without a doubt soccer mom necessities. If your kids love to play, you can encourage them and have fun with them by keeping some balls around the house and kicking it around in the yard. You can also keep an extra in your car, and break out an impromptu game wherever you go. Plus, there's always the possibility that you'll be the hero of the day when one ball gets kicked over a fence, punctured, or otherwise lost to diminished durability. In fact, it's probably best to keep a handful around, as extra balls are some of the best soccer training equipment for your team imaginable.
Umbrellas aren't just soccer mom necessities for the rain. Rain or shine, you'll be there; and without an umbrella, you'll be there cold and damp, or squinting from the blazing heat. Just keeping a large umbrella in the car, and making sure to bring it out for practices and games you'll be sitting in on, can take your experience from miserable to joyful. Pair that with your comfy camping chair, and you'll be soccer mom-ing in true comfort and style. It's one thing to stick it out through terrible weather for love and devotion, but you don't have to suffer to enjoy the fruits of your labor.
Some days on soccer fields are blazing hot. Others are frigidly cold. For those chilly, damp, shivery days, you don't want to be watching from the sidelines absolutely miserable. Be your best cheerleading self by coming to every game fully prepared with a rainproof fleece picnic blanket. You can spread it out on the grass if the weather is reasonable, and lay back comfortably without worrying about grass stains. If the weather turns unfavorable, you can wrap yourself up and stay warm, dry, and cozy. Barring a hurricane or similar disaster, this warm, outdoor, fleece blanket can keep you comfortable and right where you want to be.
Sunscreen for you, and sunscreen for your kid—since you know he or she probably won't volunteer for it—are among the most important soccer mom necessities. When dealing with strenuous sports (read: sweat), it's important to keep a long-lasting, water-resistant sunscreen with you, preferably with a high SPF, that you can reapply regularly. For kids, the misting spray kind can make it a lot easier to get full coverage in just a few moments, so you don't have to pull them away from the team to keep them safe from UV rays. Plus, you'll probably need it yourself—running around in the blazing sun and sitting or standing in the blazing sun will give everyone a sunburn (and other potential health hazards) just the same.
Soccer games need snacks, and soccer games need drinks. Ideally, these snacks and drinks shouldn't be warm or melted by the time they're most needed—when it's hot, and the players are tired. An easy-to-carry, collapsible cooler is just about as easy to tote around as a beach bag, and keeps your refreshments fresh and ready to be enjoyed. Easy and space-friendly though it may be, this collapsible cooler still holds up to 50 cans or bottles, so you and the players can make through those hot days focusing on the game, not on the exhaustion and heat.
When you spend any prolonged period of time outdoors, you open yourself up to some nasty bug bites. Best case scenario, you have some itchy bumps for a while. Worst case scenario, someone gets a mosquito-transmitted disease. Either way, it's a much better idea to just come prepared with plenty of bug spray. An easy-spray, unscented can of Off! will keep everybody safe from pests, so you can focus on the game—players and spectators alike. As always, reapply as needed!
Kids need energy all the time, but especially when they're out playing sports. Or just played sports. Or are about to play sports. That's why you should always be prepared with pre-game snacks, mid-game snacks, and post-game snacks that are easy to eat, tasty, and healthy; so the kids can get all the energy, calories, and nutrients they need to play their best, and feel their best. Keeping your spirits high while your child's hanger develops is no easy task, and you might not always have the most hilarious soccer mom memes to cheer you up. Having bars like the CLIF Kid's line, which are designed especially to provide fast, healthy energy on-the-go, are easy enough to keep around as far as soccer mom necessities go—in your car, your house, your purse, or wherever else you store things.