10 Best Female Soccer Player Autobiographies
If you're a fan of women's soccer or just take to the field yourself, you should definitely read a few of the best female soccer player autobiographies.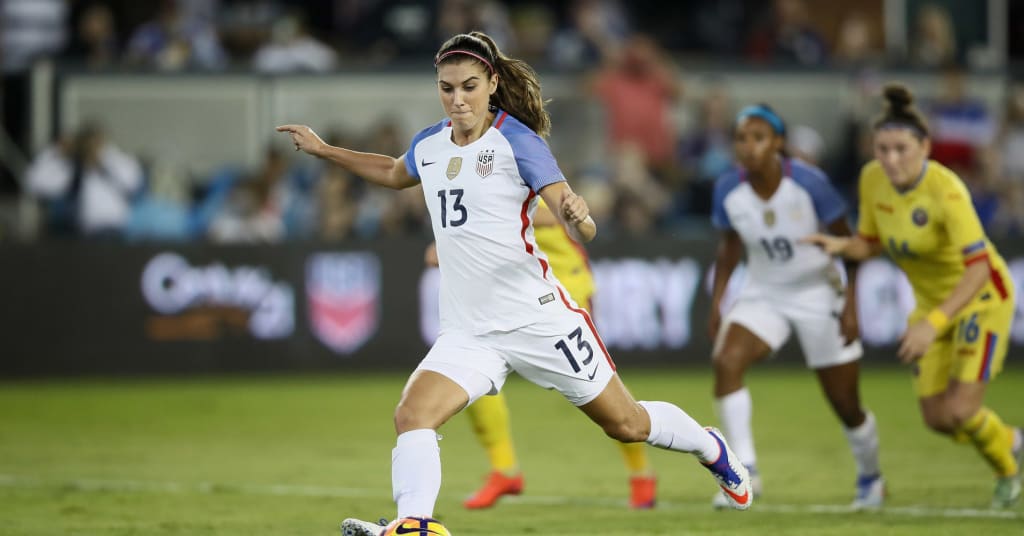 Source: HuffPost
Women have made incredible strides on getting closer to equality in the last few decades, and it feels empowering to see happening, but it's not easy to be a female athlete. While things are undoubtedly getting better, we're still not a point where the little girl who wants to be an Olympic athlete gets the same amount of attention as the little boy who has the same dream gets. If we look at a later stage of an athlete's early life, women's sports often don't get the same amount of attention as men's sports do.
Yet again, there's a lot more support and positivity surrounding feminism and women in the world of sports than there used to be. I briefly played soccer back when I was in elementary school, but by the time high school rolled around, I traded in my cleats for art supplies and notebooks. I became a total writing nerd, but I still kept up with my friends from the team.
I still remember my coach. We were just kids, but even at age 10, we were old enough to realize there was a lot more interest in the boys' practices and games. Our coach would always give us pep talks, try to encourage us to keep pushing, and that sometimes, we do have to train even more than the boys have to.
When I decided to give up on soccer to focus on taking AP courses and helping out with the theater club, I got a lot of similar pep talks from my friends and family. Everyone thought I quit because it was too hard to be a girl in sports; for me, it was just that I realized I loved the arts. For a lot of my old teammates though, it was the lack of support and recognition.
If you find yourself in need of a sincere pep talk, hearing from women who have achieved their dreams of being professional soccer players can be a lot more meaningful than just a random "you go, girl!" from your aunt.
I don't mean to devalue the support of family; support is great, but sometimes, generic words of encouragement that often get repeated stop having the same impact they once did. When you feel that happening and your hopes of becoming a soccer star are starting to falter, lift yourself up with some of the best female soccer player autobiographies.
I really love Lloyd's message throughout this book; sometimes, it's the work that no one sees that really counts. The hours spent at the gym after everyone else has left, the extra workouts you do at home, the extra practice you do when the sun has gone down and there's only artificial light left on the field—those are the moments that not everyone sees, but make all the difference. In her autobiography, Lloyd tells her entire story, from when she was ready to quit soccer in 2003 to how she persevered and helped the US Women's National Soccer Team win its first FIFA championship in 2015.
Abby Wambach retired in 2015 with two Olympic gold medals and a FIFA Women's World Cup trophy. She is undoubtedly one of the most successful female soccer players of all time, and after she departed from the field, she wrote the story of her career. Wambach gives an honest and often humorous account of all the ups and downs she experienced throughout her career.
If you're a big fan, Barnes & Noble has signed books sporting Wambach's signature. Alternatively, if you're looking for children's books about soccer that tell a motivational tale, Wambach also released Forward: My Story Young Readers' Edition for any younger players you hope to inspire.
Mia Hamm may not have played as recently as Abby Wambach, but she's still a legend in women's soccer. She shattered countless records, won two Olympic gold medals, and brought home two FIFA Women's World Cups. It's hard to argue with that kind of success! Her book has been a bestseller for years, and it's extremely motivational, especially for young girls who are strapping on cleats for the first time. Mia Hamm is undoubtedly one of the best female soccer players of all time.
Morgan was drafted as a number one pick in the 2011 WPS draft, and for those of you that aren't soccer fans, you should know that's a big deal. She's a very inspirational figure, a successful athlete, and shows girls that you can win an Olympic medal and still wear a pink headband. This autobiography is considered a children's book since it's written with younger readers in mind, but it's very uplifting, even if you are reading as an adult.
I feel like I really connect with Oxenham, as she went on to become known as a journalist and an award-winning documentary creator after her time playing soccer. She played soccer at Duke University and later on for Santos FC in Brazil; and interestingly, she also has an MFA in Creative Writing. A girl after my own heart, a soccer fan and a writer! However, Oxenham took her passion for soccer a lot farther than I did. If you're interested in learning more about feminism and sports as well as being a female student-athlete, add this book to your to-read list.
Remember how I mentioned that I turned into a total art and writing nerd after I hung up my cleats? I love Hope Solo, but oh boy, I can think of so many puns I'd use to title this book. Memoir of Hope certainly isn't bad though, I like the ambiguity of it. Hope Solo is an incredible figure in the world of women's soccer, and goalkeepers deserve every bit of recognition they receive and more. Hope Solo is not so coincidentally one of the richest female soccer players, but a lot of fans who have seen her play will say she's earned every penny.
Mo Isom played for the Lousiana State Tigers and holds the LSU all-time school record with a very, very formidable 35 victories with 25 shutouts. If you're religious, you may enjoy Mo Isom's tale. This is a female soccer player autobiography with a twist, since there's a heavy focus on life, motivation, and how religion helped Isom overcome many trials in her life. If you're an athlete and you're faithful, when you read this story, it'll feel like a personalized book just for you.
After an advanced search of all of these phenomenal women, I stumbled upon this title by Akers; unquestionably one of the soccer greats. She even won the Golden Boot as the top scorer in 1991. She was a hero to her soccer team. On top of being a fantastic player with multiple Women's World Cup victories, she's also a huge advocate for women's rights. She's an advocate for soccer and a huge supporter of women playing the sport. Her autobiography covers all the events and emotions that fans didn't necessarily see when her major soccer triumphs occurred. This book also has some religious themes, as Akers has become increasingly involved with the Christian faith.
Much like me, Allison played soccer quite a lot in her youth. By the time she turned 14, she'd been playing soccer for half of her life. Always eager to hit the field when she was in school, her professional career took a different career, as she is now a professor of sociology and gender studies at Mississippi State University. Before you scroll along like "bah, no Olympic gold medals, I don't care," I think she still counts as a serious player. Kicking Center analyzes women's soccer from a sociological and cultural perspective that is very fascinating.
After winning two Women's World Cups and getting two Olympic gold medals, Chastain couldn't get enough of the soccer world, for she's gone on to be a coach and a sports broadcaster. In this book, she shares quite a few stories from her career, but she primarily takes a hard look at the culture of soccer teams today. She looks at competitive sports as a whole, but takes a particularly hard look at youth sports, which often have far too much negativity surrounding the pressure to win. The analytical eye she takes on poor sportsmanship makes this an interesting read and definitely one of the best female soccer player autobiographies.
product review
About the author
I'm a creative writer, blogger, and IT person from Charm City, Maryland. If you're not from around here, that means Baltimore. If you see someone in Fells Point pouring over a tiny Windows laptop that's a bit too old, you might just have spotted me.
Reader insights
Be the first to share your insights about this piece.
Add your insights