Being a Female Student-Athlete
Dreaming About Skiing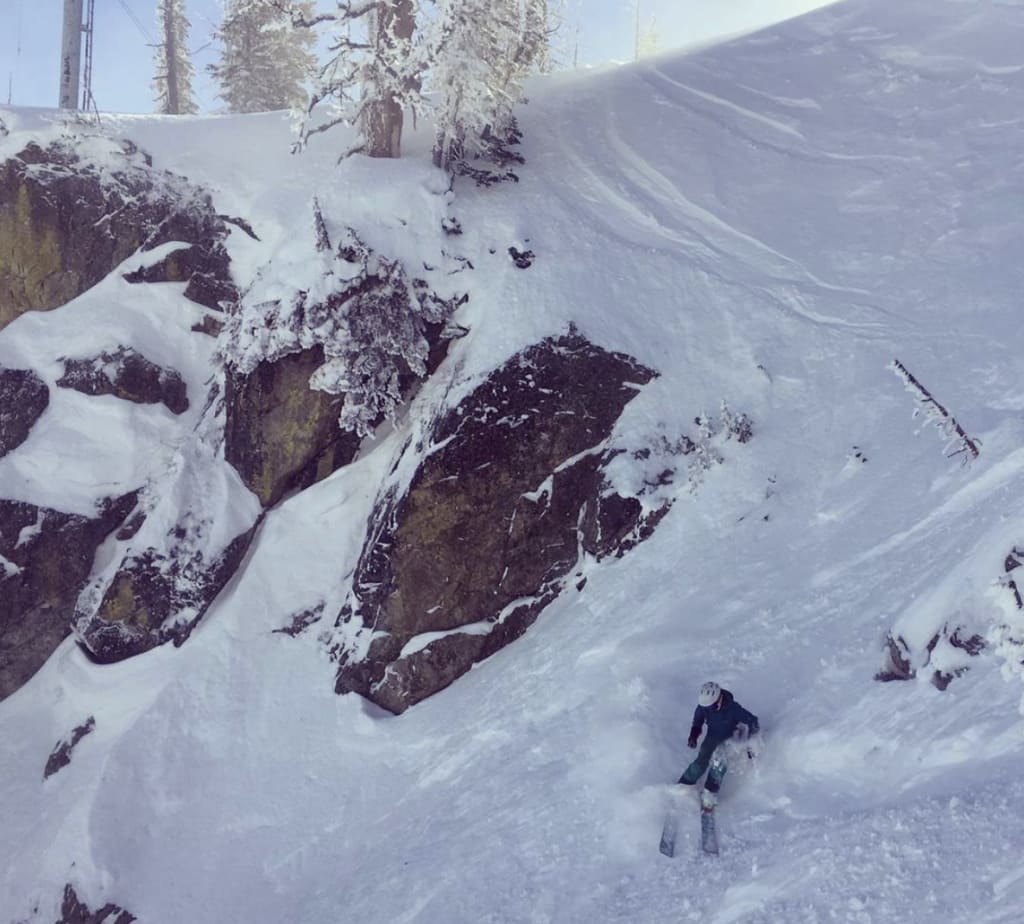 Skiing is a easy breezy dream.  
Hi, my name is Erica, and the basis is that I love to ski. I particularly love to do freestyle skiing, typically big mountain (with the cliffs and moguls) but, I also love to do some park (the big jumps with those tricks that makes you wonder how long it actually takes to learn a trick (or is that just me, because it takes what seems like forever to learn a new trick)).
And that is the baseline of what I like to do for skiing. But there is another entire part of me... or shall I say one of the many parts of me.
Because I am still young and not of legal age to drop out of school there is the student, learner side of me. And when I said not of legal age to drop out that is just a way to say how old I am and also you can imagine where I am with my schooling career. At this moment, no I do not want to drop out. Actually, school is very important to me and wish to go far so I can learn more and nurture the curiosity that lies within me.
-----------------------------------------------------------------------------------------------------------------
But the reason why I am writing this is for a few reasons that I have decided to list below:
To spread what it is like being a student-athlete
What it is like being a female in a male dominant sport
To show females that they can do anything once they put their mind to what they want
Girls are the best badasses that I know
-----------------------------------------------------------------------------------------------------------------
For the reasons I listed above I don't know how to talk about all of them with it making sense so I decided to go through the short list and talk about the points that I listed.
Starting with number one, it is hard doing a very energy draining sport along with being a full student. One or the other putting all your time and effort into one or another is already a lot. But try adding them together. Then once you add the competitions and major exams and STRESS! Adding the two things that I love together can be nice, study for a few hours then take a few runs on the mountain. While doing that you are pushing yourself mentally and physically. The hardest part about doing a hard sport and being a good student is managing stress and time management. Finding a good strong balance between those two things is the sweet spot. It is hard to get in it and stay in it, but keep your head down and keep striving to be the best image of yourself and what you want to be. The sweet spot is the best spot for everyone and it just depends on what the sweet spot is for you. And my sweet spot is being a good student but also a healthy, strong athlete.
Now, number two. What is it like being a female in a male dominant sport. Well, the short answer that I have is a weird combination. You are empowered but you are also let down by being one of those "females." But my longer answer something like this... It is amazing to be a female in a male dominant sport because you are working with men and they are stronger and it pushes you to get even better. But then you think about that... working (for the lack of a better word) with guys because they are stronger, and why can't a girl be just as strong or stronger than a guy?
The three seasons that I have been with a single team of freeride I have gotten a mix of the combinations of working with guys. The first year I was skiing with a group of girls and that was a very good introduction to the freeride team I was on and it helped me open up. Then the second year I was the ONLY girl on the ski side of freeride. Every weekend I was skiing with guys, no I don't have a problem with that, and yes I did enjoy it because I was pushed more than ever with skiing. Then this past year, when I started competing, I was the only girl travelling with the team. No, nothing happened when I stayed with the guys, and yes the houses we stayed in got really stinky because of them. And yes I very much did enjoy it and will definitely do it again.
But, bringing myself back to my second point. It makes you feel good that you are just as good or even better than the guys. That is an empowering feeling. But then mostly being with guys it makes you feel bad that there are not as many girls in skiing industry. At this point, there have only been a few ski movies that have been created just featuring women and girls. And the one that I have seen made we really empowered to be a girl and to show that I can do anything.
And that is leading to my third point. Girls really can do anything they want once they commit to what they want. The hardest part is starting not knowing the unknown. But once you get past that and dive right in you can have so much fun with it. I am not telling you as the reader to just start skiing and do freeride. Yes, that is amazing if you do but, what I think the most important thing to do is to follow your passions. And do what you want whatever it is. Just let it not be illegal, please.
And the fourth and final point, last but definitely not forgotten. Girls really are the best badasses that I know. Just look at all the inspirational women around the world. And to learn more I would highly recommend Good Night Stories For Rebel Girls by Elena Favilli and Francesca Cavallo. (And now they have #2... not sponsored). But the first book that I have read has all these amazing badass and empowering women all over the world and time. No matter what age I would recommend that book to any woman.
But with this, I would say follow your heart no matter what and be the best self of you. Be the badass that you want to be.
For now, xoxo Erica
Check out my Instagram @erica.powditch