Time Descriptions
Some Things Never Change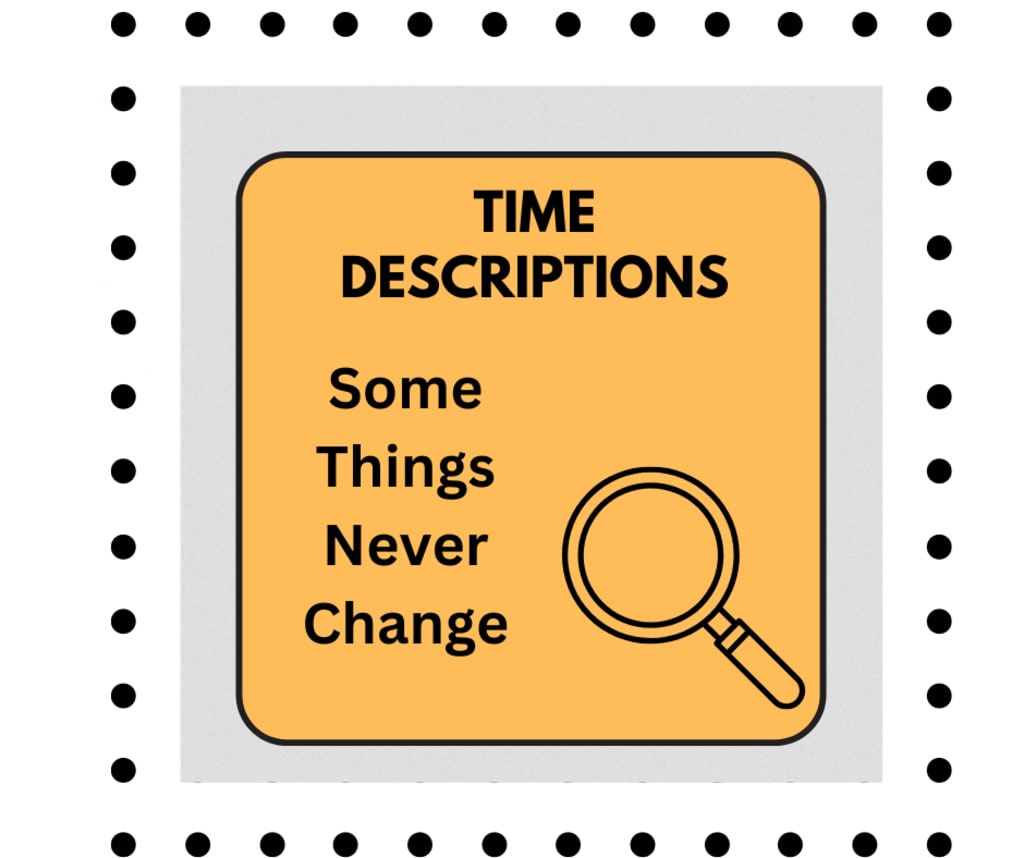 created by author using Canva
As a child of the 70's (ok- also 60's but who's counting?) I was raised on songs about time.
"Time keeps on slipping, slipping, slipping into the future.... "- Steve Miller Band
"If I could save time in a bottle- The first thing that I'd like to do- Is to save every day 'til eternity passes away -Just to spend them with you"- Jim Croce
"If a man could be two places at one time- I'd be with you-Tomorrow and today, beside you all the way..."- Bread
And out troubadour warned us that 'The times they are a-changin'"
All of that early exposure to the myriad ways Time's passing can be described made an impact on me. It has not, however, made an impact on the ways AI describes passing time.
Look for These AI Time Tropes
The most common devices are bolded and italicized. All but five of these came from our group of sample content, all published on Vocal Friday August 18,2023.
Beginning the Content
One of the most common ways for a fairy tale to start is also a common AI-generated beginning, fiction or non-fiction alike, so it simply must start this list of common time-descriptors:
Once upon a time
From an early age
~*~*~*~*~*~*~*~*~*~*~*~*~*~*~*~*~*~*~*~*~*~*~*~*~*~*~*~*~
Advancing the Narrative
At some point,
Her days were spent
spent his days
the days spent wandering
~*~*~*~*~*~*~*~*~*~*~*~*~*~*~*~*~*~*~*~*~*~*~*~*~*~*~*~*~
Turning Point in the Story
One critical day
One fateful evening
One fateful day
awoke to a new day
~*~*~*~*~*~*~*~*~*~*~*~*~*~*~*~*~*~*~*~*~*~*~*~*~*~*~*~*~
The Action Starts Moving
With the changing seasons
as the seasons cycled
And as the seasons cycled, bringing life to the land once more
As years passed
As the years went by
As decades turned,
~*~*~*~*~*~*~*~*~*~*~*~*~*~*~*~*~*~*~*~*~*~*~*~*~*~*~*~*~
Time Drags Onward
Days turned into weeks THIS is a dead-solid giveaway for AI-generated content. Once you see this just skim the rest for the rest of the keywords and clues.
Weeks passed
Days transformed into weeks
Shadows lengthened, and with each passing day,
ebb and flow of existence
Amidst the gathering storm
As the sun dipped below the horizon
from dawn till dusk
~*~*~*~*~*~*~*~*~*~*~*~*~*~*~*~*~*~*~*~*~*~*~*~*~*~*~*~*~
It's 'These Boots Were Made for Walkin' " Time
embarked on a journey
embarked on a lifelong journey
looked back on his extraordinary journey,
Their idyllic journey
Their journey underscores
Helen's intellectual journey
As Helen and Sam's journey continues,
The beauty of their journey is its inherent balance.
left on a hazardous excursion.
~*~*~*~*~*~*~*~*~*~*~*~*~*~*~*~*~*~*~*~*~*~*~*~*~*~*~*~*~
Winding it Down and getting to the Moral of the Story
story spread far and wide,
an aura of newfound hope permeated
his legacy would continue to inspire
And so, the tale of Ernest Amenuvor, the young dreamer who transformed his imagination into a force for good, continues to inspire
And so, the legend of the haunting in Hillwood Manor continued,
Thus, the narrative of Aiden,
And so, Aria's melody persisted to resonate,
the memory of their triumphant battle against the unknown endured
And in the heart of the forest, the memory of Eliza's bravery
~*~*~*~*~*~*~*~*~*~*~*~*~*~*~*~*~*~*~*~*~*~*~*~*~*~*~*~*~
When these descriptions of time are paired with the stable of character and location names AI-assistance is all but 100% certain (because miracles do happen).
The next chapter will gather together the Morals of the Story.
~*~*~*~*~*~*~*~*~*~*~*~*~*~*~*~*~*~*~*~*~*~*~*~*~*~*~*~*~
The content above is from my work in progress, described in this Vocal post:
The previous chapter is Story Arcs.
Please subscribe to get a FREE notification of the next chapter in this guide, as well as my other newly published Vocal content.
And while you are here, please add a comment below: Do you see any of these time descriptions in the stories you read on Vocal? What are some other phrases you would include?
Reader insights
Be the first to share your insights about this piece.
Add your insights