Location Names
Location! Location! Location! It's a Tip-Off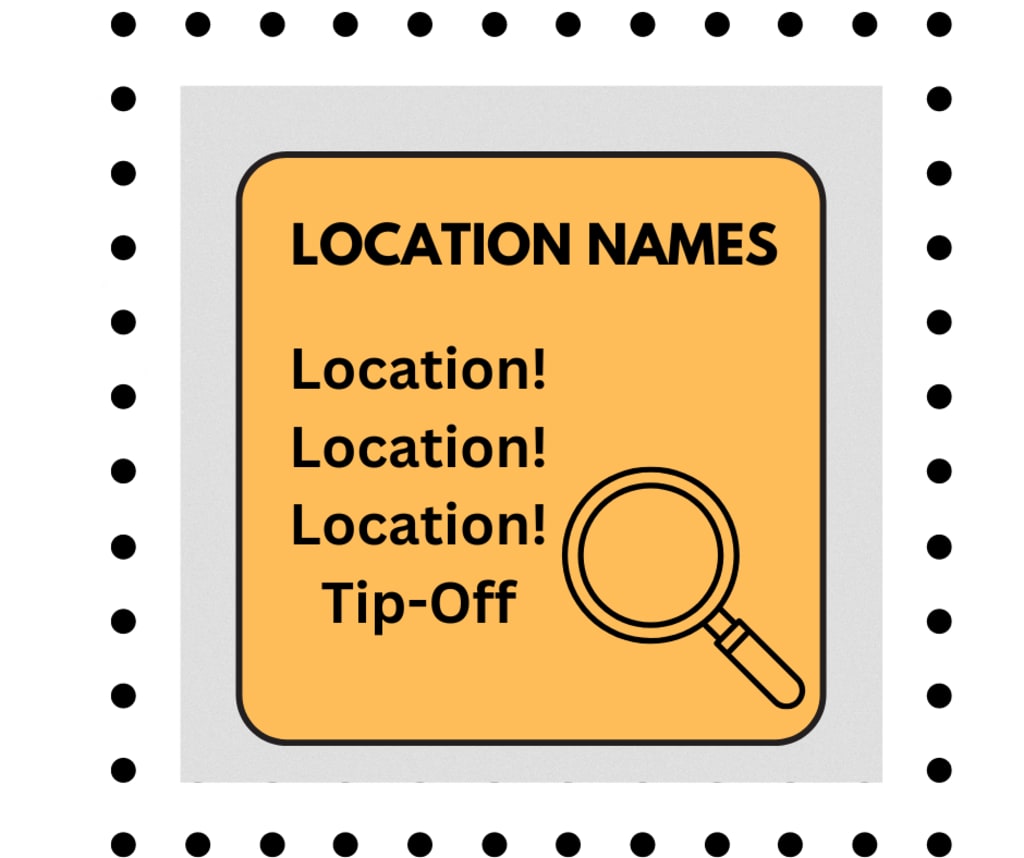 created by the author on Canva
"What's in a name?", asked Juliet in Shakespeare's Romeo and Juliet. Well, when it comes to Location names in AI generated content, a name can tell the reader a lot.
This chapter will outline the common locations and location names used in AI generated content. This is true as of August 2023; please keep in mind that the very concept of AI is always evolving so location settings and place names will likely also evolve.
Common AI Locations
As outlined in the previous chapter on first paragraphs, AI uses reliable tropes for much of its stories. Common locations include: villages, towns, cities, suburbs, forest, and in the case of Fantasy stories: planets, worlds, realms, and galaxies.
Our example stories, all of which were published on Vocal 8/18/23, show these common settings and give a hint to the coming action by the adjectives used to describe them. These are some of the most common location descriptions and their adjectives:
Villages are notes as quiet, idyllic, quaint, charming, picturesque,
Towns are called: bustling, little, remote, small, curious, calm
Suburbs are: quaint, quiet, sleepy
Cities are: clamoring, bustling
Forests are: enchanted, shadowy, deep
Countrysides are: quiet, verdant
Wildernesses are: untouched, hushed
Savannahs are: lush, sweeping
Metropolis are: dynamic, bustling
Although the adjectives can be mixed and matched among the locations, you can see them in use in our example content:








~*~*~*~*~*~*~*~*~*~*~*~*~*~*~*~*~*~*~*~*~*~*~*~*~*~*~*~*~
Location Names
More detail regarding word choices will be covered in the Vocabulary chapter of this guide, however the location names are a sort of mix and match Garanimals collection of words that are seen over and over.
Most often used are words ending in -wood, -thorn, -fall, and -brook. With the first part of the name a variation of Raven-, Mist-, Black-, Hollow-, and Hill-. Fantasy often uses a variation of Eldoria.
Sometimes they are proper names for castles and spooky homes, last names of characters, and most often they describe communities and living spaces.
Among the most popular, many of which are found in our examples:
Hollowbrook
Mistwood
Blackthorn
Meadowbrook
Eldoria
Backwoods
Charmed Woods
Charmed Woodlands
Hilwood/Hillwood
Ravenswood
Havenbrook
Crestfall
~*~*~*~*~*~*~*~*~*~*~*~*~*~*~*~*~*~*~*~*~*~*~*~*~*~*~*~*~
-Villes also have a place
Our examples also show Brokeville. Variations of -ville and -town surfaces in many of the content intended to be humorous. The word used to begin the name explains the topic of the content.

Brokeville is about a poor person or family, Catville is about talking cats, Barkville is a town of dogs, Chuckletown is a place filled with clowns, Coralville is filled with fish, etc.
~*~*~*~*~*~*~*~*~*~*~*~*~*~*~*~*~*~*~*~*~*~*~*~*~*~*~*~*~
Nestling isn't Just for Fairytales
A few of the examples above also show a popular choice in AI generated content. Locations nestle a lot. Sometime they lay, sometimes it lies, it can in the midst or amidst, and I've noticed tucked, but nestling is by far the most prevalent description.
Take a moment and reread the examples and note the six instances where this descriptor is combined with a predictable location name.
~*~*~*~*~*~*~*~*~*~*~*~*~*~*~*~*~*~*~*~*~*~*~*~*~*~*~*~*~
Just as location names, once you read enough of them, jump out as AI go-to content, the names of the characters are interchangeable between stories, too.
The next chapter is on: Character Names.
~*~*~*~*~*~*~*~*~*~*~*~*~*~*~*~*~*~*~*~*~*~*~*~*~*~*~*~*~
The content above is from my work in progress, described in this Vocal post:
This is the link to the previous chapter: Opening Paragraphs
Please let me know in the comments: What other commonalities in location names have you found? Have you scanned the text visible on thumbnails of Vocal's Latest Stories and been able to use the information I've provided to pick out AI generated content?
Reader insights
Be the first to share your insights about this piece.
Add your insights