Zodiac Eyes
Powerful Everyday Makeup for Your Star Sign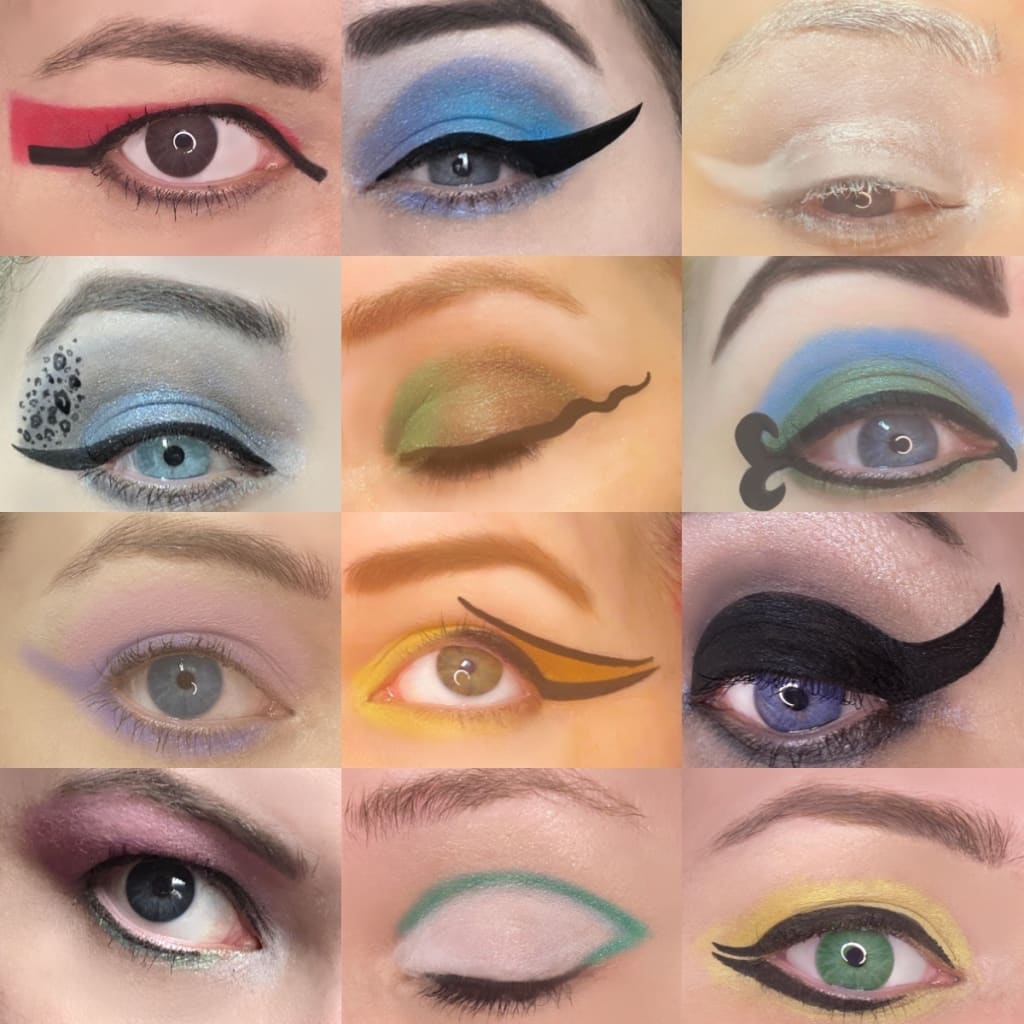 Astrology has enthralled humans throughout history, it's something that is shared in many cultures and is something that humans turn to when they need comfort, inner knowledge or a way to bond with others. Whether you love it or hate it, it's a long-standing tradition that continues to remain fresh and relevant across every time period, due to its ability to mix and adapt with other interests. So I decided to mix it with my makeup infatuation!
I've compiled 12 different looks that aren't overtly Zodiac themed, but instead incorporate the power colours and shapes that ignite the power of each sign and encapsulate its best qualities. These subtle looks are suitable for everyday looks and are simple to achieve.
All of the eyeshadow colours are from the Lilim Cosmetics range, links are provided.
Aries - Powerful Ruler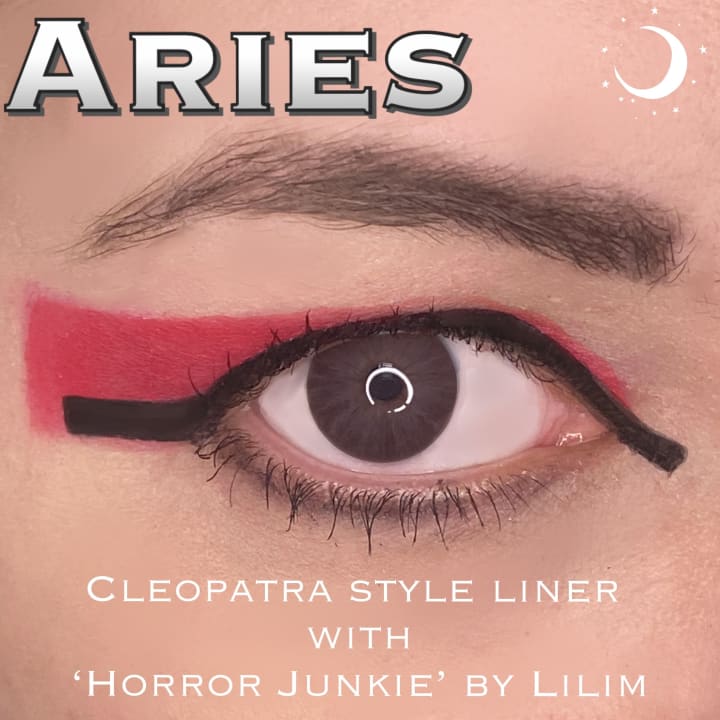 What better style icon for a bold Aries than the great Queen Cleopatra? This commanding look is fiery and eye-catching, with strong square shapes and bold black lines. Red is the ultimate 'Power Colour' for harnessing the dynamic power and confidence of this sign and the 'Horror Junkie' eyeshadow is vibrant and packed full of glitter, so it dances like a crimson flame.
Taurus - Spring Emerging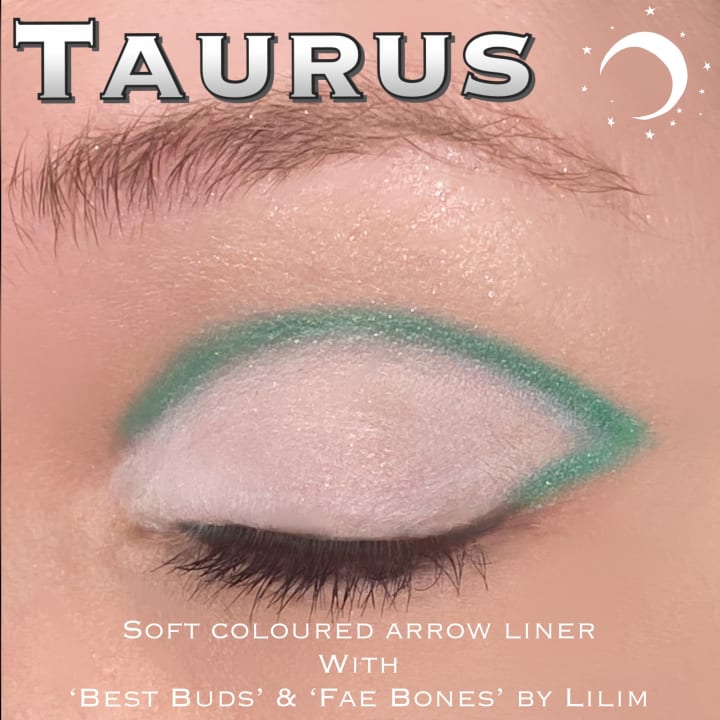 Simplicity is key for Taurus and this look utilises the 'less is more' rule to create a clean and striking design. It looks like fresh spring shoots pushing up through the snow and its soft lines reflect the inner personality of the stubborn but kind Taurus. There's no need for harsh, sharp lines in a Taurus world - comfort and luxury are key.
The green is the real power colour here and 'Best Buds' is the perfect shade - a fresh green with gold glitter. The white 'Fae Bones' is also packed with different coloured glitters so that it's super shimmery and shifts in the light.
Gemini - Double Glow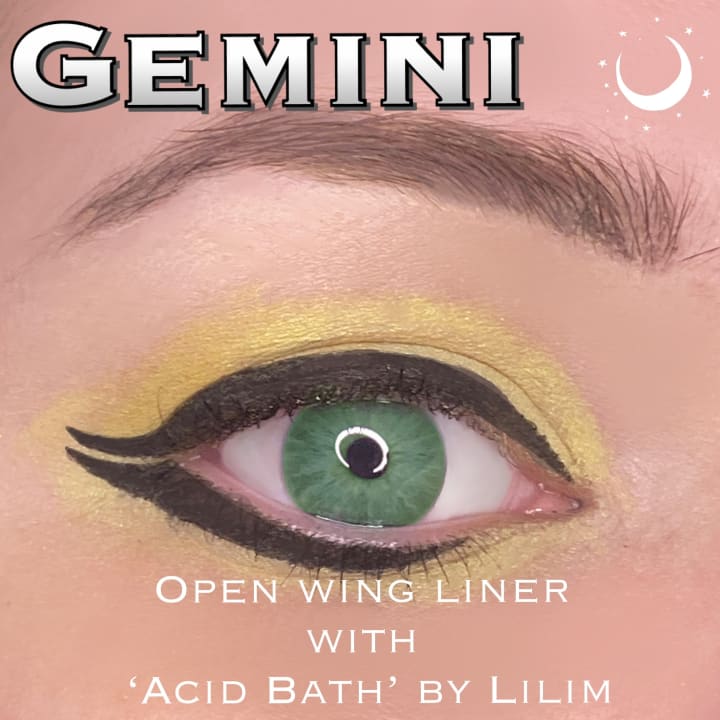 Gemini is always double the trouble, so it had to be an open wing eyeliner to create twin lines that represent the two sides of those with this sign. Yellow is the best power colour for Gemini as it represents their vibrant and sometimes erratic energy and joie de verve, so I used the bright 'Acid Bath' eyeshadow as it's almost neon and has a green shine to it under light, which looks quite cool in this style.
Cancer - Icy Mystique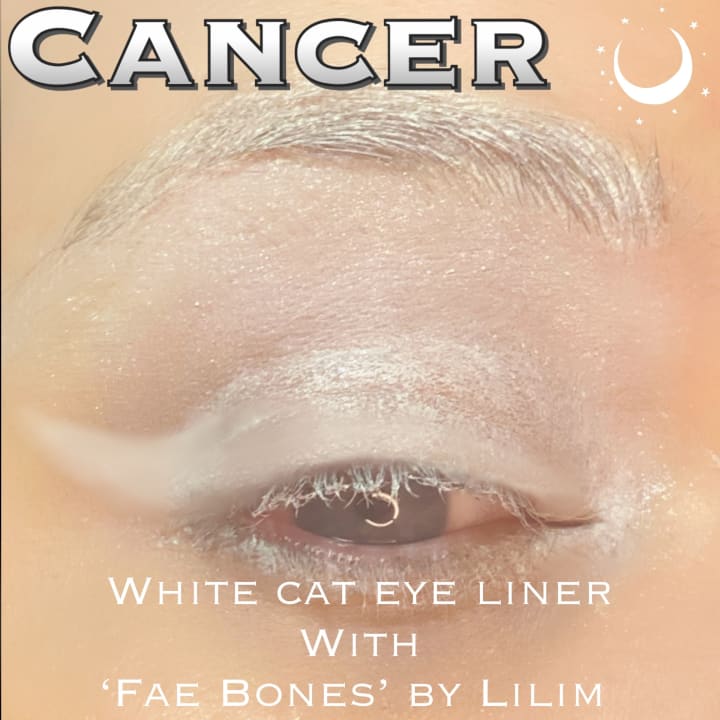 Cancer signs are a strange breed - ethereal, other-worldly and perfectly comfortable with floating above 'The Norm'. Since the power colours for Cancer are silver and white, it just made sense to do an all-white look using 'Fae Bones' as it's packed with different coloured glitters, so that it shimmers in a myriad of colours under the light. It creates an icy, ghostly vibe and the classic cat-eye liner shape in the not-so-classic colour lends form and style to the celestial look.
Leo - Golden Pagoda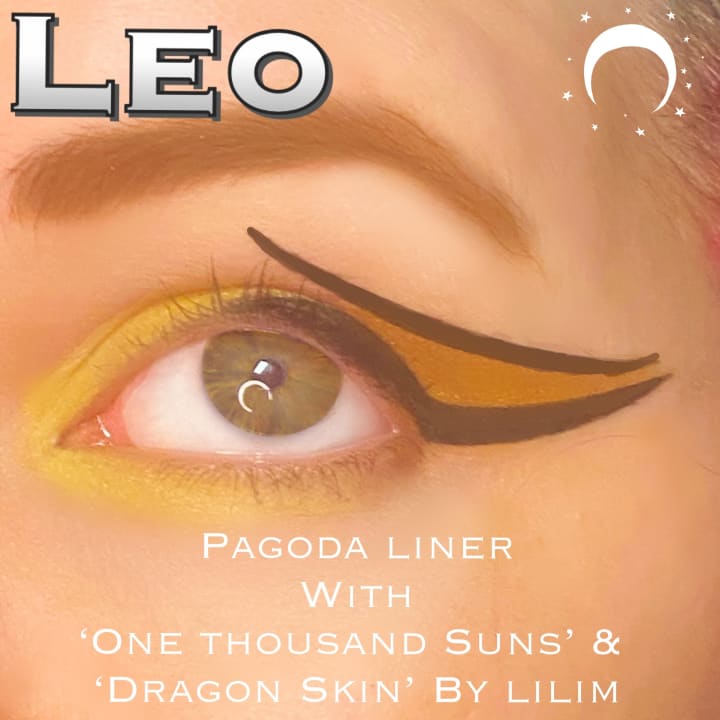 Fortune! Celebrity! Adoration! Leos want everything in life and they know they deserve the best. This opulent look is packed with gold - a Leos power colour. The outrageous graphic liner is similar in shape to an oriental pagoda in an eclectic style that represents prosperity and the exotic and prosperous lifestyle at the heart of every Leo. I used the colours 'One Thousand Suns' and 'Dragon Skin'.
Virgo - New Tree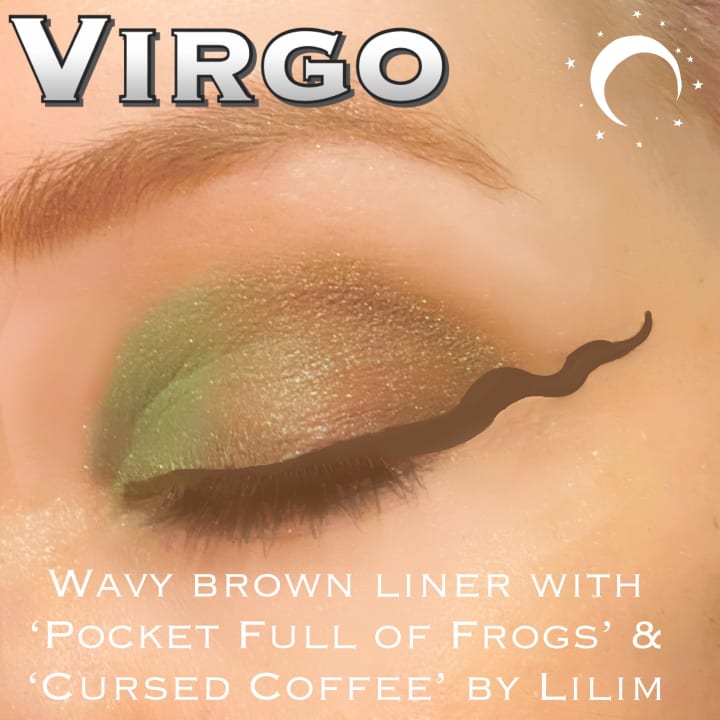 Both green and brown are power colours for those born under Virgo due to it being closely linked with the earth elements. I used the shades 'Pocket Full of Frogs' which is green with olive and brown shifts as well as 'Cursed Coffee', which is brown with a green shift - both colours complement each other perfectly. This design is mostly simple but has an unexpected twist - the basic eyeshadow blend and the thin liner are quick to execute, which is perfect for the busy Virgo's, finished with a wavy cat-eye that requires practice and diligence to pull off.
Libra - Dreamy Pastels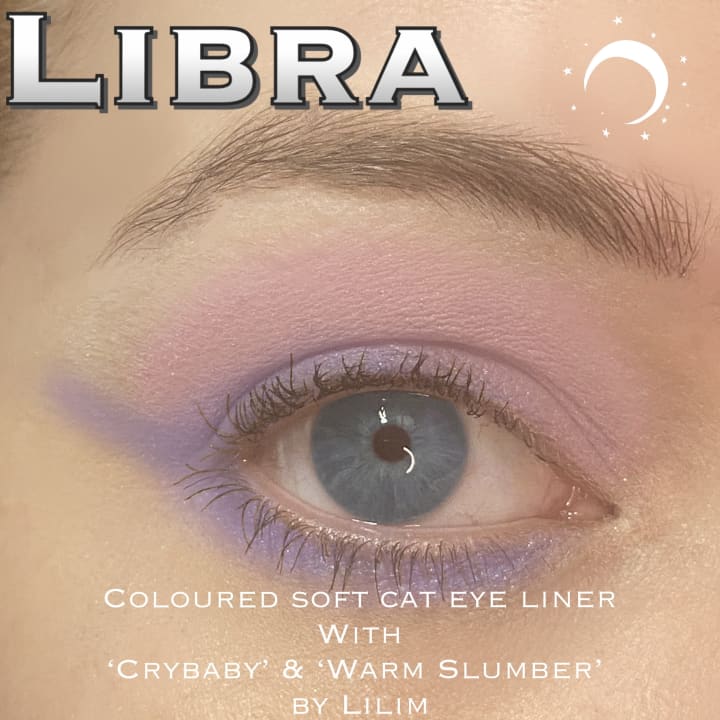 Libra is an air sign so this look is soft and light like a summer breeze. The power colours for Libra are pink and blue. People with this sign are known for their love of balance and harmony, so the opposite colours that still complement each other create a dreamy juxtaposition reminiscent of a Yin Yang. I used 'Crybaby' for the lid and 'Warm Slumber' for the liner.
Scorpio - Amped Vampette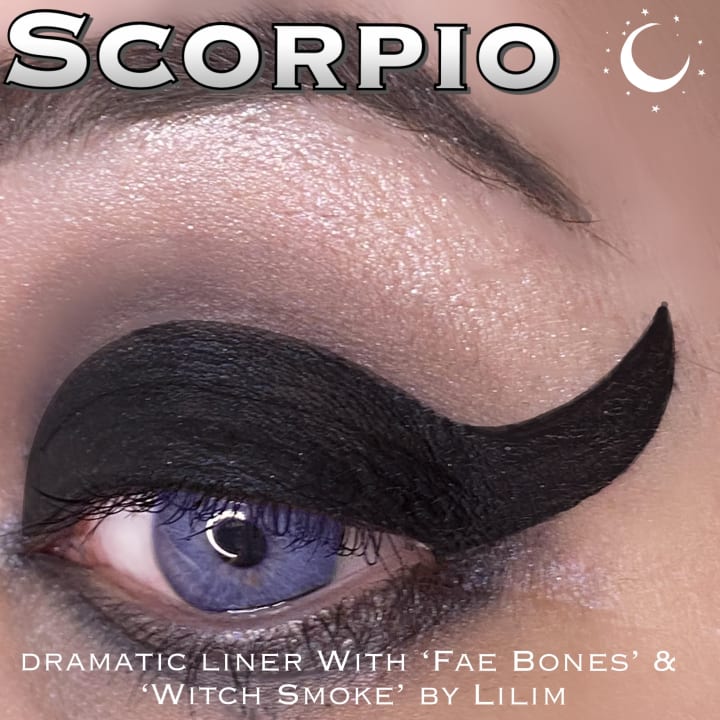 Perhaps the most misunderstood sign in the zodiac, empathic Scorpios are seen as moody and dramatic because of their love of the dark side and their closeness with their own emotional truths. To celebrate the dark, rebellious nature of the Scorpio I went with the most dramatic batwing liner. I used 'Witch Smoke' which makes the perfect smoky eye and has rainbow micro glitters and 'Fae Bones' which is white with rainbow glitters.
Sagittarius - Soft Shifts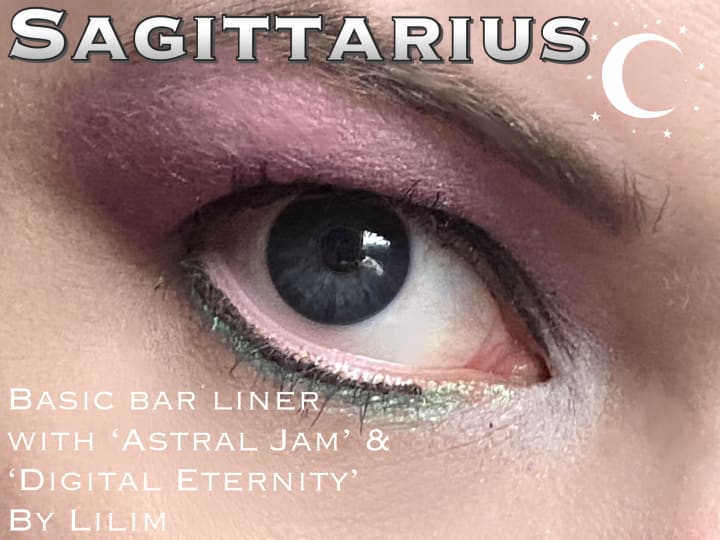 Sagittarius people love pursuing adventure in many different forms, whether it's travelling the world or a quest for knowledge they usually have a very personal plan and they often rigidly stick to it to achieve their goals. That's why I chose a simple bar liner on the upper and lower lash lines - keeping it to the straight and narrow path. This look features 'Astral Jam' on the lid, 'Digital Eternity' under the brow and to contrast, 'Best Buds' on the lower lash line.
I chose the colours to represent the focus on goals, dreams and thinking outside the box. I used the contrast colour to compliment the colour shift of 'Digital Eternity', which shifts to green in the light.
Capricorn - Silver Leopard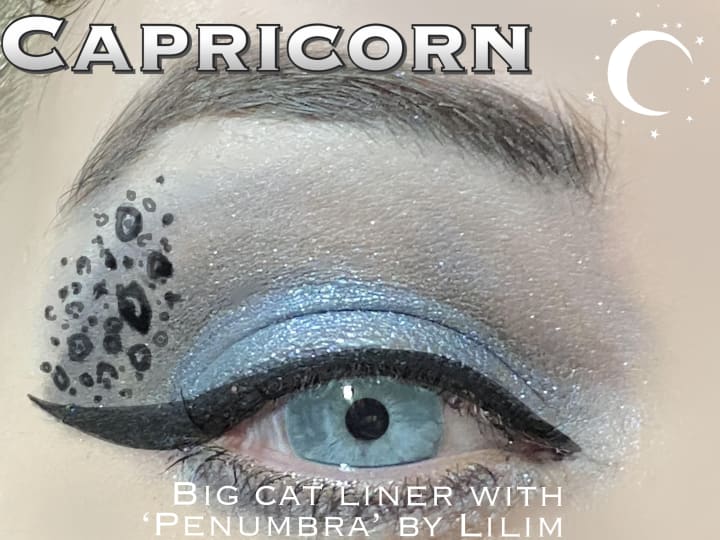 Capricorns value their time, patience and perseverance and know that practice brings perfection. Much like Virgo, I decided to opt for a simple eyeshadow blend with a detailed twist. What perfect way to show off this sign's style and skill than a spot of timeless leopard print? It looks tricky but is quite easily achieved - just draw a few dots, circles and 'c' shapes. This look takes the classic cat-eye liner style and makes it BIGGER. I used 'Penumbra' on the lid and 'Witch Smoke' on the crease.
Aquarius - Clear Skies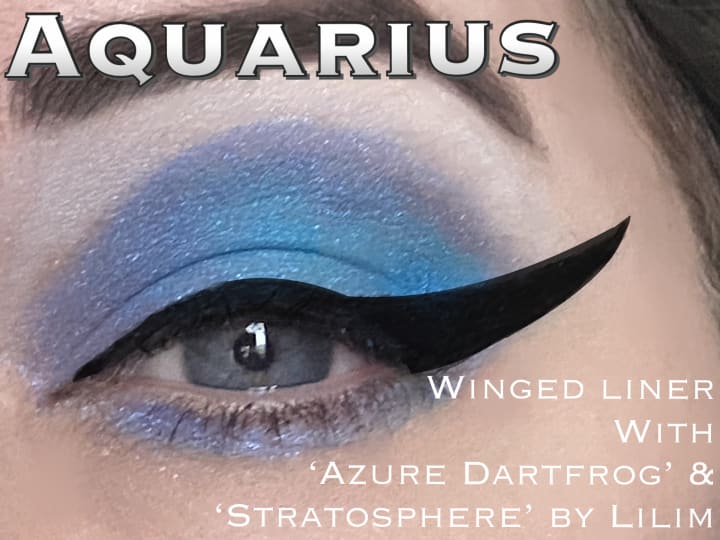 Aquarius is an Air sign represented by the water bearer who pours life into the land, so I chose a colour that represents both elements. I also chose a big old wing liner since Aquarius folks always seem to fly to the rescue in the nick of time. This look blends 'Stratosphere' on the out lid and 'Azure Dartfrog' over the crease and the inner lid.
Pieces - Fish and Fortune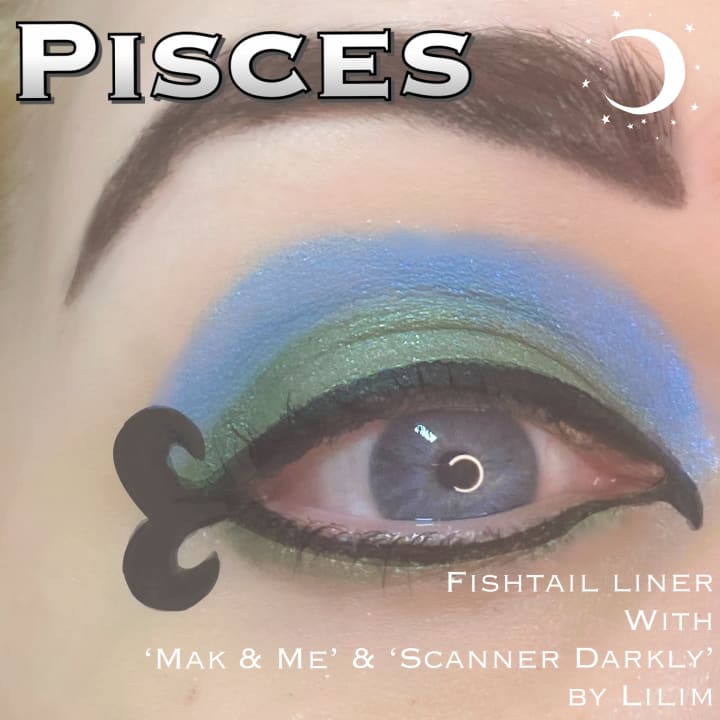 Last but not least we have the mystical bitches that we're born under the sign of the fishes! Intuitive to the point of spookiness, I naturally had to incorporate elements of an old-world fortune teller with a dramatic, kooky style. I'm sure I don't need to explain the relevance of the graphic liner. Though the power colour of Pieces is green, I wanted to contrast it with blue because my Grandma always used to say "Blue and Green should never be seen except for on the back of the fairy Queen" and Pieces folk are almost certainly related to the Fae. This offbeat style was created with 'Scanner Darkly' and 'Mak & Me' and a really steady hand.
makeup
About the author
🌕🔮Marchioness du Strange🔮🌕
Connoisseur of all things dark and whimsical.
Your faithful guide to the weirder side.
I dabble in tits, art, and everything dark!
If you enjoy my writing please show my posts some love!
❤️🧡💛💚💙💜🖤🤍🤎
Reader insights
Be the first to share your insights about this piece.
Add your insights