WTF do I put on my face?
My 7 steps $75 routine for better skin!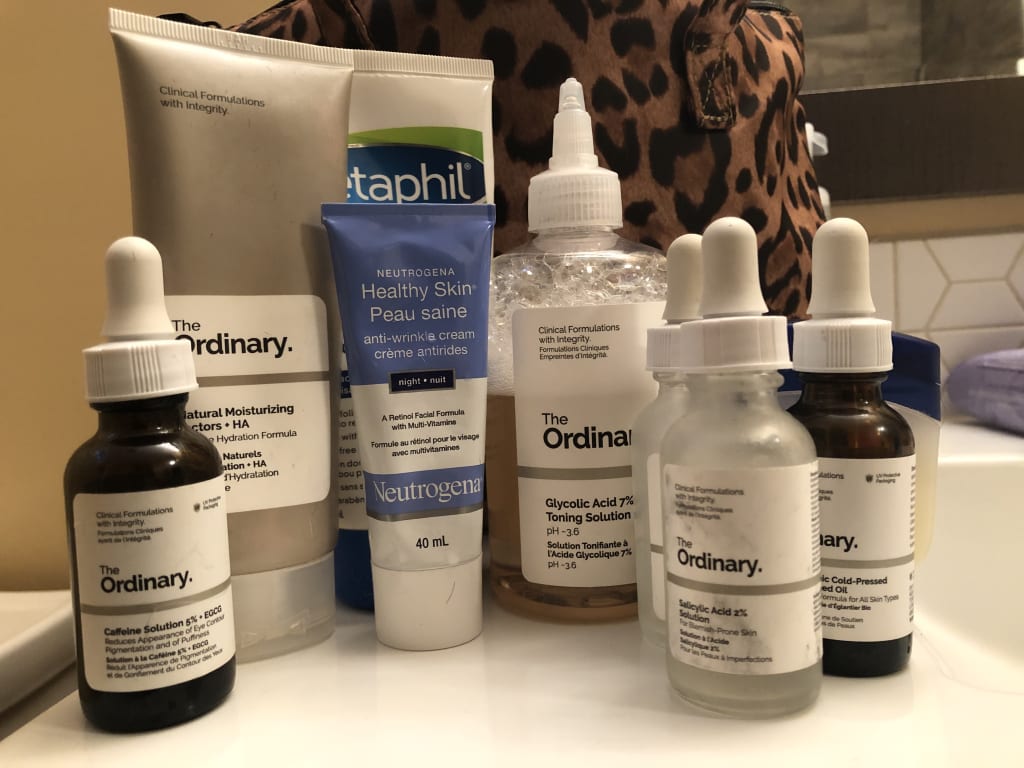 My ride-or-die products
Every girl has been through it. The struggle of finding the PERFECT skincare routine. I've spent years spending money on expensive and inexpensive skincare products that beauty gurus swear upon, but in reality.. none of them worked for my skin.
Now that most skincare companies have moved to the e-commerce world, I've spent countless hours trying to form relationships with many different skincare brands. I've watched hours youtube reviews, scrolled through endless product reviews, and absolutely HATED the amount of hours I had to spend to find what's right for me.
Until a lightbulb went off. I realized that with any brand these days, buying skincare products online was a guessing-game process anyways, and I was most likely going to to spend so much money going back to my trial and error process I have been experimenting with since I started taking care of my skin.
UNTIL...
I discovered The Ordinary. An affordable, yet effective line of skincare products that I know I can experiment with, and know that it would not break my bank (I'm a 22 year old entrepreneur that cannot afford to lose money on crappy skincare products).
I was always lucky to have (Excuse my pun) "Ordinary" skin. I played hockey all my life. When my chin and forehead were always touching my sweaty hockey helmet interior, I never really broke out. The only problem with my skin is that it does get relatively dry in the crisp wintertime of Canada, and I had a few signs of aging on my forehead and my laugh lines (You're never too young to start anti-aging) in which I was able to recently overcome when I switched to this routine over a year ago. I also have hereditary dark circles beneath my eyes, and the occasional dark spots from sun damage.
The only problem about the Ordinary brand is that I had no idea what to products to use. So I obviously accessed their website and started scrolling through the products. I tried to debunk the scientific wording on their bottles... but I was unsuccessful. WTF do I put on my face?...
I am here to share my step by step skincare regimen in hopes that I can help you figure out WTF to put on your face.
DISCLAIMER: I am not a dermatologist or am telling you what to do. I am just hoping to debunk the uncertainty that the Ordinary Brand carries and share what products have worked for me in hopes that it helps your skin as well!
The first step of my skincare routine is to take off all of my makeup, and these wipes make it easy. These wipes are moist enough to erase even waterproof makeup on your eyes. I only have a skincare routine at night (I don't need to waste products on my face in the morning when all I've done was sleep) so the night calming formula works wonders for my face.
Pro (not so pro) Tip: I rip each towelette in half and throw the other half back in to the package to save money. One pack usually lasts me 2 months. Unlike other wipes, if you accidentally leave the tab open, these wipes are moist enough that they hardly dry out. If they happen to dry out, they can be easily revived with water.
The second step of my skincare routine is cleansing my skin. I've always had a love-hate relationships with my cleaners, and could never find a product that was cleansing enough without drying my skin to a crisp. This product is the winner!
This product is equipped with micro-fine bamboo particles and the essential vitamins to buff and prime your skin, which leaves your skin glowing and smooth to the touch. I use this product every night, as it is gentle to use everyday! I finally found a product that gets the does the job without being too strong or too fragrancy.
Pro (not so pro) Tip: A little goes a long way. All you need is the size of a pea for the whole face, as the product comes out as a runny texture as supposed to a pasty texture.
The third step of my skincare routine is to tone my skin. This toner has a mild cleansing power to finish the cleansing my face by picking up the leftover dirt in my pores. This toner also has the perfect acidity that doesn't sting, burn, or irritate my face (like other toners have in the past).
This toner can be used once per day, and is equipped with Amino Acids, Aloe Vera, Ginseng and Tasmanian Pepperberry. These added ingredients leaves my skin soft, radiant, and supple. This product gives my skin a perfect base for the next steps of my routine.
Pro (not so pro) Tip: Use a cotton pad to sweep this product lightly onto your face.
Botox in a bottle. This peptide is my ride-or-die that will never be removed from my skincare routine. Originated from France, this peptide reduces the look of static and dynamic wrinkles.
After a week of using this product, my mind was blown. My laugh lines, dimpling chin, and early signs of wrinkles diminished within a WEEK while also turning my skin more plump and supple.
All you have to do is put two drops on your hand, and dab this product either all over your face, or on your trouble spots. Another bonus, this product lasts forever, as a little bit goes a long way.
Actual Pro Tip: Women of any age, ditch the expensive wrinkle creams and botox. Save your money and use this 11-dollar peptide! Trust me on this.
The fifth step to my routine is a ride-or-die molecule that will never leave my routine. Equipped with a high concentration of caffeine derived from the green tea leaf, this product worked wonders for my dark under-eye circles.
Within a month, I started to notice that there was no more puffiness or darkness beneath my eyes. Additionally, my eyes actually started to feel less tired.
Pro (not so pro) Tip: Swipe this product from the outside to the inside beneath and above your eyes, then dab lightly to activate the molecule.
The sixth step to my routine is to moisturize my skin with Rosehip Seed Oil. This organic and light cold-pressed oil works miracles on my skin. After 2 days of using this product, I noticed my dark spots and wrinkles were diminishing, and my skin was not flaky anymore. The smell is also a bonus as well.
The high fatty acid concentration in the Rosehip Seed oil reduces the signs of photo-aging, dark spots and many other skin conditions.
Actual Pro Tip: I apply this product with a rose quartz facial roller. I take a small amount of oil and apply one dot on my forehead, cheeks, and chin, and use the roller all over my face to apply the product. Rose Quartz has a natural cooling effect, which de-puffs my face as I apply the oil and promotes drainage and tension. You may also keep the roller in the fridge to keep it cool longer.
Last but not least, my ride or die nighttime cream. Although more pricey than the Ordinary products, this cream does wonders for my skin. The pro-vitamin B5, vitamin E, and retinol keeps my skin nourished while also diminishes the wrinkles from my face. It is also light enough to not clog my pores overnight.
Additionally, this product is oil-free, hypo-allergenic, and fragrance-free, which is a great end to my skincare routine.
Pro (not so pro) Tip: Apply this cream in circular motion all over your face so the product gets deep into the skin.
If you made it this far, you're the REAL MVP!
Women of any age, it's now time to save your $$ and ditch your $500+ skincare routine. This 7-step, $75 routine has changed my 22 year old skin for the better, and my moms 50 year old skin. Of course every skin is different, but these are my ride-or-dies that I hope can become yours!
7 Easy Steps, 1 application, 3 brands, The Ordinary Debunked, $75, and AMAZING skin!