Want New Hair? Here's How
Bleaching, toning, hair dye, and repair treatments, OH MY!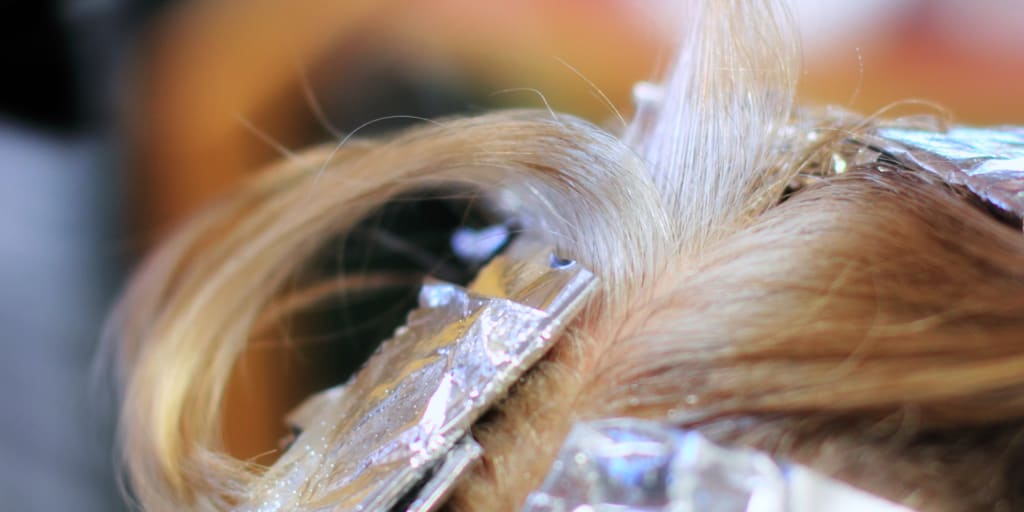 Don't we all need a new hair color from time to time? I think yes. Usually, we stay in the realm of natural hair colors or stay with our original natural color, meaning the hair color that we are born with. Sometimes, over time, our hair color likes to change and become darker or even lighter, and as always, get grey. So to avoid this from happening, there are ways to dye your hair without the damage. Here are some tips and explanations on how you can have an amazing color that you pick and are happy with.
Bleaching and Toning
For this part of the hair dying process, there are several things you should know. Bleaching is very bad for you're hair unless it's your first time using it, which means "virgin hair." Virgin hair is hair that you haven't touched, meaning dyeing it. It's your natural hair. Bleaching virgin hair is still going to be damaging but not as bad as it would be if you dyed your hair multiple times before. If you don't have virgin hair, meaning you dye your hair a lot, bleaching the hair will be more harsh and damaging. So either way, you have to be careful when bleaching. Now bleach is a powder chemical that you mix with peroxide (developer). These developers have different levels. (V= Volume) 10v, 20v, 30v, and 40v. Lower volume (10v and 20v) is longer processing time, and less damaging. Higher volume (30v and 40v) is less processing time but more damaging. Each volume represents how high of a lift your going to get, so a 10v would be one lift, 20v will be two lifts, 30v is three lifts, and 40v is four lifts. Mixing with bleach you will get more lifts out of it as well because the bleach powder also lifts when mixed. For example, a bleach powder that will lift seven levels, you can mix that with any developer you choose and it will lift seven levels because you only use a certain amount of the developer with bleach. Bleach is the main lift, and the developer is just an additive that helps deposit the lift.
Now if you have dark hair, lets say, light brown to black, and decide to bleach, you're going to need a bleach packet that lifts seven levels and 30v or 40v developer, in order to get maximum lift coverage which is blonde. Lets say between dark blonde and golden blonde, you'll need a 20v developer with the bleach packet. Once you have bleached your hair, you're hair might turn to an orange or red color which is normal and only happens if you're hair is dark! Don't fret. There is a dye called Toner. Toner is a dye that helps blend out the unwanted tones in your hair after bleaching and or help take out brassiness in blonde hair. The developer that goes with toner is a 20v, only because you don't need a higher volume with toner, it processes quick, and the hair is always light enough to just use a 20v. Usually people only bleach when they want to go blonde or they want the black out. For me, I bleach my hair because I like to do the crazy fun colors! So if you're like me and like to do fun colors, meaning colors of the rainbow and beyond, you're going to have to bleach. Color doesn't lift color!
To get these supplies, there is a store called Sally Beauty Supply. This store has everything you need to completely change your hair and it's all salon approved products, rather than getting a box dye from Walmart. But let's be real here... Walmart isn't the best place for this type of operation. Sally beauty is also online, they have their own website and you can shop there as well. This store is where I get all my hair dye products, I dye my hair a lot!
Repair Treatments


When you dye your hair often, it comes with damage. But there are ways to repair your hair. Even if it's your first time dyeing your hair, get repair shampoo and conditioner! Repair products help bring moisture back into your hair and also repair brittle ends and scalp. Also, color treating anything will help as well, basically to add shine and moisture and help keep color in your hair so you're not dyeing it too often. Once you dye your hair, leave it alone for six months or so and get a haircut every now and then. I get my haircuts after I dye my hair, but its up to you when to make those hair cut appointments!
Where to Look
You can find every product you need at Sally Beauty. There are always employees to help you as well. Sally's has everything and its way cheaper to dye hair yourself rather than spending 200$ at the salon. At Sally's, prices are reasonable. To get what you need, you're looking at 40 bucks with bleach, hair dye and repair treatments—totally worth it.
Now that you have an idea on how to dye hair, go out and get that fresh new hair look you've always wanted!