Top 10 Eyeshadows for Brown Eyes
Feel like your brown eyes aren't getting enough attention? These are the best eyeshadows for brown eyes that will make them pop!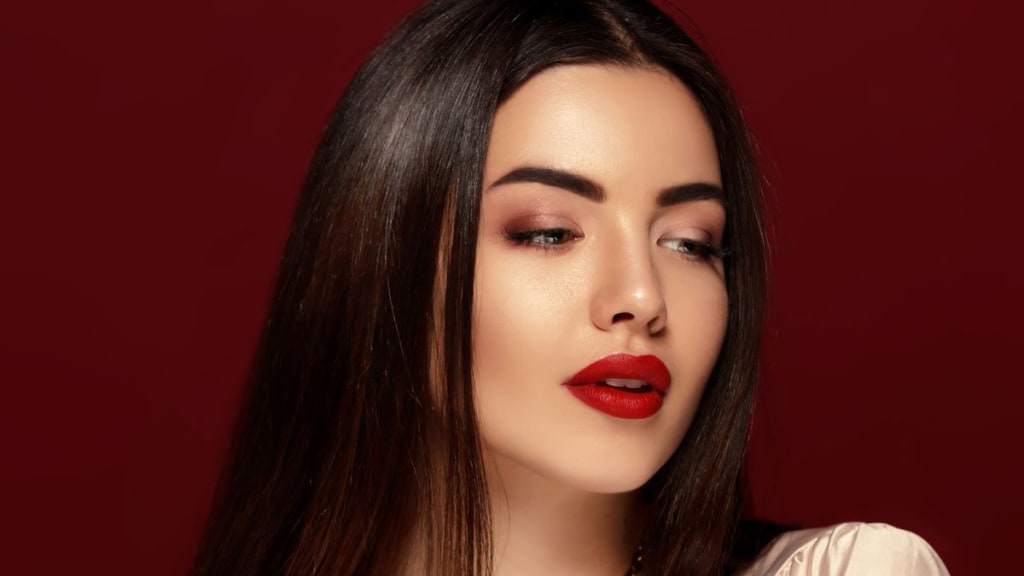 I have brown eyes, and for those who also have brown eyes, we feel like we have the most boring eye color out there. And honestly... I swear we do. With all the variations of green and blue and hazel, it's hard to love our brown eyes. But we should start embracing our beautifully colored eyes! There are so many ways we can enhance our boring brown eyes and one is through makeup!
We certainly use makeup to enhance our facial features, and this means we also use it to enhance the shape and color of our eyes. And if you think that no type of eye makeup out there can really bring out our brown eyes, you're so, so wrong. Never underestimate the magic of makeup! Even though we have brown eyes, there are certain eyeshadow shades we can easily pull off compared to the other eye colors out there. Like blue! Those with brown eyes can properly pull off a good blue eyeshadow. You can't tell me blue eyes can, and it may not be one of the best eye shadows for green eyes—the blue eyeshadow will clash with their eyes. This means that brown eyes can pull off literally any color in the book, because our eyes in general are dark and nothing can possibly clash with them. But which eyeshadow colors exactly are the best for our brown eyes? I promise you, these are definitely the absolute best eyeshadows for brown eyes you have to test out on your own gorgeous eyes.
Hell yeah we can pull off either orange or yellow eyeshadows. Since our eyes are brown, there are very, very slight tints of yellow in them. Unless your eyes are ridiculously dark... it still doesn't matter. Either color compliments your brown eyes so well, you can wear just orange eyeshadow, or yellow by itself and you'll easily slay. But what about orange and yellow combined?
If you're about to head out on a Sunday brunch with friends and you can't decide on either orange or yellow eyeshadow, then do both! This orangey yellow single eyeshadow by MAC is one of the most stunning colors I've seen on the list. It's the perfect blend of the two colors, and you won't believe how it looks around your brown eyes. Like I've mentioned before, you can certainly pull off a look with just wearing this eyeshadow by itself and still look amazing. Not to mention that your brown eyes will expose more like you've never seen them before!
Who the hell said you can't do brown on brown eyes? Well, according to fuckin' me, brown is definitely among the best eyeshadows for brown eyes. Easily! Fight me on this one, I know I'll win. For someone who has brown eyes, my go-to eyeshadow is brown. Any type of brown; chocolate, dark, mocha, coffee, any type of brown eyeshadow, anyone who has brown eyes can most certainly pull it off with any look. You can wear the color by itself for a natural eye makeup look, or even smoke it out with an orange or yellow eyeshadow! Brown eyeshadow on brown eyes gives off that mysterious, dark look.
As for a great brown eyeshadow palette, Shadow Squad in Ambition by Almay is something you should check out. While all four shades are diverse types of brown, they have different types of finishes, too. In matte, metallic, satin, and glitter, you can create so many different looks with this one palette. And the formula is very velvety and smooth. So, when you're applying any of the lids to your eyes, you can easily blend them out or build up on the amount of color you want on your lids.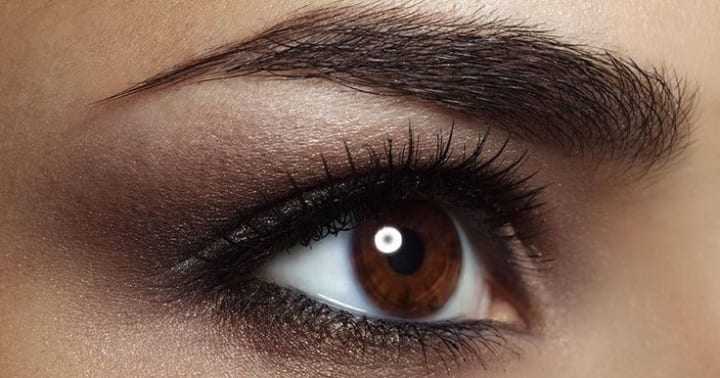 Yes, we can pull off the bold blue eyeshadow, unlike those with blue eyes. Since blue clashes with blue eyes, it doesn't entirely look right on them. But for us basic-ass brown eyes, you know damn well our eyes will look glamorous when wearing blue eyeshadow. However, it can't be any blue eyeshadow. The types of blues that compliment our brown eyes so well are shades like dark blue, navy, royal blue, and nothing lighter. Light blue eyeshadow in general look tacky on us. That's why we need the classy colors to give us a sophisticated look. Yes, we can look classy when wearing blue eyeshadow, I've done it multiple times. That's why it's one of the best eyeshadows for brown eyes.
A cosmetics brand that produces stunning eyeshadow shades of blue is Clinique and their Lid Pop Eyeshadow in Surf Pop is breathtaking. This color couldn't have been a more ideal blue shade. It's not too light, but considered to be a blue... blue. You should definitely mix this eyeshadow with a brown shade and smoke out your eyes. So while the brown is the base, the blue will be the star of the show, and giving off a dramatic look to your brown eyes.
Copper couldn't be a more perfect eyeshadow for brown to try out. Copper in general is such a gorgeous color, and it pairs well with the majority of eye colors—including brown. Since copper features subtle hints of brown, orange, red, and yellow tones, all of these colors complement brown eyes accurately and bring them out more. Plus, it's so fun playing with copper eyeshadows, because you can wear it by itself and look amazing, or even smoke it out with black for a striking look.
Since there are so many types of great copper shades out there, this palette perfectly gives you access to all of those shades. Morphe is one of the all-time best cosmetic brands and their 25A Copper Spice Eyeshadow Palette is literally heaven on earth. Despite the fact that you're getting 25 shades related to copper, this one palette is super affordable. From mattes to metallics and shimmers, this copper eyeshadow palette can give you the way to so many copper eye looks you can do for your brown eyes. Beyond blendable, highly pigmented, and creamy, this copper eyeshadow palette won't disappoint you or your brown eyes.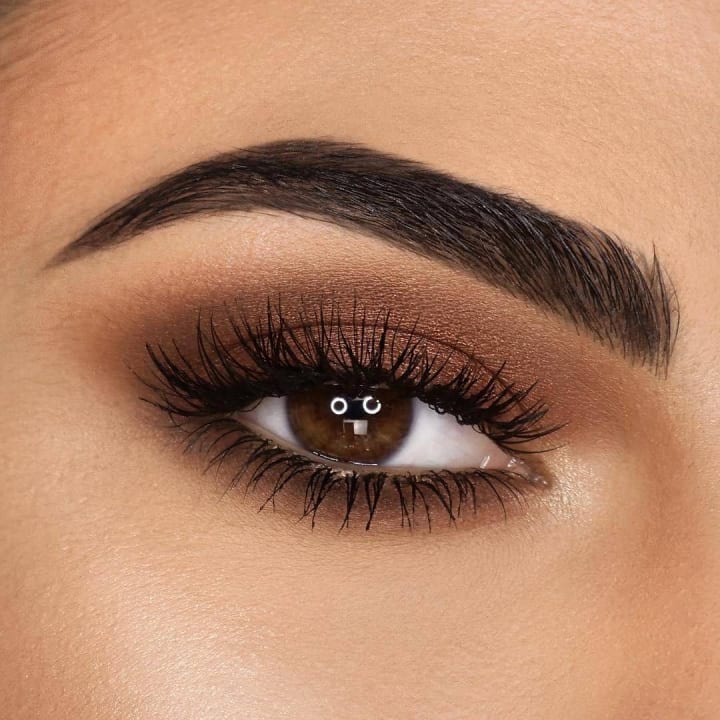 Similar to copper, bronze is also one of the best eyeshadows for brown eyes that you can use. Bronze is basically a metallic brown, but with a lot more shine! Those with brown eyes can definitely pull off just the bronze eye look, do a winged eyeliner, mascara, and go out for a girl's night. The wet, glossy bronze tone just brings out the brown in your eyes. Another great way to use bronze eyeshadow is by coating your lids with brown eyeshadow, then placing bronze in the center of your eyelids.
And Maybelline's Eye Studio Color Tattoo 24HR Eyeshadow in Bad to the Bronze is the ideal bronze eyeshadow you can get your hands on now. It's rich, creamy, and gives off the most stunning metallic finish ever. Since it's long-lasting, you don't even have to wear a primer underneath! And the best way to apply this eyeshadow is with your fingertips. This way, you can pick up the colors and the metallic aspect of the shadow and place it on your eyelids.
If you thought that oranges and yellows were the only bright, vibrant colors that your brown eyes can pull off, you're forgetting red, my friend. Yes, brown eyes look absolutely amazing when wearing literally any type of red eyeshadow there is. From burgundy to fire red, any form of red can heat up your eye look and make them more intensified! There are brown-eyed people who pulled off just the red eyeshadow look, and I have to admit, I have to give it a shot. Their brown eyes stood out so much, because the red ideally complemented the color and it's one of the stunning eyeshadows for brown eyes.
What better red eyeshadows can you get your hands on than the Naked Heat Palette by Urban Decay? As a major product in the market right now, people can't get enough of the shades in this palette. It features the most beautiful red shades you'll ever see. While it's a huge addition to the Naked Palette collection, these shades blend with ease on your eyelids and for those who have brown eyes, you can literally pull off any shade in this palette. Can't see those with blue eyes pulling this palette off... wink wink.
You can never go wrong with gray eyeshadows. Among the more fitting eyeshadows for brown eyes, gray goes with so many different types of eye colors, including brown. The mysterious, dark colors of gray and black can make your brown eyes pop with a dramatic look. And it's best when you smoke it out with a winged eyeliner. The best cat-eye looks are created with gray eyeshadow.
A palette that features the most stunning grays shades is the Fab Five Eyeshadow Palette by J.Cat Beauty. While there's five shades in this one palette, you're still getting amazing-quality gray tones. Wear one shade by itself or smoke it out from the lightest gray to the darkest, the product glides across the eyelids smoothy. From its top-quality formula, it features a cashmere touch and blends precisely to your liking. And you'll always be left with a flawless finish every time you use this palette!
Among the beautiful eyeshadows for brown eyes, purple is a huge hit when it comes to spring and summer. Especially much darker shades of purple like plum, those with brown eyes can easily pull off the color. Even though it's dark color, the purple tone makes the browns in your eyes pop! And if you don't believe that purple doesn't go with brown eyes at all, try it out yourself. It's one of the shades you can never be wrong with. Plus, smoking this out with a black eyeshadow is a killer eye look.
Even though this palette features only two purple shades, while those two purple shades couldn't be any more perfect, but you can still pull off the other shades in the palette. Lancôme's Five Pan Eyeshadow Palette in Rose Tempete is a great-quality eyeshadow palette that will allow you to smoothly blend out all of the shades on your eyelids. And that dark purple on the bottom of the palette is definitely the best shade of purple you have to try out for luminous-looking eyes.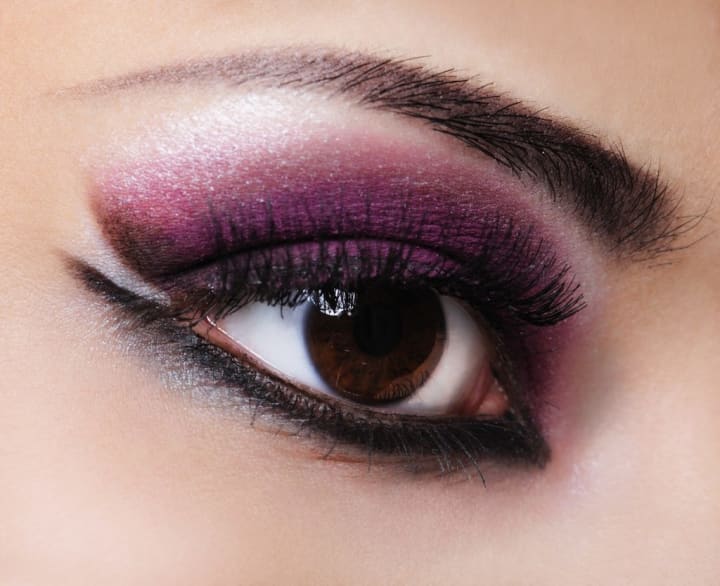 Aside from copper and bronze, gold is certainly one of the metallic shades that makes your brown eye pop! Since gold is basically a metallic, bright yellow, we know yellow compliments brown eyes. This means that gold does, too, but with a lot more shine and glam! There are so many brown-eyed people out there who just wore the gold-eye look with mascara and nothing else. Not only is it a simply process, and it's a stunning look. Since there's technically no form of sparkle in our brown eyes, the gold eyeshadow does all the sparkling, enhancing our eye color.
If you want a palette that includes gorgeous metallic shades, like gold, then you have to look more into Lorac's Unzipped Gold Eyeshadow Palette. Aside from the obvious, beautiful gold shade in the bottom left corner, but there are shades of copper, bronze, and even matte browns. This couldn't be an any more perfect of an eyeshadow palette for those with brown eyes, because it includes all of the shades that pairs well with our eye color. And all of Lorac's eyeshadows blend amazingly and apply smoothly on your eyelids.
Finally from the greatest eyeshadows for brown eyes you have to test out is green. But wait, you shouldn't use bright, light greens, because it just looks terrible around brown eyes. Instead, use darker greens like forest and military green. Green and brown mingle so well with each other, so using green as an eyeshadow for brown eyes is perfect. The green ideally compliments your brown eyes in ways you wouldn't imagine. Either wearing the shade alone or smoking it out with brown eyeshadows, don't look past green eyeshadows if you have brown eyes.
Clinique has a beautiful palette that features stunning shades of green as well as grays, browns, and even a pale blue shade. Any shade in the Wear Everywhere Neutrals Palette goes well with your brown eyes and they're all long-lasting. You can either wear multiple shades at once or stick with one solid shade; there are so many eye looks you can do with this single eyeshadow palette. And none of the shades will disappoint you.