The Ultimate Women's Bag Guide: Latest Zero Waste Makeup Trends
Spark your interest in DIY Zero Waste Makeup
Over the last few years the trends of being green, environmentally conscious, eating healthy and well just about anything alternative to mainstream consumerism has been growing rapidly. More recently the zero waste movement has been growing a name for itself quite quickly over the last year or two and it is catching on fire all over consumerism. One of our favourites zero waste items popping up is makeup. A girl's best friend (forget diamonds, makeup is where it's at! lol) who we ladies have always been striving to find a better alternative in ingredients and also that perfect colour that we love.
Well now for all of us savvy DIYer's and zero waste movementists out there we don't have to worry about stocking up on our favourite colour lip, cheek or foundation any longer. We can make it anytime, as much or as little as we like at the drop of a dime, Ha!
Here's the must have items to have in your zero waste makeup bag.
foundation with sunscreen
foundation/setting powder
blush or
cheek and lip stain
eyeshadow
lip colour, lip balm
Your skin and the earth will thank you!
The craziest thing is most of us could have been making our own zero waste, organic healthy makeup this whole time from the items we have in our cupboard on a daily basis!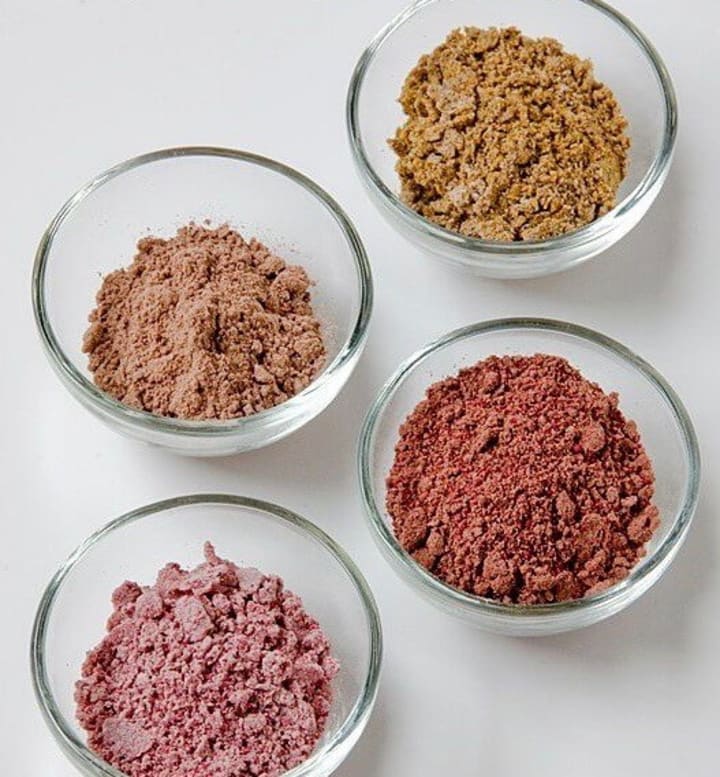 Nutmeg, cinnamon, coca powder, all spice, activated charcoal, shea butter, coconut oil, bee pollen, almond oil, turmeric, beetroot powder, ground ginger, arrowroot flour, peach powder…..
and the list goes on. These are just a few of the common ingredients used in DIY zero waste, healthy make. Incredible!
Of course it would not be zero waster unless we have a few good containers to use and keep all our newly found precious (makeup) gold in. Some good container choices are mason jars and stainless steel. Both types of containers are able to be washed serval times, are non-porous and can be sanitized in high temperature water. Which is good for sanitizing and keeping the bacteria at bay. Another good tool to keep in your bag is good quality brushes that feel great on your skin, apply the product well, can be washed after use and are sustainable. Bamboo handled brushes are typically a great choice.
The biggest adjustment we found we had when switching to zero waste makeup was mascara. No longer did we have this disposable compact long tube of black abyss, but instead a small reusable container with our eye lash plumping formula and a lash comb to accompany it. It took some time (and patience with different recipes), but it has ended in vowing I will never (if I can help it) buy another disposable tube of mascara again.
It can all be a little daunting at first, finding the right recipe, ingredients and tools at first. Yet we have faith once you start with zero waste make up you'll wonder why you didn't start sooner.
So here is to zero waste makeup. The must have delectable personalized shades that are (almost) safe enough to eat.