The GLAUX CHEM Story
Or, how grad school really inspired me to create a new skincare line that's good and good for you.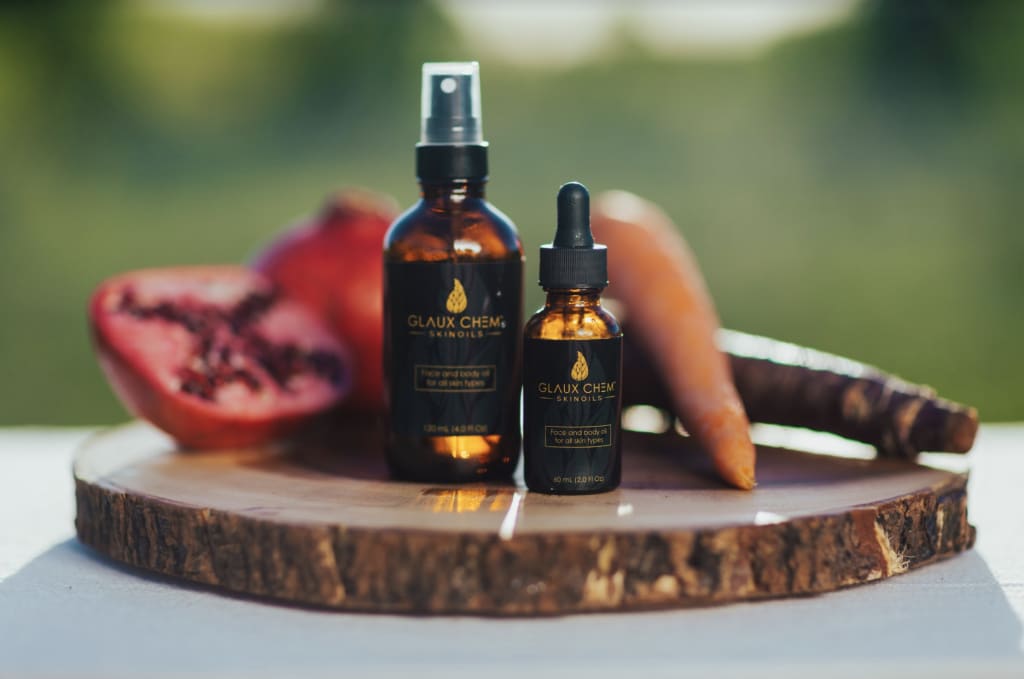 My experience in graduate school was quite eye-opening, and the knowledge I learned about chemicals led me to make significant lifestyle changes for the better. Within my second year of grad school, I became a vegetarian and started to be cautious about what synthetic chemicals were present in my food, skincare, and beauty products.
A large part of my graduate work was in the field of chemical synthesis, and I was exposed to toxic and cancer-causing solvents on a daily basis. Over time, I became hypersensitive to these synthetic chemicals and wanted nothing more than to use synthetic free beauty care products after a day in the lab.
This desire led me to search for synthetic-free skincare products, but I was unable to find a product that suited my exact wants and was tired of using expensive facial creams that would burn the heck out of my eyelids! The burn was reminiscent of what I felt when my skin was exposed to a chemical irritant in the lab. I wanted a single and natural moisturizing product that I could use all over my face and body.
I began earnestly exploring the idea to develop an all-natural hemp-based skincare line in 2012 during my doctoral studies at Texas Christian University. I was attending a lecture on the endocannabinoid system given by Dr. Sherwood N. Brown at the Botanical Research Institute of Texas.
This speech was the first time I learned about the endocannabinoid system, and I instantly fell in love as Dr. Brown spoke about how this system functions to regulate inflammation and antioxidant activity in the brain. I already had a passion for neurochemistry due to the nature of my thesis work being focused on Alzheimer's disease, but this lecture was a moment of enlightenment, and I was eager to learn more about the endocannabinoid system.
After this lecture, I went straight to the chemical literature to research and learn as much as I could about cannabinoids. This search led me to understand that cannabinoids are in fact potent antioxidant and anti-inflammatory molecules.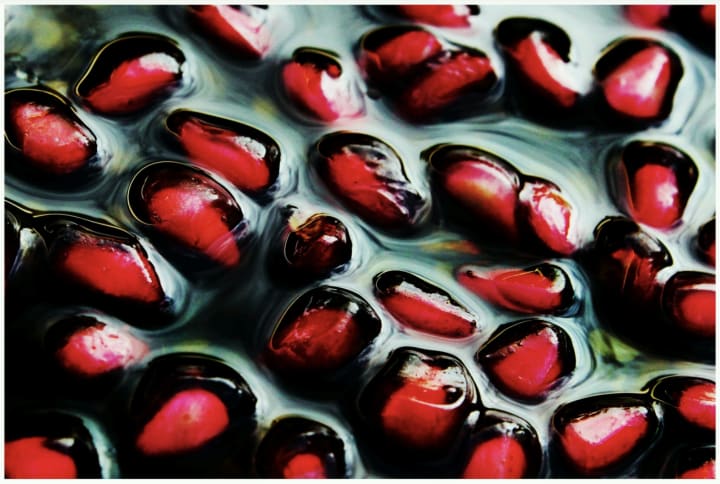 Fast forward a few months to when I first read about a gentleman from Canada named Rick Simpson who claimed that he cured his skin cancer with cannabis oil. This oil is now famously known as Rick Simpson Oil (RSO).
I was amazed and inspired by Mr. Simpson's story, and it was at this moment I set out to learn more. As usual, I looked at the chemical literature to see what studies involving the skin and hemp oil were available. To my surprise, I found only a few articles that were on the topic of hemp's effect on the skin. I searched SciFinder, Google Scholar, the TCU library, and other sources but came up empty.
In contrast to the lack of scientific papers on hemp's effect on skin, I did come across some studies detailing the nutritional benefits of hemp oil. This observation left me wondering why I could only find food-based articles about hemp oil and none about the skin, so I decided to physically search and see which well-known brands used hemp oil in their skincare formulas.
I took a trip to the mall and visited the Clinique, Estee Lauder, and Lancôme counters and asked the associates if any of the products had hemp oil as a formula component. The answer was "NO" in each case.
I also visited CVS and Walgreens to see if I could find hemp-based products there, but again, there were none! This moment was my EUREKA! I decided that I wanted to start a hemp oil-based skincare line.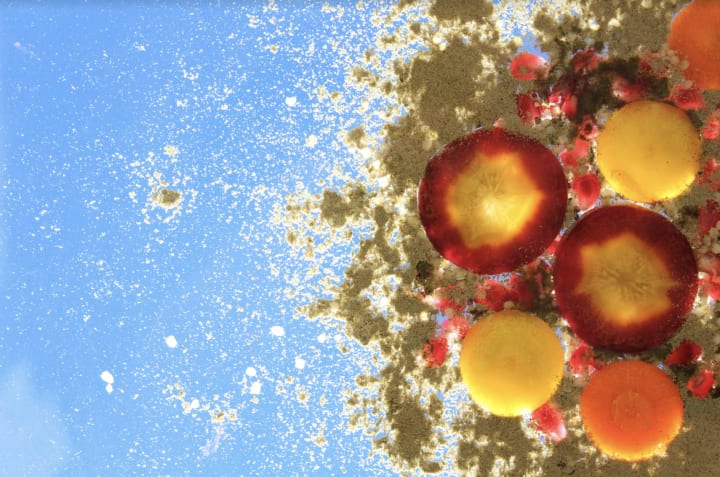 I met Ashley Rihel (GLAUX CHEM co-founder) in the spring of March 2015 at the infamous Rahr Brewery in Fort Worth, Texas. (Yes, yes, we love good beer!)
Ashley was working independently as a freelance hair and makeup artist at the time, and I was three months out from completing my doctoral studies in Bio-Inorganic Chemistry.
I claim that our meeting was serendipitous because of the manner in which we met. I was introduced to Ashley that day at the brewery through our mutual friend, Mirza. Mirza and I were colleagues in grad school, and I would tell him about my desire to start an oil-based skincare company, and he would tell me about his friend who had a similar idea and that I should meet her. Well, I met her that day at the brewery by chance, and we have been a team ever since and later founded the skincare company GLAUX CHEM.
The development of our Face & Body Moisturizing Oil was a careful and collaborative process. Ashley, with her expertise in skincare products, provided me with some excellent ideas for the formulation development. We came up with a list of potential oils to use in our blend ranging from hemp oil, pomegranate oil, coconut oil, rose oil, almond oil, carrot oil, etc.
I then searched the literature and online about each of these oils. I read about how some people are sensitive to coconut oil, so we immediately eliminated this oil from our formula.
Our goal was to develop an all-natural product for all skin types, especially those with sensitive skin. After a few months of research, we decided to test a blend of cold pressed hemp, pomegranate, and carrot seed oils and began experimenting with willing subjects.
This formula was tested and refined for 18 months before we launched the product for sale. We were delighted to find that our test subjects were noticing immediate and significant changes in their skin for the better!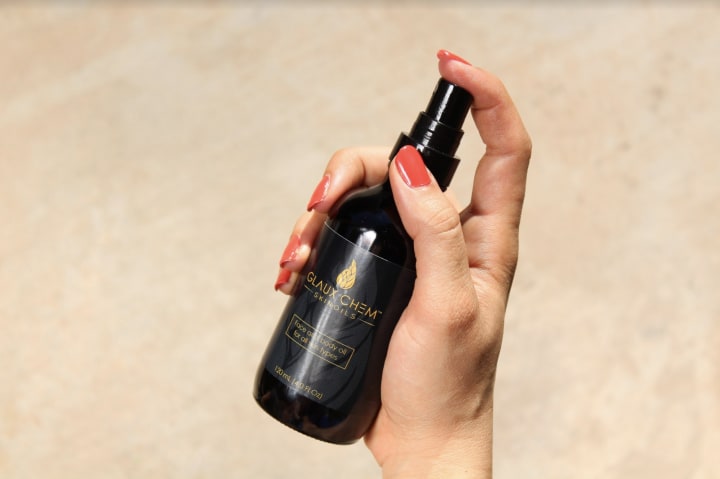 To date, we have been told our Face & Body Moisturizing Oil helps with dry skin, oily skin, combination skin, acne, evens skin tone, reduces redness and inflammation, heals scar tissue, and speeds up the healing of blemishes.
I know what you are thinking, there is no way one product can do all these things, and we are talking crazy. We are here to tell you we do know what we are talking about and our product is multifunctional!
This multifunctional behavior attributes to the omega fatty acids, vitamins, minerals, anti-oxidant, and anti-inflammatory molecules that are naturally present in the formulation.
Our customer reviews and feedback are proof in the pudding, as they say. We can only hope that one day the scientific literature will catch up and begin to seriously study the effect of hemp oil on the health of the skin. I guarantee these studies will lead to revolutionary discoveries and the next skincare revolution.
We are excited to be at the forefront of this skincare revolution and hope you will join our venture and be living proof of the principle! After all, who does not want naturally glowing, beautiful, healthy skin?
About the Creator
Dr. Lincoln is a chemist, inventor, natural product advocate, and founder of the hemp beauty company GLAUX CHEM®.
Reader insights
Be the first to share your insights about this piece.
Add your insights