Taylor Swift showed her support for Travis Kelce at a Kansas City Chiefs game.
Taylor Swift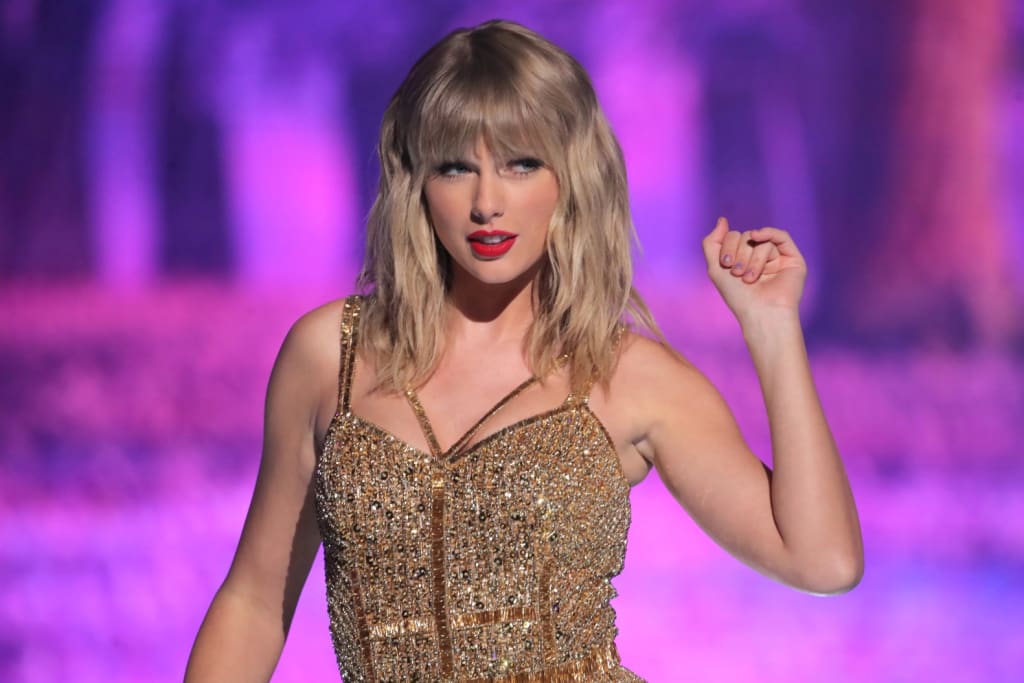 It seems like there might be a romantic connection brewing between NFL tight end Travis Kelce and Taylor Swift. Taylor was spotted in Kelce's family suite during the Kansas City Chiefs' game against the Chicago Bears. She was seen on the FOX Sports broadcast, energetically cheering for the Chiefs while sporting a red and white team jacket. Throughout the game at Arrowhead Stadium in Kansas City, she appeared to be sitting next to Donna Kelce, Travis Kelce's mom, and they were seen chatting and laughing together.
While there has been speculation about a potential relationship between Taylor Swift and Travis Kelce, neither of them has publicly confirmed any romantic involvement. However, Kelce mentioned in an interview with ESPN the previous week that he finds the attention on their supposed relationship "hilarious."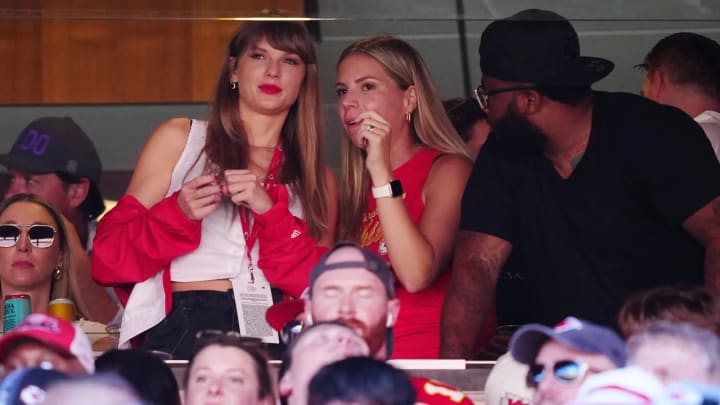 This is like the old school game called telephone, where everybody is just whispering in everybody's ear," he said, adding that "no one actually knows what's going on." The speculation began earlier this month when Kelce said on his podcast, "New Heights with Jason and Travis Kelce," that he tried to slip his phone number via a friendship bracelet he made for Swift during one of her "Eras" tour concerts. Alas, he told his brother Jason he was "disappointed" to learn that she doesn't talk before or after her shows because "she has to save her voice for the 44 songs that she sings." "So, I was a little bit hurt I didn't get to hand her one of the bracelets I made for her," he added. However, Kelce, it seems, tried one more play. On Thursday, during his conversation with ESPN, Kelce said, "I threw the ball in her court and told her, 'I've seen you rock the stage in Arrowhead. You might have to come see me rock the stage in Arrowhead and see which one's a little more lit.'" "We'll see what happens in the near future," he added.
"We'll have to wait and see what happens in the near future," Travis Kelce added.
The dating rumors surrounding Taylor Swift and Kelce began in July when he expressed his interest in the singer after attending her "Eras Tour" concert at Arrowhead Stadium. Kelce shared that he had tried to meet Swift and give her his phone number at the concert but was unsuccessful.
"I was disappointed that she doesn't talk before or after her shows because she has to save her voice for the 44 songs that she sings. So I was a little disappointed I didn't get to hand her one of the bracelets I made for her," he revealed.
He further explained, "If you're familiar with Taylor Swift concerts, there are friendship bracelets, and I received a bunch of them being there. But I wanted to give Taylor Swift one with my number on it. She doesn't meet anyone, or at least she didn't want to meet me, so I took it personally. But it was an unbelievable show."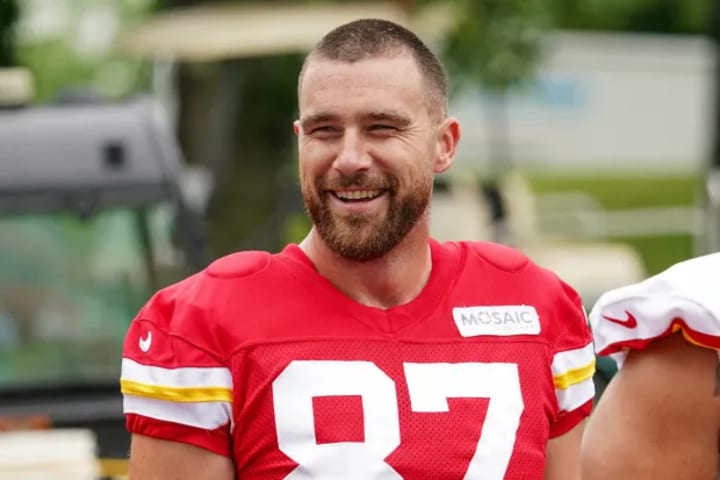 Travis Michael Kelce, born on October 5, 1989, is an American football player who plays as a tight end for the Kansas City Chiefs in the National Football League (NFL). He was chosen by the Chiefs in the third round of the 2013 NFL Draft and has gone on to win Super Bowls LIV and LVII with the team, making touchdown receptions in both victories. Kelce played college football at the University of Cincinnati.
Regarded as one of the greatest tight ends in NFL history, Kelce has been selected for the Pro Bowl eight times and has been named a first-team All-Pro four times. He holds two notable NFL records: one for the most consecutive seasons with 1,000 yards receiving by a tight end, totaling seven such seasons, and another for the most receiving yards by a tight end in a single season, achieving 1,416 yards in 2020 despite playing in only 15 games. He also briefly held the single season record in 2018 before it was surpassed later the same day. In the 2022 season, Kelce became the fastest tight end to reach 10,000 career receiving yards and became the fifth tight end in NFL history to reach this milestone. Kelce has also been honored with a place on the NFL 2010s All-Decade Team.
Reader insights
Be the first to share your insights about this piece.
Add your insights