Stila Happy Hour Eyeshadow Palette
A Review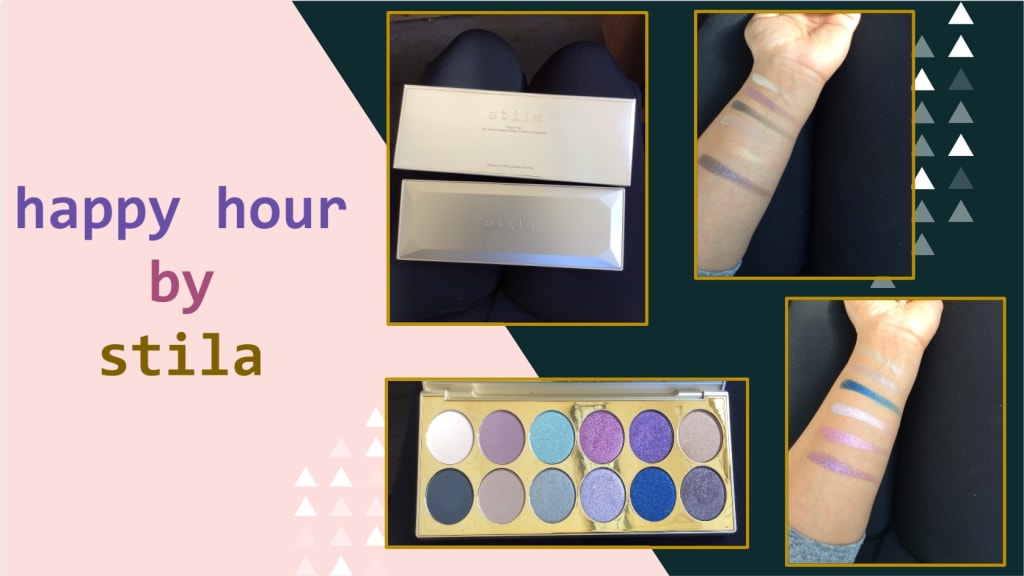 Disclaimer: My only purpose is to help my fellow human beings make an informed purchase.
Premise:
Price–68 CAD plus 13 percent taxes
Skin Type–Oily
Skin Tone/Foundation/Concealer–Medium, 300 in Fenty's Pro Filt'r
Eyeshadow Primer- None (don't like to use it)
Reason to buy–Colourstory
Packaging: 0.25/1
It is heavy duty plastic. Good plastic, but still plastic. I was bummed that it was not actual/pseudo metal like the Urban Decay naked palettes, or Too Faced chocolate palettes. Or their own nine pan palettes.
With that price tag, I am sorry, but plastic is just not done. Plus, the shadow names not being underneath the actual shadows is also not okay. However, I do like the plain simple aesthetic of it, if not the body material. I hope that makes sense.
Colour-Story, and Theme: 1/1
They call this palette the happy hour. And I can see that with the colour selection. These are "happy" colours, even outside of makeup context to me. It made me drool over it, and that's why I chose to buy it.
Application: 0/1
Not for me. There are four mattes, and the only one that shows on my skin tone is the black one, and that too does not have the greatest pigment. And the shimmers/glitters? A mess! It will work, but will be highly messy without an eyeshadow primer/glue. I triple-cleansed my face, and double toned it, and still I could see glitter all over my face. To be very frank, this in my book is not a beginner or average user-friendly palette. I am not great, but I am not bad at applying makeup. I've tried all the shadows, just no. The swatches can be deceiving.
And some of the shadows are glitters. Not bad glitters per say. But glitters in palettes are not my thing. I do not consider glitters appropriate, or possibly workable for "everyday" looks. And the website (shoppers drug mart) I bought it from failed to mention that four of the most interesting colours were glitters. I was salty.
Performance: 0.75/1
Not bad (way better than Fenty Beauty's Galaxy palette). But nowhere near the dupes I have for some of the shadows.
Keep or Return: 0/1
I shall be returning it. I would urge you not to buy it, unless you can try it out at a store first. Not too sure for US customers. But some shoppers' locations have this in stores for my Canadians.
Conclusion: 2/5
Save your coin! It's too steep to risk it to be frank.
Alternatives
These are not budget friendly alternatives unfortunately. It's more of a user-friendly alternative list. And most unfortunately, these are not exact dupes. But, still worth consideration:
Coy, Boheme, and Bridal Satin by Viseart: These are just as colourful, and would most likely perform far better.
Riviera by ABH: Not as colourful, but a cheaper and better quality alternative (Review coming up for this one!).
Revolution and Carmi Make Magic by Makeup Revolution: Too many neutral shadows, but almost has all the dupes for Stila's Happy Hour.
Flamingo by Violet Voss: The first two rows.
Art Library by MAC: It's easily accessible offline.
Moschino and Sephora Laptop Palette: It's fun. The quality is far better, and it should be at Sephora stores to play with.
Spectral Palette by Linda Hallberg: NOT a dupe by any means. But my lust meter is even higher than it was for Happy Hour.
There are also some dupes within Natasha Denona. But in my opinion it's too expensive to buy a palette that's essentially a fun palette, and perhaps would be picked up on rare occasions. But just throwing a nugget out there, if you are keen. And I say this as someone who adores my ND.