Step-By-Step Contouring Technique
Makeup Application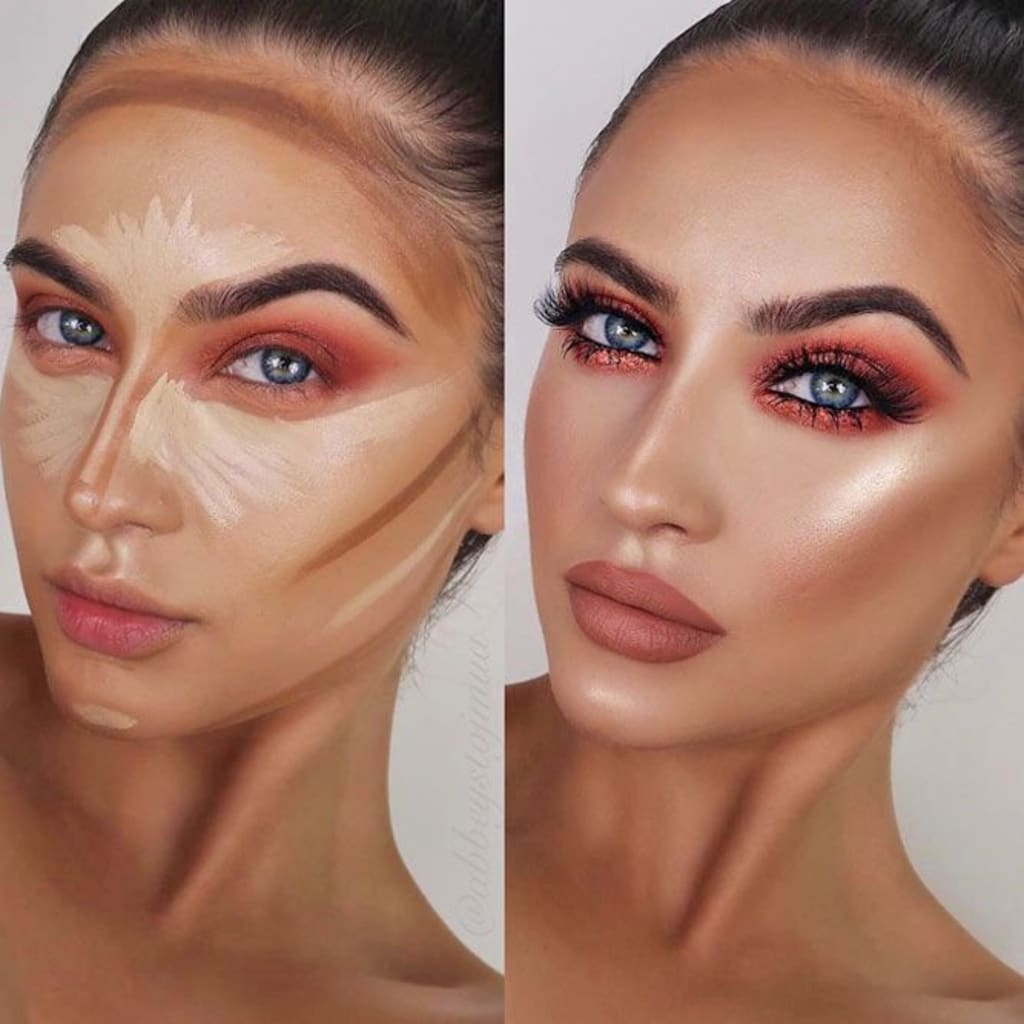 "Darling, the legs aren't so beautiful,
I just know what to do with them."
I was never a big fan of plastic surgeries, especially when people drastically change their appearances to look "better". My thoughts are that a person can easily loose his or her personality and a bit of individuality with a new feature. It happens because they usually try to be a person they are not, behave in a way they never had before.
They may feel better about their appearance, but deep down the main issue remains the same – they are just not that into themselves, in other words, have a low self esteem problem.
I admire people who own their bodies and faces, and embrace the differences they have with what is considered beautiful by the society.
Having said that, and being a slave to making up my face every day, I am not against little adjustments made with the help of beauty products. Go figure.
One day a friend of mine asked me if I would be able to visually minimize her nose for a special party night. It was like a piece of pie given to me to slowly enjoy.
I learned about contouring method from my favorite makeup artist Kevyn Aucoin's book The Art of Makeup.This technique is pretty simple, you just need to arm yourself with a few necessary products:
1. Two foundations, one that matches the skin exactly, and another – couple shades darker than your skin tone.
2. Two loose powders (compacts can also work if you use big powder brush) in the same colors as foundations.
3. Concealer that is one or two shades lighter than your natural skin color.
The main idea here is to define and highlight areas on your face that you want to stand out, and change the shape of the ones you are not happy about.
You May Like: chocobo names
STEP 1: Moisturize. Be generous with the amount of eye and face cream here, it'll help all the products to sink into skin better.
STEP 2: Pat concealer under the eyes to cover any darkness you have in that area, then blend well with your finger. Use the same strategy on the bridge of the nose and around nostrils.
STEP 3: Apply darker foundation only to the sides of the nose, leaving the bridge untouched. Blend well.
STEP 4: Use the skin tone foundation on your forehead and chin. Sometimes I mix it with a little moisturizer on my hand to create the more natural effect.
STEP 5: Continue shaping using powder. With a brush dust the darker powder along either side of the nose. Then apply the lighter version on top of the nose and working down to the tip.
STEP 6: Blend well all the powders together so there will be no visible boarders between them.
Same technique can be used to contour cheek bones, i.e. make them more prominent (which also visually slims down the face). Just highlight the tops of the cheek bones, as you would do with the bridge of the nose, and use the darker shades underneath, closer to the jaw line. The darker powder here can be substituted with the bronzer.
Read More: stardew valley farm name
I need to mention that contouring looks best at night, in artificial lighting. It can also work if you are taking professional pictures, when the lights are adjusted in the most flattering way.
Contouring may look too obvious during day time, to avoid that you can dust a little bronzer on both sides of the nose after your usual powder application. Try not to go overboard though, a little dusting goes a long way.