Riviera by Anastasia Beverly Hills
A Review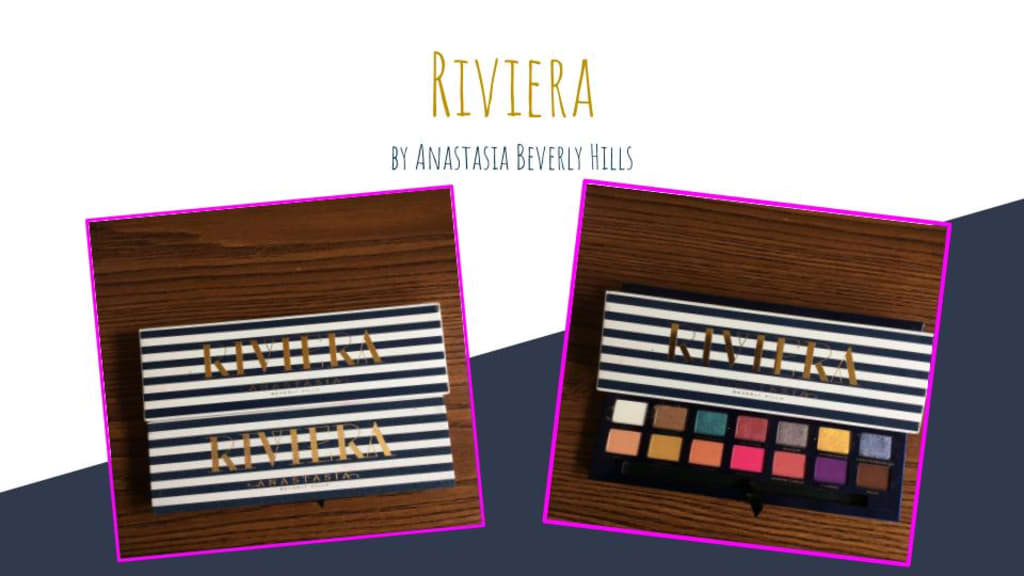 Disclaimer: My intention is only to help my fellow human beings make an informed purchase.
Premise:
Price–59 CAD plus 13 percent taxes
Skin Type–Oily
Skin Tone/Foundation/Concealer–Medium, 300 in Fenty's Pro Filt'r
Eyeshadow Primer–None (don't like to use it)
Reason to buy–Colourstory
Packaging 0.5/1
I honestly don't know what it is with ABH and cloth material packaging. But to each their own. I do like the packaging much more than any other cloth palette they have released previously. But I would rather that my palettes be wipeable, and this is not that. And if it gets dirty, it is going to show.
Now I absolutely love the sailor stripe design. My moe heart dies for it. And I love what they have done with it. However, the print does look more vibrant and appealing on the packaging than the actual palette.
On a different note, I do wish they would stop forcing their lone eyeshadow brush to us, and charge us a dollar or two less.
Colour Story/Theme 0.75/1
I have accepted that ABH is never going to do a full colourful palette. It is what it is. So of course the colour story is not entirely up to theme. Which admittedly is irksome.
But if I take away the theme, I do love the colour story on its own.
Application 1/1
I perhaps am not the best to comment on the ABH application, because I love MR as much as my Subculture, and as much as Prism. And the same goes for Riviera. It's their standard highly pigmented shadow formula. It is granted much more easier to work with than Subculture in terms of blendebility (I know, it's not a word). But I truly do enjoy Subculture, and this as much. Different experiences, same brand.
Performance 1/1
On point without an eyeshadow primer. Enough, said.
Keep or Return 1/1
Keeping. I do not buy all ABH palettes, because I do think they are pricey for the size and packaging quality they come in. So I skipped out on Soft Glam, Norvina, and the red glittery one (I forget what it was called). Long story short, I vacillate when it comes to ABH. I was even at a point, where I decided not to buy this. But one it was too pretty, and two, the sale hit us. Anti-consumerism save us all.
Conclusion
Surprisingly, I don't really have much to say here. This section is more for products which I have to purchase online, and my experience with that. The one thing that is so great about ABH palettes is that it is easily accessible, and most importantly easily returnable offline.
Shadow Description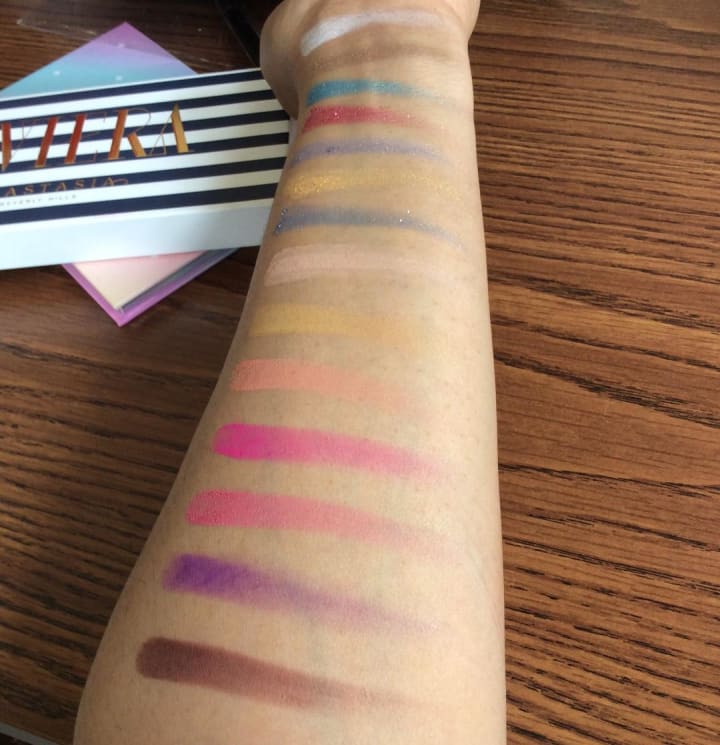 Sails: A bone white matte
Yacht: Metallic copper (ABH says it's a duo chrome, don't see it on my skin tone)
Seychelles: Metallic sea blue
Palermo: Metallic hot pinkish
Seaside: Metallic gunmetal grey
Inheritance: Metallic bright gold
Mediterranean: Bluish Grey Shimmer (ABH: Metallic sky blue)
Estate: Soft peach matte
Cabana: Mustard matte
Coastline: Peach matte
Bahamas: Hot pink matte
Monte Carlo: Pink matte
Cannes: Purple matte
Palm: Brown matte (I think this should have been a green shadow)
Alternatives
Most of these are affordable alternatives. There are quite a few high end alternatives. But that just boils down to brand preference. And most people do prefer ABH die hard, so I have refrained from mentioning the high end alternatives.
Oh La La, Mar, and It's My Pleasure by Colourpop at 36 USD
Perception by Colourpop at 24 USD
Chasing Rainbows by Colourpop at 20 USD (ON POINT!)
Dare to Create by Morphe at 34 USD
Blue Blood by Jeffree Star at 52 USD (Colour story and/or theme)
The Affinity Palette by Certifeye by 44 USD (Colour story and/or theme)
There are quite a few alternatives by BH Cosmetics.
I did not look into Makeup Revolution, but I am sure they probably have some things.