Product Review: Candy Cloud's "Lavender Moon Bedtime Sugar Scrub"
A must-have in the world of skincare routines...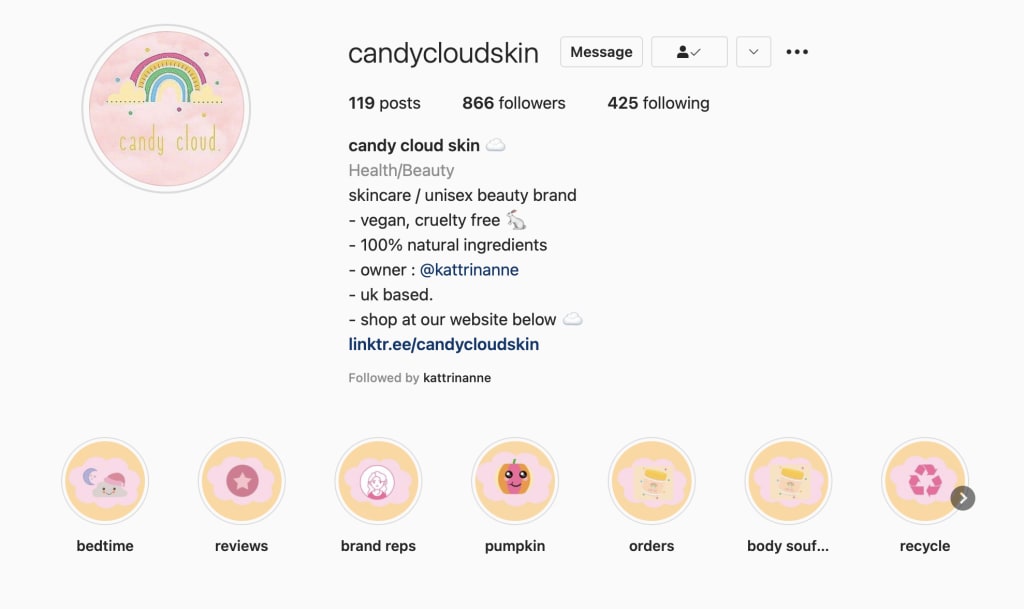 Image of the Instagram Page
Recently, I required a new face scrub. My 'Soap and Glory' scrub had run out and I was sick of buying the same product over and over again and have my face smell of oatmeal and cereal every morning. Let us just be clear that the most impulsive thing I do is change the products I use on my face. I went out in search of a new face scrub and this time, it had to be vegan.
I must have gone through about five or six different product pages on Amazon before I gave up because it was either that everyone was saying the same thing about them so the reviews looked a bit suspicious, or that I found out they tested on animals, or that the product was not vegan, or that (and this was the most common one) it was far too expensive for what was actually in the bottle, tub or tube. So I went where all the cool independent products are selling - Etsy.
Etsy is something that I do not use a lot but anytime I do, I am always happy with the finished product. I find independent sellers care more about their product than big brands do and so go out of their way to communicate with the buyer and sell purer products which are not filled with strange chemicals none of us can pronounce.
I went in search of local brands selling facial scrubs and/or face washes and I came across the cute, adorable aesthetic of the brand 'candy cloud skincare'. Candy Cloud Skincare is a company based in Birmingham, England and is run by a woman who creates products from 100% natural ingredients. According to her business cards, there is everything from vegan and cruelty-free guarantees to a recycling scheme, making this the brand for everyone that wants to be planet-conscious. I looked around for a bit before deciding upon a scrub to buy and I went nice and simple with lavender. (But honestly, there are ones called 'birthday cake' and the recent 'mango coco cream body soufflé' so you can imagine my excitement in wanting to try these too).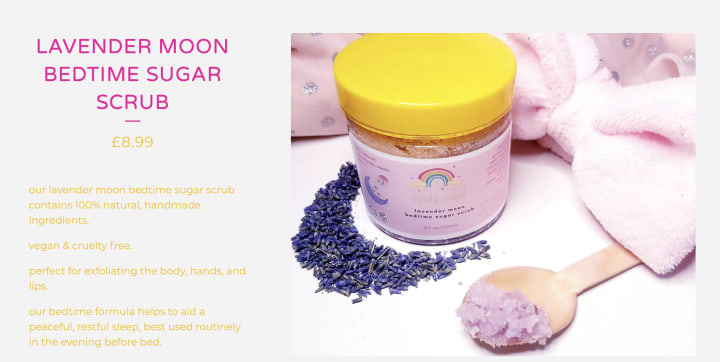 After ordering, to my surprise it did not take long for my order to arrive and I could not wait to try this sweet smelling all-natural facial scrub in my night facial routine before I got into bed. When I did end up using it the one thing I noticed was the way in which it spreads on the face. It is much smoother than other face scrubs on the market - it doesn't feel like it is scratching at you. It feels really nice to scrub upon your cheeks and it really feels like it is cleaning every single thing from your face too. The smell is divine too - I smelt the lavender scent even when I got into bed and it really relaxed me a lot. But the one thing I noticed more than anything was that when I washed it off entirely, my skin felt so smooth and soft that there was like a requirement of just running my fingers over my face and enjoying this sensation.
Now, I thought the sensation and smell would be short-lived but when I woke up the next morning I was surprised to see that my face was still completely smooth, I still smelt of lavender and even the dark circles under my eyes had improved slightly - in only one wash. I went to exercise and came back and I still smelt of lavender. When I used it later on in the day after taking off my makeup there was an extremely clean feeling of 'this is really it…this is my new favourite face scrub'.
product review
About the author
Film and Writing (M.A)
145K+ Reads on Vocal
IG: @AnnieApproximately
Pronouns: (she/her/hers)
Reader insights
Be the first to share your insights about this piece.
Add your insights