Pat McGrath III: Subversive
Review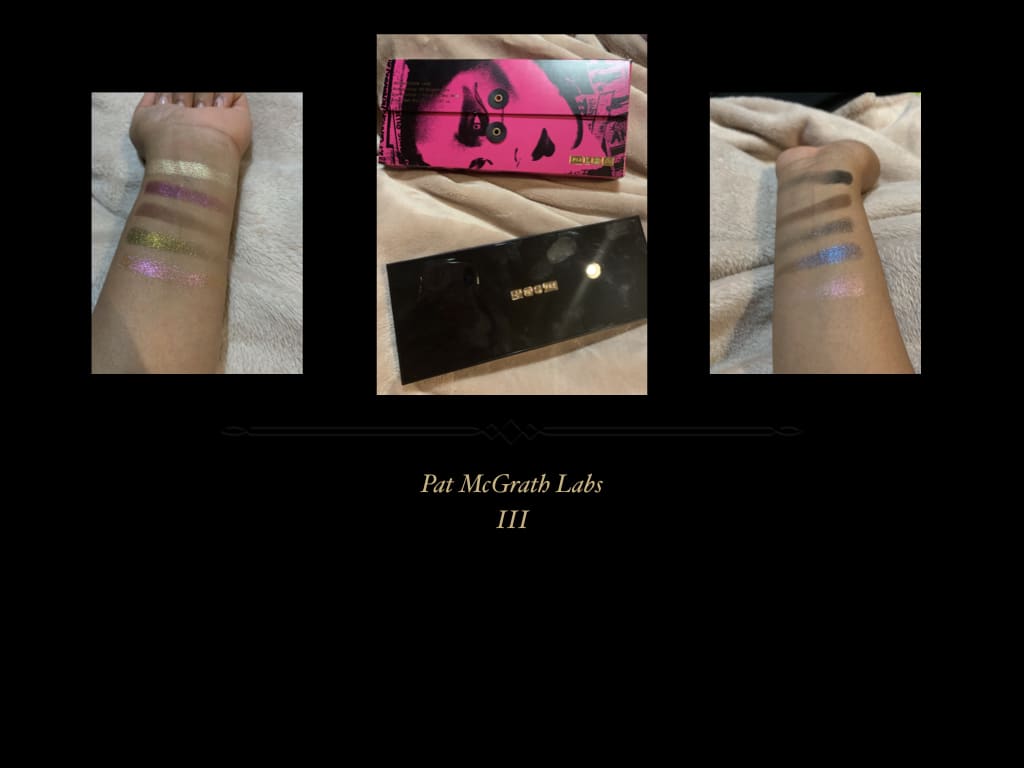 Disclaimer: No eyeshadow is worth that price tag. Period. Whether you can afford it or not? Well I do not know your wallet. When it comes to Pat Mcgrath, Natasha Denona, and other luxury brands you are:
Paying for the luxury experience, the brand name, and/or the packaging.
You must be financially smart (and that is your responsibility).
I like the luxury experience when it comes to makeup and handbags. Cars on the other hand? As long as the engine works, I am good! To each their own, eh.
Note: This is my first Pat Mcgrath, which I purchased at last month's (I think it was) Sephora VIB/Rouge sale.
Premise:
Price—170 CAD plus 13 percent taxes and 20 percent discount: 153.68
Skin Type—Oily
Skin Tone/Foundation/Concealer–Medium, 300 in Fenty's Pro Filt'r
Eyeshadow Primer–None (don't like to use it)
Reason to buy–Colourstory, hype (curiosity killed the cat)
Packaging: 0.65/1
As a lone palette? Beautiful. In the series? Lazy at worst, easy at best. By the way I am not speaking about the unicarton or the sleeve. While the sleeve is beautiful, it is a waste, because that paper/cardboard packaging is going to get ruined eventually. It's already tearing up in certain spots for me.
I think a subtle change in the palette itself, like the logo/palette not always being gold but relative to the theme would make each palette packaging more unique from one another. Like perhaps silver metal on the first cool tone palette would have been more apt. Of course, that is my subjective constructive consumer opinion. It's the mother's brand, she can do whatever she wants with it. It is my choice to purchase or not. But I do think the subtle changes would drive up the sales.
I would also appreciate the names in the palette itself. There is enough space for it. It's also a fingerprint magnet (FYI), which honestly I don't mind at all.
Colourstory: 0.9/1
Love the colourstory except the matte colour selection. I think one of the mattes should have been replaced with something mauve, camel, or mid-tone. Or it should have gone all out with crazy colours (purples or pinks).
Skinshow Fever: Darkish champagne shimmer
Night Creature: Magenta shimmer
Deep Shade: Brown Matte
Gigabyte: Gold shimmer (the blinding kind)
VR Pink: Pinkish-peachy white duochrome-shimmer
Astral Ghost Orchid:
Blitz Amethyst: Purple-blue shifting shimmer (it's a beaut)
Black Metal: Black matte with shimmer
Lazarus: Brown shimmer with light hints
Xtreme Black: Black matte
Application: 0.9/1
The mattes leave something to be desired, and for that price tag. Not a-ohkay. But granted it does work for a lot of other people so my experience is not absolute. But for me, both were a bit on the dry side and patchy. The shimmers on the other hand? Holy damn girl, I see the hype. I see it.
Now this is a finger-usable shimmer palette. But if you have fat fingers and small lids like moi? Wet brush all the way!
Performance: 1/1
Mind blown. I wore the looks I created for 12 hours straight, and they stayed strong until the seven to eight hour mark. I noticed fading around that mark, but still at the 12th hour, the look was still very pretty. Just not as spectacular as what I had started with. Well my lids do sweat, so... Overall, very satisfied with the performance.
Return/Keep: 1/1
I am keeping it. It has its issues (no doubt), but for some reason I love this palette. And I can see myself using this on the regular. Plus, I do not know why. But I feel like it will eventually disappear just like its successor. So this one is not going anywhere.
Conclusion: 4.45/5
My experience with this made me order Midnight Sun (VI). Enough said. Get it on PM's website at 20 percent OFF and 8 percent CASHBACK at topcashback.
Ciao!
Xoxo