Pandemic & Pampered
Muse #56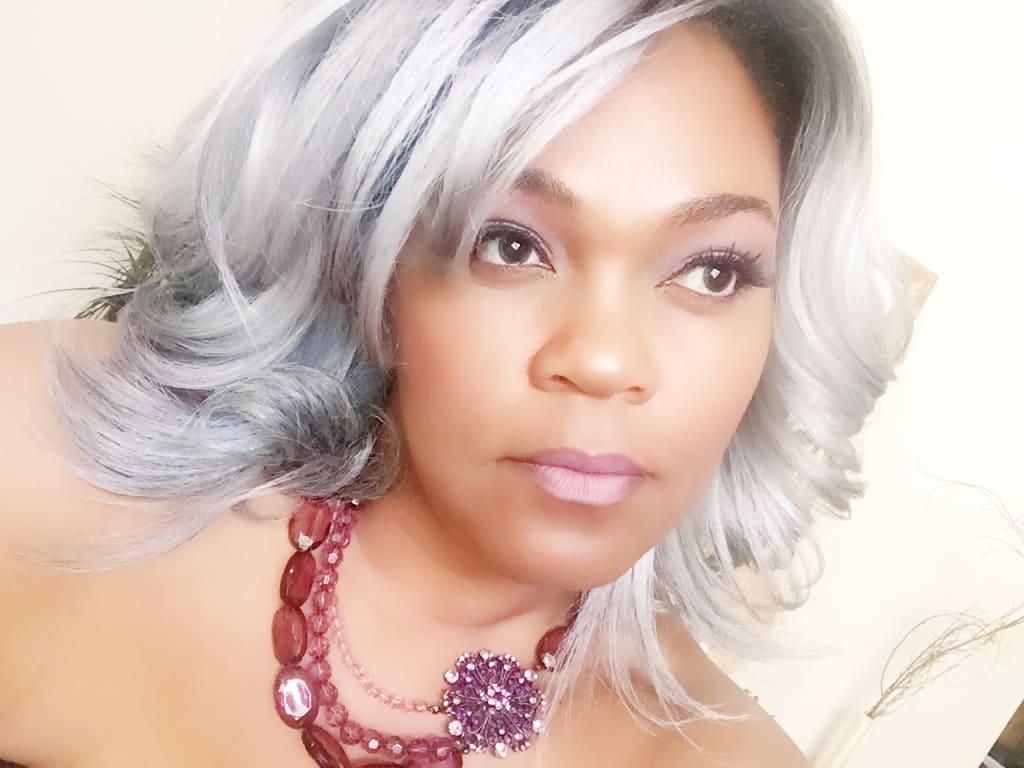 Pandemic & Pampered (c) Valorie M Taylor
Like most Women these days, I miss going to the salon for periodic-oh-so-deserved-pampering services like pedicures, facials, massages and the like.
With salon doors locked tight due to this COVID-19 pandemic, it's hard to keep up my Queen persona and all things wickedly beautiful when I have 8 odd chin hairs, a full on mustache, Einstein brows and crusty feet! I mean, a mask only covers so much, right?
Don't get me started on masking. The other day, I was so glad to spend time with The One (aka my Hubby) I told myself forget the pandemic and went so far as to put on make-up, lipstick and falsies (aka strip lashes. Get your mind outta the gutter). I wanted to look how I used to look on my midday adventures with The One. I wanted to hold hands with him, surround him with the perfumed presence of me and mesmerize him with come hither glances on the cereal aisle.
Well somebody didn't check the weather report (me) and horror of horrors at 106 degrees my make-up melted, lipstick stuck to my mask causing shortness of breath and one of my falsies slid right off my eye lid! I hoped The One hadn't noticed that I looked less like a Queen and more a stroke victim!
That was it. I called a friend who seems to always have the most beautiful lashes even during the pandemic.
"Yes, Valorie," said Sandy, "call my lady Gina (names changed to protect the innocent). She'll take care good of you."
So I called Gina thinking—worst case scenario—she'd have to bring her table and equipment to my house.
"Oh come to my salon," said Gina. "But you'll have to come through the back door."
"Wait. What?"
"Yes, please understand I could get fined if someone sees a customer coming through the front door of my salon."
Mysteries.
Conspiracies.
Coos.
Fight the Power!
All these qualify as my jam. So l, of course made my appointment.
Hearing Phil Collins' I can feel it coming in the air tonight playing in my head, I slid behind dark sunglasses and ducked under a floppy hat. I parked my car conspicuously in front of a darkened nail salon to throw any potential whistle-blowers off my trail. I secured my N95 mask on and crept around the corner of the building and down the alley.
Well, you guessed it; Pandemic & Pampered had me paranoid and panicked as I'm in the alley jiggling the dusty door knobs of the LOCKED cookie store, tax office and probably a taqueria. I felt the mission failing when I see a door open next to me and a friendly masked face pops out. "Hi Valorie."
Gina is polite and professional. Her salon is beautiful from back to front with a gorgeous water fountain babbling in the corner. There are several treatment rooms and soft music plays overhead. She seats me and takes my temperature. I like her already.
Comfortably in position she begins on my eyelashes and we cajole about the backdoor entry.
"I appreciate you coming," she said quite seriously, "they want us to do services outside."
Lavishly reclined, "how do they expect you do this service outside?" I asked.
"Exactly," said Gina. "So I have to sneak to serve my clients. How else am I to pay my rent?"
My eyelashes are gorgeous and yes, the Queen is back with a fresh new perspective on the plight of service workers.
Why I waited so long? Because I-like everybody else—thought this pandemic would be over by now.
Alas, the new normal for pampering services may require that we tap into our inner spy to look beautiful. Carry on.
Pandemic & Pampered (c) Valorie M Taylor August, 2020. All Rights Reserved.