My natural hair journey
Natural hair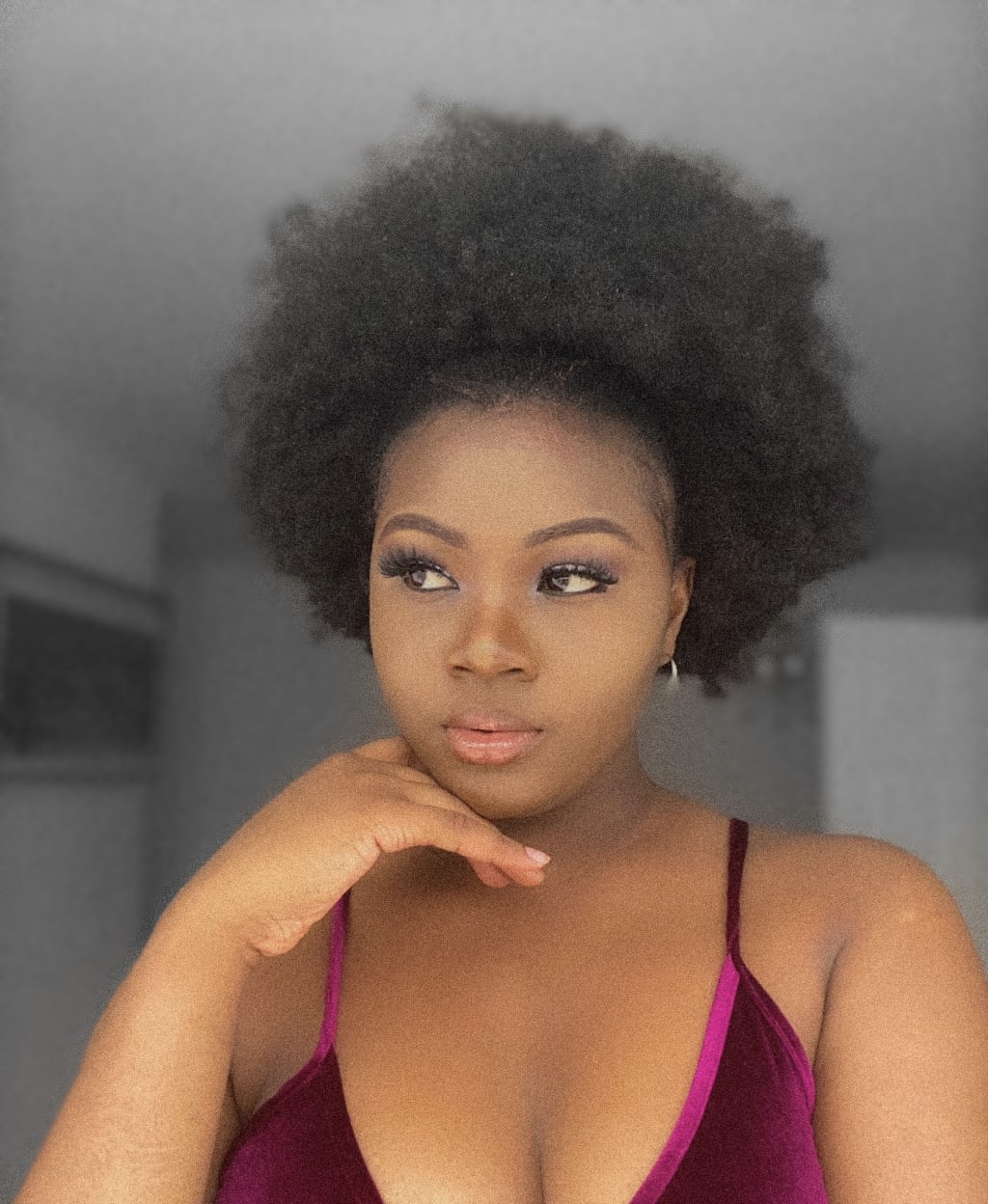 I started embracing my natural hair in 2017 after deciding to transit from a relaxed hair to a natural hair. Since then, I've promised myself to never get a relaxer again.
Although, maintaining my hair has been a very difficult one. The bigger my natural hair gets the harder it is to maintain.
The most empowering part of my natural hair journey is that It makes me reconnect with my root and who I really am. It also gives me the opportunity to help other black women embrace there natural hair textures.
It's hard for me to pick which natural hair product is my favourite because I love trying new products but If I'm to pick, I will say one of the best product I've used is the Cantu Shea butter. It keeps my hair moisturised and soft for a long time.
One of the most magical thing about natural hair for me is shrinkage. Every time I wash my hair and it shrinks, it just makes me feel like I've got some kind of superpower 😊 like how can my hair go from big and poofy to small and curly? I guess it's the BLACK GIRL MAGIC!
Finally, One of the most effective way I've been able to maintain my natural hair is by making sure I do not leave it out for too long. After washing, I have it weaved immediately in other to prevent breakage and for me the longer I have my natural hair out the more painful it gets when combing it.
Oh! lets not even talk about how many combs I've broken since I went natural 😢 that's gonna be in another post. For now, below is the link to my previous post on how i do not enjoy my natural hair journey.
Also, Don't get me wrong, I fully love and embrace my natural hair. I love that it's so massive and thick compare to permed hair. I love the fact that it goes curly when wet and soaked in leave-in conditional. Oh, and let's not talk about shrinkage. it feels like magic when my hair goes smaller after washing it. However, maintaining a natural hair requires lots of patient. from having to make sure its moisturised, making sure you section it in other to prevent it from tangling and having migraines from combing and detangling it was just not sitting well with me. Also, I've not really enjoyed my natural hair because I am not too good in styling, which always leaves me with a boring hair look. let's not mention hairdressers that always wants to complain about how your hair is too thick and how it makes their back hurt lol. Although, having an afro is a lot of pain and stress to both the customer and the hairdresser. However, no one should be made to feel like it's their fault for the type of hair they have.
About natural hair
Natural hair is common in the black community. Back in the days, many black women would rather have their hair relaxed with harsh chemicals. However, now a days, a lot of black Women has now look into going natural and embrace their natural hair. Although many women who has decided to embrace their natural hair has faced some sort of discrimination and emotional strife.
To go natural, you can either decide to go for the big chop by cutting all your hair off, or you transition. Transiting means you don't have to chop your hair off all you have to do is not use chemicals for a certain amount of time until your natural hair takes over your permed hair.
Below is the link to my blog where I will be discussing further on natural hair.
https://kennysdiary.home.blog/2019/10/06/confession-i-have-not-been-enjoying-my-natural-hair-journey/
Kenny's takeaway quote:
"I don't need a relaxer My hair ain't stressed out"