My experience with skincare
Skincare products do not improve your skin, they first cause you to breakout and develop spots and pimples and then try and fix the problems they created.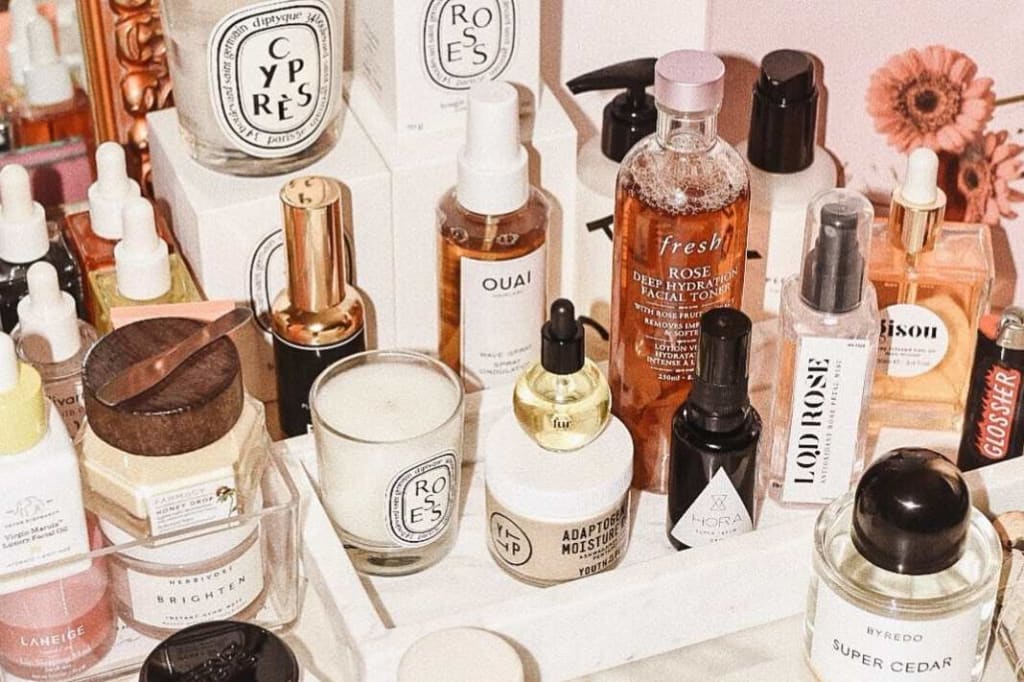 Growing up, I was never a skin-fanatic and had little to no interest in exploring different skincare products and what worked for my specific skin type, which is dry, sensitive skin. I only started introducing skincare products probably when I started sixth form, and that was only a basic facial wash by the brand Simple. But it worked for me: my skin was dull but clear so I had no reason to complain or look for an alternative product. However, as I got older and become more conscious about my looks, especially after I started my first year at university, I started to become more interested in skincare. One of my first purchases was Argon oil which you apply to your face, which made my skin feel good and healthy, but after the bottle broke mid-semester I quickly forgot about this product and only relied on facial wash in the morning and evening to keep my skin clear. This worked. Recently, I went to the bottom of my snap memories and found pictures and videos of myself without any snap fillers and experienced this awful internal pain when I realised how nice my skin was. This quarantine I had convinced myself that my skin needed repair due to the fact that I had one or two pimples/ spots on my forehead, which someone close to me thought it was appropriate to point out every single time we video called each other. So I started to watch videos by skincare by Hyram on what products would help to improve my skin and wasted my hard-earned money on products I didn't need.
The first products that I purchased was the CeraVe hydrating facial cleanser and the moisturiser. I used these products for about less than a month and they caused my skin to start 'purging' – I started to develop spots and pimples on my cheeks and forehead that I never had before – so I quickly dropped these products and turned back to using the facial wash by Simple which was designed specifically for my sensitive skin and had served me well in the past.
Other products that I purchased was from The Ordinary: the Niacinamide and Zinc solution, the Rose hip Oil, and the Peeling Solution. All of these products did not help to improve my skin condition but instead continued to worsen it, especially the niacinamide solution which caused me irritation and breakouts. The Peeling Solution, which I used 2 or 3 times, did little to improve the texture and dullness of my skin so I stopped using this, as well as due to the fact that this product was not tailored for sensitive skin like mine. However, with the Rose hip Oil I did see some benefits: my skin felt more glowy and healthy after its use, but because I wasn't sure if it was contributing to my breakouts, I also stopped using this product.
I now no longer use any of these products and only use a facial wash in the morning and evening to clean my face of any impurities. Ironically the more I cared about my skin and wanted to improve it, the more worse my skin got especially since I kept introducing and removing products from my skincare regimen. All of these skincare products that are marketed to women claiming that they will fix your skin problems are false and misleading; there was never anything wrong with your skin to begin with so you don't need these products. It's capitalism at play. Skincare and beauty companies profit off our insecurities and low self-esteem in order to make money, thus we can empower ourselves by refusing to buy their products. This is not an easy thing, I struggle everyday to not use a facial oil or moisturiser (unless my skin is actually dry and requires it, but I use a basic lotion which has no active ingredients) and only rely on my facial wash. I wish I could tell my younger self that there was nothing wrong with her skin and therefore she don't need to change it; her skin is perfect fine as it is. Hence, I want to share this message with my readers: your skin is fine and does not need to be fixed. Self-love comes from within so no expensive product will fix your internal problems of low self-esteem and confidence, you need to look within yourself and stop relying on an external solution for your internal problem.