Little black girls want "good hair"
time to love your natural hair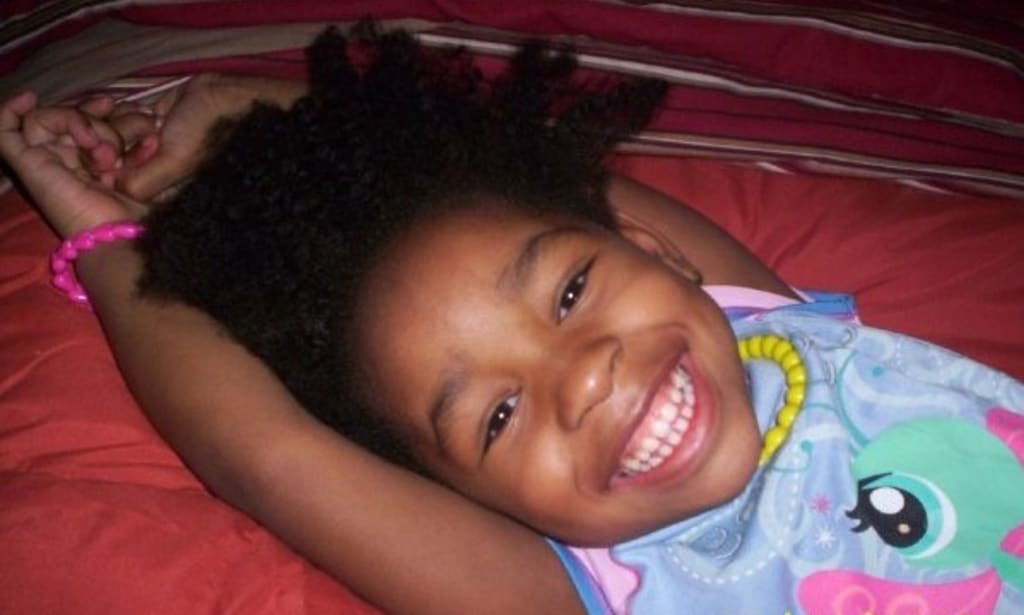 Robin L. Jessie-Green
"I want to be a white woman when I grow up 'cause they've got long straight hair…," from the lips of a 5-year-old African American female.
It begins early, young black girls and boys learn the societal images of beauty. The looser your curl, the more attractive you are. Girls want long, straight flowing hair. If not naturally, then manufactured. Boys wear "do-rags" to get those waves coming in nicely.
If you are blessed with a 4C hair grade, you are taught that the healthy tightly coiled hair atop your head is something for which you should be ashamed. Your crown is not worth celebrating unless it is shiny and silky smooth. Coarse hair like wool is rejected. Your kinky hair isn't "good hair".
Good hair should not be synonymous with wavy or straight hair. Good hair is healthy strands growing out of the follicles in your scalp. Good hair is moisturized and cared for in a manner that aids in retention and combats breakage. Good hair comes in all textures. Unfortunately, not everyone is taught to love the head of hair they were born with.
If you are born with a looser curl pattern like a 3B or 3C hair type, your natural hair is seen as more acceptable. Looser curls may even be considered more beautiful by societal standards. It makes it difficult to embrace your natural self when you are convinced it is wrong.
There's nothing wrong with wanting long hair. All hair types are capable of growing long. The measures taken may differ, but it's possible to achieve. Some hair strands are just a little shy. Some heads of hair may be longer than they appear.
Shrinkage is common with a tighter curl pattern making the appearance of the hair seem shorter than it actually may be if straightened. To show some hang and length, people go to various lengths to straighten their luscious locks of hair. Whether by "perm" or silk press, chemicals and heat are applied to the hair to tame the natural curls. These drastic measures are used to change the look of the hair to be more suitable to those who find it offensive.
To get the desired look of the western standards of beauty, black hair is trained by repeated pressing with a hot comb, using a flat iron, by use of relaxers, texturizers, or some other altering device or chemical. And so the internal battle ensues. Children are struggling with accepting themselves as they are and conforming to what someone else led them to believe is "good".
So many years were spent perfecting techniques to change black hair from its natural state. Not until recent years have there been efforts to spread the word on natural hair care maintenance with ample products readily available. Now, there are Coalitions whose missions are to encourage black people to embrace their natural hair.
Twenty-three states have introduced legislation concerning hair discrimination. The Crown Act, which stands for Creating a Respectful and Open World for Natural Hair Act, has been passed in seven out of fifty states. This Act makes it illegal to discriminate against a person based on how they wear their hair in its natural state. An actual law had to be passed making it okay for people to be themselves, naturally.
As children grow they are still striving for what they have been taught is beautiful and acceptable by other's standards. "I don't know what to do with it," a frustrated 14-year-old girl expresses, concerning her defeatist attitude towards her natural.
She doesn't like double-strand twists, she doesn't like cornrows, she doesn't like braided extensions, she doesn't want locs, she doesn't like 'fros, or Bantu knots or anything close to those styles. What she wants is long, straight hair flowing down her back. What would make her happiest and more confident is a relaxer and a hair weave combination. Then she will be beautiful.
It's not true girls and boys! You were beautiful from the moment you were born. It's more than okay to be happy to be nappy.
Chris Rock's documentary "Good Hair" was released in theaters nationwide October 9, 2009. It can now be viewed on Netflix. Although it was released over a decade ago, it still rings true.
This documentary and my two 4C haired girls are what inspired this piece.
One rocks locs and the other an impression afro.
Read more information on this topic by Daily News Columnist Jenice M. Armstrong and Inquirer Fashion Writer Elizabeth Wellington.
View another documentary about Black Hair here.
If you'd like to see more from me, kindly give a coin of encouragement.
hair
About the author
Temple University BA and AIU Online MBA Alumna.
Content Contributor for Medium, eHow, Examiner, Experts123, AnswerBag, Medicine-guides.com and various other sites spanning a decade.
Visit my Writing Portfolio to see what else I've written.