How to Look Younger
Enhance your youthful glow.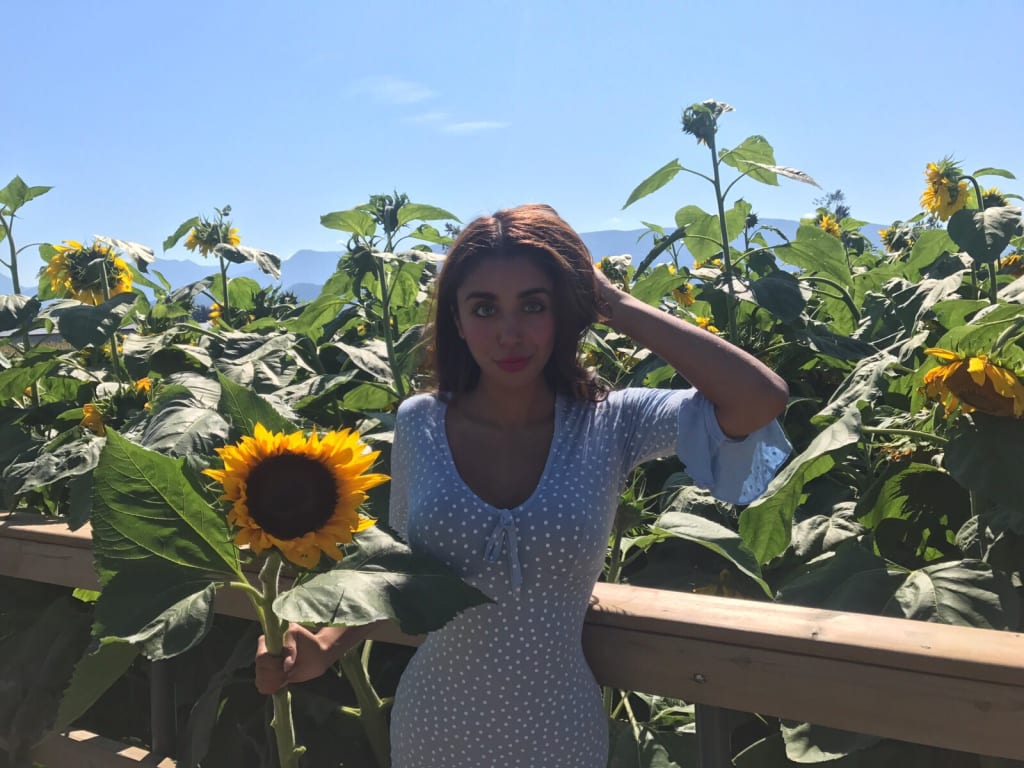 Just a Casual Photo of Me!
The innocent- naive look has been raging all over social media for 2018; however, sometimes snap clips aren't all a girl needs to give herself that girl next door appeal. However, makeup has the power to age people! For that reason, proper application of makeup can impact the aesthetic one may be going for.
Through my own personal experience, here are a few makeup tricks that subtly make one look like an angelic goddess. To be youthful is to embrace and enhance your beauty.
Skin Care
I can't stress enough how skin care impacts your confidence. There are many ways to naturally boost your skin. Investing in a Clarisonic was the best decision of my life. It helps refresh and replenish the skin leaving it as a dewy glowy canvas. For acne or scarring, what worked best for me was birth control. Using Dianne 35 cleared my skin and when I decided to stop taking it my skin was no longer having hormonal acne flare-ups. Although medications can help clear skin it is still essential to take care of our skin. For this reason, I recommend Dior! Dior has amazing skincare which is moderately priced; however, it lasts long and is very effective in regulating balance in the skin.
I recommend:
Dior Hydra Life Oil To Milk Makeup Removing Cleanser (cleanse with cold water)
Dior Hydra Life Pores Away Pink Clay Mask
Dior Hydra Life Time To Glow Ultra Fine Exfoliating Powder
Dior Capture Youth Collection Matte Maximizer Age-Delay Mattifying Serum
Dior Capture Totale Dreamskin Advanced
Dior Dior Lip Glow
(I apply all products in this order.)
Rose Cheeks
A pop of colour on the apples of your cheeks can do wonders. I generally use Glossier Cloud Paint in Haze, then apply a touch of Mac Gleeful over the top of my cheekbone. If it's summer I gently run my brush over the bridge of my nose because I noticed it makes my nose look more slopped. I usually do my blush last because that way it's not masked by other products.
Faux Freckles… or Real Freckles
Embracing natural beauty is a simple and elegant touch. It helps one look more natural; thus, it showcases a softer side. To do the perfect faux freckle, I take an eyebrow pencil and create little freckles over the bridge of my nose, and the peaks of my cheekbones, then I take my finger and gently press on them to blend it in with my skin and foundation. Then to finish, I go in and make a few more freckles this time with a darker pencil, repeat my steps and set with a soft translucent powder.
Lipstick
I prefer a lip colour that is similar to the cheeks because the pigmentation is most natural when it's all in unison. So for that reason, I use COLOR: 379 Yummy Pink—bright pink with blue undertones. This appears the most natural on me and compliments my melanin-enriched skin tone. I take my lip stain and I apply it to the centre of my lips and fade it out for a natural look.
Conceal
Concealing flaws is great. I conceal hyperpigmentation, under eye bags, and any scars. Sometimes just concealer is enough; after all, less is more. So if you don't need foundation, don't wear it. Skip that step and substitute for a bb cream or a foundation mixed with some SPF.
Hair
Hair all depends on personal taste… for myself, loose big curls with warm toned yet lighter hair look the most youthful.
Clothing
Wearing softer colours—pinks, yellows, periwinkle, lavender white,etc.—gives me the purest and most vibrant feel. This is because we mentally associate purity with lighter colours—thus, I lean towards pastels.
I hope this helps.
face
Aspiring science student, who adores cooking, fashion, and nature. Thus, I am here to learn and guide in my passions.