How to Choose the Right Embedded Financing Option for Your E-commerce Platform
How to Choose the Right Embedded Financing Option for Your E-commerce Platform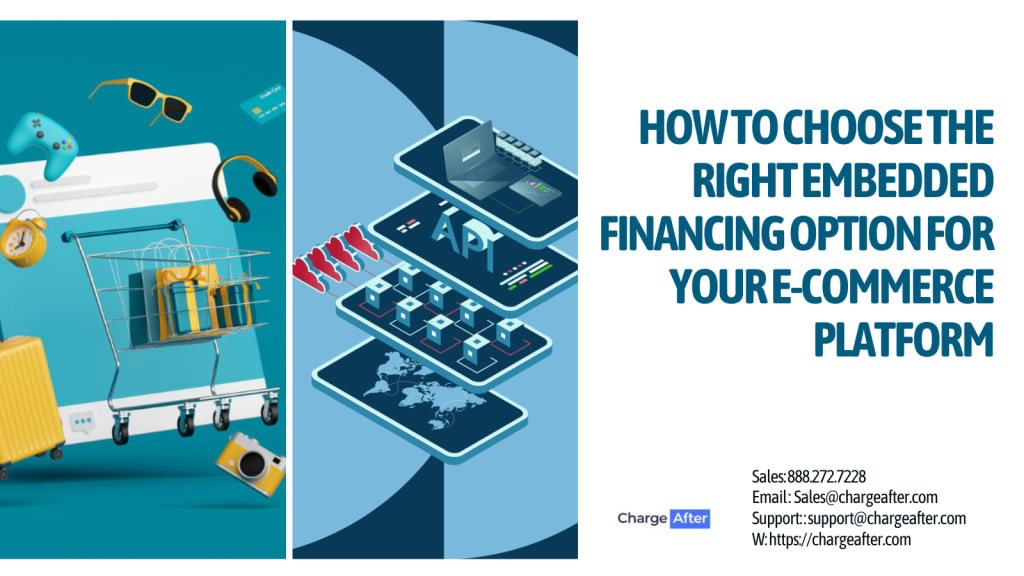 Introduction
Embedded financing has become increasingly popular in the world of e-commerce. Offering financing options directly within your online store can attract more customers, increase sales, and enhance customer satisfaction. In this article, we will explore the concept of embedded financing and guide you in choosing the right option for your e-commerce platform.
Understanding Embedded Financing
Embedded financing refers to the integration of financing options directly into an e-commerce platform, allowing customers to access credit or installment plans at the point of sale. This innovative approach eliminates the need for customers to seek external financing, streamlining the purchasing process and boosting conversion rates. By providing embedded financing, you can cater to the diverse financial needs of your customers, including those who may need more immediate funds available for purchase.
The benefits of embedded financing for e-commerce platforms are numerous. Firstly, it allows you to offer a seamless shopping experience by providing instant financing options without redirecting customers to external lenders. This reduces friction in the purchasing process and encourages customers to complete their transactions.
Additionally, embedded financing enables you to increase average order values and drive repeat purchases. By providing flexible payment plans, such as buy now, pay later (BNPL) or installment options, you can make high-ticket items more affordable for your customers, thus encouraging them to make larger purchases. This not only boosts your revenue but also fosters customer loyalty and satisfaction.
Factors to Consider when Choosing an Embedded Financing Option
When selecting an embedded financing option for your e-commerce platform, several factors should be considered to ensure you make the right choice.
1. Compatibility with your e-commerce platform: Choosing a financing solution that seamlessly integrates with your existing e-commerce infrastructure is crucial. Consider whether the solution is compatible with your platform's technology, shopping cart, and payment gateway to ensure a smooth implementation process.
2. Seamless integration and user experience: The embedded financing solution should provide merchants and customers with a user-friendly and intuitive interface. Evaluate the ease of integration and the overall user experience to ensure a hassle-free and enjoyable purchasing journey.
3. Range of financing options offered: Different customers have different financing needs. Look for an embedded financing option that provides various financing options, such as BNPL, installment plans, or revolving credit, to cater to a wide range of customer preferences.
4. Flexibility in terms and conditions: Evaluate the flexibility of the financing solution's terms and conditions. Consider factors such as interest rates, repayment terms, and late payment fees to ensure they align with your customer's needs while maintaining fairness and transparency.
5. Cost and fees associated with the financing solution: Understand the cost structure of the embedded financing option. Consider any setup, transaction, or ongoing expenses related to the service. Compare these costs with the potential benefits and revenue generation to make an informed decision.
6. Support and customer service provided: Reliable customer support is essential when implementing an embedded financing option. Ensure that the financing provider offers responsive and helpful support to promptly address any issues or concerns.
Evaluating ChargeAfter as an Embedded Financing Option
One of the leading embedded financing providers in the market is ChargeAfter. ChargeAfter is a FinTech company that has developed a multi-lender white-labeled point-of-sale consumer financing platform and lender network for merchants and financial institutions. Let's explore why ChargeAfter stands out as an excellent option for e-commerce platforms.
ChargeAfter's multi-lender white-labeled platform offers a range of benefits for merchants and customers alike. Firstly, it provides access to a diverse network of lenders, allowing customers to choose various financing options that best suit their needs. This flexibility enhances the purchasing experience, increasing customer satisfaction and driving conversion rates.
The seamless integration of ChargeAfter into e-commerce platforms ensures a smooth and streamlined checkout process. The user-friendly interface makes it easy for customers to select their desired financing option directly within the shopping cart without any redirects or additional steps. This frictionless experience reduces cart abandonment rates and boosts sales.
ChargeAfter's platform also supports omnichannel lending, meaning customers can access financing options in the online store and physical retail locations. This omnichannel approach enables a consistent financing experience across different touchpoints, promoting customer loyalty and engagement.
Furthermore, ChargeAfter provides a white-label solution, allowing you to maintain your brand identity throughout the financing process. This customization capability ensures a cohesive brand experience for your customers, reinforcing trust and credibility.
ChargeAfter has a proven track record of success, with numerous success stories and case studies showcasing its effectiveness in driving sales and customer satisfaction. By partnering with ChargeAfter, e-commerce platforms have witnessed significant growth in their business, increased average order values, and improved customer retention rates.
How to Implement ChargeAfter in Your E-commerce Platform
If you've decided that ChargeAfter is the right embedded financing option for your e-commerce platform, here are the steps to implement it effectively:
1. Integration: Begin by integrating ChargeAfter's API or plugin into your e-commerce platform. Consult with ChargeAfter's technical support team to ensure a seamless integration process. They will provide the necessary documentation and guidance to facilitate the integration.
2. Customization: Use ChargeAfter's white-label solution to customize the financing experience to align with your brand. Incorporate your brand colors, logo, and messaging within the ChargeAfter interface to maintain a consistent brand identity for your customers.
3. Testing and Optimization: Before launching ChargeAfter on your live e-commerce platform, conduct thorough testing to ensure all features and functionalities work correctly. Test the financing options, checkout process, and compatibility with different devices and browsers. Address any issues or bugs that arise during this testing phase.
4. Communication and Education: Once ChargeAfter is fully implemented, it's crucial to communicate the availability of financing options to your customers. Update your website, product pages, and checkout process to highlight the financing options provided by ChargeAfter. Consider creating educational content or FAQs to address common questions and concerns regarding the financing process.
5. Training and Support: Train your customer support team to assist customers with financing inquiries or issues. Familiarize them with the features and benefits of ChargeAfter to provide accurate and helpful guidance to customers. Maintain a strong line of communication with ChargeAfter's support team to address any technical or operational queries.
6. Monitor and Optimize: Continuously monitor the performance of ChargeAfter on your e-commerce platform. Track metrics such as conversion rates, average order values, and customer feedback to assess the effectiveness of embedded financing. Identify areas for improvement and optimize the financing options and user experience based on customer behavior and preferences.
Other Embedded Financing Options to Consider
While ChargeAfter is an excellent choice for embedded financing, it's worth considering alternative providers to ensure you find the best fit for your e-commerce platform. Here are a few other embedded financing options you may want to explore:
1. Affirm: Affirm offers a popular embedded financing solution known for its simplicity and transparency. It provides flexible installment plans with transparent terms and upfront pricing, allowing customers to make informed decisions. Affirm also offers a mobile app for customers to manage their payments and view transaction history.
2. Klarna: Klarna is a well-known BNPL (Buy Now, Pay Later) provider that offers embedded financing solutions. With Klarna, customers can split their payments into installments or pay later. Klarna's platform is known for its user-friendly interface and quick application process, making it a popular choice among e-commerce platforms.
3. PayPal Credit: PayPal Credit is a widely recognized embedded financing option that allows customers to make purchases with flexible financing terms. It offers promotional financing, allowing customers to pay in full within a specified timeframe to avoid interest charges. PayPal Credit seamlessly integrates with PayPal's checkout process, making it convenient for customers who already use PayPal for their online transactions.
4. Sezzle: Sezzle specializes in interest-free installment plans, allowing customers to split their payments into manageable installments without incurring additional fees. Sezzle's simple application process and real-time approval make it an attractive choice for customers seeking a transparent financing solution.
When evaluating these options, consider their compatibility with your e-commerce platform, the range of financing options, the user experience, and the terms and conditions. Assess their track record, customer reviews, and support services to ensure a reliable and efficient partnership.
Conclusion
Choosing the right embedded financing option for your e-commerce platform is a strategic decision that can significantly impact your sales and customer satisfaction. When selecting, evaluate factors such as compatibility, integration, range of options, flexibility, costs, and support.
ChargeAfter stands out as an excellent embedded financing option, offering a multi-lender white-labeled platform with seamless integration, omnichannel lending capabilities, and a proven track record of success. By implementing ChargeAfter, you can enhance your customer's shopping experience, increase sales, and foster long-term customer loyalty.
However, it's always beneficial to explore alternative providers such as Affirm, Klarna, PayPal Credit, and Sezzle to ensure you find the best match for your specific requirements. Carefully assess their features, benefits, and customer feedback to make an informed decision that aligns with your e-commerce platform's goals and values.
Now that you have a comprehensive understanding of embedded financing and the factors to consider, it's time to take action and implement the right financing solution for your e-commerce platform. Empower your customers with flexible payment options and elevate their shopping experience.
Contact us
Charge After
Sales: 888.272.7228
https://chargeafter.com
Support: [email protected]
Reader insights
Be the first to share your insights about this piece.
Add your insights