HOLY GRAIL EVERYTHING
By: Esther Georges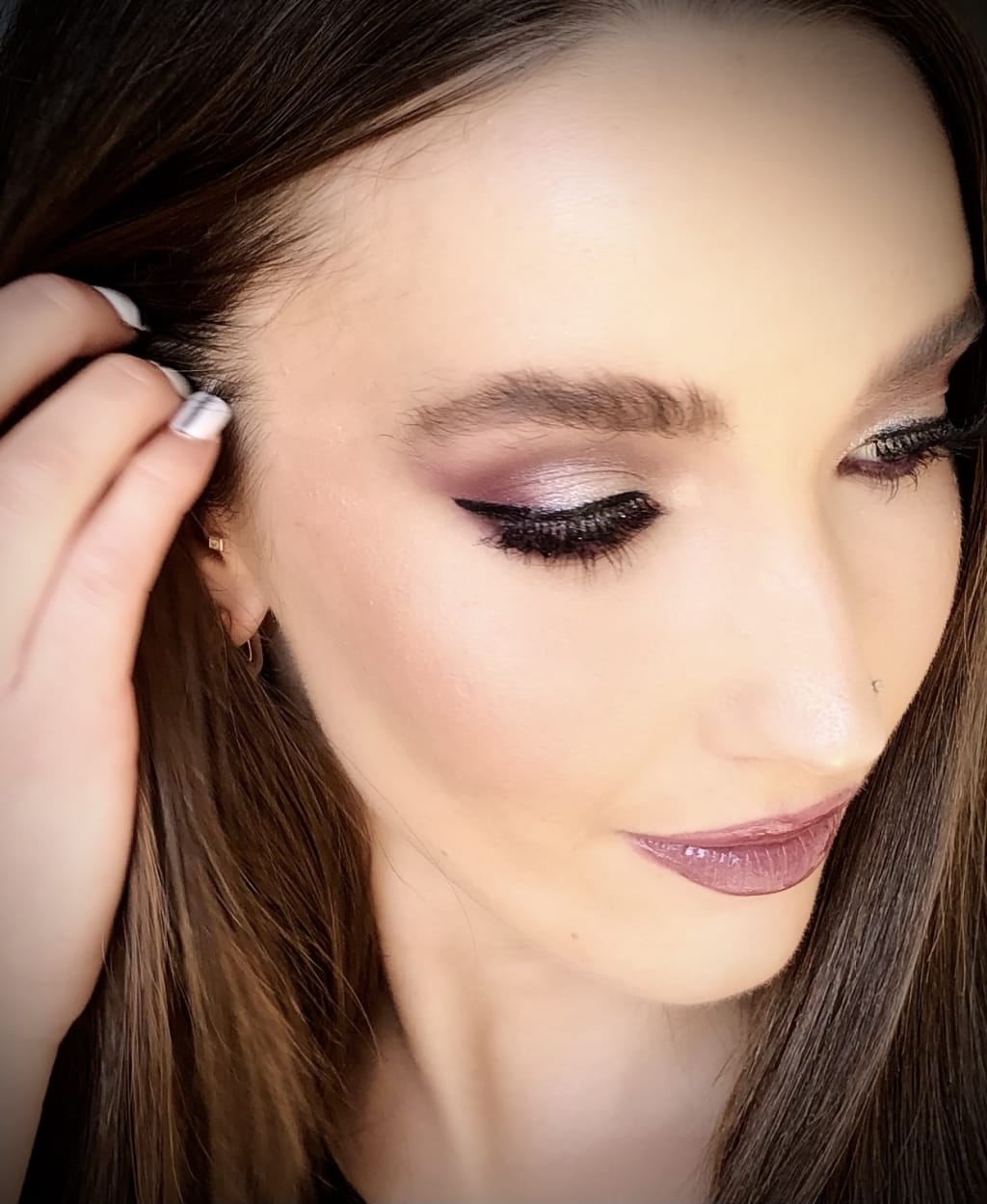 Hey, all you beauty lovers out there, (I bet you thought I was gonna go Carole Baskin on you there, didn't ya?) :D
My name is Esther Georges and I am here to share what I consider to be my HOLY GRAIL products, with you! Now, I must admit, I don't do this a lot at all, so I genuinely do hope you guys will appreciate it. Skincare is beyond important to me and I do love to take care of my skin, so I will talk about those today. As far as makeup products go, I would love to share my kingdom of gazillion makeup powerhouses with you, but I will keep it light, considering only few of my things I actually do count as the "Holy Grail" when it comes to all things beauty. Let's jump right into it, I guess. :D Honestly, I used to call myself a morning person, but nowadays, (perhaps it's the weather getting to me) it takes me double the caffeine to get me going and extra cold water on my face to really wake me the heck up. With that being said, I have to mention my 2X Starbucks Coffee that I so happily take in the morning, which really is what's responsible for keeping me alert during the day and focused on taking care of my skin and getting the contour right ;) (Totally joking, although have to admit I am more of a "blush n' go" kind of girl, at least for now, with the mask wearing situation).
Now, straight to business.
Morning Routine
Step 1: I splash ice cold water on my face and grab my go to cleanser "Soy Face Cleanser" by Fresh. What I genuinely love about this one, is that it's pH balanced, leaves my skin soft, doesn't cause me any probs whatsoever, truly cleans my face and removes my makeup, and smells amazing, with a scent that is not overwhelming at all, if I may say so.
Oh yes, my skin is sensitive and also, a combination kind.
Step 2: I proceed with dabbing a fresh clean lil towel on my face, never dragging it, always gently dabbing it to remove any excess water from the cleanse. Then I take my beautiful Elemis Sunscreen Moisturizer that's got 30 SPF in it, and again, I have to mention, simply has the scent of paradise. What I love about Elemis in general, is that it's got pure amazingness in it, just allow me to elaborate. I'll talk about 3 ingredients that enormously stood out for me, which are, Ginkgo Biloba Leaf Extract, Daucus Carota Sativa (Carrot) Root Extract and Lecithin. I'll say this really quick, aside from the obvious, Ginkgo Biloba is amazing for anti-aging, and has antioxidants you can only dream about for your skin. I absolutely love that about Elemis; it seems to me this skincare brand just knows what's up when it comes to providing the best of the best, for my skin.
Next we have the fantastic carrot root extract… ok simply put, what this does, is let's your skin create its own natural glow, and reduces the not so popular, dark spots and redness.
Lecithin is great because it is an emollient, which is another name for "moisturizer", and it soothes and moisturizes your skin by restoring hydration.
And that's just 3 ingredients of this incredible day moisturizer! Imagine how great the rest of them are, especially coincided together!
Step 3: Afterwards, I apply my precious under eye cream, by Amore Pacific, called "Time Response Eye Reserve Cream". Its benefits range from providing me with the hydration I so desperately need, especially during winter, adds suppleness, improves elasticity and I don't know, just makes me feel good!
Step 4: I apply MAC 24- Hour Eye Extend Base for my eyeshadow primer. I don't know what I would do without it, to be honest. It helps to keep my eyeshadows steady all day long, and not get all over, even if it's glitter. MAC has and always will be my number one favorite makeup brand of all time, and while I can't mention all the products in one post, I simply had to list the iconic brand's incredible eye primer. This primer not only keeps the eyeshadow in place, it makes the pigment of any eyeshadow I put on, look richer, and brighter. The primer helps also for all my eyeshadows to keep separated or as blended as I want them to, it helps avoid all the unnecessary messy looks I used to have, without the MAC eye primer. Just get your pretty self to the MAC store and get it, trust me, you won't regret making that decision.
Step 5 & 6: My go to everyday natural look from Too Faced "Natural Eyes" Eyeshadow Palette & Benefit Cosmetics Gimme Brow+ Tinted Volumizing Eyebrow Gel in shade 3. I also use eyebrow pomade from Brow Gal, when I want to look extra on point. Honestly though, that's always.
Step 7: I apply some face primer, and follow with my one and only MAC "Studio Fix Fluid Foundation SPF 15", with a foundation brush from one of my favorite makeup artists, Scott Barnes (who is JLO's loyal makeup artist by the way)!
Step 8: I use one of my favorite concealers, from Born This Way "Multi-Use Sculpting Concealer" under my eyes, just a little bit. Sometimes when I'm kinda lazy, I'll just use sunscreen moisturizer and little of this magical concealer under my eyes and few swabs under my cheeks, along with my favorite blush. This just helps my face breathe a minute, and gives me a break in not having to take too much time taking off my makeup every night before bed. Side note: Sometimes I like to use the concealer "& Other Stories"; I love the brightening effect it gives for my eyes. I do end up adding little of Laura Mercier powder as well, when needed.
Step 9: After the concealer action, I grab my faveee MAC blush brush 129 S, and grab either the Hourglass Cosmetics blush or my "Peony Petal" MAC blush. It depends whether I want more of a glow look or a matte kind of look for that day. Although, I have mixed two of 'em together multiple times. Hourglass has this glow that's not even shiny, it's luminous. And MAC, well is MAC. I used to use "Breath of Plum" but it was no longer available, so I moved on to "Peony Petal" which gives a pink-ish kind of pop to my face, that I absolutely adore.
Step 10: I use my go to eye liner, from… you guessed it, LADY GAGA. Her Haus Labs makeup brand is beyond amazing, don't even get me started. I use the liner in "Punk", which looks incredible and yes, lasts all day long. It's easy for me to do wings with this eyeliner.
Step 11: One of my very last steps is of course the one and only MAC Fix+ Setting Spray. I can be confident my beautiful makeup that took time to even happen in the first place, will be there all day long and it won't transfer to any of my outfits. Love, love MAC Fix+ Setting Spray, I have one in Lavender, helps me feel good, aromatherapy style. They have one in Coconut too!
Step 12: I apply some of Augustinus Bader "The Body Cream", which I have to say is one of the best body creams out there.
Nighttime Routine:
I gently remove my tough eye makeup with Neutrogena wipes fragrance-free. Remove the rest of the eye makeup with little coconut oil using soft cotton balls. Then of course, cleanser as usual. Next, I might use a mask to help my skin recover if I used a lot of makeup the night before. Afterwards, I'll apply my nighttime moisturizer, SkinCeuticals and my under eye cream from Amore Pacific. Laneige Lip Sleeping Mask would be next, I love the softness it gives and the scent is out of this world, so why not? :D
Well, that's it for now, I believe. I didn't list 100% of what I have in my picture, but I did my best. I hope you guys enjoyed reading it and perhaps even helped you in deciding what your next go-to skincare or makeup product might be!
PS: Guys, I totally had pictures for each product, but was unable to post them here, so sorry, I will surely make it up to you in the next post!
Lots of love, see you next time!
Xoxo, ES