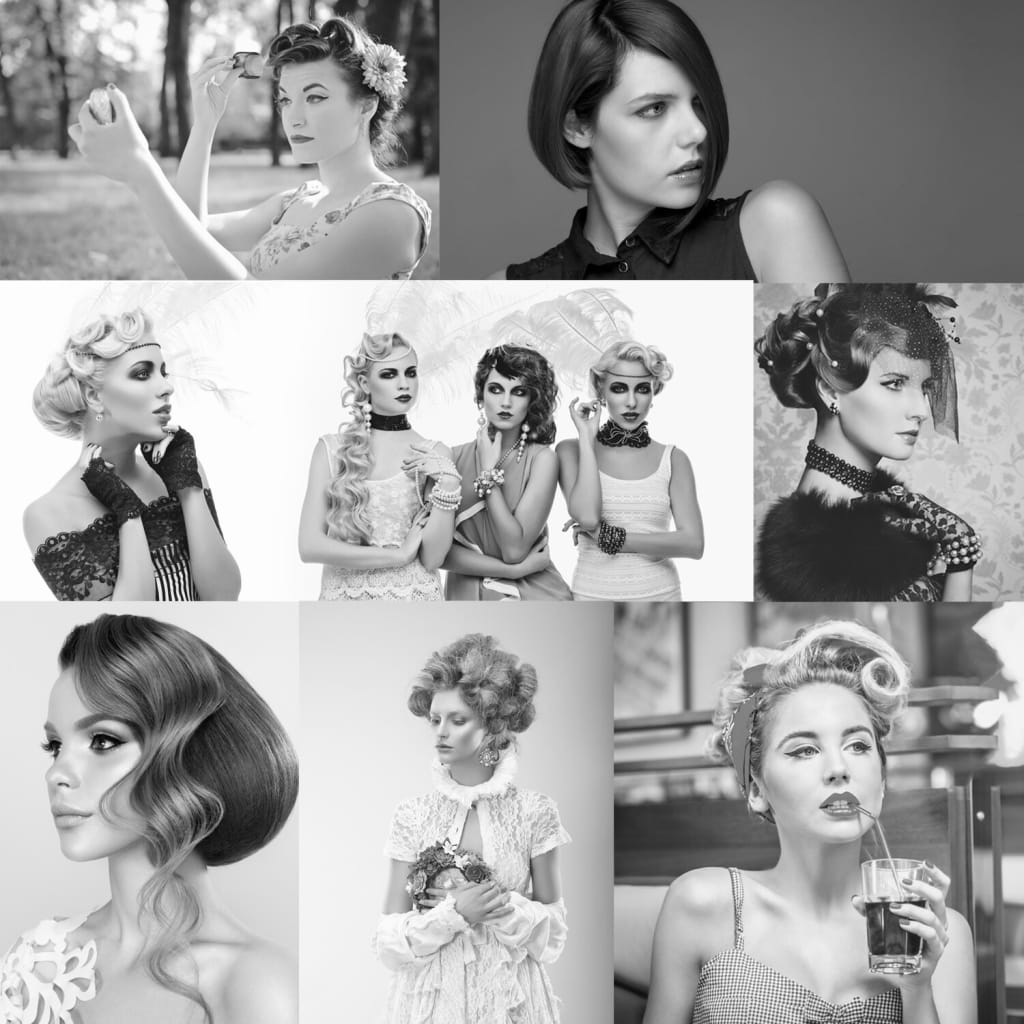 The oldest known depiction of hair styling is hair braiding which dates back about 30,000 years. In history, women's hair was often elaborately and carefully dressed in special ways, though it was also often kept covered outside the home, especially for married women. From the time of the Roman Empire[citation needed] until the Middle Ages, most women grew their hair as long as it would naturally grow. Between the late 15th century and the 16th century, a very high hairline on the forehead was considered attractive. Around the same time period, European men often wore their hair cropped no longer than shoulder-length. In the early 17th century, male hairstyles grew longer, with waves or curls being considered desirable.
The male wig was pioneered by King Louis XIII of France (1601–1643) in 1624. Mullets or periwigs for men were introduced into the English-speaking world with other French styles in 1660. Late 17th century wigs were very long and wavy, but became shorter in the mid-18th century, by which time they were normally white. Short hair for fashionable men was a product of the Neoclassical movement. In the early 19th century the male beard, and also moustaches and sideburns, made a strong reappearance. From the 16th to the 19th century, European women's hair became more visible while their hair coverings grew smaller. In the middle of the 18th century the pouf style developed. During the First World War, women around the world started to shift to shorter hairstyles that were easier to manage. In the early 1950s women's hair was generally curled and worn in a variety of styles and lengths. In the 1960s, many women began to wear their hair in short modern cuts such as the pixie cut, while in the 1970s, hair tended to be longer and looser. In both the 1960s and 1970s many men and women wore their hair very long and straight.[2] In the 1980s, women pulled back their hair with scrunchies. During the 1980s, punk hairstyles were adopted by many people.
Hair dressing may include cuts, weaves, coloring, extensions, perms, permanent relaxers, curling, and any other form of styling or texturing.
Washing
Stylists often wash a subject's hair first, so that the hair is cut while still slightly damp. Compared to dry hair, wet hair can be easier to manage in a cut/style situation because the added weight and surface tension of the water cause the strands to stretch downward and cling together along the hair's length, holding a line and making it easier for the stylist to create a form. It is important to note that this method of cutting hair while wet, may be most suitable (or common) for straight hair types. Curly, kinky and other types of hair textures with considerable volume may benefit from cutting while dry, as the hair is in a more natural state and the hair can be cut evenly.
Cutting
Edit
Hair cutting or hair trimming is intended to create or maintain a specific shape and form. There are ways to trim one's own hair but usually another person is enlisted to perform the process, as it is difficult to maintain symmetry while cutting hair at the back of one's head.
Cutting hair is often done with hair clipper, scissors, and razors. Combs and hair grips are often employed to isolate a section of hair which is then trimmed.
Brushing and combing
Brushes and combs are used to organize and untangle the hair, encouraging all of the strands to lie in the same direction and removing debris such as lint, dandruff, or hairs that have already shed from their follicles but continue to cling to the other hairs.
There are all manner of detangling tools available in a wide variety of price ranges. Combs come in all shapes and sizes and all manner of materials including plastics, wood, and horn. Similarly, brushes also come in all sizes and shapes, including various paddle shapes. Most benefit from using some form of a wide tooth comb for detangling. Most physicians advise against sharing hair care instruments like combs and clips, to prevent spreading hair conditions like dandruff and head lice.
The historical dictum to brush hair with one hundred strokes every day is somewhat archaic, dating from a time when hair was washed less frequently; the brushstrokes would spread the scalp's natural oils down through the hair, creating a protective effect. Now, however, this does not apply when the natural oils have been washed off by frequent shampoos. Also, hairbrushes are now usually made with rigid plastic bristles instead of the natural boar's bristles that were once standard; the plastic bristles increase the likelihood of actually injuring the scalp and hair with excessively vigorous brushing. However, traditional brushes with boar's bristles are still commonly used among African Americans and those with coarse or kinky textures to soften and lay down curls and waves.
Drying
Hair dryers speed the drying process of hair by blowing air, which is usually heated, over the wet hair shaft to accelerate the rate of water evaporation.
Excessive heat may increase the rate of shaft-splitting or other damage to the hair. Hair dryer diffusers can be used to widen the stream of air flow so it is weaker but covers a larger area of the hair.
Hair dryers can also be used as a tool to sculpt the hair to a very slight degree. Proper technique involves aiming the dryer such that the air does not blow onto the face or scalp, which can cause burns.
Other common hair drying techniques include towel drying and air drying.
hair
About the author
Reader insights
Be the first to share your insights about this piece.
Add your insights