Get Rid of Dark Circles and Puffiness
Use Natural Tips to Overcome Dark Circles and Puffiness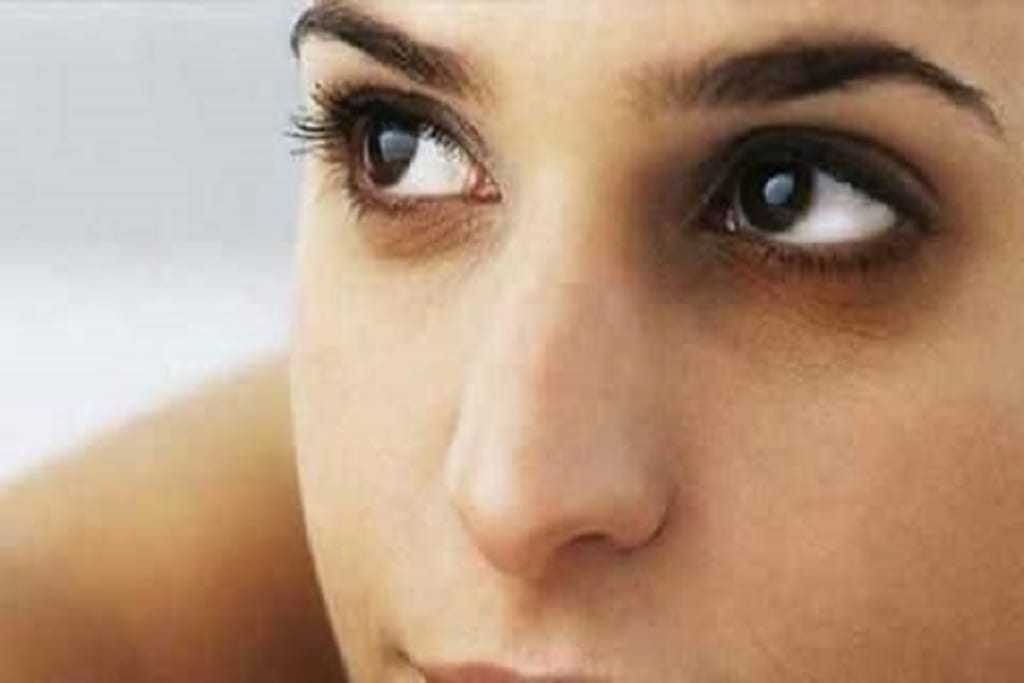 Get rid of dark circles
Waking up is not always easy, especially when you arrive in front of the mirror with dark circles and bags under the eyes not very glamorous all that. So yes, of course, there is the trick of the concealer that saves us for the day. But to really fix the problem, here are 6 tips for getting rid of dark circles and puffiness the natural way.
Many of us suffer from the problem of dark circles and bags under the eyes. But what exactly is the cause of their appearance? Fatigue, lack of sleep, tobacco, poor diet, genetics, poor blood circulation, the consequence of time passing (with age, the skin and muscles relax), water retention, pollution, many factors can come into play. Luckily, there are a few simple things you can do to combat those unsightly signs that make us look tired and look lackluster. Here are 6 easy tips to regain a luminous look and eliminate dark circles and puffiness.
1. Massage around the eyes
If you suffer from bags under your eyes or nasty dark circles when you wake up, a little massage around the eye area can help get rid of them? The idea is to stimulate blood circulation to the area around the eyes. But beware: the eye area is a fragile area, where the skin is very thin and which marks easily. It is therefore necessary to do your self-massage with precaution.
With the pulp of the index finger, perform mini-drainage by gently massaging the skin by small pressure in circular movements (and not by stretching so as not to crumple and add wrinkles as a bonus). Repeat this gesture ten times from the outer corner to the inner corner of the eye. Then do the same thing all around the orbit. It can be a beauty routine to do morning and evening.
2. Choose the right concealer / anti-puffiness care
For the delicate area around the eye, it is all the more important to choose an ultra-gentle treatment with active ingredients that treat this problem. For bags under the eyes, we will favor formulas which activate the micro circulation, have a draining action. For dark circles, we will opt for a moisturizing treatment with a decongestant action, possibly with anti-UV and antioxidant properties. Some treatments are also formulated with light reflecting pigments to illuminate the eyes.
3. Have the right actions to apply it
Having the right treatment to fight dark circles and bags under the eyes is good, but you also need to know how to apply it correctly to get all the benefits. Morning and evening, for a perfect penetration of the product, it will be necessary to be based on the same model as for the massage.
But be careful not to venture too close to the eye! It is unnecessary and could cause inflammation. The eye care diffuses by itself and rises by capillary action. So always stay about a centimetre from the eye.
4. Do not overflow
If you have to be careful with your actions when applying your concealer, the same goes for your other beauty products. Your daily moisturizer, face masks or even scrubs should be avoided on the eye area. These cosmetics are indeed too rich or too aggressive for this fragile area, they could swell or irritate your eyes!
5. Homemade recipes to eliminate puffiness and dark circles
If you are a fan of DIY with cosmetics and other face care, know that precious allies are hidden in your closet or your fridge to naturally fight against dark circles and bags under the eyes.
Cold cucumber slices (a vegetable with anti-inflammatory properties) applied to the eyes for 15 minutes. To deflate the puffiness and eliminate dark circles, nothing like the action of the cold which will activate the blood circulation. This tip also works with raw potatoes.
If you do not have a cucumber or potato on hand, you can also use two teaspoons previously put in the refrigerator / freezer, cold water compresses or two ice cubes wrapped in a cloth to apply to your eyelids for ten minutes for a rested look.
Green tea bags. Do not throw away your tea bags after use. They can be used to reduce your dark circles and puffiness. Green tea is indeed known to have antioxidant properties. Place two sachets (one per eye) in the refrigerator then place on your eyes for a few minutes.
The homemade anti dark circles mask. Mix a little lemon juice, honey and lukewarm water (or lukewarm milk) then put some of this mixture on cotton wool. Then all you have to do is apply to dark circles and leave for 10 minutes. It is a great mask to do from time to time, in addition to your daily care.
6. Sleep neither too much nor too little
That's not great news: With fatigue being one of the causes of dark circles and puffiness under the eyes, getting a good night's sleep is ideal for viewing a fresh, luminous look when you wake up. Try to spend nights of around 8 hours (depending on your needs) and in good conditions (cool and comfortable room, environment without parasitic noise, etc.). Be careful though: avoid sleeping too much as you risk waking up with swollen eyes!
About the Creator
Stay tuned for the latest health and beauty information. Our responsibility is to take care of your daily life.
Reader insights
Be the first to share your insights about this piece.
Add your insights