Get Ready With Me
Get Ready With Me: A Stylish Journey From Morning to Glam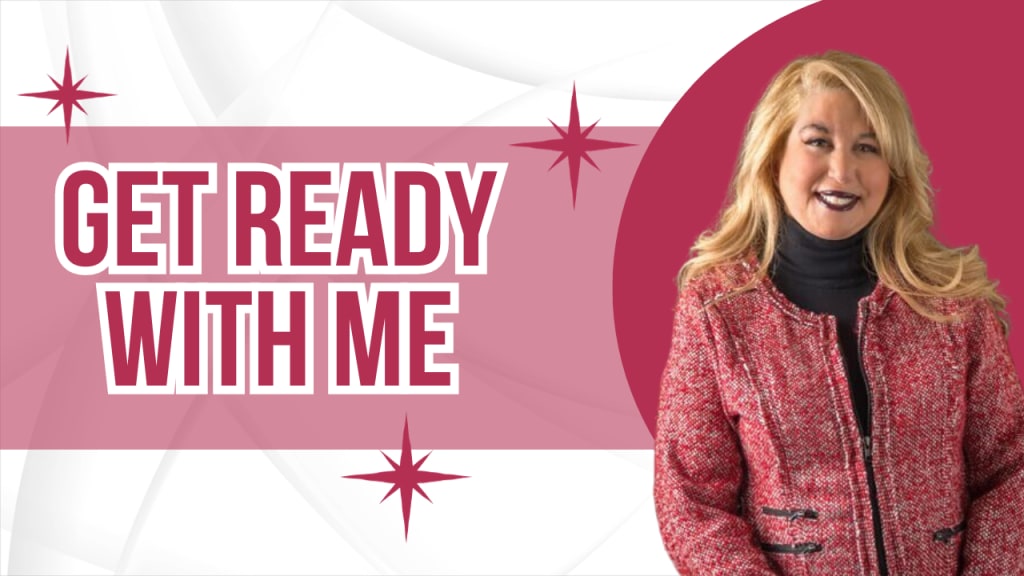 Get ready with me! Whether you are headed to a big event or a party; it's fun to prepare. Keep scrolling to learn what I do to get ready. So, let the journey begin.
Get Ready With Me
If you follow me, you already know beauty and fashion are part of my M.O.
In the first place, the hashtag GRWM has more than 59 billion views and counting. Whether you want to know how someone does their hair or makeup or what styles they wear; you can spend hours watching videos on TikTok and YouTube. Not only are many of these videos informative; but also, they are entertaining.
So, if you are looking to find out how much effort is put into getting ready; you are in for a few of my secrets.
Beauty and Makeup
Of course, I spend a lot of time on my beauty and skin care routine. Moreover, if you want your skin to look flawless; visit my How to Have Amazing Skin with my Recommendations post.
In addition to my regular skin care routine; I use various anti-aging products both in the morning and at nighttime. Check out my Best Anti-Aging Products – Younger Skin Starts Now and As Young as you Feel Day – Best Anti-Aging Products posts for some good skin care products that slow the aging process.
Of course, all of the products I recommended in my prior stories are great to make part of your everyday beauty routine.
Finally, when you are done with your skin care routine; let the fun begin.
Now, that your skin routine is complete; are you ready to glam up?
Good Time Gorgeous Makeup Set
From Benefit, this makeup set will have you looking perfect.
Included in this set is everything you need to have your eyes stand out. From an eyebrow setter to a pore minimizer, to a roll on mascara; you will have all the makeup you need to look your best.
Check out my Best Makeup Products to Try post for some additional fun makeup products to try.
Tom Ford – Fucking Fabulous
Finally, when I'm looking to put my best foot forward; I finish with a spritz of Tom Ford's Fucking Fabulous. But, don't let the name shock you!
Finish off your look with good taste. This fragrance is sassy yet, intoxicating. With a blend of floral notes, this fragrance isn't as strong as you would expect.
What to Wear
Through my fashion eyes; I always like to wear something that makes a statement. But, before I get dressed I start with the best undergarments. Visit my Best Shapewear to Flatter Your Body post for some good underwear that is comfortable, yet flattering for your body type.
Faux Leather Front Slit Leggings
In my opinion, these faux leather leggings are a "Must" for day dressing or nighttime.
For contemporary women of all ages; these faux leather leggings elevate your style with its hidden core technology and modern femininity. Not only do these leggings conform to your body to enhance your figure; but also will be a wardrobe staple.
Additionally, these leggings are available in black and cherry chocolate.
Moreover, these leggings can be paired with a button-up shirt and a jacket or a slinky top.
Dress them up or down!
When I am headed to a party: I always look for a unique style. Since this season is all about color; there are so many choices.
Lace & Beads Bright Pink 3D Skirt
In a variation of the color of the year; this sequin skirt is ideal for any fashionista.
Also, this 3D pattern features a heart emoji.
Check out my How to Wear Viva Magenta this Fall and Winter post for tips on wearing this bright color.
When you are looking for a top to pair with this skirt; you can go with a slinky black top or a simple button-up shirt.
Of course, every year I'm always on the lookout for some new shoes to add to my wardrobe. And, this year is no exception.
So, keep visiting my Site for some of the best Fall Shoes and Boots soon to be posted.
Ellsey Pump
When you are looking for a versatile pair of shoes to wear; these kitten heels are ideal.
So, if you are not a fan of pointy toes; this square toe is the perfect style for you. Featuring a metallic kitten heel; this shoe strikes a balance between comfort and sophistication.
Also, these shoes are available in a few other colors. Let me know your favorite…
In essence, my style changes from one day to the next. However, I enjoy playing with colors, styles, and trends.
So, will you Get Ready with Me?
About the Creator
Hi - I'm Lynne Black, Founder of Fashionista Bombshell Whims!
I'm a Freelance Writer/Blogger and Published Author.
My stories and posts offer a peek into my life.
Of course, my goal is to inspire you through my books and articles.
Reader insights
Be the first to share your insights about this piece.
Add your insights