Full Face of Makeup from the Drugstore
Get a full face of amazing products without breaking the bank!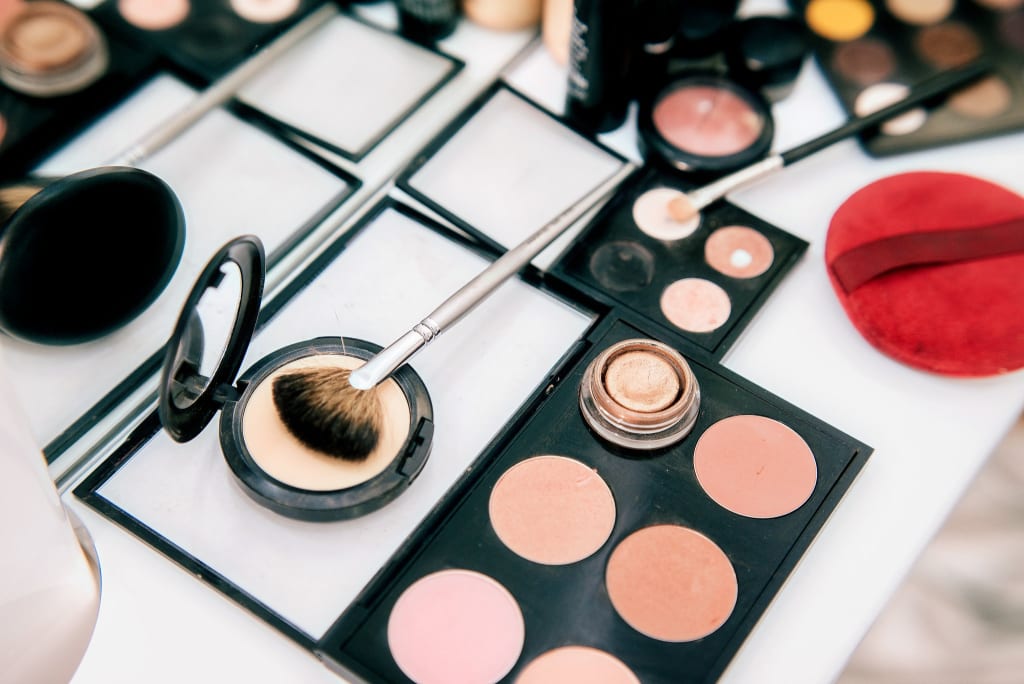 Image from Getty Images
When I first started getting into makeup, I was only twelve years old and wasn't making money myself, so most of my collection was from the dollar store. It wasn't until I got a bit older, around sixteen, that I started to use makeup from the drugstore instead. It seemed like such a different world to me, and when I got my own job and could buy high end makeup, I was really excited to delve into 'the best' makeup. What I learned is that drugstore makeup has some of the best products, even better than their more expensive counterparts.
In this list, I plan to show you some of my favorite makeup products from the drugstore that won't hurt your wallet and will build up your collection.
1. e.l.f. Cosmetics Mineral Infused Face Primer - $6.00
This primer was my absolute favorite when I was starting out with makeup. I would use it even when I was just wearing a little bit of concealer or no makeup at all. It really blurs out pores and makes your skin look smooth and silky. It also doesn't mess with any products you use on top of it. It practically melts into the skin and just creates a beautiful base to build the rest of your makeup on top of. I highly recommend this if you want a cheaper primer that does the same thing multiple high-end primers do. It works really well, and it comes with 0.47 fl. oz. of product for only $6.00. There is also a larger version that is 1.01 fl. oz. of product for $10.00, but honestly the smaller one lasts for a long time and is worth the price.
I use this type of product with a stipple brush most of the time, the one I use the most is actually from e.l.f. Cosmetics, but sometimes it is the best to work the product in with the warmth of your fingers in circular motions. It really gets the product worked into your skin and makes it look flawless.
2. FLOWER Beauty Light Illusion Foundation - $14.00
This is my all time favorite foundation from the drugstore, and I have tried a lot of them. I picked this foundation up because it was on clearance and I had heard a YouTuber talk about it before. I didn't have huge hopes for this, I was just hoping it worked with my skin and didn't look cakey. But this foundation exceeded every single expectation I had and more. This has the most beautiful, skin-like glow I have ever seen. Somehow it covers your hyperpigmentation, acne, and redness perfectly without looking like you're wearing a mask or makeup. It leaves such a beautiful glow and feels so light weight. There are 1.0 fl. oz. of product for $14.00 and this product also has SPF 18!
For this product, I would use a damp sponge (my favorite is the shopmissa sponge) or a foundation brush (I use the Real Techniques Expert Face Brush) and blend it out in thin layers, building up coverage where it is needed. I can usually get away with only one pump of product.
3. Covergirl Trublend Undercover Concealer - $7.99
This concealer is so beautiful on the skin, it is a full coverage product that doesn't get overly cakey or make it feel like you're wearing anything heavy. It feels light on the skin and doesn't crepe your undereyes or crease a lot. With just a little bit of this product, you can get so much coverage on any acne marks or dark circles. There are 0.33 fl. oz. of concealer for $7.99. To me, this concealer works almost just as well as the Tarte Shape Tape, which is my favorite high end concealer.
I work with this product in very small amounts, as you truly don't need a lot in order to use it. Usually, I just use a dampened shopmissa sponge or I use the e.l.f. Cosmetics Blending Perfector Brush, which makes the product a lot fuller coverage. I would recommend for under the eyes to use the damp sponge while for acne marks it's easier to use the blending brush.
4. Coty Airspun Loose Face Powder - $5.97
For years, I have been using this face powder. Personally, I use the translucent extra coverage because if I used tinted moisturizer, it's nice to have the little bit of extra coverage. Just one of these containers lasts me forever, and I will always rebuy this product over any other loose powder. It does smell very strongly of your grandmother, but it's still so nice on the skin and is so worth the $5.97!
When I'm using this powder to get more coverage, I use the flat end of my damp sponge to press it into the skin (this also helps for a very oily t-zone) or I use a flat kabuki brush (one like this duo from shopmissa is perfect) to get the fullest of coverage. If I just want a little bit of powder, though, I use a big, fluffy powder brush (this one from e.l.f. Cosmetics) and just swirl the powder into the lid and dust the product on until my foundation doesn't feel sticky anymore.
5. e.l.f. Cosmetics Lock On Liner & Brow Cream - $4.00
This stuff is SO PIGMENTED and reminds me so much of a freshly opened Anastasia Beverly Hills Dipbrow Pomade, except this stuff actually stays pigmented. You really only need a little bit of this prodcut and you can fill your whole entire brow. Just because it's pigmented doesn't mean you have to go for Instagram brows, though, as I've been able to achieve natural brows, as well. It also stays on forever, I really love it! There is 0.19 oz. of product for only $4.00, and it really does last for a long time.
For this product, I recommend using the NYX Cosmetics Pro Dual Brow Brush, as it applies the product precisely and blends it out really well. I just dip the brush into the cream, then coat both sides of the brush using the lid. I then underline the bottom of my brows and brush the product through the hairs to create a natural look and then go in with concealer later to shape the brow.
6. e.l.f. Cosmetics Contouring Blush & Bronzing Powder Due - $4.00
This is actually still one of my favorite products from e.l.f., and honestly jusst in general. It's so lovely and looks beautiful on the skin. It's perfect for contouring and bronzing and for adding a nice, beautiful blush to your cheeks. It looks really natural on the skin and I believe that it could look good on pale, light, and medium skin tones. This product in the shade Fiji really went around the YouTube beauty community forever ago for being a dupe of the popular Nars Orgasm/Lugana blush/bronzer duo, although Fiji is a matte version of the Nars duo, which makes it really nice for every day wear or for people with oily skin. The blush and bronzer duo is 0.30 oz.
For the blush, I would use a larger stipling brush (this one from e.l.f. is a lot like the one I use that isn't drugstore) for the blush, which really causes the blush to look like a natural flush on the apples of the cheeks. For the bronzer, I would use a large powder brush (like this one) and blend it underneath my cheekbones and on the sides of my forehead. I also like to put a mix of blush and bronzer onto my nose for a cute, natural flush, and a bit of bronzer on the chin to add a bit more color to my face.
7. Wet 'n' Wild MegaGlo Highlighting Powder - $5.99
Oh my gosh, when I say this is the most beautiful highlighter on the market...it makes your skin look like it's glowing from within your soul. You look like a god/goddess with this on! I absolutely love all of the colors, but I really love the purple one because it's just so much fun. I highly recommend that if you want a variety of colors to get the whole palette of colors. It's a little pricey, but it's honestly worth it because you get four beautiful highlights that you can play with. The single highlighting powder has 0.19 oz. of product while the palette has 0.56 oz. total (so about 0.14 oz. per pan).
For this type of product, I would use a larger highlight brush (this brush is actually my favorite) and I put it on any part of my face that light naturally hits. So I put a light amount on high points of my forehead, the front of my cheeks, my chin, on my cupid's bow, and on the tip/bridge of my nose. I put a slightly heavier amount onto my cheekbones because I really do love highlight, but a little bit is just as beautiful.
8. Essence Cosmetics Lash Princess Mascara - $4.99
This mascara is actually better than any other mascara I have ever tried, drugstore or high end. I love it so much. It makes my eyelashes long, voluminous, and JUST SO PRETTY. I highly recommend this to everyone, because there really isn't a single mascara out there that is better. The wand is perfectly curved and the bristles are like synthetic hair and not anything rubber (which I think is the worst type of wand). It really is just the best mascara in the world, I love the formula that literally stays on all day, is super duper pitch black, and doesn't get flaky at all. This product is 0.4 fl. oz.
9. NYX Cosmetics Makeup Matte Setting Spray - $8.50
Even though this product is a setting spray, which goes on after all of your makeup, I actually prefer this before I put on my Coty Airspun powder. It really helps to keep it on all day, and I even would put it on before my foundation to make that stay on longer, as well. I really love NYX's cosmetics, they tend to be a little pricey for drugstore, but I honestly think it shows in their quality. This truly does make your makeup last all day when you layer it, and I used to have incredibly oily skin that would cause makeup to slick off by the end of the day. But this would keep my skin less oily, less patchy, and make my makeup stay on all day long. This product has 2.03 fl. oz.
10. NYX Cosmetics Ultimate Shadow Palette - $18.00
I bought the Warm Neutrals palette on sale for about $10.00, but I would honestly pay full price to get more of these palettes. I really love NYX Cosmetic's palettes because they are pigmented, blend beautifully, and have the nicest shimmers at the drugstore. I also believe that NYX has some of the best colored palettes, but also have really nice neutral palettes, meaning you can really build up your collection for not much money at all. The Ultimate Shadow Palettes have 0.02 oz. of product per shadow pan (0.32 oz. of product total).
For eyeshadow, I would highly recommend picking up the Wet 'n' Wild eyeshadow brushes, as they truly are the softest yet cheapest brushes I have ever bought. They're a couple of dollars usually in store and online, but I have bought them from the dollar store multiple times. I would recommend a couple crease/blending brushes, a small eyeshadow brush, and a large eyeshadow brush. The blending brushes, in my opinion, are the most important brushes to have as they can help your eye looks like less harsh and smooth.
11. NYX Cosmetics Epic Wear Liquid Liner - $10.00
When I say this is the best eyeliner ever...you will literally not find an eyeliner better than this one. The black shade is such a beautiful, matte, pure black that literally DOES NOT MOVE. You could literally do anything (and I mean anything) and this will not come off. The only way it comes off is with a really good eye makeup remover with an oil base. It's honestly like putting on a tattoo, because it just doesn't move. I really love this stuff and would rebuy it a million times over. This product has 0.12 fl. oz. of eyeliner.
12. Wet 'n' Wild Megalast Liquid Catsuit Matte Lipstick - $5.49
I really love these liquid lipsticks, as they are perfectly matte, have a ton of colors to choose from, and really stay on for a very long time. I have almost every single one of the colors, from the Fantasy Makers to the limited edition ones, and I haven't found a single one that hasn't looked good or has a different forumla. It is so consistent and pigmented. I actually like this above most high end liquid lipsticks! Each lipstick is 0.21 fl. oz. of product!
13. Wet 'n' Wild Brush Roll 17 Piece Collection - $29.99
I know I've linked multiple brushes throughout this whole article, but I honestly highly recommend the Wet 'n' Wild brushes the most if you need a whole set of brushes for rather cheap. This brush set is about $1.80 a brush, but you can pick up almost every single one of these brushes from the dollar store for $1 each. These are so incredibly soft and blend your makeup beautifully. It also has some of the most essential brushes that you need for your collection, as well as some fun brushes. I would recommend to buy the brushes individually (if it's cheaper, because honestly these brushes go on sale all of the time on the website and end up even cheaper on the dollar store) so you can customize which ones you can get more of (I would recommend getting multiple of the eyeshadow brushes, as having multiple can really help) and you can leave out brushes you don't think you'll use. I really love these brushes, though, and they appear the most often in my collection.
When it comes to building up a collection, it's really hard to figure out where to start, especially when you have a budget and can't really afford to get some duds. I really hope that with this list, you can build up your makeup collection, help start one out, or even just recommend some replacements for your higher end products. I genuinely love every single product I mentioned and would buy most of them over the higher end products that I own. They truly are some of the best products on the market. Happy makeup-ing!