From Spots to Wrinkles...
My Fave Products and Why!
The beach is one of my favourite places to relax.
As a teenager, my skin was very pimple-prone! The only advice my mother could offer was....DON'T eat chocolate, it gives you pimples! I didn't even eat that much chocolate surely?
My mother's skincare regime was as simple as washing your face with soap and water, like many women of years gone by. There was no cleanse, tone and moisturise as in the gospel of Beauty these days.
So I suffered my teenage years with spots on my face! I hated to look in the mirror, hated going to school, even though I loved school work and didn't want to go anywhere on weekends. I entertained myself at home playing with the animals, reading and doing school assignments. Anything that took my mind off how ugly my face looked.
On finishing school and obtaining my first job, I treated myself to a facial at the local Beauty Salon. I asked question after question and practically begged the lady to help me have better skin. I craved for the spots to go away and leave my skin clear and pimple-free! She sold me a Kit of goodies that I was to use on my skin twice a day, I can't recall the brand, but it contained Oatmeal and a cool little brush to use on my face. I felt very fancy heading home with my new kit!
Things improved a little bit, but not to what I was hoping for, so I set out to find an even better solution. I wasn't very Beauty Savvy back then and I really didn't have too many friends that had great skin to ask their advice.
So I tried many products and some worked for a few days, some made things worse! I changed my diet, ate healthy food and changed the make-up I wore as well, all in an attempt to get that much longed for clear skin. Nothing seemed to work any more than a week, so just as I thought I was doomed to pimply skin forever, I found my Godsend!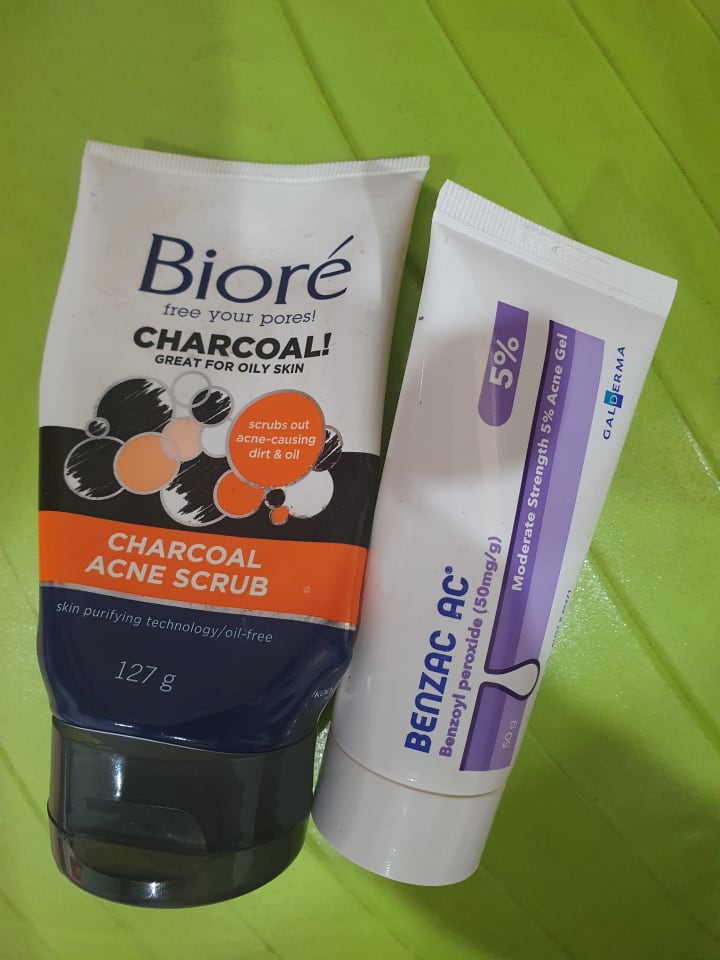 I religiously used this every day, twice a day, sometimes even more if a spot appeared. After a few weeks, I was almost spot-free. This is the one product I recommend to everyone that has one spot or bad acne. It is awesome! I even started to use it, even if there were NO spots. I loved the tightening feel on my skin and I told myself if I used this often, the spots would not come back or if they did, they wouldn't hang around long. When asked recently what my beauty secret is, why do I look younger then I am, I believe it is the Benzac that has kept my face fairly tight over the years. Naturally, age and gravity have started to make an impression on my face, but generally, I seem to have fairly good skin for the age I am. Benzac was at the ready when one of my sons started to suffer badly with acne and then some years later for my daughter. Highly recommend it to anyone.
I also discovered Biore Charcoal Acne Scrub. It is great to use, leaves the skin very soft and smooth. In between using this one, I have a variety of cleansers that I alternate using, depending on how my skin feels and looks.
Naturally, as we age, our skin can change from being oily, combination, to dry. Keeping on top of the skincare can help have a clear, smooth complexion. I have used Dermalogica in recent years, which I really liked, however, when I moved to the town where I live now, this product wasn't available locally, so I sourced a new product. Ultraceuticals! These products have won me over entirely. From Serums to replenishing masks and firming concentrates...I love them! The smooth feeling after I have applied my Ultra C23+ Firming Concentrate is delightful. On days when my skin is feeling dry, I give it a drink with Ultra Replenishing Mask. There are a variety of Serums and they all feel beautiful on the skin, not oily and greasy like some, but it soaks into the skin and leaves it feeling tingling clean and fresh. TIP: don't forget your neck, follow all beauty regimes to cover the neck, as most people forget to do their neck.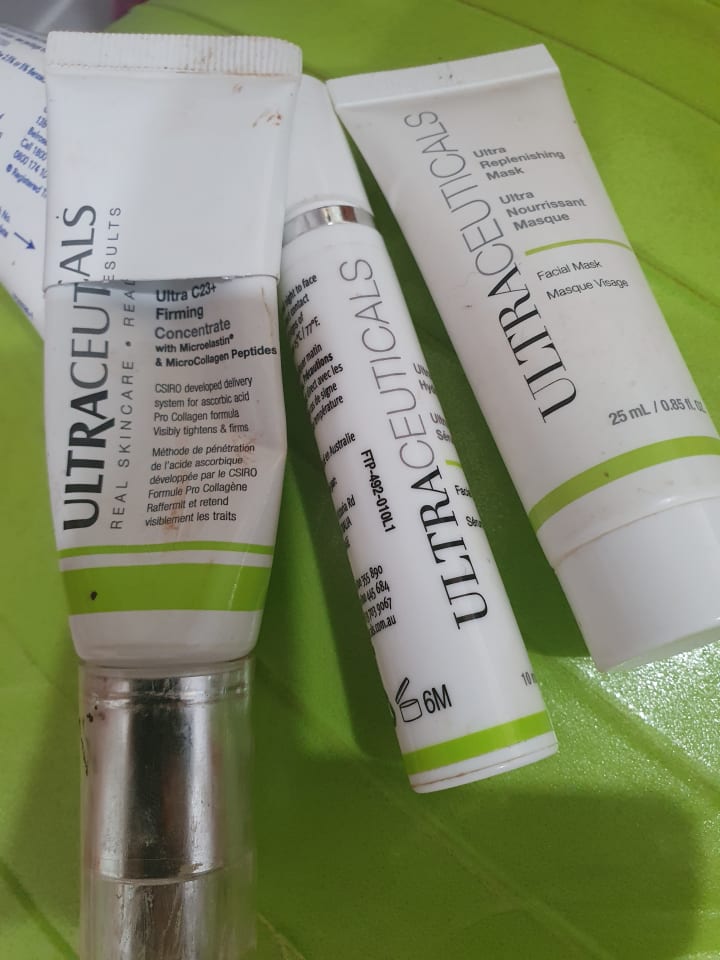 In my younger days, I spent many hours in the sun. I felt best when my skin was brown and golden. These days, I always wear foundation or powder on my face when going outdoors, never to allow my face to get sunburnt again. Why use products to combat aging and keep skin looking good if I subject it to the damaging rays of the sun. Admittedly, a little sun in moderation has its benefits, but not to the extent of those past years of neglect.
Due to the above self admitting of obtaining the golden tan, I now find my arms and legs can often be very dry and beginning to take on the leather appearance like many older people who baked themselves for the sake of the Golden tan. This was quite a shock to realise that many creams I tried just did not rehydrate the skin, or it would look like it did for an hour or so, then back to leather, drying and cracking. So once again, I have had to source something that gave me back my supple skin.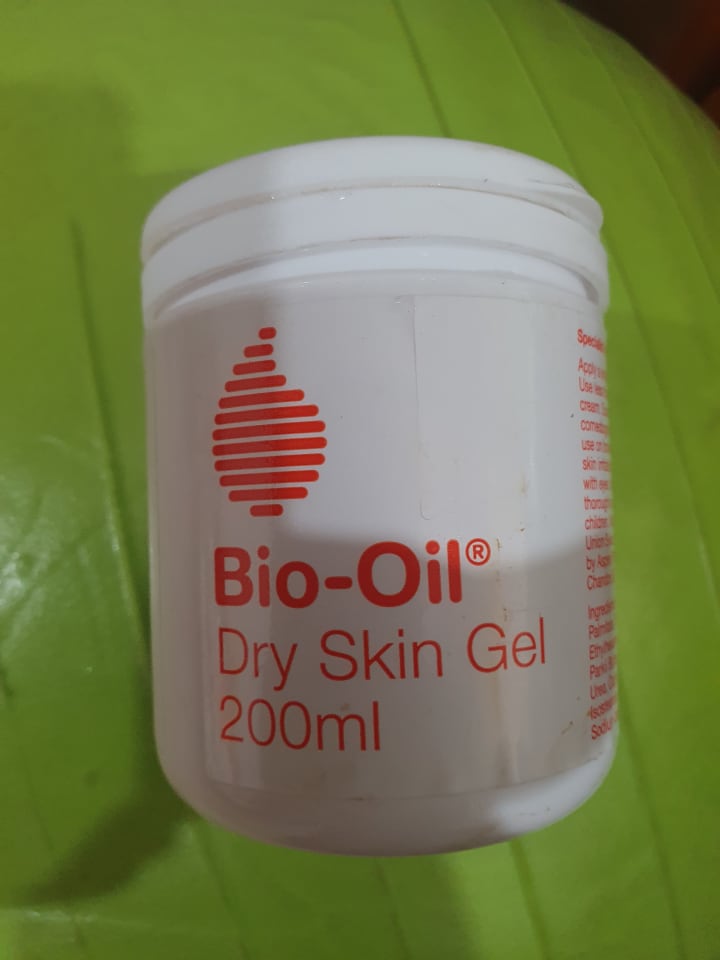 Bio-Oil Dry Skin Gel. This is magic in a bottle! Yes, it leaves you a little greasy, but I am prepared to put up with that so my skin looks smooth and soft. TIP: Don't forget your hands. Remember to cover your hands in the Gel as well. How many people do you see with nice skin apart from the hands? Quite a few I'm sure. Elbows and knees also need attention, as they dry out very fast.
Yes, it takes a little extra time to go through the regime of skincare. I remember at times in my younger years I would think, what a waste of precious time and now, I love taking the time to "Pamper" myself with a home facial, a mask or simply relax in the tub. All of these things that contribute to having better skin as the wraths of time begin to take over the body. I will fight the aging process as much as possible, but now that I have found these awesome products, I know my battle will be that much easier!