Explore the History, Culture & Benefits of Box Braids For Your Style Statement
Benefits of Box Braids For Your Style Statement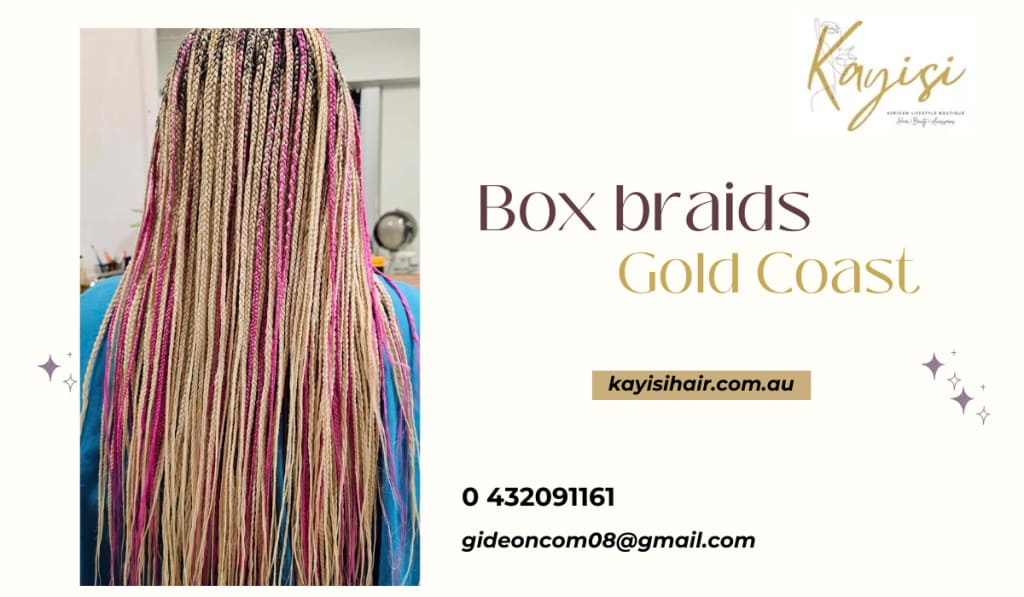 Colour, size, extensions, lengths or any other factor, box braids are one of the most popular over the years as they can be styled and customized in any way you want. If anyone wants to incorporate accessories or curls into their braids, they can be personalized accordingly. Whether one is planning to sport an elegant hairdo or let the hair free with loose curls, the Box Braids Gold Coast brings about various possibilities for creativity and self-expression.
What are box braids?
The box braids are a protective hairstyle that includes sectioning the hair into small and square-shaped parts. Then each section is braided from the root to the ends. They are generally considered to be three-strand plaits and a particular section of the hair is divided into three different parts and then intertwined. These plaits can be created by using natural hair and even with extensions to provide added length and volume. The tight tension is applied throughout the box braid, which helps in creating a very polished final look with no loose hair strands.
One of the distinctive characteristics of box braids is that they bring a neat and uniform appearance. These sections are even in size and it results in a striking geometric pattern that adds a level of intricacy to any look that one wants to flaunt.
As Quoted by Charles de Lint - "It's all those stories and how they braid together that tells us who and what and where we are"
Looking back at the history of Box Braids :
Box braids come with a great cultural significance within the black communities across various regions. They have been making a statement and have been worn for centuries to celebrate both heritage as well as to express personal style. Undoubtedly, it is fashionable, but its historical traditional approach connects multiple individuals with their roots. This hairstyle originated in ancient Africa, and it served as a strong symbol of cultural identity and heritage.
In various tribes, both men and women used to wear box braids to portray their social status, age, marital status or religious beliefs. These intricate designs and patterns made with the braids were unique for each of the tribe and their customs.
With time, the box braids have evolved into various techniques and styles. From small to large-sized braids, the different lengths, colours and accessories like the beads or shells are merged into these hairstyles to add a personal flair.
Cultural Association with Box Braids :
The box braids come with a rich cultural association and it holds significant value within the African community. These hairstyles are often done as an opportunity for bonding with close ones or cherishing memories that celebrate beauty. It is essential to acknowledge the major cultural association and the value attached to the box braids, as well as appreciate them as a trendy hairstyle. Box braids bring about a wide range of appreciation for their diversity in standards of beauty and honouring individuality through their personal style and choices.
Benefits of getting Box braids -
1. Protective style -
The box braids give the hair a protective cover. When the hair is braided, it helps to prevent the hair from heat styling, perming, dying or relaxing treatments. These braids protect the hair from the harsh UV rays and environmental pollutants that can cause breakage. It helps to keep the hair strong and hydrated.
2. Promotes Hair Growth
Box braids also help in promoting hair growth, by securing the hair close to the scalp, these braids create tight tension which in turn stimulates the hair follicles. This also helps in increasing circulation to the roots. Box braids have the strong potential to boost hair growth when it is worn for longer periods of time.
3. Provides Style and Versatility
The box braids bring about style and versatility. From the grids to more intricate patterns, these braids can be styled in various ways. They can pair well with accessories like hair picks, hairpins, headbands and hair curlers to create different looks. They go from casually chic style to giving a glamorous look. It can be styled in a wide range of possibilities.
The box braids are known to be a protective style that helps to maintain the health of the natural hair, even through harsh weather conditions. They are ideal to lower the maintenance without affecting the hair's integrity. They are versatile, long-lasting and can be customized according to preferences.
Reach out to us at Kayisi African Hair Boutique, we will help you transform your look and flaunt it like your own hair. We assure to provide the best services with the usage of modern technologies. We assure to provide the best Curly hairstyles in Gold Coast, to let you enjoy a great way to define a specific style to your hair. They are also durable and can be easily maintained.
Reader insights
Be the first to share your insights about this piece.
Add your insights