Everything You Need to Know About Blue Blood Palette and JSC Spring Collection!
Cobalt, Teal, Turquoise; You Fucking Name It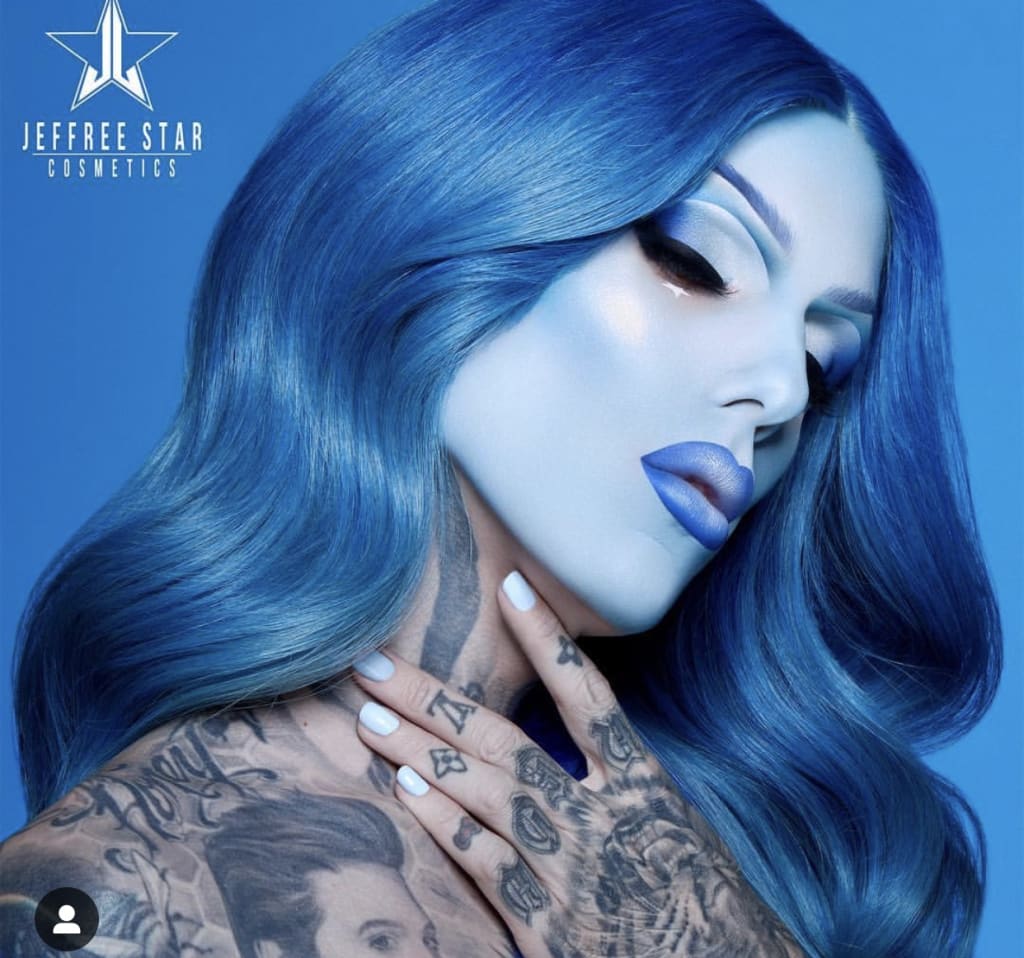 Hello, and welcome back to this review! I am about to spill ALL the tea on Jeffree's spring collection, and we are turning BLUE, girl! Cobalt, teal, turquoise, you fucking name it, it is in this collection, so LET'S GET STARTED!
First up, is this coveted baby blue palette! Now, I know you saw sneak peaks on Instagram, but this palette is gorgeous. Not to mention, we are only days away from it launching! Thank the blue blood gods above!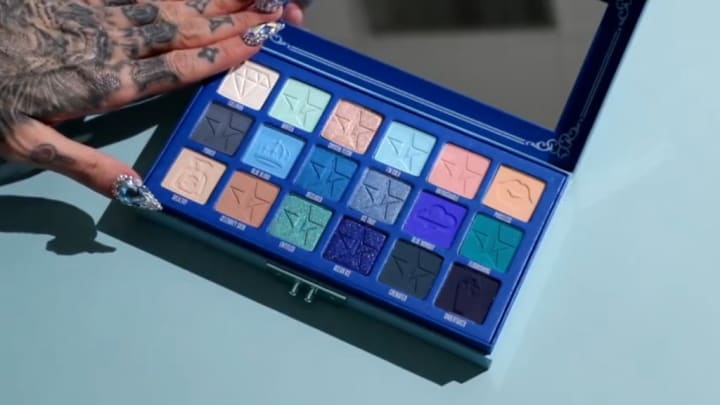 As usual, this palette features 18 gorgeous shades, and is of course, vegan and cruelty free. Can we just... let's just talk about the packaging for a second. It looks like a coffin-jewelry box hybrid, with a huge silver clasp on the front. Honestly, if this wasn't a palette I would put ALL KINDS of stuff in this box. It is the exact same size as, Blood Sugar (est. 2018), give or take a couple of inches on the top, height wise. Plus, just like Blood Sugar, it is going to retail online for $52.
The shades are as follows from left to right, row to row.
1st Row:
1. "Cullinan": This shade is a beautiful, pearlescent white. It could be used as a brow bone highlight, or just as a highlighter in general. His make-up is literally that versatile. It is named after the world's most expensive diamond, and coincidentally has a diamond stamped into the pan. Honestly, if you are as casper-white as I am, this shade is for you, girl!2. "Minty": This is the perfect light greenish, mint shade. Think mint chocolate chip ice cream!3. "Crystal Flesh": This shade is the perfect blinding champagne metallic, which you could also use as a highlight!4. "I'm Cold": This is a powder blue shade, and it would be the perfect companion, blended into "Minty."5. "Untouchable": This is the perfect soft peach transition shade, and it is the first of three pressed pigments in the palette.6. "Priceless": This shade is a gorgeous pastel flesh tone—macaroni nude. If you are going to do a light spring look, this and "Untouchable" would be great together!2nd Row
7. "Power": This is a slate bluish gray shade, that would be perfect for the crease smoked out look.
8. "Blue Blood": This is a neon electric blue. It has a little crown stamped into the pan, which is really only fitting, since it's also the name of the entire palette. It actually looks like a darker version of "I'm Cold."
9."Deceased": This is bright blue metallic shade. It also just so happens to be a liquid lip shade, so buy them both and pair up!
10."Ice Tray": This is a blinding pale baby blue, metallic shade.
11."Blue Monday": Inspired by the hit 80's song "Blue Monday," this shade is the second in the line of pressed pigments. It is a rich blue, almost violet shade, with a cute cloud and lightning bolt stamped into the pan.12."Flourishing": This is a deep teal, with bluish green undertones.
3rd Row:
13. "Wealthy": This is a light tan-ish, white pearlescent transition shade. Perfect for the brow bone or inner corner, and also has a money bag stamped into the pan.14. "Celebrity Skin": Now if you are an avid JSC supporter, then you know that this shade is the fourth shade that he has named "Celebrity Skin" including: A lip liner, Lip Ammunition, and Velour Liquid Lip. The eyeshadow, however, is a little lighter than the lip products, and has more of a taupe undertone, whereas the lippies have a more rose gold undertone.15. "Entitled": This is a foil metallic teal shade, with glitter reflects. Very mermaid-esque.16, "Ocean Ice": This is the third pressed pigment in the palette. It is deep royal blue, with glitter reflects. It has a matching mini liquid lipstick called "Titanic."17. "Cremated": This is a dark forrest green shade, with gray and blue undertones. It would be so pretty used in the crease, or even smoked out as a liner.18. "Undertaker": Last, but certainly not least, is this gorgeous dark deep blue with maybe the slightest hint of black. It has a cute little coffin stamped into the pan as well!
That is it for the palette! What is your favorite shade! Honestly how could you choose?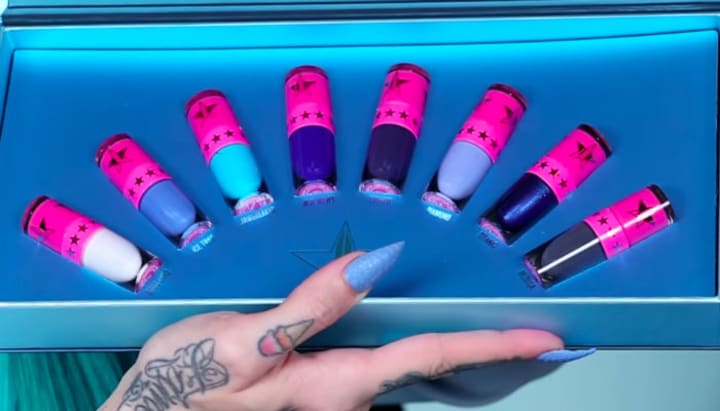 Next up, Jeffree is coming out with a matching "Blue Blood Mini Velour Liquid Lip Bundle." Now these colors would be gorgeous on the lips, but if you aren't as daring and still want to buy the bundle, they are eye safe, and could be used as eyeliners! There are eight in the bundle, with two new colors, so let's dive in
1." Drug lord": Honestly this is such a staple, if you don't already own this (where have you been girl??) this is a must, if you don't buy from this collection. Not only does it look to die for on the lips. with some serious coverage for a true white shade, but it could also be used to lighten any color of lip, or used as a liner... whatever you decide to do, girl!
2. "Ice Tray": This is one of the new shades. It is an adorable periwinkle color with reflective glitter. Hi, how the hell are ya?
3. "Jawbreaker": This is a classic color in the brand. and was the sixth shade that JSC released. It is a vibrant light blue.
4. "Blue Velvet": This is a classic dark blue shade. How could you go wrong with a classic blue?
5. "Abused": This is a dark grayish-blue shade.
6. "Diamond": This was a shade that came out in the family collection. It is a light periwinkle, almost similar to "Ice Tray," but, again lighter.
7. "Titanic": This is the matching lippie to the shade "Ocean Ice" in the Blue Bloods Palette. I love a good movie reference, don't you? This is a deep blue with glitter flecs. I think Jack and Rose would be proud!
8. "Medusa": This is a slate gray shade, with blue undertones.
Who is totally buying this bundle?? ME!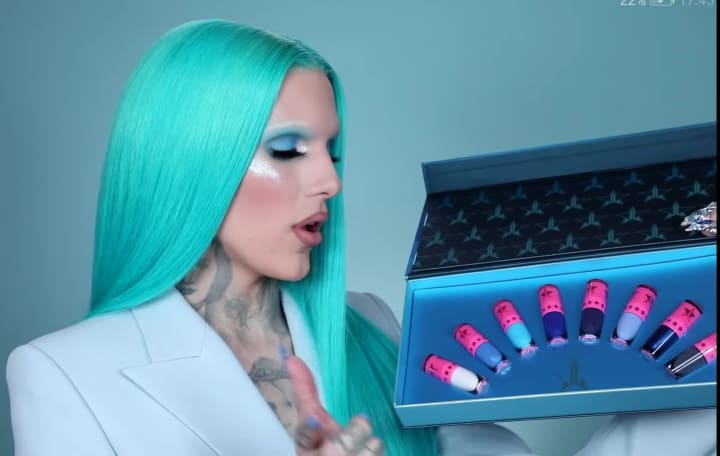 Next up, he made some more shades for his Liquid Frost. To say I am excited is definitely an understatement. There are five new shades, and they are as follows:
"Ice Cream Bling": Peachy gold shade, with a gold glitter undertone.
"Frostitude": Mermaid baby teal shade, with minty green undertones.
"Blue Balls": Deeper Icy Blue Shade, with pink mica undertones, for medium to dark skin tones.
"Michigan Ice": Silver icy blue shade, with silver and blue glitter undertones.
"Expensive": Gold with a bluish-green and gold glitter undertone.
He also has graced us with three new yummy Velour Lip Scrub flavors.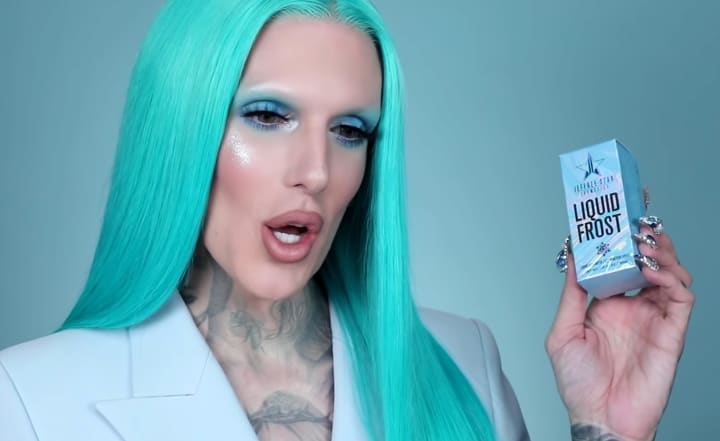 "Blue Freeze"
"Vanilla Mint"
"Blueberry Pie"
Merch!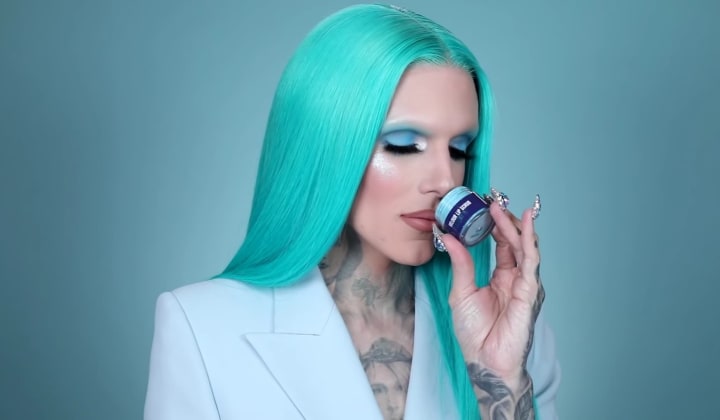 You know Jefree, if he went hard with the make-up, he's going to go just as hard with the merch.
So, to start out, he made a blue Chrome Mirror, $20.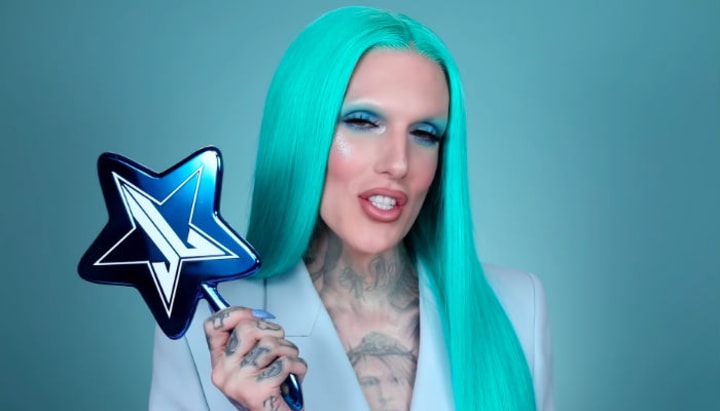 Two New Travel Makeup Bags in Baby Blue, and Dark Blue $30.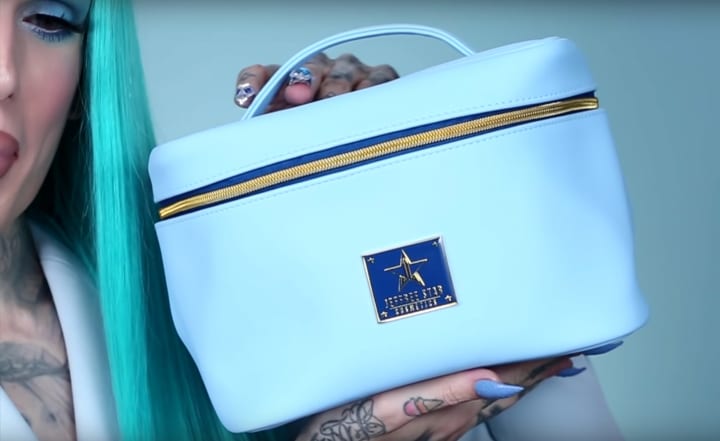 Two New Track Suits, in Baby Blue with Dark Blue Stars, and Dark Blue with White Stars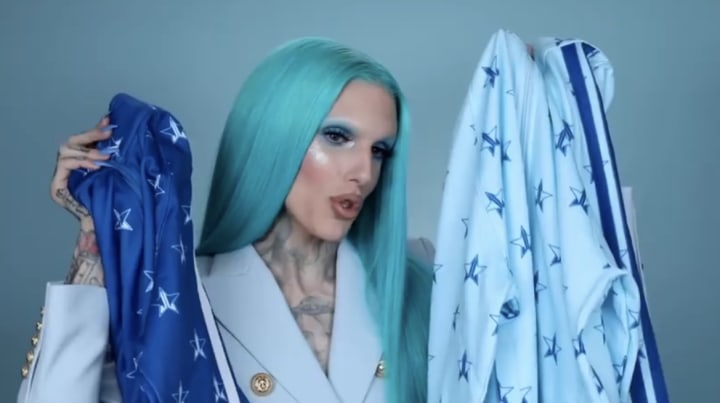 Two New Hats Both Light Blue, One with a Dark Blue Star and One with a Light Pink Logo
a Windbreaker That Is Light Blue with White Stars on the Top and Dark Blue on the Bottom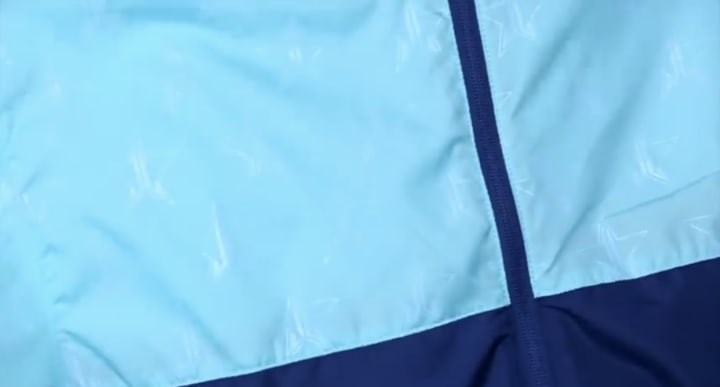 and for the Cannabis Lovers.. Not One but Three New Grinders in Baby Blue and Dark Blue, Big and Little.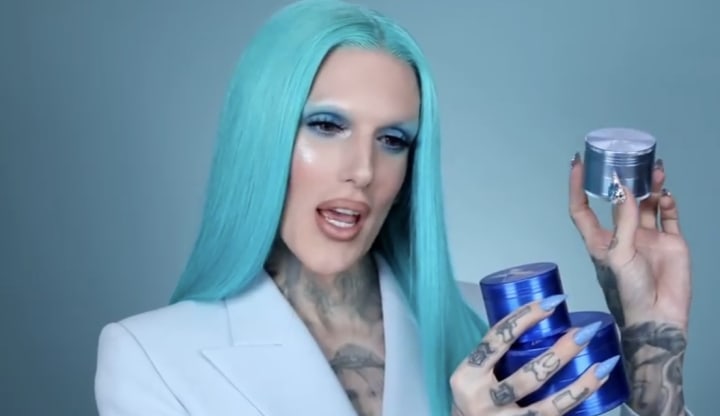 If you are still with me girl, that is the end of the collection. What are you going to be getting? The launch is going to happen March 29, 2019, at 10 AM Pacific Standard Time or 1 PM Eastern Standard Time, so get your money ready! We can also look forward to next month, when he supposedly is releasing his JSC Concealers, and setting powders! I can not wait to see the shade range!
Thank you for reading and please go and check out my other reviews!