Disney Princesses turned Gore
A Halloween twist on Disney classic Princesses and Villains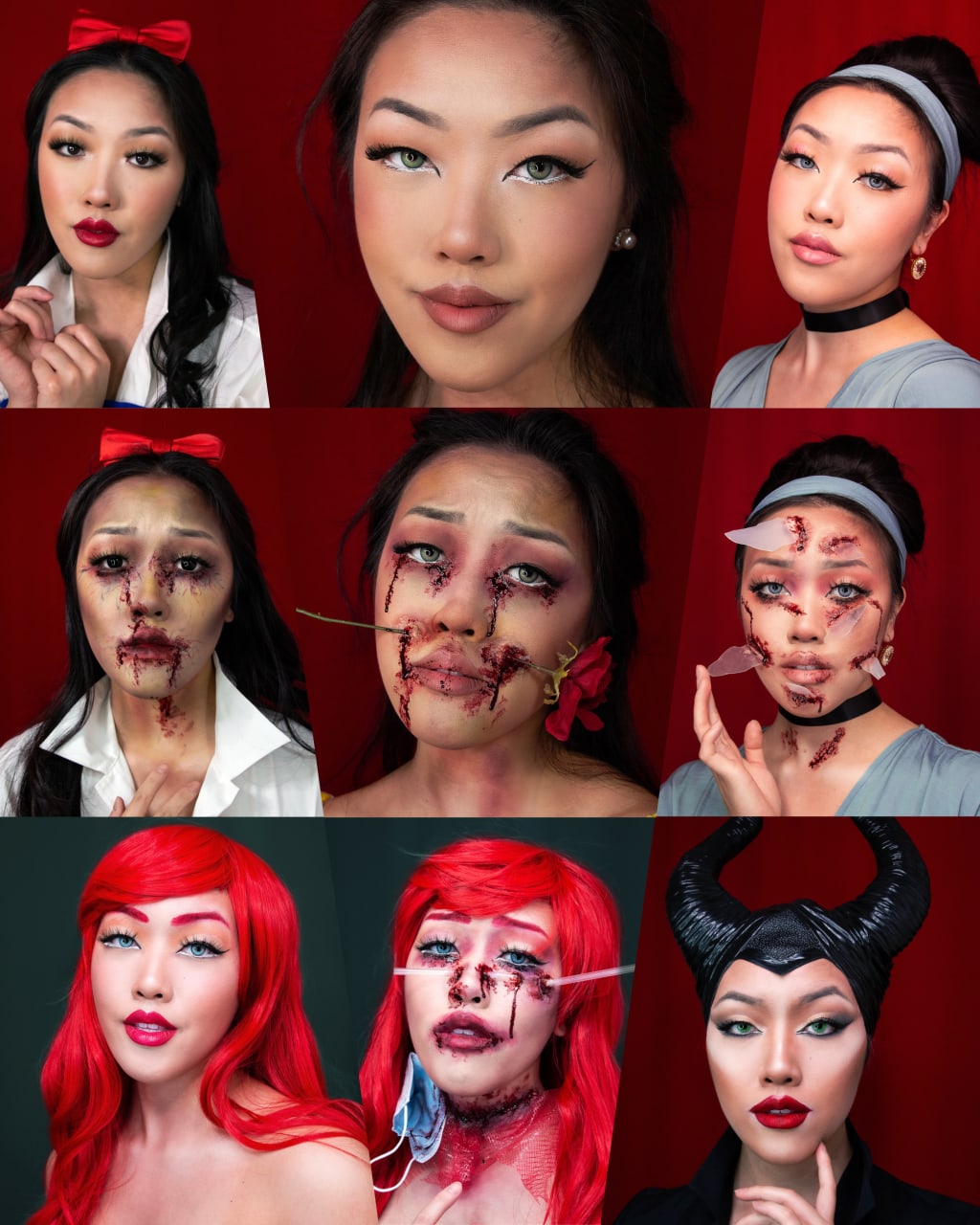 DISCLAIMER: images contain blood, this is makeup!!
Ever since I was a young girl, I loved Disney.
When I was seven years old, I went out in public for three days in a row in my pink Sleeping Beauty costume, unashamed, just happy, pretending to be a princess in everyday suburban life. However, when I entered that period of time where we start to care excessively about what we look like, almost to a fault, I realized I didn't relate to or resonate with the Disney Princesses prior to Mulan's release in 1989.
Fast forward to 2020 when the world was shook by COVID-19, I just graduated in May from the Fashion Institute of Technology in NYC with a Fashion Design degree and moved back home, unemployed and shaken about what I wanted to do career wise and who I was as a person and artist.
Makeup has always been a big part of my life, ever since middle school and throughout college. However, I used it as a a means to make myself prettier, cover up my insecurities, and to create a veil. It wasn't until about two years ago when I picked up my makeup brushes in the same way I picked up a pencil to sketch or paint; I started using makeup as an artistic outlet, with my face as the blank canvas, and it felt extremely liberating. Tying together my long self-love journey to appreciating, not hiding, my Asian facial features with the design process I've honed in on during university, I approached makeup as I would with design and/or art, seeking inspiration from fine art, film, and television.
I walked the streets of NYC in a full face of color nearly every day and no one cared, and therefore I felt free and confident in who I was and was becoming.
Makeup became an intense passion of mine, and COVID-19 pushed me to consider it as a serious career option as opposed to the fashion industry, so I began creating and posting my art on Instagram (@stephs_monolids), YouTube (stephsmonolids), TikTok (@stephs_monolids), and began doing makeup on editorial photoshoots and films. This Halloween month is my first as a makeup artist, so it almost felt necessary to start it off with this Disney series. It's something so nostalgic and dear to my heart, and I constantly watch the animated and live-action movies. But, I also wanted to tackle the feelings of never feeling connected to or lesser-than these idols of mine as a child because I did not have blonde hair and blue eyes, as most of these classic Princesses do.
Taking control of the artistic direction and doing a gore version in addition to the normal, Princess look was liberating and something I felt was unique. Each Princess' looks are as follows:
Snow White - poisoned by the apple
Belle from Beauty and the Beast - fell in the rose garden of the Beast
Cinderella - cut face from the shattered fragments of the glass slipper
Ariel from The Little Mermaid - plastic pollution
Maleficent - no gore version, but just a strong Disney character that I love and appreciate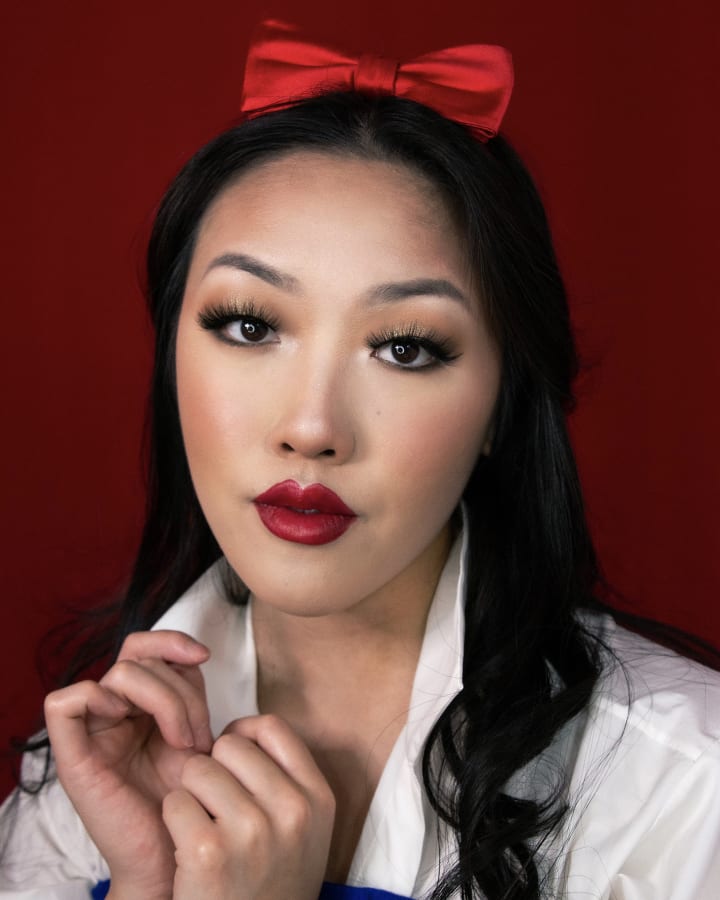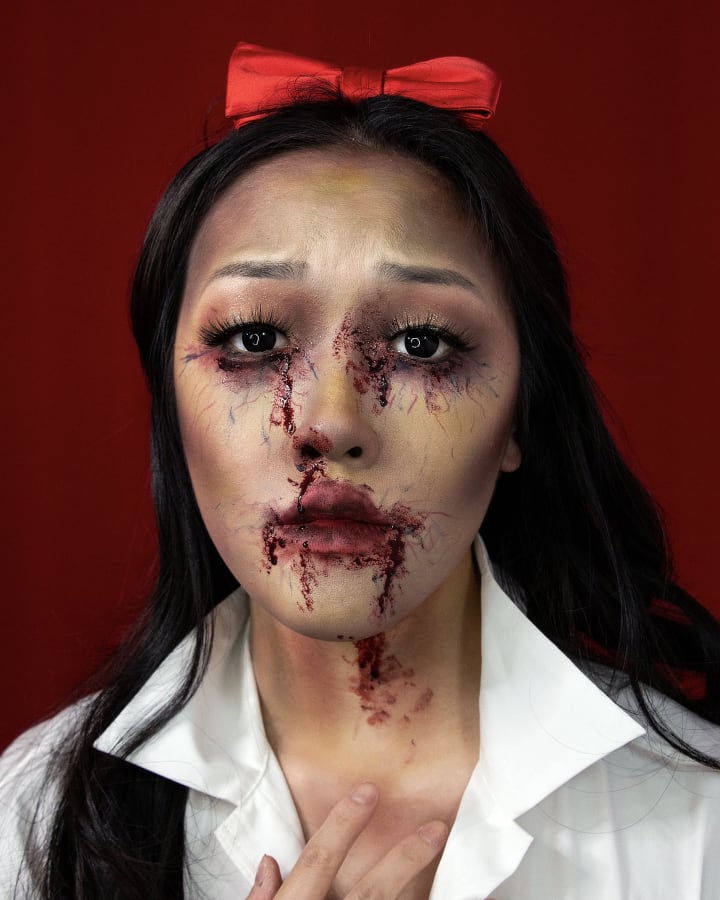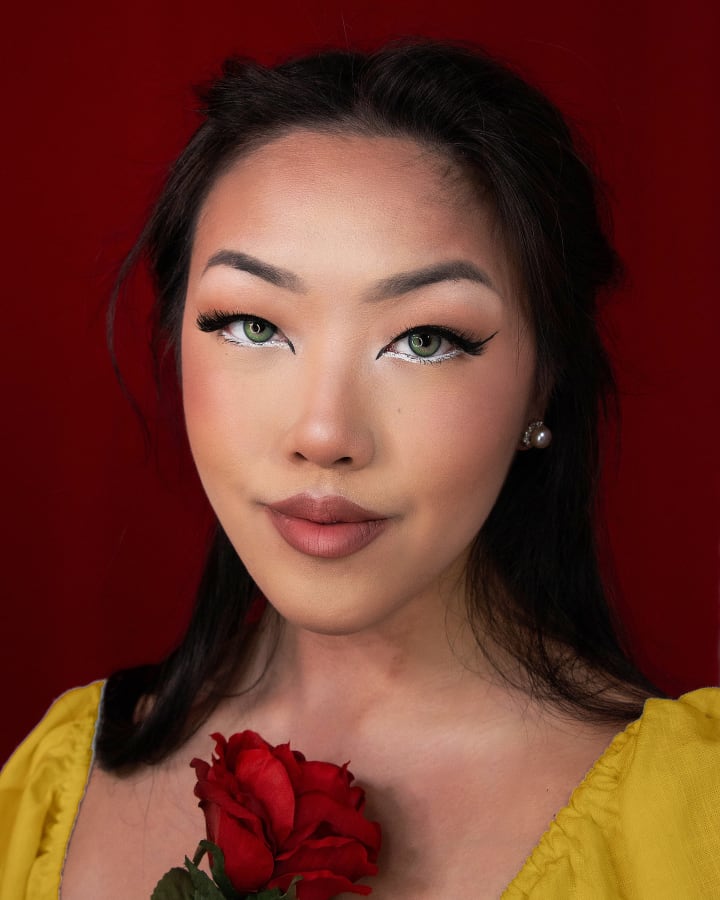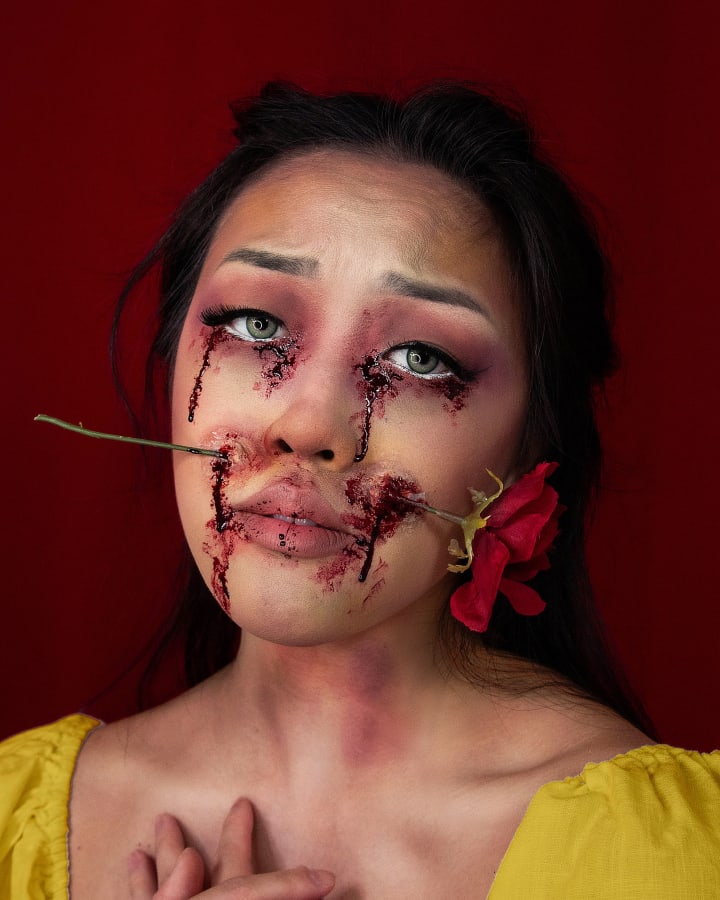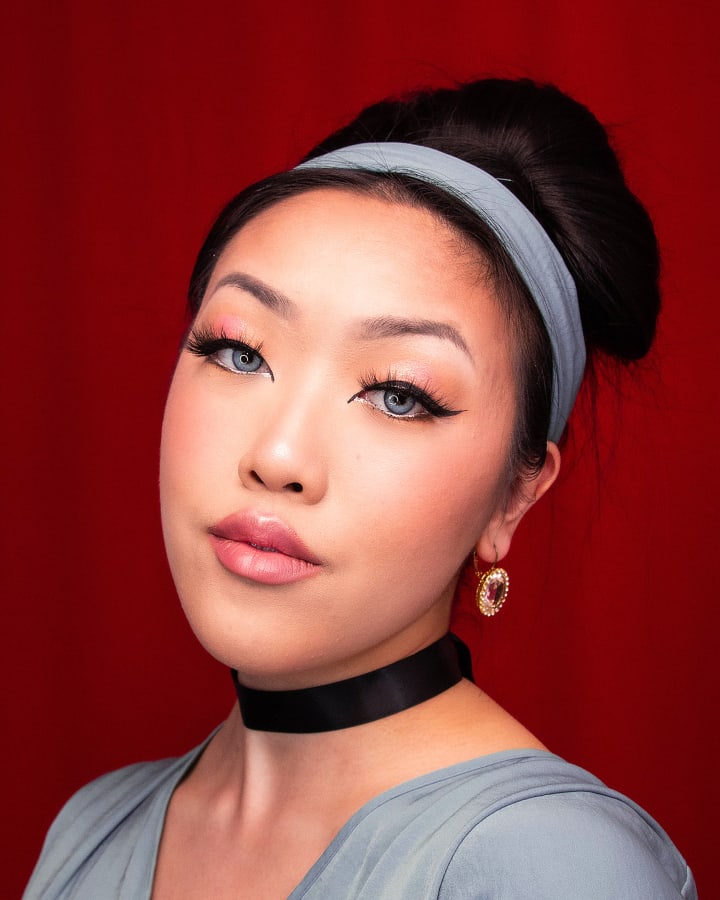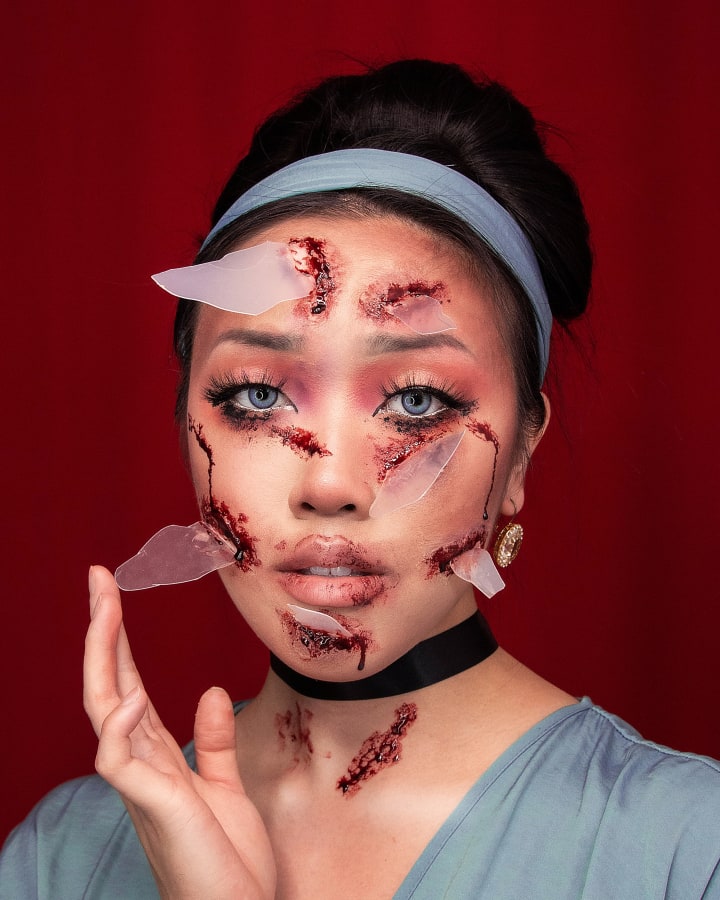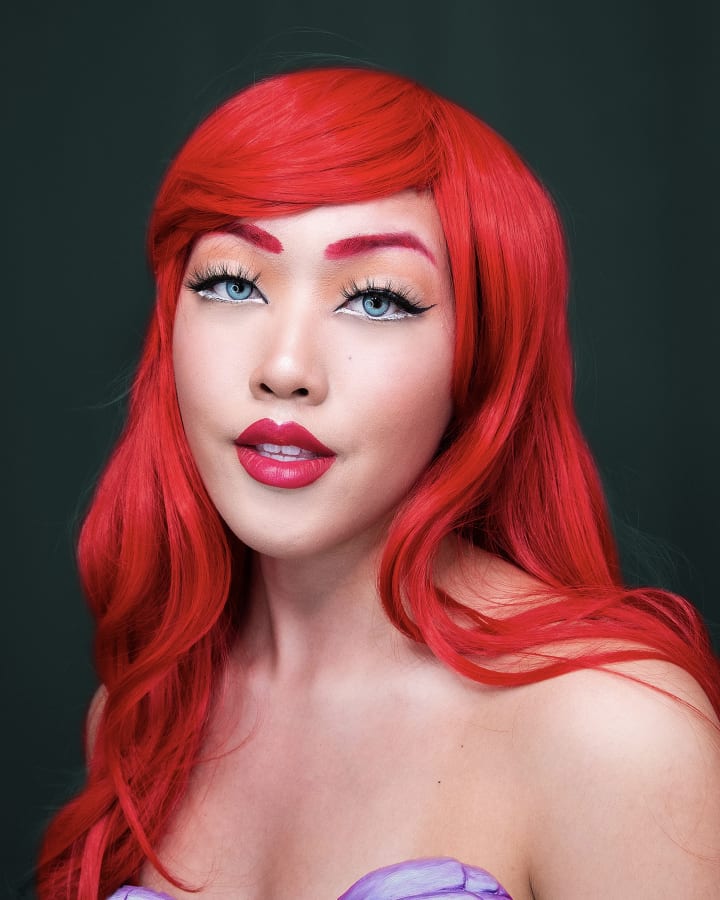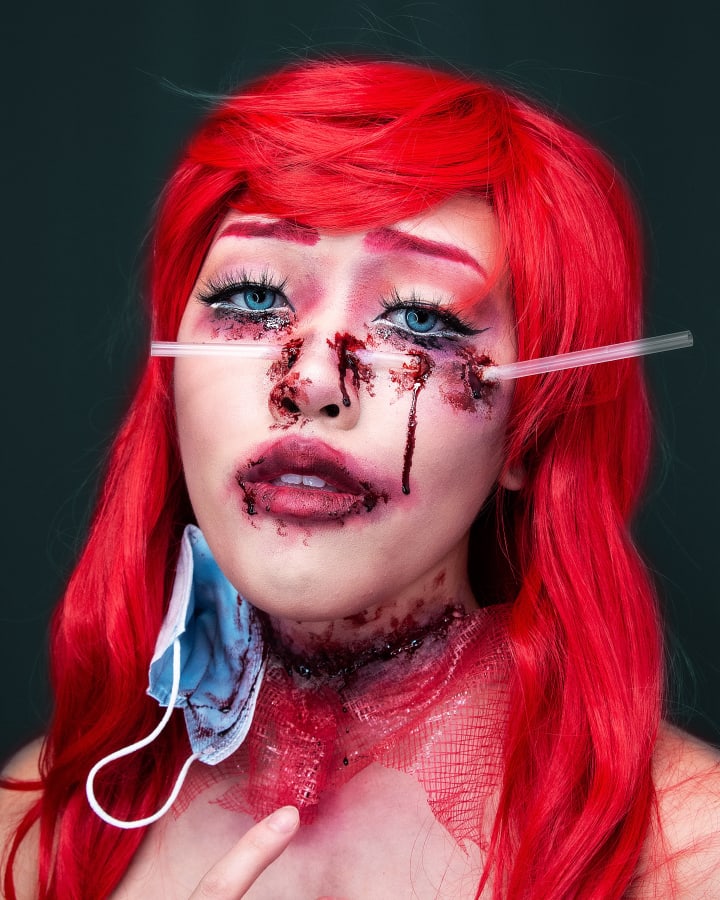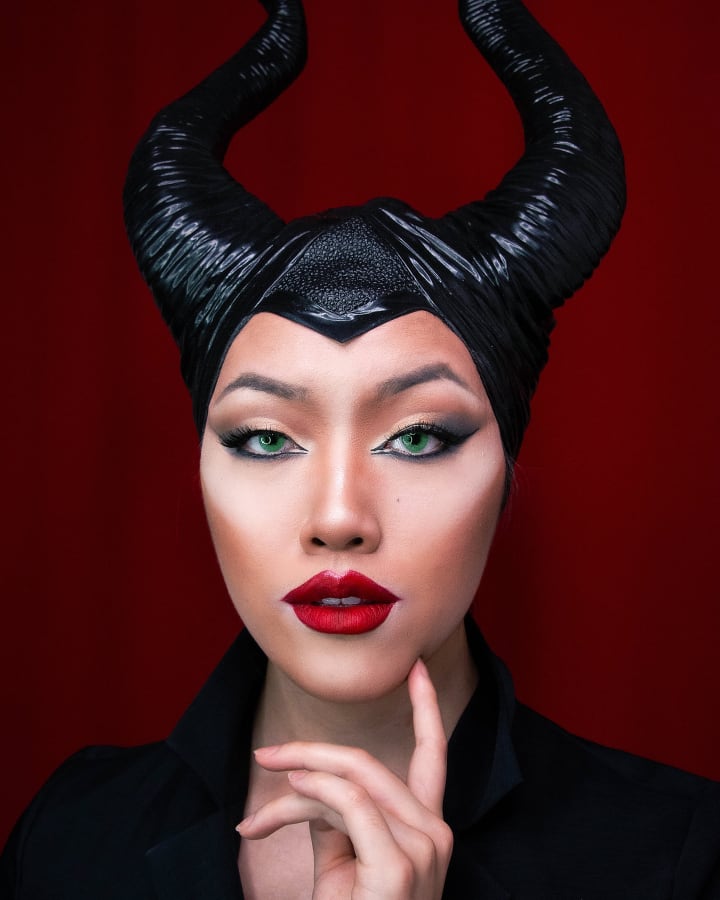 This was my first time venturing into the SFX side of makeup, and overall, I feel so satisfied and in love with what I've created. It was a learning curve, for these looks as well as in general with experimental makeup, but doing this series across all my social media platforms was extremely fulfilling and I hope you enjoy them as much as I do. Happy Halloween!