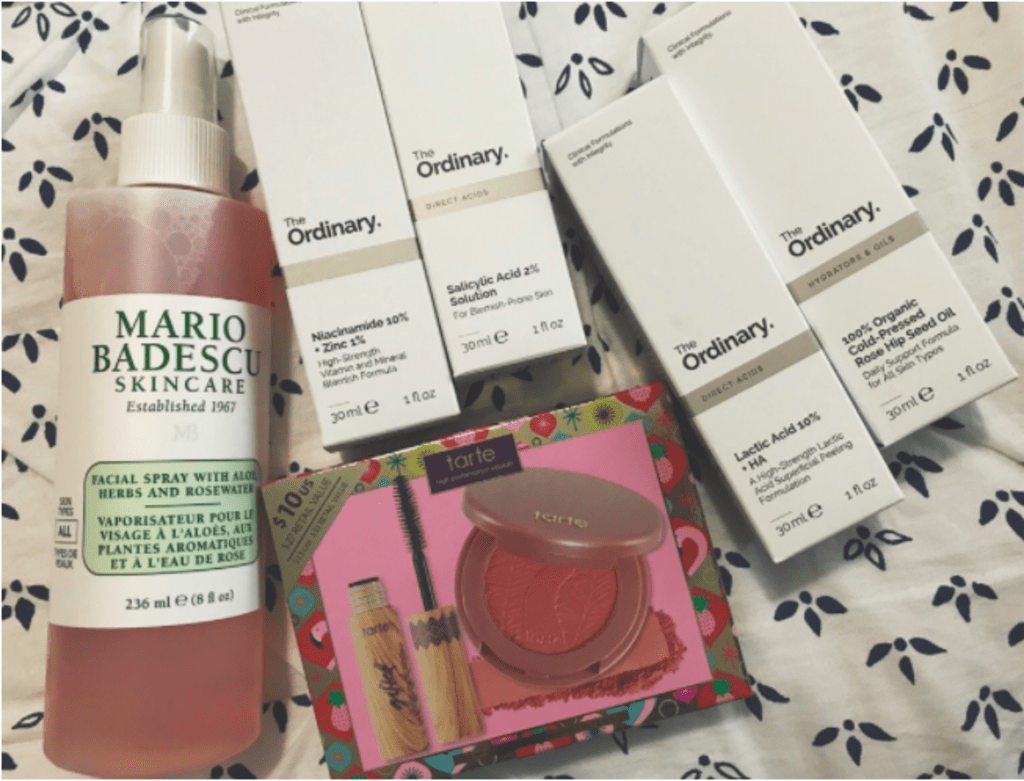 Sephora Haul, January 2019
Hello beautiful people, and Happy January 31st! We've nearly made it 1/12 of the way through 2019. To celebrate, I decided to share my current skincare routine.
A little bit of background on my skin: all throughout summer 2018 (meaning May until August) and well into September, my skin was throwing a fit. Every day, I woke up to more and more painful, tender, inflamed skin. Acne would pop up any and everywhere—my forehead, my nose, my jawline; you name it. That said, the majority showed up on my forehead and chin.
I couldn't figure out what the problem was. I was eating a super clean high carb low-fat vegan diet. I was drinking 2.5 - 3.0L of water every day. I was working out and working up a good sweat at least four or five days a week. Plus, I religiously stuck to my skincare routine. Still - nothing helped.
Only in the past few months, between October 2018 and now, has my skin really calmed down. Particularly, since mid-December, things have improved drastically. I could attribute this to slight modifications in my diet and lifestyle, but I sincerely believe that the topical products that I've been using have been absolute game-changers. Without any further ado, here are the products, with links for your convenience.
Kiss My Face Bar Soap, Pure Olive Oil, Fragrance Free
I use this bar soap, sudsed up with a bit of water, to wash my face every night. It leaves my skin feeling clean and fresh, but not stripped of necessary oils.
I use this maybe once every two weeks or so, after washing my face at nighttime. You don't want to overdo it with this product, because it's intended to act as a peel. Afterwards, your skin is a lot more sensitive, because it's had a layer taken off of it. That being the case, as the product description cautions, your skin is more susceptible to UV ray damage. And so, I urge you to be careful with this.
After washing my face at nighttime, I liberally coat my entire face in this product. It's intended to reduce sebum and minimize pores, and I honestly believe that it has done just that for me. I mostly focus it on my T-zone, but because it's full of vitamins and minerals, I love to sweep it onto my cheeks and jawline, too. That way, I can rest assured that my entire face is being nourished.
Following the previous product, I apply this to my cheeks, jawline, and chin. I originally applied it to my forehead and nose as well, but I felt that neither one benefited from the oil necessarily. That said, it didn't do my skin any damage or cause any breakouts; I just feel like it didn't add anything to those parts of my face.
Next, should I currently have any blemishes, I do a spot treatment with this salicylic acid solution. I simply touch my finger to the dropper to gather a minimal amount of product. And then, I dab it on any pimples. Note: I use this at morning and at night as necessary.
As a disclaimer, I'm pretty sure that this product is intended to be used as a body moisturizer, but I don't really mind. I love to slather this all over my cheeks, jawline, and chin. It's really, truly a holy grail product for me, as I've been using it for three or four years now. It doesn't leave me greasy or gross like a lot of other cruelty-free moisturizers do. And it's never seemed to clog my pores or break me out. I love it, and I always use it day and night to finish off my skincare routine.