Common Mistakes to Avoid When Buying Makeup
How to become a savvy makeup shopper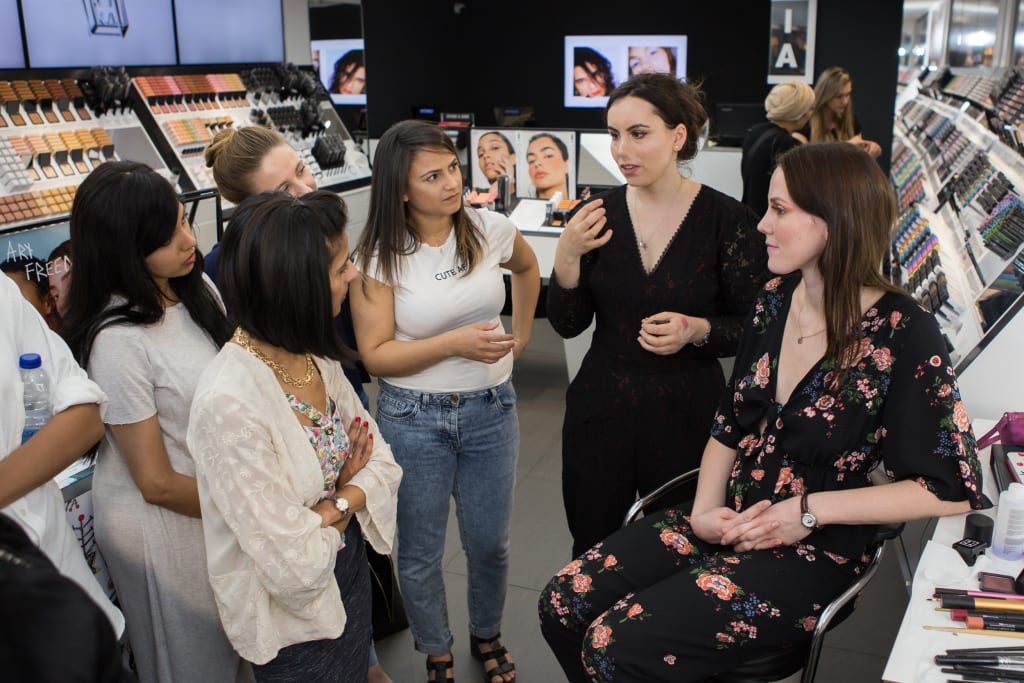 Ever wonder how to maximize your shopping experience when you want to dive in for beauty products? Want to find out some great insider tips? Tune in, the best moves are about to be fully disclosed!
1. Using testers directly on your skin!
As a make-up artist working at premium beauty counters, you'd think that I would make customers aware of the possible dangers lurking in the darkness – well, not quite that dark – but still lurking in the products displayed as testers. Make sure you sanitize anything that you try directly on your skin, you never know what hidden germs can cause your next rash or mouth sore. Or, have the staff sanitize the products for you.
2. Buying your foundation based on marketing campaigns
Have you at any point met a charming beauty adviser recommending the latest, newest, most awesome foundation? Did you get some extra vouchers thrown in to seal the deal? Well, that's a No-No right there! Trying new things is cool to some extent, but keep in mind what your skin needs in terms of texture, coverage and finish. Don't just buy a product because it is the best-promoted one! It may not be the one most suitable for you.
3. Buying your foundation based on poor lighting in the store
Just take my word for it, NOT worth it! Take an extra 5 minutes before throwing your money away and check the colour in the sunlight! If it blends in naturally with your neckline, you found the ONE!!
4. Avoid '3 for 2,' '50% off,' 'Everything Must Go' campaigns for products!
We are living in a tough economy, I know – don't let your sense of saving money make you buy things you' ll end up not using just because they are apparently cheap. Better to have fewer things you actually use rather than a collection of stuff due to expire that will only be thrown away at some point.
5. Buying creamy blusher if you have oily skin
It will just slip off your face in no time – although it looks amazing at first, the effect won't last! Powder blushers are your best bet in this case.
6. Repurchasing the same eyeshadow/ lipstick colours over and over again
It's human nature to be drawn to our own routine – so when you go and repurchase your favourite eyeshadow colour, don't say no to a specialist's advice: try on new colours, I promise you will discover yourself in a new/better light! Playing with colours is fun!
7. Buying non-waterproof eyeliner pencils
What's the point of having your eyeliner smudge all over your face, anyway? If you have a super oily lid you might want to consider securing it with an extra layer of translucent powder – you're welcome!
8. Treating the online reviews like the Holy Bible and buying blindly without testing first
Look, I know it's so tempting to buy cosmetics just by looking up how many stars they are given by beauty gurus, bloggers, vloggers and beauty experts. They may be right most of the time, but they don't know you personally. Always try the products yourself – there's simply no other (smarter) way!
9. In-store staff who trick you into buying products you don't really like or need
If, at any point in your interaction with a make-up adviser, you feel looked down upon or poorly served by someone who doesn't actually listen to you – feel free to walk away without buying anything. Don't let them guilt you into buying any products to prove a point. There are plenty of customer friendly people in the industry. Keep looking for your perfect adviser – everyone in retail should be there to help but the sad truth is, not everyone wants to.
Hope these rules helped you become a little bit wiser when it comes to buying make-up so that your drawers at home won't get filled with unused, unwanted and inappropriate beauty products.
After all, you could use your savings for that gorgeous pair of shoes, right?
Reader insights
Be the first to share your insights about this piece.
Add your insights