ColourPop First Time Purchase Reflection
A Review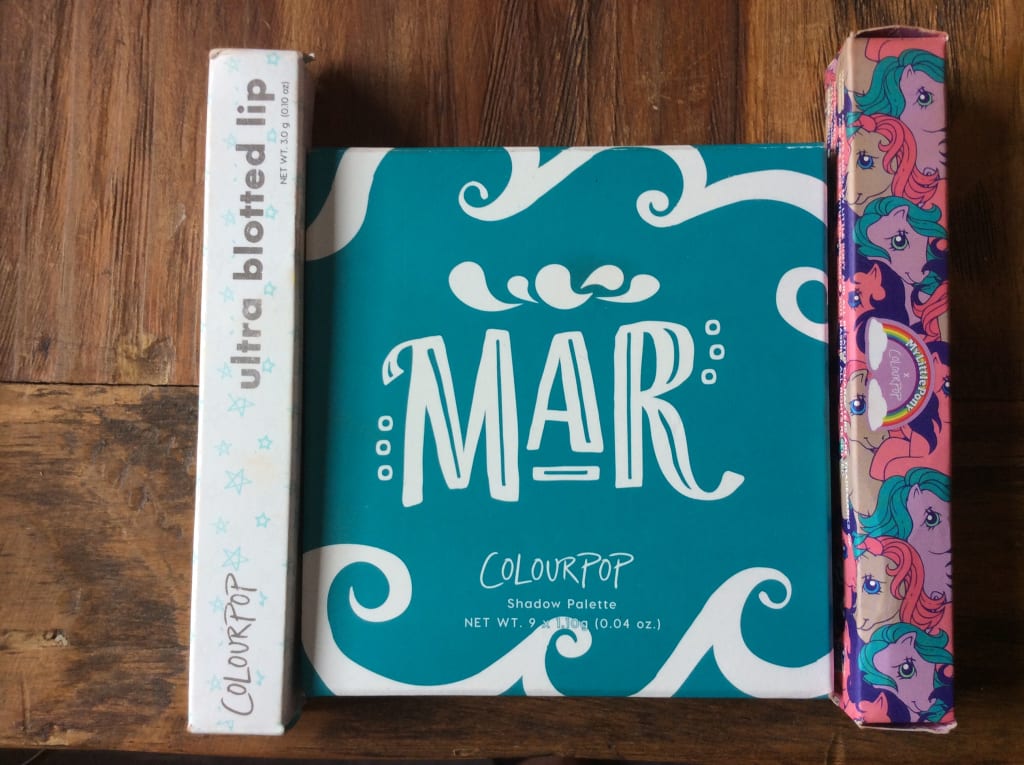 Disclaimer: I'll be honest and say that I look at both pros and cons of a product, so if you are sensitive to constructive critique. This is not the post for you. Proof has been attached for your perusal.
Products Purchased:
Makeup Your Mind Palette: $12 USD (was free on promo)/ $15.8 CAD approx
Mar Palette: $12 USD/$15.8 CAD
Ocean Ave Liquid Lipstick: $5.20 USD/$6.83. CAD
Moondancer Liquid Lipstick: $6.00 USD/$7.90 CAD
Shipping: $9 USD/$11.83 CAD
Total: 33.19 USD/$44.63 CAD
Shipping:
I ordered my purchase the very day Mar and Sol got released. I believe it was a Friday and they shipped it on the following Monday. It took exactly 10 days once it was shipped to reach my neighbourhood. Which I think, me being an international customer, is a really good shipping time frame or result. Funny story, for the first time ever in my life I put down the wrong address. Furthermore, I didn't realize it till tracking stated the parcel was delivered and I came home to see it wasn't delivered. Long story short, I was able to get it from my neighbour. But a question! Would you open mail that came to your house, but does not belong to you? Think about it!
Quality:
Did not like the liquid lipsticks at all. Patchy, patchy, patchy! The eyeshadow palette though? Pretty impressed with the performance (wear time, blendability, application) over all. I just wished it would have stayed more true to the theme though. I did not test out MUM because I decided it was not for me. So I ended up selling it completely brand new and untouched. I thought it wasn't a very cohesive shade range. Random colours thrown in together. And way too small for its retail value. I decided to get that free for promo, rather than get $5 off as a first time customer. Win-win for me and the person who bought it.
Price:
Let's cut out the shipping (even if it's cheaper for businesses to ship things out, it's still not free). I got four products for $24.19 USD/$33.81. Which is not bad in itself, but can we go even cheaper at the drugstore? Most definitely. Since, I was impressed with ColourPop's performance, I almost bought 10 singles from them at $50 Int free ship. But then I thought to myself that $66 CAD approx for 10 ColourPop singles is just not feasible, even with the quantity. Which is not that high to begin with and something I do not care for anyways, because more simply means more likely to be wasted.
Conclusion:
I was introduced to ColourPop because of Natasha Denona. And you guessed it right, it was specifically because of the Sunset Palette. However, once I was disillusioned with Sunset, I lost my desire for ColourPop's Yes Please palette. But the brand itself was stuck behind my mind. So far they still have not come out with anything where I felt that I both needed and wanted it. This was an impulsive purchase, and overall I would say the experience was alright-good, but not the greatest. ColourPop has the potential of good quality products, but it surely can be a hit and miss. For an online brand, that's not a good thing in my book. But I'm open minded to realize that not everything works for everyone. But many are not, and will write a brand off for one mishap. Unfortunately, for my wallet, I'm not one of those people. Suffice it to say, I hope CP comes out with a palette where you can choose your own shades (like Buxom but a better designed palette) with a more reasonable price point.
Down-low:
If the upcoming Zodiac Pallete isn't too bad, my supernatural loving heart will probably pick it up.
Au Revoir Mes Amis! Goodbye my friends! Have a wonderful day!
XOXO
product review
#Freespirit #Humanity #Objectivity #Peace #Love
IG: heeta.joshi
Twitter: joshi.heeta