Best Primers for Your Skin's Needs
I think the title is pretty self-explanatory.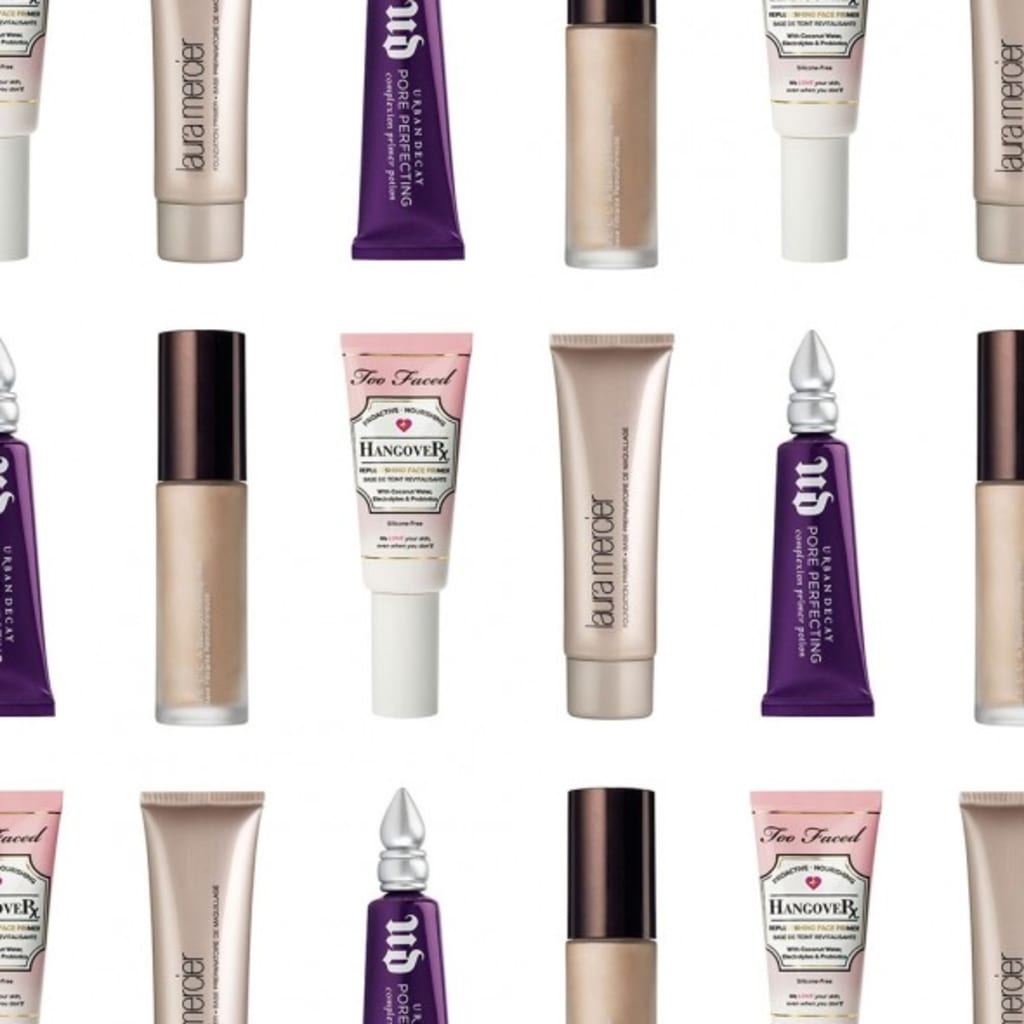 Primers may just be my favorite step to makeup and depending on which you purchase. It can also feel like the last step to your skincare, what with so many primers reaping the benefits of skincare whilst also getting your skin ready to soak up makeup and make it last nowadays. Some people find priming an annoying waste of time and money (THEY are probably both these things). I do not hang out with such negative people. Always kick it with people that bring your priming needs up, not down! If you really want to keep your mask on all day you just HAVE to do it. It's one of those things—like buying tampons or eating healthy for a day after New Year's. You just HAVE to! And if you ever wondered how to achieve the most flawless finish whilst also attending to your individualized skin needs, I've got your face covered (full coverage, of course).
These primers are made to colour correct, hydrate, long-last, mattify and de-shine, and plain old benefit your skin's overall appearance.
For Redness: Make Up For Ever Step 1 Skin Equalizer Primer Redness Correcting Primer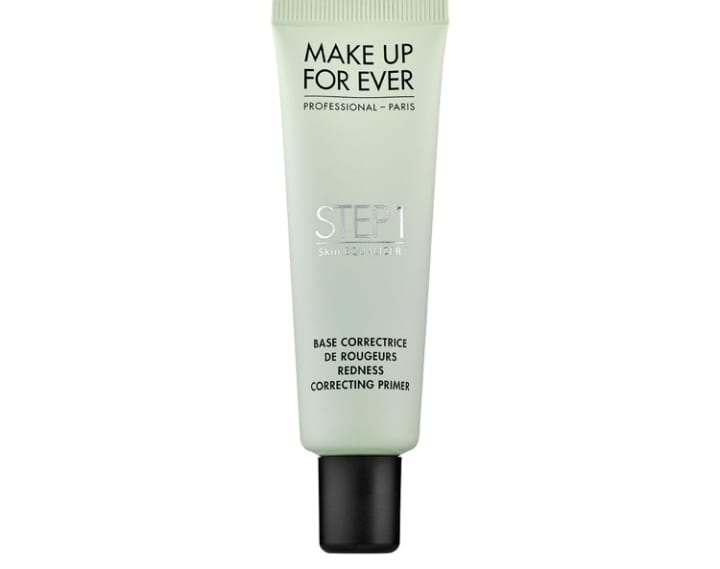 That's a mouthful, but trust me when I say it works. When my friend first smoothed this green primer onto my face, I was mortified at the Wicked Witch of the West staring back at me in the mirror. Before the considerate blending process continued, I wasn't for buying the hype. I really never used a primer before that ceased the redness upon application. But that fateful day in makeup class, the redness decided to instantaneously simmer down and remained that way throughout the day. I will also note that there's a very lightweight feel to this primer, so it's great if you're into that sort of thing. I, on the other hand, prefer feeling a tacky primer under all my bundled up layers of makeup joy because in my mind, that means it's helping the makeup stick more to the base that is the superglue-like primer. If it's lightweight, that registers to me as makeup slip sliding off my canvas more. I can rationalize that that's not the case though and that I am in fact just a CRAZY person. There's something to me about a silicone primer's texture on the face that I just enjoy more. Just me...? Okay! But at the end of a long day, sometimes you don't want to feel like your face is jam-packed with makeup and that is exactly how this will make you feel: like your makeup is floating on air. It's $45 CAD so it doesn't break the bank as much as some but it still doesn't come cheap to cover that rosacea!
Clinique's Even Better Correcting Moisturizer SPF 20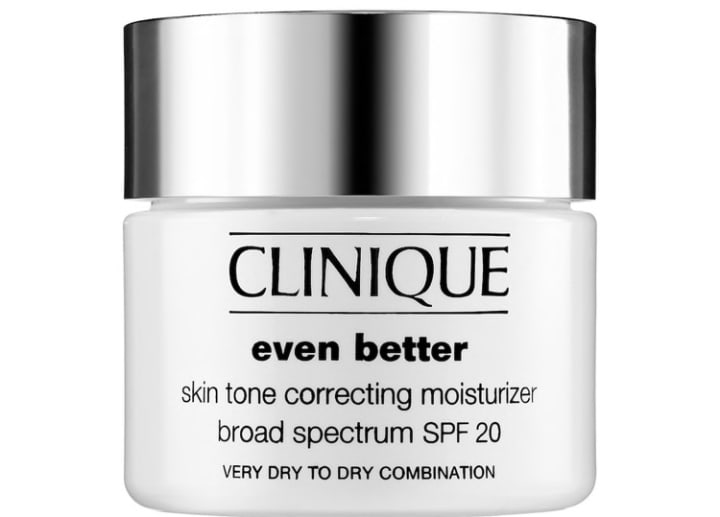 Pro tip: if you have extremely bad redness or red blemishes or dark spots in general and you want to go the extra mile to cover it up before primer use, use Clinique's Even Better Moisturizer. It has an SPF in it to counteract redness further and protect the skin against dangerous aging rays of course; and it completely gets rid of all the tiny imperfections ASAP. I have not seen this go wrong on anyone yet. Everyone that applies it says it does wonders.
e.l.f. Tone Adjusting Face Primer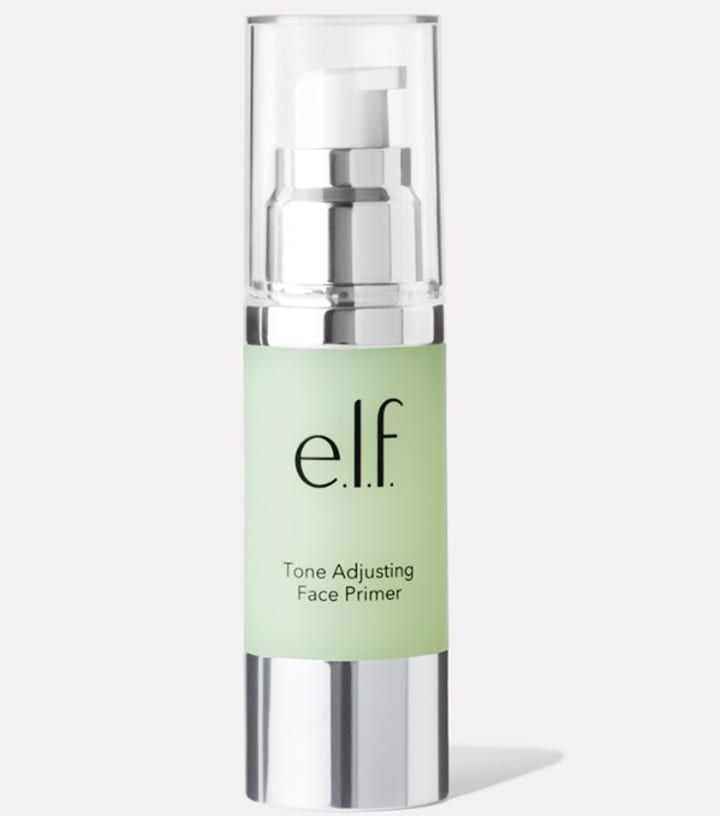 The twin sister to this Make Up For Ever Primer is the E.l.f. Correcting Primer. I may even go as far to say that I recommend this even more for the much less steep price point coming in clutch on the first position reason. Also, when doing a face test and applying this to one side and Make Up For Ever's to the other, the appearance was better with the e.l.f. Primer. It did the same trick and it lasted per chance, even longer—like all the way to double shot cosmos at 11 PM with the girls, longer. The price for this bad boy at Walmarts in Canada are $7.67 CAD. It doesn't get much better than that. If you're a makeup SNOB and enjoy SOLELY caking your face with $60 + products, by all means pass up this broke b sale for the bougie stuff. I ain't judging you (to clarify: I am a bit...).
For Oily Skin: Smashbox Oil-free Photo Finishing Primer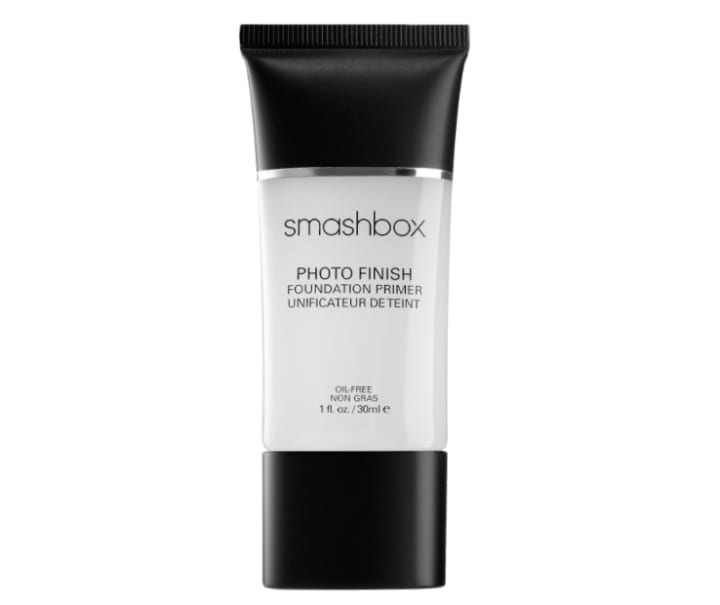 I am not someone with oily skin—very much the opposite actually. But something that always made perfect sense to me was that if you DID have oily skin, you'd want to steer clear of oil based Primers. Essentially, the fact that this is oil-free is the main reason this functions so well for oily skin (basic skincare class 101). I am glad we are all caught up now. Ironically enough, however, this happens to be my favorite primer and it has been first place in the game right now for YEARS! The thing that makes it perfect for oily skin though, is that it has a silicone feel which thus concludes that it is tacky and your makeup sticks to it like GLUE. When makeup is applied on top it stays all damn day! No exaggeration. It is, as we all know, harder for people with oily skin to maintain full face (i.e., the same way dry skin sometimes will flake the makeup off). But no joke, no blotting papers are needed with this primer! I gave a sample to my friend with an oily skin type and she confirmed what I'd already thought of this primer. She described how her t-zone is especially hard to tackle but with this product she was able to keep the makeup on all day in this area. The price point is $44 CAD which I think isn't too bad for the quality. If you have EXTREMELY dry dehydrated skin but are still itching to try this, you may want to try the PhotoFinish Oil Primer for $50 instead which is even better for it.
For Hydration: Marc Jacobs Undercover Coconut Primer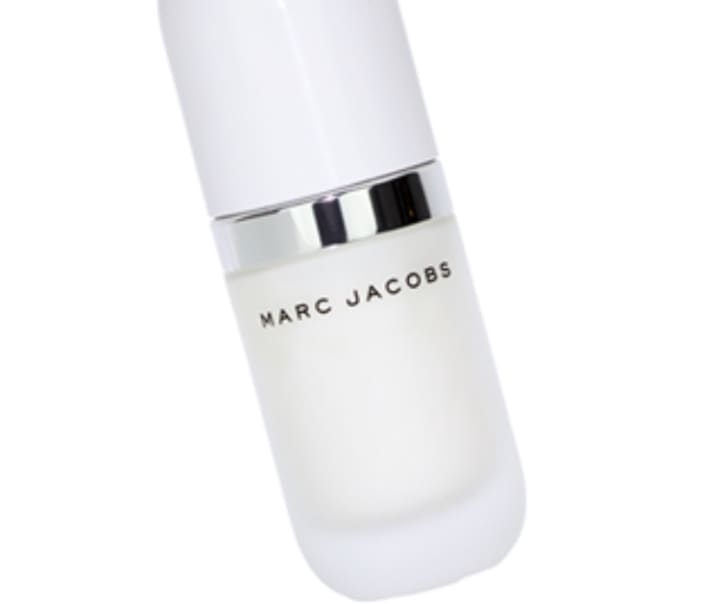 I actually purchased this on a whim when I was shopping in New Orleans on vacation one day. I had heard good reviews for it from Beauty Gurus like Nicole Guerriero and probably many others I'm just forgetting the names of. My skin was having a skin's version of a mental breakdown: not a break OUT, but I was having all the random gruesome effects of skin traveling. Sometimes this is just caused by the humid climate you're not familiar with (or particularly a fan of). However, when I was partaking in these horrible stressful symptoms, it was mainly because I was having allergies to the different weather which for some reason reinforces my skin's dry texture. And what was a miracle in a bottle for me at this moment was THIS primer. What makes it so amazing is the fact that it actually FEELS wet on the skin! This is something essential for me when my skin feels like it needs to be splashed with water but you know you're going to need makeup on that day for an event or just because it's another day where you can wear makeup so you can't really splash it with water. The coconut also smells exotic and refreshing in it but it's a hint. It's not all-encompassing or going to knock you out. The one thing I have to forewarn about this primer is you can't put it on your eyelids (which is what I do with certain Primers instead of using a designated eye primer—that's for basic people. It does the same trick, people! And costs you significantly less.) However, with this one you can't because if you're anything like me, you will get it in the eye and your eye will tear up and before you know it, you look like It the Clown. When it's in the process of irritating your eyes, it will burn so it's not the best sensation, either. I try to put a MINIMAL amount around the eye area if I DO put it at all. The price point for this is relatively high ($55 CAD), but way worth it if you're anything like me, suffering from alligator-textured skin.
For (Almost) Every Skin Type: Too Faced Hangover Replenishing Primer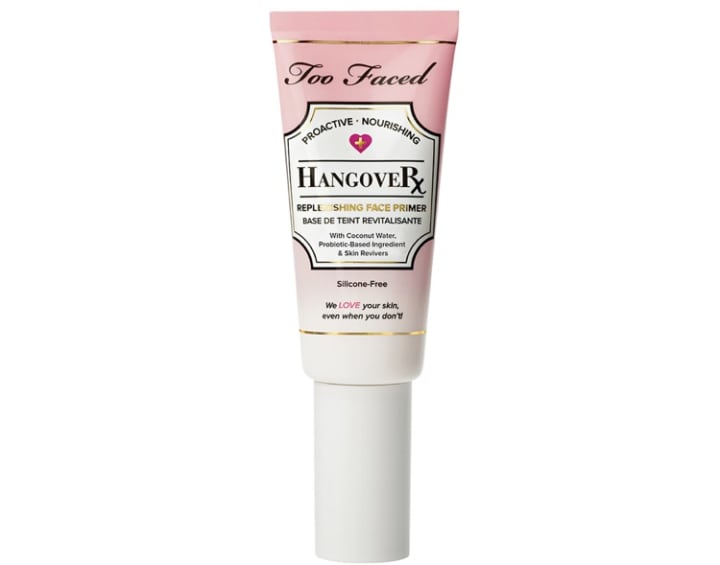 If you're wondering why it says almost every skin type, that's because I would say it's not ideal for acne-prone skin. It's definitely suited for sensitive even. However, I know a lot of friends with acne-prone skin tried this and absolutely HATED it. It broke them out and they vowed to never touch it again. It's my belief that it's the coconut aspect in the formula that causes this. If you do not have acne-prone skin, however, this could be your best friend. It does everything you want in a primer. It covers your pores and gives you that airbrush finish; it keeps your makeup looking fresh throughout the day, and most importantly, it's AMAZING for your skin. It's hard to accept or believe that a makeup product could be GOOD for your skin because we associate it with clogging pores and gross stuff like that. BUT, the reason this is called the Hangover Primer is because it's supposed to revitalize your skin when it's looking abundantly rough, like you were out all night the day before and you have two meetings back to back today ROUGH. That being said, I like to use this when my face looks like it's been run over by an 18 Wheeler. It's its lightweight feel that also makes it feel like a part of your skincare routine more than anything. It feels more like you're applying a second moisturizer than a primer. It is supposed to replenish your skin cells so it also has a certain anti-aging benefit to it. The full size version of this is $40 CAD so slightly less than the others and, I think, the most versatile. Plus, it smells AMAZING!
Pro-tips for a Primer that will REALLY make your makeup stay all day:
Spray your beauty blender or foundation brush with any setting spray (this will help the makeup and primer you apply it with attach better).
Pump three drops of your primer into your makeup itself before applying the makeup to your face (if you have extremely dry skin like me. pump in one pump Moisturizer to three pumps primer).
ALSO, apply the primer all over your face to ensure this look won't be swiped off by the wind.
Take over the WORLD.
About the Creator
Writer|Blogger; Makeup Artist, Skincare Activist Extraordinaire, Harry Potter fiend.
Twitter: pbirdd
Instagram: paigebirdi
Snapchat: paige-birdie
Reader insights
Be the first to share your insights about this piece.
Add your insights