Best Post-Workout Beauty Tricks We Swear By
Heading out after a full workout, but need to freshen up first? Consider trying out these useful post-workout beauty tricks to get you ready for the night.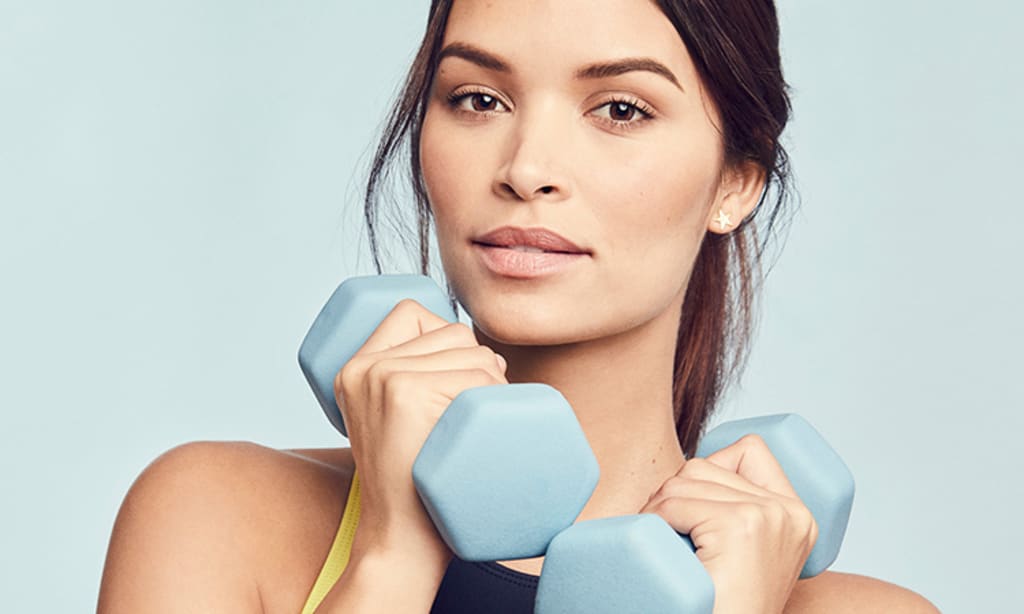 You can't tell me that you don't look like a sweaty mess after you've worked out. We all look like hot messes after we've accomplished a full-body workout, and this can be both rewarding and gross at the same time. Rewarding because we literally sweated our assess off at the gym and it shows how great we worked out just by our appearance. But gross, because... we're actually disgusting. Hold on, your friend just texted you saying, "Let's go get lit tonight," but you just finished an intense workout and you look nowhere near ready to head out. And you just know by the time you shower and get ready, it's too late. However, it's never too late, because there are ways to mask the fact that you worked out right before going out.
Instead of showering and styling your hair, there are beauty tricks to hide your sweaty mess. And no, it's not gross if you head out after a workout without showering. These beauty tips can still make you feel your cleanest and more than ready to get lit with your friends. If you have no time to shower after a workout, these are the best post-workout beauty tricks to do to look and feel fresh after a killer workout.
First things first, you better wash your face. All of the sweat, dirt, and oils that have been produced all over your face through working out have dried up and literally stuck to your skin. You definitely don't want to leave all of that on your face when you go out. So make sure you thoroughly give your face a good wash! And wash well, too, so you won't have any residue left on your face.
A great cleanser that's both gentle, hydrates, and strips off dirt and oils without stripping your natural oils is Mario Badescu's Glycolic Foaming Cleanser. It's designed to dissolve dulling dead skin cells, help refine pores, and fix your uneven skin tone. And since our faces look red from the intense workout, this cleanser can balance out the tones and make our face feel youthful and smoother!
Like I've mentioned before, your skin will be pretty red depending on how hard you worked out. And the best way to calm your skin down and bring it back to its normal tone is with a facial toner. From the post-workout beauty tricks, toners are ideal when it comes to removing any leftover residue and oils that are still on your face after cleansing it. They're also one of the ways to have great skin. Plus, you want a toner that doesn't include any alcohol. Toners that have alcohol can strip off your natural oils, drying your face, and eventually breaking you out from the dryness.
Kiehl's Ultra Facial Toner is the perfect toner that is non-alcoholic and gentle on your skin. It's mild, yet pretty effective for all skin types in refining the surface while providing hydration, too. It's formulated with emollients like squalane, apricot kernel oil, avocado oil, and vitamin E. It can balance out your pH levels and offer you hydration while comforting your skin.
Moisturizing is certainly one of the post-workout beauty tricks you should actually do. Never, ever forget to moisturize. It doesn't matter if your face is originally oily, you just removed the sweat and dirt off of your face from working out, or any other excuse, everyone has to moisturize. When you moisturize, you're bringing hydration, minerals, and nutrients to your skin. And that's what your skin needs. Plus, moisturizing every day can prevent wrinkles and fine lines.
After a workout, you definitely don't want to put anything too heavy on your face. That's why Olay's Active Hydrating Lotion Face Moisturizer is the perfect moisturizer that's not too heavy on the face, but can still fully hydrate your skin. It's non-greasy, smooths out the skin, and soothes dry skin after you've thoroughly cleansed your face. Not to mention that Olay is one of the best cheap skincare products out there.
Instead of killing precious time showering, you can simply wipe down your body! The best way to properly do this is with shower sheets, which are one of the best post-workout beauty tricks you should do. Shower sheets are basically designed to freshen up your skin after a powerful workout. You just use the sheets to wipe every part of your skin and strip off the sweat and dirt that's stuck to your body when working out.
There are multiple types of shower sheets out there, but the best one is the one by Yuni. In a pack of 12 individually-wrapped large, soft, and waterless body wipes, these can immediately cleanse the body all while refreshing your skin and naturally deodorizing, too. Ideal for a post-workout, you don't have to strain and rush yourself to shower before getting ready to head out for the night. These shower sheets can swiftly clean you up in an instant, and pick up everything that was developed on your skin while working out.
Don't forget the deodorant.
Even though the shower sheets naturally deodorize your body, you should still use deodorant under your arms. To fully be and feel clean, you shouldn't skip out on the deodorant—espeically when you've been sweating like an animal on the treadmill. Your armpits may be clean after the shower sheets, but make them extra clean when using a deodorant.
Make sure you don't put too much, either. Sure, you want to smell great and mask the fact that you worked out earlier without showering, but this doesn't mean pile on the deodorant. Be generous with the amount you're applying on!
Switch to clean clothes.
Switching your filthy gym clothes with clean clothes is without a doubt among the best post-workout beauty tricks to do. This one is obvious, because you definitely don't want to go out in your gross gym clothes. You want to look great when heading out, which means throw on some of your favorite going-out clothing.
But make sure you change clothes after you've wiped down your body and used deodorant. You want your body to be fully fresh and clean before putting on your going-out clothes.
Okay, now for your sweaty hair. If you didn't intend on going out after a full-body workout and you put your hair in a really tight bun or ponytail that's now all covered in grease and sweat, don't panic. Using a dry shampoo is one of the most useful post-workout beauty tricks you can do for your hair. It doesn't even matter if your hair looks like a grease ball. Dry shampoo can withstand your grossest hair and make it look as though you recently washed your hair. But joke's on them, because you only used dry shampoo!
Either leave your hair in a ponytail or take it down; dry shampoo can be your lifesaver in this situation. While there are many types of dry shampoos out there, not all of them work properly. The best one that so many people swear by is the Not Your Mother's Clean Freak Refreshing Dry Shampoo. Aside from Not Your Mother's being an amazing haircare brand, their dry shampoo can control your oiliest and greasiest hair ever. Applying this to your hair can instantly cover up the oils, give off volume, and make your hair smell better than before!
If you don't want to wear makeup when heading out for the night, you can, but if you want to add a bit of makeup, you shouldn't go all out. Since you just worked out, your face is still processing the fact that you killed it in the gym, which means your pores are still adjusting to the cleanser and the toner. Therefore, you probably shouldn't use a liquid foundation, because it can make your face oily again. Instead, use a powder foundation for full coverage as well as for a matte finish.
The best type of powder foundation out there is the one by Laura Mercier. While the cosmetic brand is an amazing company that produces top-quality products, their powder foundation will shock you by how much coverage it offers... for a powder! Ideal for all skin types, it's lightweight, oil-free, evens out your complexion, and smoothes out your skin overall. Plus, a little goes a long way with this, which is perfect if you're looking for a little coverage after a tough workout.
You can't forget about moisturizing your lips, too! From the post-workout beauty tricks, you should be hydrating your dry lips after a killer workout. After chugging bottles of water and wiping off the sweat from your upper lip, you bet your lips are going to be chapped. That's why you should thoroughly moisturize your lips!
If you're going out, you wouldn't want to use a matte lipstick. Instead, use a tinted lip balm that adds both color and hydration to your lips! And Glossier's Balm Dotcom comes in an array of colors and flavors to suit your liking. From mint to coconut, rose, and even birthday cake, your lips will fully be hydrated with this lip balm. This lip balm is also one of the best gifts for skincare addicts.
Last but not least among the useful post-workout beauty tricks to do before heading out is applying a body spray! We know that your body is already feeling fresh and clean, but it needs just one more thing to make you feel refreshed again. And that one more thing is with a body spray. Sure, perfume is great, but body sprays are formulated with all-natural, fresh ingredients to offer you the most delicious scent ever.
An all-natural body spray is the one by Soap and Glory. The Original Pink Body Spray is seen to be one of the best body sprays out there that not only smells absolutely amazing, but the scent is long-lasting, too, compared to so many body sprays out there. This fruity-floral spray features notes of rose, bergamot, strawberry, jasmine, and muguet. You'll constantly smell amazing when wearing this body spray.