Best Flat Irons That Won't Damage Your Hair
Want sleek, shiny hair that also isn't a curly, wavy mess? You better buy flat irons that won't damage your hair.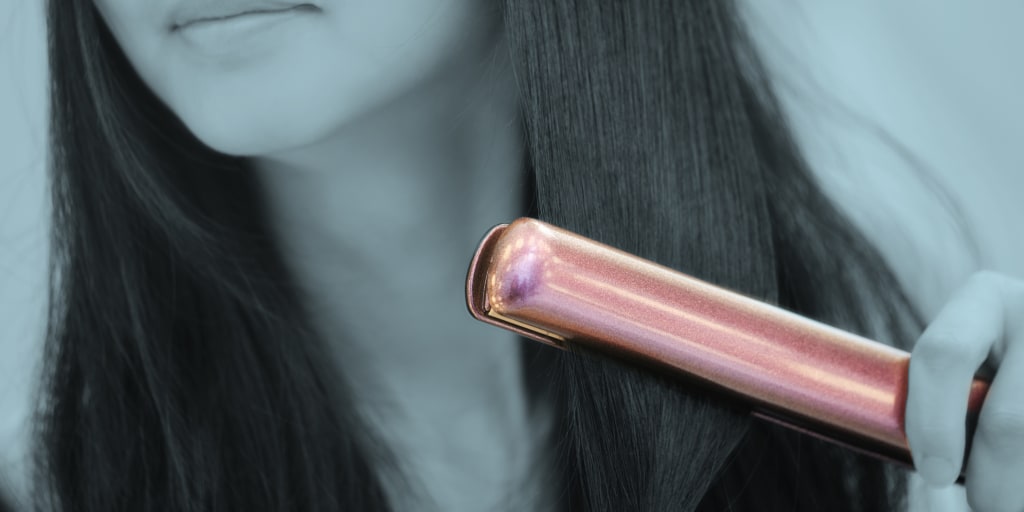 Once upon a time, women actually would take real irons to their hair as a way to get that straight, sleek look people adore. Obviously, this would cause hair to get seriously damaged, with some women literally burning their hair to a crisp.
These days, you don't have to take a clothing iron to your hair. There are flat irons out there that'll straighten it perfectly. However, most flat irons can be seriously damaging to hair, and if you don't believe it, look at what happens to this girl's hair in the YouTube video.
That terrifying video alone explains everything about why it's crucial to look at flat irons that won't damage your hair, doesn't it? These non-damaging flat irons are perfect for the at-home stylist that wants straight hair without the damage.
There are a number of things you should look for if you're seeking out flat irons that won't damage your hair. Ceramic plating, automatic temperature shut-offs, negative-ion technology, and infared are some of the tech advancements that reduce hair damage.
LumaBella's Keratin Hair Straightener uses a number of these to create one of the best hair straighteners out there. This has ceramic plating that's infused with keratin, which in turn conditions your hair.
To make things even safer for your hair, LumaBella's flat iron also has a built-in device that lowers the temperature when it gets dangerously hot. Foolproof? As close as it gets.
AsaVea makes one heck of a mean flat iron—but it's never mean to your hair. This has the straightening, non-damaging power of ceramic technology combined with infared tech that heats your hair evenly throughout the strand.
To make matters better, this flat iron also has an automatic shut-off that detects when hair is burning. Needless to say, damage is minimal with this tool and that allows you to keep your hair healthy.
Leave it to Conair to come up with affordable flat irons that won't damage your hair. The Infiniti Pro has 2-inch tourmaline ceramic-coated plates that head up and straighten hair in a flash.
The rotating spin attachment helps ensure that heat is distributed evenly, and that your hair will feel soft as silk once you're done. Finally, a ceramic flat iron that makes heat damage a thing of the past.
Looking for a curlier look? Conair's got you with these curling irons that won't damage hair may be a better option.
This super-stylish flat iron is one of the priciest ones on this list—but it's also one of the hottest flat irons that won't damage your hair, despite it reaching temperatures over 400 degrees. The reason why it's so good? Well, negative ions and top quality ceramic plating that's infused with volcanic ash has something to do with it.
If you're looking for a dual voltage styling tool that'll help you cut costs on treatments for damaged hair, this is it. It's worth pointing out that this isn't just a flat iron, it's a straight up styling iron designed to work wonders regardless of what you're doing.
This is one of the more stylish irons on this list, and that's why we're suggesting it for the diva who needs to have good-looking tools. This limited-edition straightening iron doesn't just look pretty; it's also a great tool to reduce heat damage when you straighten.
CHI ceramic plates help lock in moisture and keep hair looking shiny and new. It heats up within 30 seconds and can be used with a variety of different hair types.
When talking about flat irons that won't damage your hair, it's impossible to ignore the Wet2Straight. This flat iron allows you to skip the blow drying part of getting ready, and uses the moisture from your shower to keep hair soft, safe, and help straighten it too.
30 heat settings, a 30-second heat up time, and an automatic shut-off timer makes this one flat iron you'll want to have on you at all times. Better still, it also can be used on dry hair—if you're cool with skipping the majority of the soy hydra complex infusions that come with this straightener.
T3 has made one of the fastest-working flat irons that won't damage your hair, and even named it after how many passes it takes before your hair is straight as an arrow.
This ceramic flat iron has a microchip that allows it to sense the optimal straightening temperature for your hair and adjust itself accordingly. Ceramic and ionic technology just got a whole lot smarter.
Instyler knows how to make a darned good styling tool, and their CERASILK is a perfect example of that prowess put to good use. This ceramic styling iron has woven technology proven to reduce hair damage by as much as 92 percent.
It can heat up to 440 degrees, has a slew of awesome features, and is capable of taming even the most disastrous of hair with ease. What's not to love?
If you're looking for flat irons that won't damage your hair, but can be used to create a variety of looks, you're going to enjoy the Coast Pro Titanium Styling Iron.
This styling iron has titanium plates that heat up rapidly, but keeps things safe with special heat detection technology. The moment it gets too hot for your hair to handle, the styling iron readjusts to ensure you get the straightness you want without the damage.
This goodie also comes with attachments for that coveted, flawless blowout finish.
Last but not least is the Love Wins Straightener, one of the only flat irons that won't damage your hair—despite it being tough enough to handle thick, unruly, or extremely curly hair. Floating titanium plates, beautiful craftsmanship, and a max temperature of 450 degrees makes this a real work of art.
The kicker? This one has 1000 percent more negative ion conditioning technology than the average negative ion flat iron does. So, if you have thick and wild hair, this is your best bet.
hair
About the author
Reader insights
Be the first to share your insights about this piece.
Add your insights