Animal Cruelty in the Makeup Community
The importance of choosing cruelty free brands.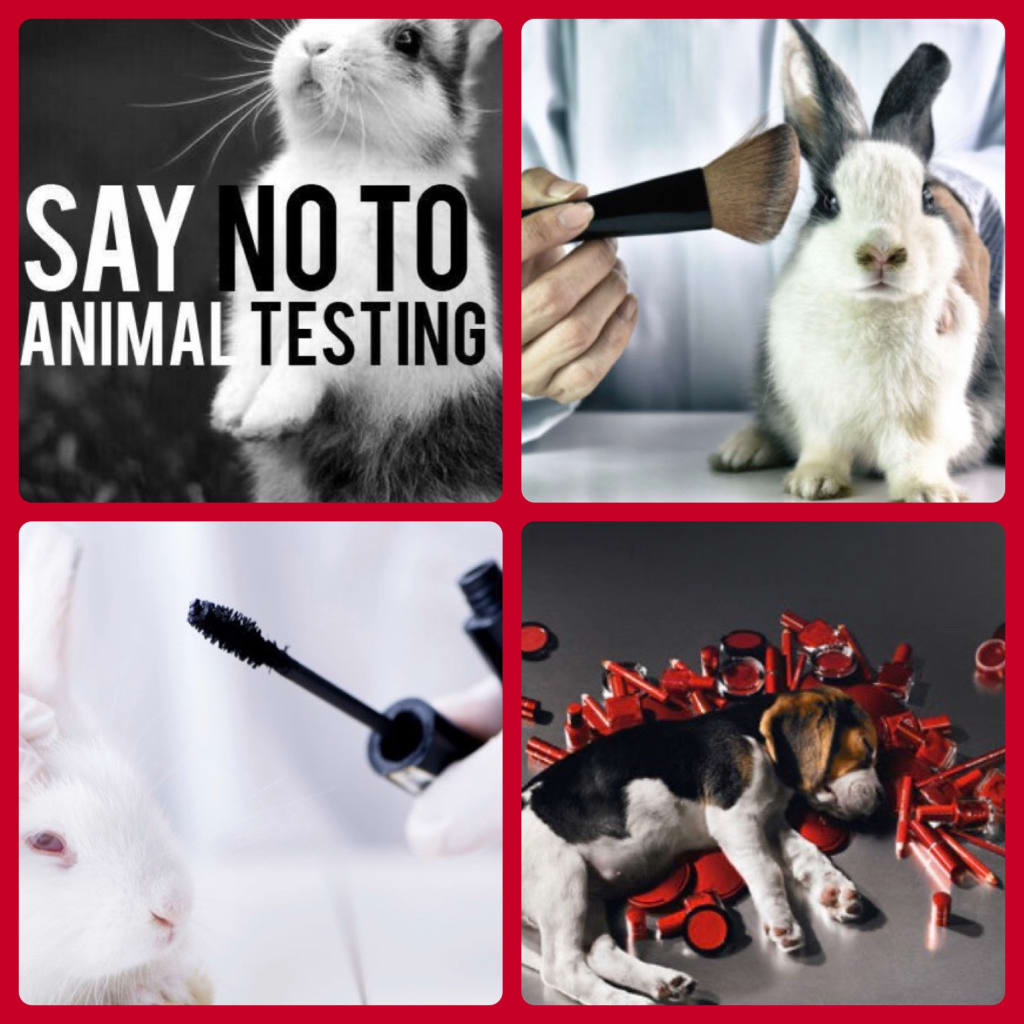 Animals all over the world are being abused and tortured through animal testing of cosmetic products. Many places like the United States require new ingredients to be tested on animals before being released to the public, and China requires all makeup sold in the country to be tested on animals. But this behavior is not acceptable. There are thousands of already approved ingredients for companies to choose from for places like the United States, and if all makeup companies refuse to sell in China, they too could wake up to the reality of their cruel laws and save thousands of animals lives.
Not only is animal testing cruel, but the information obtained from it can be extremely misleading and cause severe harm to both the animals and humans. For example, ask any Veterinarian if grapes are safe for dogs. They will tell you no, they are poisonous and can kill a dog. However if you ask a human nutritionist about grapes, they will tell you they are very healthy and encourage you, as a human, to eat them. If we ran a test on dogs and grapes and relied strictly on that data, we would conclude that grapes are poisonous to humans, which is absurd. Animals and humans too commonly just don't react the same to different things so what may hurt an animal would be beneficial to a human, and what may be beneficial to an animal would be dangerous to a human. Therefore, we have absolutely no logical reason to test cosmetics on animals.
What can you and I do about this? We can choose not to buy products from brands that are not cruelty free, and instead choose to buy from brands that are 100% cruelty free. This will make a statement and show companies that the modern consumer cares about animals lives and well beings more than profit and beauty.
So what brands DO test on animals? I've made a list of brands below that are not cruelty free as of January 2020. See your favorite brand? Don't worry! There's lots more cruelty free than there is not so chances are there's a perfect and affordable alternative for you.
The following brands are NOT cruelty free and DO test on animals in one or more countries as of January 2020: Almay, Avon, Benefit, Bobbi Brown, Clinique, Chanel, Dior, Dolce & Ganbana, L'Oreal, Make Up For Forever, NARS, Maybelline, Max Factor, Mary Kay, Revlon, Sephora Collection, Tom Ford.
Now there is a middle ground of cosmetics that don't test on animals, but their parent companies do. Those brands are: Bare Minerals, Hourglass, IT Cosmetics, Kat Von D, Marc Jacobs Beauty, NYX, Too Faced, Urban Decay.
Alright, so what brands ARE 100% cruelty free? Tons! Both common luxury and drug store brands. These brands are all cruelty free and do NOT test on animals: Anastasia Beverly Hills, Annabelle, Au Natural, Alima Pure, Aromi, Afterglow Cosmetics, Axiology, Bite, Blinc, BH Cosmetics, Ben Nye, Black Radiance, Beautyblender, Butter London, Cover FX, Cargo, Catrice, Chantecaille, Colourpop, Coloured Raine, Cailyn Cosmetics, Concrete Minerals, Chi Chi Cosmetics, Clove & Harlow, Copycat Beauty, Covergirl, CYO Cosmetics, Duwop, Dose of Colors, Doll 10, Essence, Everyday Minerals, Emani, Elate, ELF, FACE Atelier, Gosh, Glossier, Gabriel Cosmetics, Gerard Cosmetics, Grande Cosmetics, Hard Candy, Hynt Beauty, ILIA, Japonesque, Jordana, Jeffree Star, Jouer, Kjaer Weis, KKW Beauty, Kylie Cosmetics, Kosas, Kryolan, Lush, Lilo Lolo, LA Girl, Lilah B, Linda Hallberg, Lit Cosmetics, Lunar Beauty, Milani, Marcelle, Makeup Geek, Melt, Mehron, Mineral Fusion, Natasha Denona, Nabla Cosmetics, OCC, Pur Cosmetics, Perfekt, Physicians Formula, Prestige, Pixi, Pacifica, Red Apple Lipstick, Ritual De Fille, Sugarpill, Suva Beauty, Silk Naturals, Sleek, Stargazer, theBalm, The Body Shot, Thrive Cosmetics, Vapour, W3ll People, Wander Beauty, Youngblood, Zoeva, 100percentpure.
My hope is that one day we will live in a world where not a single company rests cosmetics on animals. This will take a lot of work from the consumers to make a clear choice and preference for cruelty free products, and an even louder voice from makeup and cosmetic companies to ban animal testing and remove laws in place that require it. A few colors on your face shouldn't cost the abuse and deaths of thousands of animals.
Photo Credit to dailyedge.ie, crueltyfreekitty.com, and change.org.