7 secrets of perfect make-up in pink shades
makeup tips (spring-summer 2020)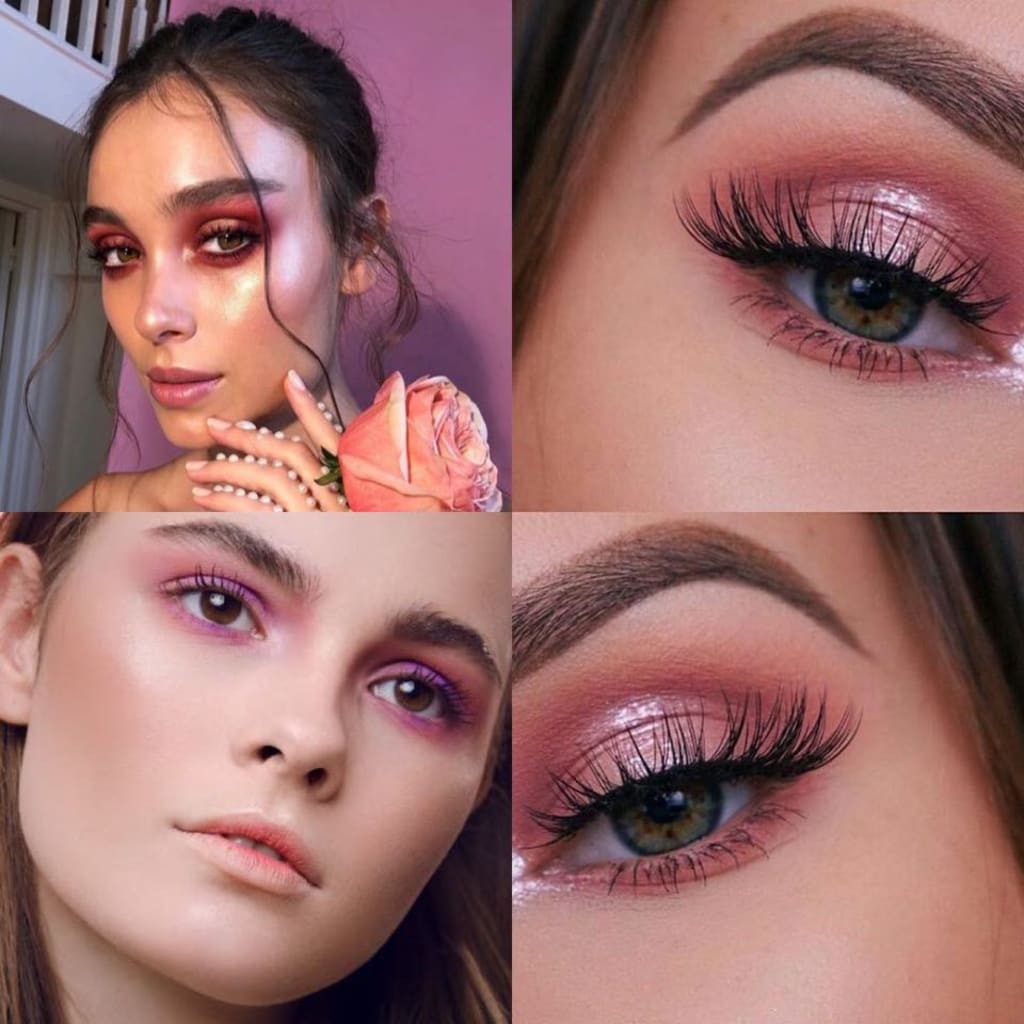 Spring-summer 2020 presents lots of kinds of surprises: from deductive outfits and accessories to extraordinary makeup made in pink tones and shades. And it is not surprising that the makeup artists continue to experiment with the favorite colors of the legendary Barbie look, creating gentle images, as well as inventing complex combinations, that challenging modern fashion women regardless of their age.
1. Whom might suit it
According to the makeup artists, pink color in make-up suits absolutely to everyone, the main thing is to correctly choose the shade, in order to emphasize advantages and hide defects.
Light-skinned girls will be suitable for pastel tones and shades in baby pink style. Such makeup will give the face freshness, making it brighter and more expressive, but as natural as possible. Light blush, gentle mouth and dedicated look - what is necessary in everyday life. Besides, this make-up is so loose and versatile that it will be great for both office workers and students, as well as all those girls and women who are going on a date.
Owners of olive skin should pay special attention to deep dusty shades of pink. But at the same time it is necessary to avoid pearl/milk-pink colors, which visually make makeup bleak and dim, and the look unspeakable.
Girls with a dark skin suit almost all shades of pink. But most of all bright and neon colors, which perfectly shade the natural pigment of the skin. Despite "screaming" and catchy notes, such makeup will be appropriate even during the day during working hours and at the time of business meeting.
2. Eyes
If you decided to put a pink accent on the eyes, first of all it is worth giving the face an impeccable, but also naturally healthy and well-maintained appearance. Remember that your skin should shine from the inside, not seem like a scented mask. Therefore, be as careful as possible with foundation means. Also, don't forget to mask the bruises under your eyes by choosing a half-tone concealer (maximum per tone) lighter. Such a life-hack will give expressiveness to the view, making it more open and fresh.
3. Lips
Perhaps pink, as well as red on lips - immortal classic, which for many years occupies the leading position among other colors and shades. It is appropriate not only by day, but also by evening. To give your lips a more saturated bright color, use a brush, and to achieve the most natural one - "touch" lips, applying lipstick on the tips of fingers.
If you want to get an unusual ensemble on your lips, use the method of mixing several colors and shades, combining light and dark, matte and glossy, shimmer and satin textures.
4. Cheekbones
Through the centuries, fresh healthy blush was considered a pledge of beauty and aristocracy. Therefore, if you want to give your face a dedicated and rested appearance, place a slight emphasis on cheekbones or cheeks, highlighting "apples." Cream, gel, with retro-reflective particles, spread and powder - choose the ones that suit you most and apply with a special brush of kabuki, which helps to regulate the intensity of distribution of the means.
5. Smokey eyes
Immortal smokey eyes from classic smoky nomadic have moved into shades of pink: acid, neon, warm, cold, powder and pastel, matte and shimmer shadows become a major and key accent in eye make-up, creating a stunning and partly magnetic effect.
Important! In order to avoid the "red cried eye effect," special attention should be paid to drawing the line on the growth of eyelashes with dark shadows or eyeliners.
7. Nude
Pink is one of the basic colors for creating natural make-up. Therefore, if you give your preference to nude makeup, pay attention to pink colors and shades. When creating the image, makeup artists allow the use of matte, satin and cream eyeshadows. Also, to make your eyes more expressive, use brown or grey mascara this time, ruling out black.
Do not forget also that blush should be barely visible, not feverish, as is most often the case if overburdened with pigment.
And completing the image will help translucent gloss or lipstick pastel-ash tones and shades.