7 Reasons Why You Should Cut Your Hair Short
It is life changing!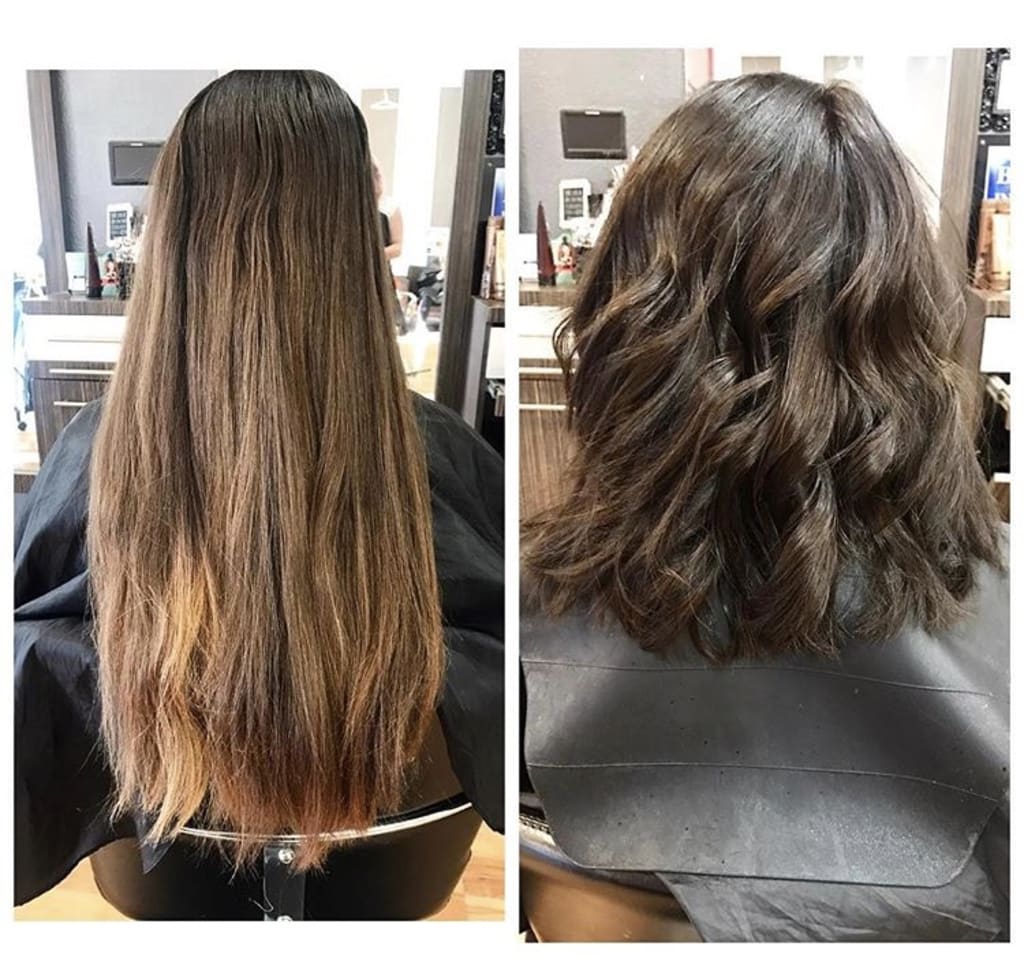 In January of 2017, I made what felt like one of the biggest decisions I have ever had to make (at age 17) and cut the majority of my hair off. As it clearly shows in the "before" picture above (left), my hair was extremely damaged. I had been dying it all different colors, not trimming it, etc. I loved changing things up frequently, and I decided to make a huge change, but this time, one that would actually be healthy for my hair! It was one of the best decisions I have ever made. Over a year later, I decided to grow my hair out again, but am having the urges to cut it off all over. Once it's gone, it is hard to want it back!
I have made a list of the 7 reasons why I want to cut mine again, and if you have been considering getting a chop for a little while now—why, you should just go for it!
1. It is a change!
It is so refreshing to mix things up every once in a while! Chopping off those long locks of yours will provide that fresh look you are yearning for! It gave me a newfound sense of self-confidence and really brightened up my appearance!
2. It takes less time to do.
There are a lot of women who complained to me about how you always have to do your hair so that it looks nice if it is short. However, while that is true, it took me half of the time, maybe even less, to wash, curl, straighten, and blow-dry after I cut it all off!
3. It will save you money.
For once in my life, the directions on the back of the shampoo and conditioner bottles were correct: I only needed a "dime-sized" amount of product for my hair! Due to this, I saved a good amount of money because I was cutting back on shampoo, conditioner, dry shampoo, etc.
4. It is easier to condition your hair.
Have you ever been frustrated when you lather up your hair in conditioner and it just. doesn't. work? The knots in your hair are so tight and so persistent, not to mention, it will take your forever to work through each and every one! With shorter hair, this is less likely to happen. The strands are shorter and aren't as easily tangled with one another. There's also less hair which means less knots are able to form.
5. It is way cooler in the summertime.
Girls with long hair truly know the struggle and discomfort of summer heat. With your hair covering your neck, you get hotter quicker, which means you sweat more. Let's be honest here, no one enjoys dealing with their hair when you've gotten sweat in it. Summertime in the movies almost always includes girls letting down their locks that are in perfect beach waves or are perfectly straight. In reality, though, summertime consists of hair ties. Lots of them. Short hair doesn't give you that same discomfort. It is easier to wear your hair down because less of it is touching your neck and less heat is being produced!
6. Cute Short Hairstyles
We've all seen those pictures on the internet of short hair done up all nice and cute! As someone who is challenged when it comes to following tutorials, I found that it was way easier to follow along with short hair than it was with long hair. The tutorials are simpler, but can be very flattering and very fun to experiment with.
7. Less Weight on Your Shoulders
There is something about cutting your hair short that brings you this sense of ease from the loss of weight on your shoulders, both literally and figuratively. The change can be empowering and mentally gives you a new mindset which can take a load off. It actually is way lighter though physically. You don't realize how heavy your hair actually is until you wash it or go swimming after you cut it. It almost makes you feel a little dizzy at first because your head has become so much lighter!
Cutting your hair can be a very intimidating and nerve-wracking thing to do, but it's hair! It truly does grow back! It is a fun change and you never know, you might end up liking your short hair far more than your long hair. I know I did!
hair
18 year old girl that's likes to write 🌻 | UCI '22
Receive stories by Megan Fernandez in

your feed