11 New Palettes and My Tift with Them
Package Design + Colourstory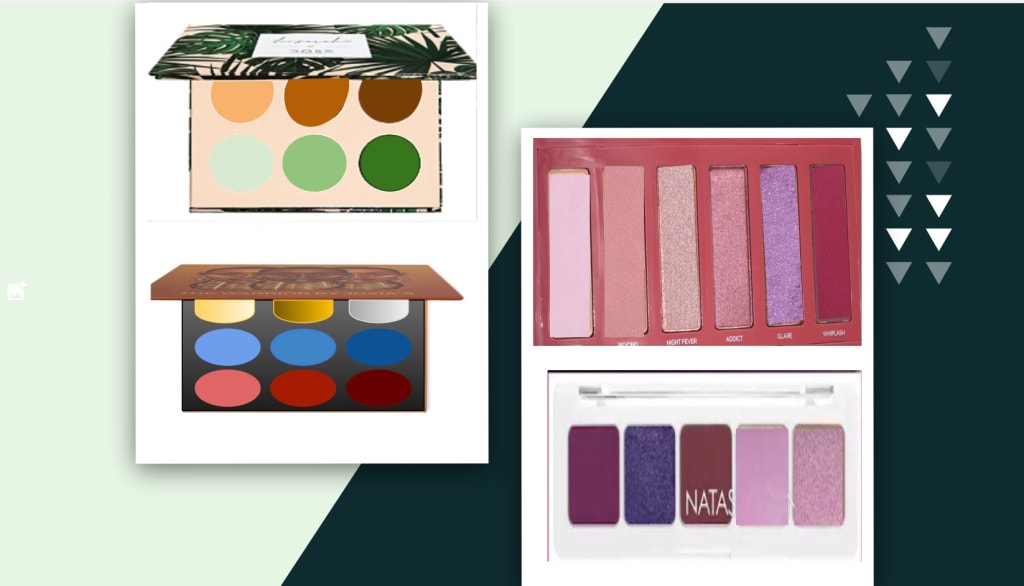 I. Aphrodisiac by Urban Decay
The term Aphrodisiac either comes from, is related to, or derived from the Greek goddess Aphrodite. When I think about Aphrodite (which I do a lot, being really into Greek mythology), I can't help but think about Valentine's Day, and the last thing that comes to mind when I think about February 14 is earthly ground shades. I think berry shades, from red to pink and everything in between. And the sad thing is that UD could've made this into an all workable soft berry palette rather than having just that one pop of magenta, and it would have worked. This is such a good looking palette on the outside, and is WTF on the inside.
II. Birthday Palette by Kylie Cosmetics
I just feel too old for Kylie Cosmetics. It's not that I don't like young cutesy things (hello, Colourpop) but I don't relate to her. But more so she's an indie brand, and I don't normally like buying MU from retailers that only sell things to me online, especially if I am not attracted to what the whole shiz is about. However, her birthday packaging with her on it made me fall in love with the idea of the palette, which was shocking to me for two reasons: 1. The brand is not for me, and 2. I don't like real people, especially celebrities, on my packaging. But this? I was in love, it just had this very artsy vibe to it. And then people started taking it out of the box, and I was like, what just happened there? How did such an amazing autographic-looking thing turn into something so plain? Long story short, if her actual palette looked like the box, I would've bought it even at $69 USD. I can only thank her for saving me that coin because I don't care for that brand at all, for myself. If you like her products, you keep doing you.
III. Born to Run by Urban Decay
Honestly, I am on the fence about this one. I bought it because I could get it for free. But it's anything revolutionary. While the package theme is unique for UD and even to the MU industry, I appreciate the subtle message. But it's a design that you don't look at and go, wow that's beautiful. It's a design that needs to grow on you. The colourstory is also is lacklustre.
IV. Dose Of Colors x iluvsarahii
Another pop of colour syndrome basically. The packaging cute, but I've seen those beachy vibes somewhere. I am not saying that anyone owns the beach theme, but make it wow. Just don't throw the leaves in and call it a day. that's lazy. At $45.86 CAD, for six shadows? No can do, not for something so boring. Not for something that is essentially an accent palette.
V. Flamingo by Violet Voss
See this is the beach packaging that took it by a mile, especially for it being Violet Voss. I am definitely intrigued and inspired by the colour story, but I want a hands-on store experience with it before I purchase it. If my local store had it in stock, I'd get it if I liked the quality. I don't know though, because the cardboard packaging by VV is just really cheap considering the price point.
VI. Mini Lila Palette by Natasha Denona
I actually had the chance to test this out. Honest, deep down to my soul, those two beige shadows don't belong here, especially when she's coming out with the camel palette. Someone said that the camel palette is good for people who do their routine look but aren't into makeup that much. My question is: how many non-makeup lovers are going to buy an expensive product like ND? And those five shades are the only neutral shades out there.
VII. Moroccan Spice by Fenty Beauty
I just feel like a palette that is inspired by spices, has no place for a purple packaging, especially when it's been previously used on the brand's first ever palette. It could and should have been anything like red, yellow, black, white, even beige. But most definitely not purple. And then where's the yellow for turmeric, or black for black pepper, or an off white for ginger powder? Tsk, those shadow names make even less sense the shade selection. I am a huge fan of Rihanna the musician, but so far, FB for a makeup brand underwhelms me. And this is not about it being too neutral—actually I think it has to be, because FB is a new brand and it requires its staple neutral or everyday palette. But this one misses the mark of being an attractive, and more importantly, cohesive designing required for a neutral palette. Frankly speaking, the palette is more attractive because of RiRi promotes it rather than it being attractive for its own merit.
VIII. Norvina by ABH
All I am going to say is go read my post about it.
IX. The Warrior by Juvia's Place
This one was a disappointment because I expected more oomph from this. It just looks boring, and not even the colourstory, but more so the design. And I hate saying this about a brand I love, but JP needs to change the formulaic lane of their designing and get something newer out which has the WOC element to it, but is not the same as their previous designs. My edited version of it on the post pic sucks, I know, and it embarrasses me, but that's the best I could do on my cheap (free) editor. But the point is, a palette inspired by Black Panther has to have a few cool toned shadows, me feels.
X. Then and Now Eyeshadow Palette by Two Faced
I love TF shadows. They work really well for me. Obviously, I've never tried all their ES palettes, but the ones I've tried, I love. But this one: I love the colourstory and the design of the packaging. but the quality of the packaging? It sucks, not acceptable for something this grand.
XI. 10th Anniversary by KVD
Suffice it to say, it was underwhelming to what my expectations were.
product review
#Freespirit #Humanity #Objectivity #Peace #Love
IG: heeta.joshi
Twitter: joshi.heeta