11 Luxury MU Brands at Shoppers Drug Mart
Sephora isn't the only option, Canada.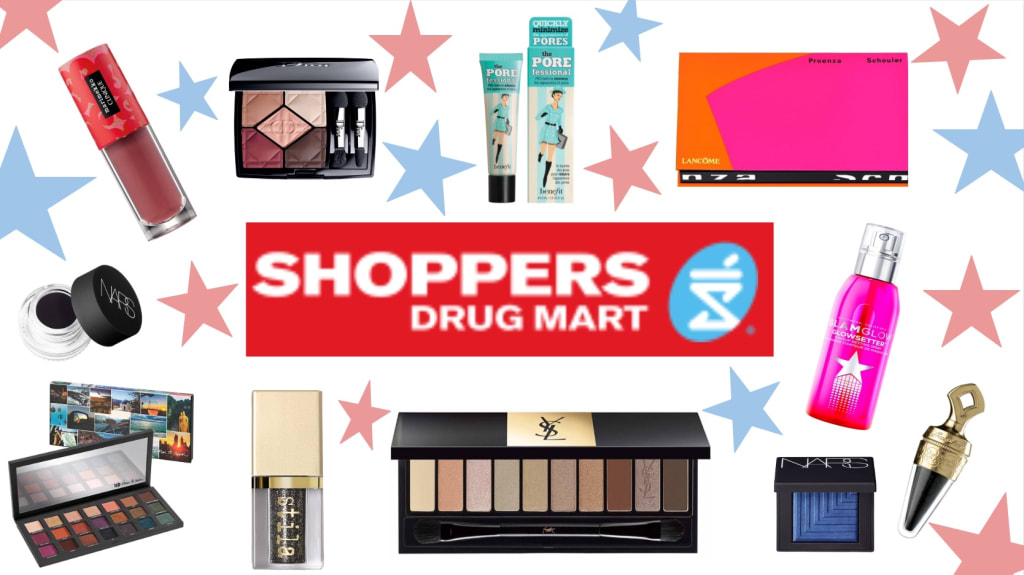 Disclaimer
I could be completely wrong (so whatever I say = grain of salt). But I do feel that a lot of Canadian makeup consumers do not know that Shoppers Drug Mart also carries quite a few luxury or high end makeup brands, which we see at Sephora. And I would urge people to pay attention to putting their money at Shoppers Drug Mart because the point system is (absolutely) so much better, hands down. And the rewards are endless, comparatively to what Sephora offers (which is kind of embarrassing for Sephora, but obviously they are not bothered). I also do think that Canadians supporting a Canadian business would be nice (unless it's not Canadian, like Tim Hortons), but that's just me. Also, you can buy both drugstore and high end makeup at one place, maximizing the reward system. Granted there are two cons with SDM.
One, their luxury makeup store is primarily available online only. And while I do understand that it's not feasible to carry expensive makeup across so so many SDM stores which are located within just a few distance of each other. Obviously there's not a realistic profitable customer base for it perhaps. But they could at the very least advertise at each SDM both the online availability of particular brands and of locations that do carry the whole luxe MU line. It kind of annoys me how my huge SDM in my local big mall does not carry every high end brand that they sell online within the store itself, because it honestly should. Two, it doesn't have every high end brand, yet, fingers crossed on that score.
Here's the website if you'd like to check it out yourself.
And now let's start with the 11 brands and three highlights for each brand:
Benefit Cosmetics
~Porefessional Primers
~Hoola Matte Bronzer
~Roller Lash Mascara
Clinique
~Marimekko x Clinique Pop Limited Edition Lip Gloss
~Lid Pop Eyeshadow Single
~Superbalanced Silk Makeup Broad Spectrum
Dior
~Rouge Couture Lipstick
~Diorskin Nude Luminizer
~5 Couleurs Eyeshadow Palette
Glamglow
~Glowsetter Makeup Setting Spray
~Plumprageous Matte Lip Plumper Treatment
~Mega Illuminating Moisturizer
Note: This is still a growing brand I believe.
Guerlain
~Rouge G Lipstick (minor customizable feature)
~Terracotta Khol Loose Powder
~Terracotta Bronzing Powder
Lancôme
~Proenza x Lancôme Eyeshadow Palette
~Blush Subtil
~Waterproof Eyebrow Gel-Cream
NARS
~That Blush
~Dual Intensity Eyeshadow
~Natural Radiant Longwear Foundation
Smashbox
~Covershot Mini Palettes
~Ablaze Collection + The Sunlit Yellow Palette
~Primers
Stila
~Magnificent Glitter and Glow Liquid Eyeshadow
~Stay All Day Waterproof Liquid Eyeliner
~Their Regular 12 Pan ES Palette
Urban Decay
~Every single eyeshadow palette
~Every single eyeshadow primer
~All Nighter Foundation
Yves Saint Laurent
~Palette Fap
~Couture Blush
~All Hours Stick
Honorable Mentions
PUR cosmetics
Lise Waiter
Paul and Joe
Dermablend
Clarins
Shiseido
Rodial
Elizabeth Arden
Philosophy
Artdeco
Conclusion
This is by no means a promotion. I am simply putting information out there for my Canadian homies who may be MU shopoholics like moi. Because I do feel that Shoppers Drug Mart provides us with better customer service and satisfaction in regards to their rewards program. This article was inspired by the fact that M.A.C is dropping in to Sephora. And while it may now be owned by a US brand (i.e Estée Lauder: also available at SDM) M.A.C did originate in Toronto, Ontario. So I do feel that M.A.C should be seen at SDM as well. Other brands that SDM needs to get in stat are ABH, Too Faced, and Tarte (because despite the controversies) these are popular brands. Maybe adding Colourpop might not hurt, like Ulta.
Adios Mon Ami XOXO
Please follow me on IG if you will.
product review