Wonderful Crazy Night
Elton John's "Joyous" album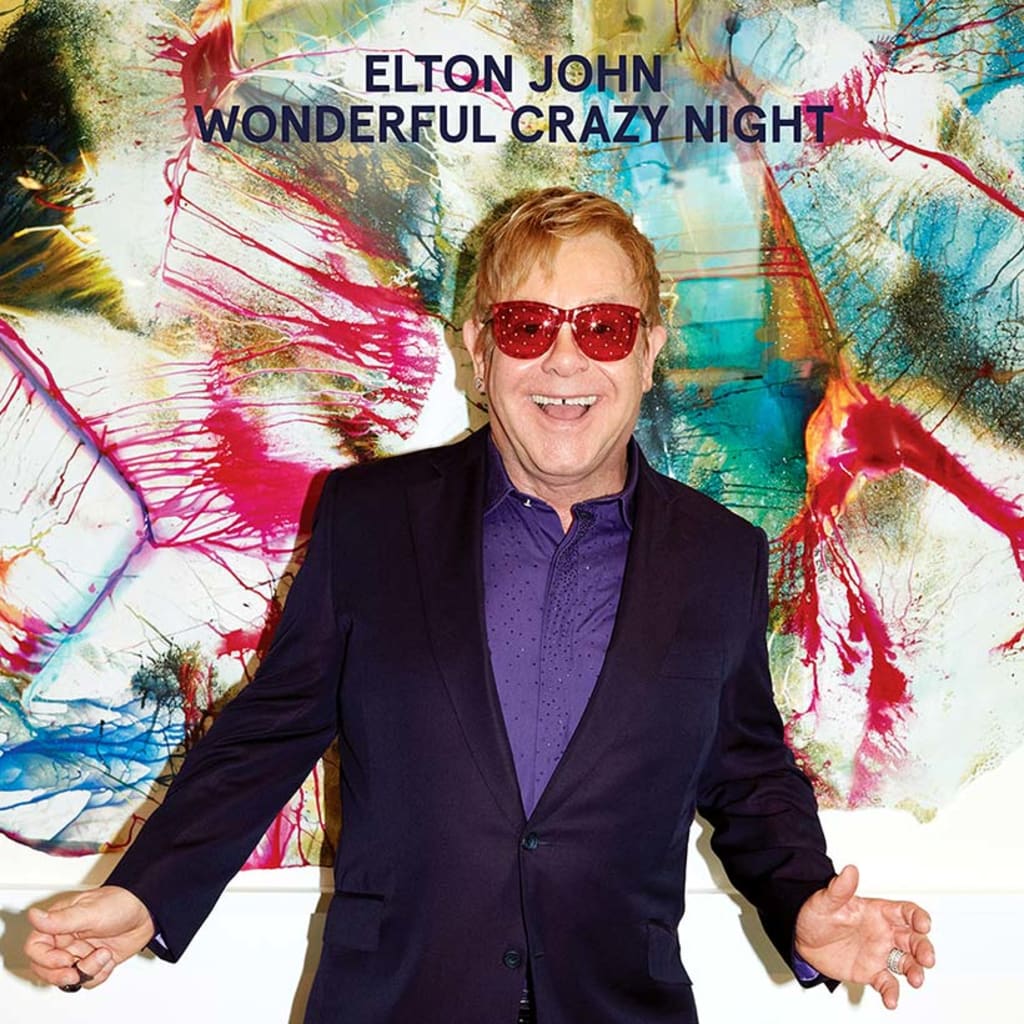 In the mid-2010s, Elton John's life was in a good place. He had a loving family with his husband David Furnish, and two sons, Zachary and Elijah. So his approach coming into the studio for the work that would become Wonderful Crazy Night was that he wanted to make an upbeat album with a live feel.
Accordingly, he told lyricist Bernie Taupin to dial back the sorrow for the lyrics, which marked a change following the relatively dour The Diving Board. And after two albums using producer T-Bone Burnett's favored session musicians, Burnett himself suggested a key change for this album, suggesting that Elton once again utilize the talents of the Elton John Band.
Of course even though the album was marketed as being played by the "Original Band" there had obviously been a few lineup changes since the classic years, and even in the decade since The Captain and the Kid. By this time original bassist Dee Murray had been gone for more than two decades, and with the later passing of keyboardist Guy Babylon and bassist and vocalist Bob Birch, the band was filled out by keyboardist Kim Bullard and bassist and vocalist Matt Bissonette. Returning to the studio, however, were early band members Davey Johnstone on guitar and vocals, and Nigel Olsson on drums and vocals. Longtime member John Mahon returned on percussion and vocals and even percussionist Ray Cooper contributed, playing tambourine on a few tracks, and making his first appearance on an Elton John album since Made in England.
Sadly, Capitol Records, which had released "The Diving Board" did not want to release the new album forcing Elton to make yet another label change. He took Wonderful Crazy Night to Island Records, armed with a set of songs he wrote over a period of in 17 days, not a record for Elton.
The album opens with the upbeat title track which sets the tone for the album, a song that feels both lively and live, a happy nostalgia for a party night that was not to be forgotten.
Next up is "In the Name of You" an up-tempo love song that shows how much the intuitive instrumental work of the Elton John Band had been missed on the previous two albums, for all their professionalism. Davey Johnstone adds a fine guitar solo.
The third track, "Claw Hammer" opens with a keyboard flourish by Kim Bullard, and develops into a midtempo charmer, about a figure with a stiff upper lip. Joining the harmony stack on the song is former Elton John Band member Ken Stacey.
"Blue Wonderful" is once again a shining example of how much Davey Johnstone's guitars had been missed on the previous two albums and producer T.Bone Burnett contributes a guitar solo as well. The lyric is about as positive as anything Taupin has written for Elton.
With "I've Got 2 Wings," Bernie goes back to the western style lyric that has been his bread and butter for many an album. Here it is just what the doctor ordered, continuing a string of upbeat songs after the relatively dour previous album.
"A Good Heart" is the first real slow ballad on the album, but fits in here very well, as it is in the classic Elton style, with iconic Nigel Olsson drum fills. The track features a horn section arranged and conducted by Gabriel Witcher.
"Looking Up" was the first single released from the album, and not surprisingly is a very upbeat song with a very positive message. It's a less blatant statement made much earlier on "I'm Still Standing," reflecting a life in an even better place than Elton found himself following the earlier hit.
"Guilty Pleasure" is a guitar and hand-clap driven rocker that continues the albums upbeat vibe; by now it's clear that Bernie had followed the "good vibration" advisement. Davey Johnstone shines on a guitar solo midway through the song.
"Tambourine" is a nice mid-tempo ballad that features Ray Cooper on the titular instrument. Nigel Olsson provides some nice cymbal flourishes at the line "cymbals flashing in the firelight." The lyric is the first to have an easily discernible dark side, but as he often does, Elton overwhelms any negativity with some nice musical touches.
"The Open Chord" is next and is another slow yet sprightly song that equates the joy of love with the act of writing a song. "Free and Easy" features really strong backing vocals from the band and a great keyboard solo from Kim Bullard and the lyrics seem to indicate Elton and Bernie's emotional state during the making of the album.
Closing the album is Elton and Bernie's salute to the two countries which they call home: "England and America." It's of course another upbeat song and closes out what might be the most positive album Elton has ever recorded.
Of course in 2016, the world was not in the same comfortable place as Elton and Bernie and this late in their career and the album didn't meet with the approval it probably deserved. Elton was working in a different musical environment by now, but he had other fish to fry. And in fact, he announced his retirement shortly after the album had its run; of course, that retirement was to follow a three-year world tour that was cut short mid-run by Covid in 2020.
From here it seems likely that Elton will resume the tour some day, or at least it seems very unlikely he won't take to the stage again someday. And more that likely he'll have at least one more go at the studio. But if he doesn't, Wonderful Crazy Night will be looked at as an accomplished swan song.