Why You Should Listen to Lords of Acid
Getting down and dirty to their music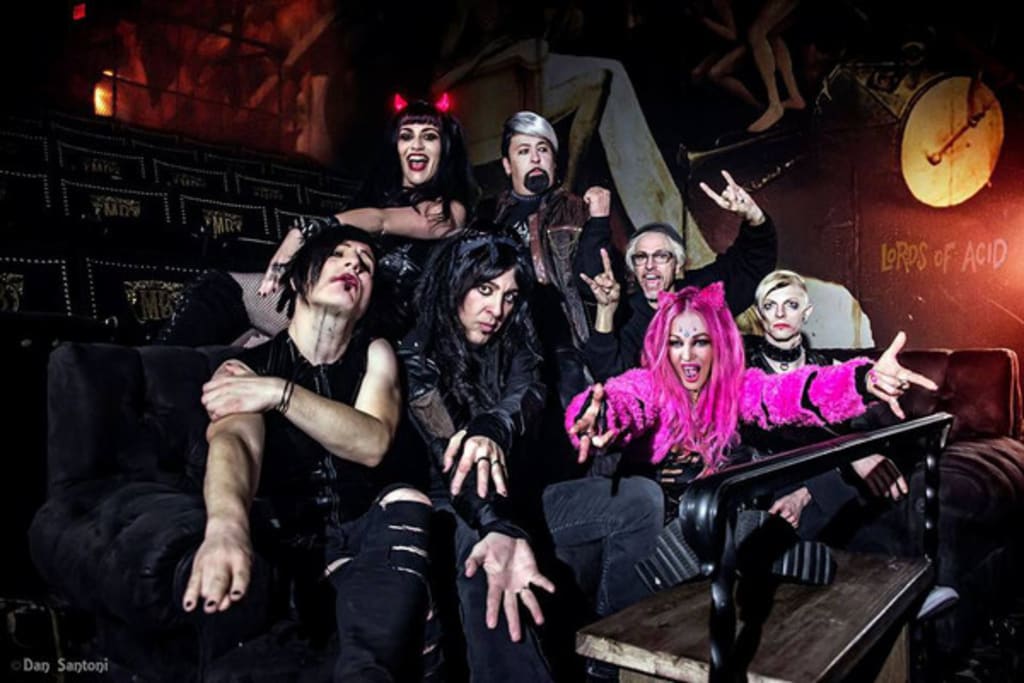 Lords of Acid are a Belgian/American techno group that's been around since the late 1980s. I'm a bit late to the Lords of Acid party, as I've only just started listening to them a few years ago, but as far I know they are still active and are still alive and kicking. Their music has proven to be timeless and paints a perfect image of the club scene in the 90s. I could see myself dancing to a lot of this music to the dancing machines in the arcade machines.
Shamelessly Sexual Lyrics
We can't discuss Lords of Acid without mentioning the lyrics to a lot of their songs. They're explicit and rave about sex, kinks and drugs. A song on their first album is called I Must Increase My Bust. Mainstream music critics often say sexual lyrics are a bad thing, but I still find the unapoligetic nature of their lyrics as a breathe of fresh air. I also love how their US store has Make Acid Great Again in their Spotify URL.
The Experimentation
They're known for their electronic and rave music, but they have also been known to dabble in other genres in well. The rock infused tracks like Dirty Willy and Crablouse shows Praga Khan's skills as a musician. I also like the play on words. We all know that Pussy is not about the pussy cats, but it could also refer to pussy cats if you had an innocent mind. Though let's be honest, we all know what it means. A great example of this is in the track Let's Get High which uses it's samples to make a killer dance floor track.
The Voodoo U album
The last album I bought from Apple Music was Voodoo U. It's a terrific album from start to finish. Crablouse, Dirty Willy and Out Comes The Evil are standout tracks.
The Lust Album
Their debut album Lust is a banger. It also contains the song I Sit On Acid, which is their most popular song on Spotify with over 1.5 million plays. I love the drumming to that track. The album has also just celebrated it's 30th anniversary. If you have to listen to just one track from this album, I reccomend Rough Sex because of the build up from the slow-tempo to the big rave.
The Album Covers
I love the album covers. The cover to Lust is gorgous. Pretty in Kink is a funny album cover with a woman embracing a blow-up love doll. Voodoo U has an amazing cover with female devils naked and taking part in an orgy. You'll have to look the album covers up, as I doubt I'd be allowed to show them here. They got around it as well. I like how the intrmental album for Voodoo U is censored whilst the proper album isn't. I like the little touche's they put onto the records.
The Soundtrack Credits
Even though not many people I know, know the band, there's a chance you might have heard of their music. They performed a song for mortal Kombat under the Immortals. Crablouse was featured on the Sucker Punch soundtrack. Am I Sexy was on one of the Austin Powers soundtracks, and then I've seen several more on IMDb that I've never heard off or seen yet.
Perfect rave music
On the greater scale of things, I think Lords of Acid have some great music. They have a great attitude and infectious energy. I like how a lot of the songs represent fun sex and body confidence. It's perfect party music And also great to listen to whilst reading your favourite erotic fiction. The vocals and production is fun. I've not seen Lords of Acid in concert yet, but I've seen clips of it and it looks like it would be a great blast. Everybody was dancing.
bands
Healthcare worker from Oxfordshire. Author of ten books including Drinking Poetry and Game of Mass Destruction. Travelled to over 20 countries.
Receive stories by Chloe Gilholy in

your feed