Why These Song Lyrics Are Some of My Favorites
Song lyrics can be so powerful and fun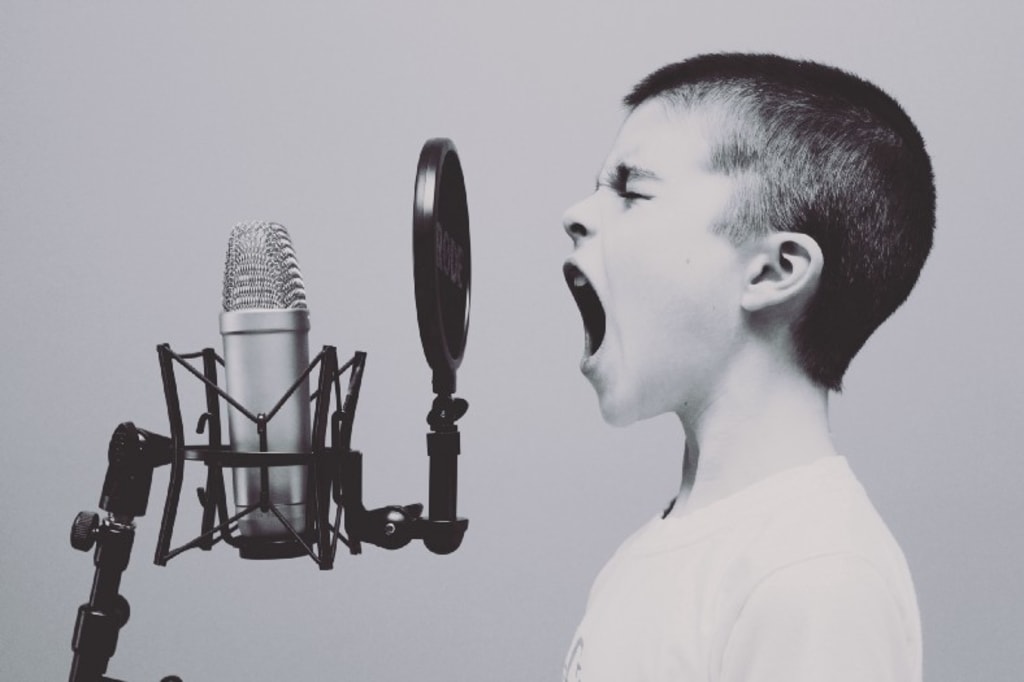 This kid looks like a young Chris Cornell. Belt it, Son. Photo by Jason Rosewell on Unsplash
I'm not going to lie to you. Song lyrics are secondary to me, somewhat behind the actual music. I love hearing an amazing guitar riff or solo. Some bangin' drums. A solid bass line that is the backbone of an incredible song. Imagine that bass in the beginning of You Give Love a Bad Name by Bon Jovi. Or the intro to Higher Ground by the Red Hot Chili Peppers. Incredible stuff.
However, for this blog, I'm going to discuss ten songs that have some of my favorite song lyrics. I have no idea which ones I'll discuss, other than the first one I have in mind.
After that, I'll write about the next ones that come to mind. This is truly off the top of my head, but I'll provide you with some awesome song lyrics. So let's do this thing.
1. Only the Good Die Young, by Billy Joel
Billy Joel, Only the Good Die Young. From the album, The Stranger
"I'd rather laugh with the sinners than cry with the saints. The sinners are much more fun. You know that only the good die young."
I'm guessing that this is one of my favorite song lyrics of them all if thinking of this earlier tonight made me write this blog. I absolutely adore Billy Joel.
I didn't get way into his music until a few years ago. I knew his big hits like Piano Man, Uptown Girl, and My Life, which was the theme song of Tom Hanks' first popular TV show, Bosom Buddies.
I'm sure I had heard a handful of others. But after going through my Bride's old CD collection and finding Billy Joel's Greatest Hits, a double CD collection, that's when I truly became a fan. I discovered my favorite song of his through this compilation, Scenes From An Italian Restaurant.
Being a cook and loving Billy Joel as much as I suddenly did, this song meant so much to me. Never mind that Billy was Jewish and not Italian. He seemingly nailed the Italian-themed restaurant scene. He has too many amazing songs to even list, but those lyrics to Only the Good Die Young are still among my very favorite ones, ever.
2. At This Moment, by Billy Vera
Billy Vera's song At This Moment, from the album Billy and the Beaters
If you were a child of the 80s like I was, and you watched sitcoms on TV, you remember Family Ties. Specifically, the scene where Alex (Michael J. Fox) and his girlfriend Ellen (Fox's real-life wife, Tracy Pollan) are breaking up at a train station to this song by Billy Vera.
At This Moment is a sad, romantic song about a man lamenting about losing his girlfriend. This song came out six years prior to the Family Ties episode and became a huge hit when it was featured on the popular TV series. The part of the song that has me in tears as I'm typing this is the following:
"What do you think I would give at this moment?
If you'd stay I'd subtract twenty years from my life.
I'd fall down on my knees,
Kiss the ground that you walk on,
If I could just hold you again."
I don't know why the "subtract twenty years from my life" part touches my soul the way it does. I've actually never had a woman break up with me in my entire life. I've left every one of the four relationships I've ever ended in my life.
Perhaps I can empathize and imagine the pain of someone deciding to leave me when I didn't want them to. All I know is, that hearing this song or even reading those lyrics just moves me to tears. Even right now.
3. No Excuses, by Alice in Chains
Alice in Chains, No Excuses. From the album Jar of Flies
Alice in Chains is one of my top five favorite bands of all time. Their song Don't Follow, which was written in part about their lead singer's battle with addiction which he ultimately lost, was a comforting, yet sad tune for me.
I found this song during a very stressful, difficult relationship in my life when I didn't actually WANT to die, but I thought that it might be easier if I did. Thank god it didn't happen that way.
One of their more popular songs, No Excuses has a wonderfully sad yet loving song lyric that I've always just loved. It talks about the feelings of growing apart from a once close friend and how feelings change.
"You, my friend,
I will defend.
And if we change, well I love you anyway."
I've had a number of friendships that have changed over the years, and many not for the better. I feel that while I've grown and bettered myself as a human being, year after year, some of my friends have not.
I still love them because of our past friendships, yet I hope for better for them as the next years go by. I'm saddened that we are not as close as we once were, but I still love them and want good things for them. This song always reminds me of that.
4. Don't Damn Me, by Guns 'N Roses
Guns 'N Roses, Don't Damn Me. From the album Use Your Illusion I
Guns 'N Roses is one of my two favorite bands of all time. I often bounce back and forth between Queen being my all-time favorite band or Guns 'N Roses taking that title from them. It changes frequently.
Don't Damn Me is a little-known song of theirs. It was never released as a single. Yet it's one of the best songs of their lyrically, in my opinion. It was so good, that my younger brother plagiarized it and got an A on an English assignment for poetry. He never got As, so he owes Axl Rose some gratitude.
The entire song is lyrically incredible. But my favorite part of it, being a writer, is the following:
"Don't hail me and don't idolize the ink,
or I've failed in my intentions,
can you find the missing link?
Your only validation is in living your own life,
vicarious existence is a fucking waste of time."
Axl was telling his fans not to hold him in high regard for his obviously brilliant songwriting abilities. He was in his late 20s when he wrote most of the lyrics to the hugely popular double albums, Use Your Illusion I and II. He had other things on his mind than being an amazing songwriter and an idol to millions of fans. Big respect for him for thinking that way, at such a young age.
5. On the Road Again by Willie Nelson
On the Road Again, by Willie Nelson. From the soundtrack album, Honeysuckle Rose
I was never a big Willie Nelson fan as a kid or even as a young adult. My folks didn't listen to him, as I recall. I do remember my dad singing, "Turn out the lights, the party's over." as a kid. But I think that had more to do with a football announcer who would sing that once a team had a win well in hand.
Of course, I had heard the song On the Road Again before. But I didn't appreciate it until many years later when I started cooking for my family and singing a lot of songs during those many hours in the kitchen.
I think around the time of my middle age, I started to appreciate what Willie was saying in this song. I could more easily relate to this lyric in this classic tune.
"The life I love is makin' music with my friends. And I can't wait to get on the road again."
I never toured with a band on the road. My travels were mostly limited to family trips with my parents and my brother. Yet we did drive through a lot of states and have seen much of the continental United States together.
I think I appreciate these song lyrics because I love to sing. I enjoy cooking with my daughter so very much and singing many of our favorite songs together. Because she and I are very close, these lyrics hold a special place in my heart, for all of the cooking and singing we've done together. We've made a lot of music together, as the best of friends.
6. Forever Young, by Rod Stewart
Rod Stewart's hit, Forever Young. From the album Out of Order
I adore Rod Stewart. Right around the time we first started watching MTV as teenagers, Rod was all over it, because of the special he performed and recorded, Rod Stewart Unplugged. MTV would feature popular artists and have them do a shorter, usually acoustic performance of their biggest hits.
After seeing Rod on Unplugged, we started to take notice of his older, popular music videos on MTV and VH1. One of the ones I loved most was the video for the song, Forever Young.
My brother used to tease me and say that I looked like the little curly-haired kid in the video when I was young. Geez, not a lot has changed with the hair. I can't say he was wrong.
As an adult and the father of three wonderful kids that are all college-aged or close, this song makes me tear up every time I hear it. Especially the lyrics toward the end:
"And when you finally fly away, I'll be hoping that I served you well.
For all the wisdom of a lifetime, no one can ever tell.
But whatever road you choose, I'm right behind you win or lose,
Forever young. (Forever young)"
7. She Believes in Me, by Kenny Rogers
Kenny Rogers, She Believes In Me. From the album The Gambler
This song gets to me every time. I instantly think of my best friend, my Bride. She's truly the best person I know, and the one out of many people who care about me who truly would go above and beyond the rest for me.
She's encouraged my newer writing career from Day One. When I spilled a glass of wine all over my last laptop accidentally, at the beginning of my writing journey, she didn't get mad at me. She gave me her newer laptop. I mean, c'mon, right? I don't deserve someone as good as her.
"And she believes in me,
I'll never know just what she sees in me.
I told her someday if she was my girl,
I could change the world,
With my little songs, I was wrong
But she has faith in me.
And so I go on trying faithfully.
And who knows maybe on some special night,
If my song is right,
I will find a way,
Find a way. While she lays waiting"
I just hope I make her as proud as I want to. I push daily to write more often, to write better blogs and articles. To succeed. Because she believes in me.
8. I Don't Wanna Miss a Thing, by Aerosmith
I Don't Wanna Miss a Thing, by Aerosmith. From the Armageddon soundtrack
This song holds some amazing memories for me. I love the band. I read their autobiography. I love their music. I saw them perform live in 2004. Aerosmith is just amazing.
When I ended a 3 1/2 year nightmare of a relationship, and then ended a 4-month rebound relationship after that, I was defeated. I was ready to give up on romance and relationships and just wanted to focus on raising my 6-year-old daughter.
This song came on the radio in the car and my sweet child said, "Daddy, someday you're going to have someone that this song is perfect for." I looked into her sweet, innocent, big blue eyes and told her that Daddy didn't want a relationship, he just wanted to focus on raising her. And that I'd tell anyone pursuing me that that was the way I felt.
"But DADDY! They won't LISTEN TO THAT!" She seemed very sure that I'd be snapped up by someone wonderful. I loved her for that, but I didn't agree at the time.
Well, damned if she wasn't right. We found my wonderful Bride about three months later, and Avery had a loving, caring, second mother who truly loved her as much as her own two children. Kids can be so perceptive, sometimes.
For me, it's the beginning of this song especially, that moves me. The entire song is incredible, but this first part is my favorite.
"I could stay awake just to hear you breathing.
Watch you smile while you are sleeping,
While you're far away and dreaming.
I could spend my life in this sweet surrender.
I could stay lost in this moment forever.
Every moment spent with you is a moment I treasure."
9. Thank You For Loving Me, by Bon Jovi
Bon Jovi, Thank You For Loving Me. From the album Crush
Yet another romantic tune that makes me think about my Bride. Bon Jovi is notorious for coming up with awesome love songs and lyrics. This one in particular really gets to me.
This is another one where the entire song is just incredibly moving. But if I had to pick a certain part where the lyrics just really made me feel emotional, this is that part:
"You pick me up when I fall down.
You ring the bell before they count me out.
If I was drowning you would part the sea.
And risk your own life to rescue me."
It means so much because I know that my Bride would do anything and everything to help me, build up my confidence, and love me. She'd truly risk her own life to rescue mine. And I'd do the same for her, believe me.
10. Outshined, by Soundgarden
Chris Cornell of Soundgarden and their hit Outshined. From the album Badmotorfinger
Soundgarden is another one of my top 5 favorite bands of all time. In fact, I'd rank them at #3, though I factor in Chris Cornell being in Audioslave as well as his solo material within this ranking. The guy is one of the truly best rock singers of all time.
I actually first heard Soundgarden on a video game we used to play called Road Rash for the Panasonic 3DO gaming system. It featured Outshined, as well as their hit Rusty Cage. I started to love Soundgarden for these songs.
There's a particularly brilliant song lyric in this one that I caught onto right away. It was clever and sad, both. I didn't know that Chris struggled with depression when I first heard it, but it was clearly an early hint of that in his career.
"Well, I just looked in the mirror,
And things aren't looking so good.
I'm looking California,
And feeling Minnesota."
He's saying that even though he's looking like a rock star, he's feeling cold inside and not well. This is particularly sad, knowing that he took his own life a few years ago. But such a brilliantly sad song lyric.
There are so many amazing song lyrics in music. I'm certain I could easily pick ten more and keep writing. Perhaps I'll do a sequel to this one another day. I hope you've enjoyed the first ten of some of my favorite song lyrics, as they came to mind. Enjoy the videos I've linked to these, as well.
playlist
About the author
Husband, father, writer, and poet. I love blogging about family, politics, relationships, humor, and writing. Buy me a coffee? https://ko-fi.com/jasonpro9
Reader insights
Be the first to share your insights about this piece.
Add your insights