Why Enter Shikari Is My Favourite Band
They literally saved my life.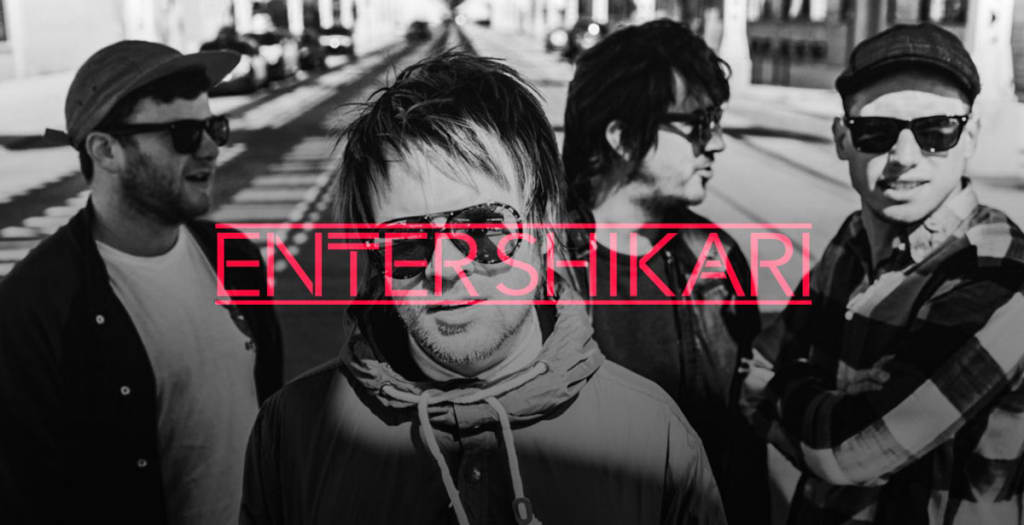 I was stumbling through youtube one day and found an amazing song called "OK! Time For Plan B." It would go on to save my life and help me make some of the best friends ever! But sports games would introduce to me to some of my other favourite bands and also keep Enter Shikari in my mind all the time.
The songs on the EA Sports games at the time featured many artists that would go on to be some of my favourites; Manchester Orchestra, Anti-Flag, Protest The Hero and, of course, Enter Shikari. I think the reason that these bands ended up being among my favourites is that at the time I was being bullied heavily at school and video games and music were the ways I would escape from reality. Due to the severe mental torment that I was facing day and day out, I was always angry or sad. I just wanted to beat the living crap out of something and listening to intense music helped me release that anger and frustration. The first song I ever listened to by Enter Shikari was called "OK! Time for Plan B." It spoke to me, prevented me from doing something that no 11-year-old should even consider. Committing suicide felt like the only option I had left, the non-stop harassment and bullying was crushing my soul and I just wanted it to end. When I heard the song, I don't know why but the bridge, "The time has come, to think again, look what you've done to your self, OK! Time for Plan B" made me stop and think about what I was planning on doing and I realized that I'd only be letting the bullies win. I went online and downloaded all the Enter Shikari and Linkin Park music I could find that night, and went on living.
About a year after Enter Shikari literally saved my life, I learned just how catastrophic my actions would have been to my family; my uncle David committed suicide eight days after my 12th birthday, Friday, July 13, 2007. I once again turned to music and video games as a coping mechanism. I went and listened to Take To The Skies on repeat that summer, the song '"Adieu", would remind me of the good memories I had of my uncle, I'd listen to it every night before bed for the rest of the year.
In 2008, I went off to cadet camp and was once again using Enter Shikari as a tool to deal with my problems. After cadet camp I used the money they paid me (you get paid 60 bucks a week to learn, how awesome!) to buy an X-Box 360, Madden NFL 08 and NHL 08 (which had what is now my favourite song of all time on it, "Sorry You're Not A Winner"). I turned all the music in the games off except for the Enter Shikari songs. I was hooked, the energy and enthusiasm they had when playing their music always made me so happy and excited. When I was having a bad day I would go on YouTube and look up videos of Enter Shikari playing live.
In April 2016, I once again had to deal with the after math of suicide. My Uncle David's daughter, Carissa, decided to end her life. Enter Shikari was also one of her favourites and listening to "Adieu once" again helped me deal with loss. What hit me hard about Carissa's death was I was about to invite her to the Enter Shikari show in May that year, but I didn't think she'd want to travel the 450 kilometres to the show and decided not to ask her. I always wonder whether asking her to come would have stopped her. That same week I met the love of my life and she asked to come to the show with me, and that show was the best night of my life. I ended up talking with Rory (guitarist) after the show and mentioned my cousin and he gave me a big hug and told me everything would get better. I needed that more than I knew and it felt like a weight had been lifted off my chest. Meeting one of my idols and having him say that to me made me more determined than ever to make music and focus hard.
In September of 2016, I started Introduction To Music Industry Arts at Algonquin College, and one of my professors started a clothing drive in January 2017, to collect warm winter clothing for the homeless in Ottawa. I tweeted to Enter Shikari on the slight off chance that they might see it and help us out. What I didn't expect was the overwhelming support they helped drive to the clothing drive. They tweeted about it multiple times and through that, I was introduced to the thriving online family of Enter Shikari fans from around the world.
The fans of Enter Shikari are not your typical fans. They don't just go "ooh, I like that band," no it's a massive family. The Shikari Family group on Facebook has over 2000 active members who engage in fun meet ups, conversations, debates and are some of the most supportive people I've ever met. If you're having a bad day, week, month or year and you tell the group, the amount of support you get is overwhelming, and if you have a cause that you want to get some support for, this family is there for you. If you want people to check out your music or articles they'll do it and if you want someone to help you get in contact with the band, I can guarantee that someone will step up and help you out.
Enter Shikari is my favourite band, not just because of the music, but because of the community that the music helped build. The music that Enter Shikari makes has helped me through some of the toughest times of my life, and "Adieu" is no longer a symbol of my losses, it now symbolizes the love I have for my girlfriend and the 2000 people that I consider part of my family.
About the Creator
I run a blog called The Ottawa Sound which aims to promote Ottawa Canada based musical artists, venues and any other aspect of the local scene. I'm also in two bands Rebel Reload and Batavia.
Reader insights
Be the first to share your insights about this piece.
Add your insights